Overhead bags enforced over seat?
Jul 4, 18, 8:02 am
Join Date: Jan 2004
Location: NY
Programs: AA, BA, SPG
Posts: 1,284
Overhead bags enforced over seat?
---
I usually travel AA DL or JB and have read of people getting to their seats to find the overhead space over their seat taken. Often times ,this appears to be space taken up by people seated several rows away.

I know its all too easy to say itís just common courtesy but it is. Its only reasonable that people seated in a row have access to the space above them.


So my question is, to what length do FAís enforce this unwritten rule? I mean Fas have far more serious issues to tend to. But if you find luggage in the space above your seat without a pax nearby, do you alert the FA? Or move the bag? Or just get disgruntled about it?
Jul 4, 18, 9:06 am
Join Date: Dec 2009
Location: New York, NY
Programs: AA Gold. UA Silver, Marriott Gold, Hilton Diamond, Hyatt (Lifetime Diamond downgraded to Explorist)
Posts: 6,692
I've seen many a kerfuffle when people move another person's bag between bins. Too infrequently I have heard an announcement at boarding to keep your bags in bins near your seat and only slightly more frequently about how bins in (domestic) first class are for first class passengers only.
I find the bins problems more frequently on the big 3 when compared to B6. B6's fees I believe are less than that of UA, DL, AA possibly as B6 sells fares with bags in them proactively during booking. Last ticket I booked it was $11 more to book a fare that included a bag.
Jul 4, 18, 12:56 pm
Join Date: Nov 2013
Location: Los Angeles
Posts: 5,571
I think the only time I've seen FAs do anything on UA in Y is to protect overhead bins at the bulkhead for the passengers in the bulkhead row who won't have under seat storage. At some point in the recent past UA also sprouted stickers on the bins in E+ that say "These bins reserved for our passengers in E+ seats" or something to that effect. It's also routine by the time BG 4 rolls around for people to take the first available overhead space they can find, and the FAs will often recommend that on the PA system during the later boarding groups.
Jul 4, 18, 1:07 pm
A FlyerTalk Posting Legend
Join Date: Apr 2001
Location: NYC
Posts: 69,198
It is shared space. You don't have a right to the bins over your row.
None of the above. It isn't my space to begin with.
And, FWIW, it is rare to see someone put bags overhead far from their seat unless the bins are filling up IME.
Jul 4, 18, 4:13 pm
Join Date: Jan 2014
Location: The Indo Jungle
Programs: AA Plat Pro, IHG Plat, Hertz PC
Posts: 1,073
Jul 4, 18, 4:30 pm
FlyerTalk Evangelist
Join Date: Nov 2003
Location: Frisco, TX
Programs: The Airline Run by Doug P
Posts: 20,269
Jul 4, 18, 5:54 pm
Join Date: Dec 2010
Location: MSY
Programs: UA 1K, AA Gold, Bonvoy Gold, Hilton Gold
Posts: 443
Jul 4, 18, 7:56 pm
A FlyerTalk Posting Legend
Join Date: Apr 2001
Location: NYC
Posts: 69,198
I look forward to you being offloaded for acting like a schmuck on the plane.
Yeah, but that's not really enforced. UA & DL have similar and similarly not strictly enforced.
Overhead bins are shared space. Always have been. Really not that complicated a concept.
Jul 4, 18, 10:27 pm
Join Date: Jun 2006
Location: California
Programs: AS,WN,UA,B6,hotels
Posts: 4,239
Most aircraft do not have enough overhead bin space for every passenger to put a rollaboard-size bag there. So if the flight has lots of passengers with rollaboard-size bags, it could run out of overhead bin space. Even if it does not, there could be parts of the aircraft where everyone has a rollaboard-size bag, forcing some of them to put their bags somewhat away from their seats.
If airlines would install larger overhead bins, there would be fewer issues with competition for overhead bin space.
Left: 4 out of 6 passengers in the two rows below the bin can put bags there. Right: 6 passengers can put bags in the bin.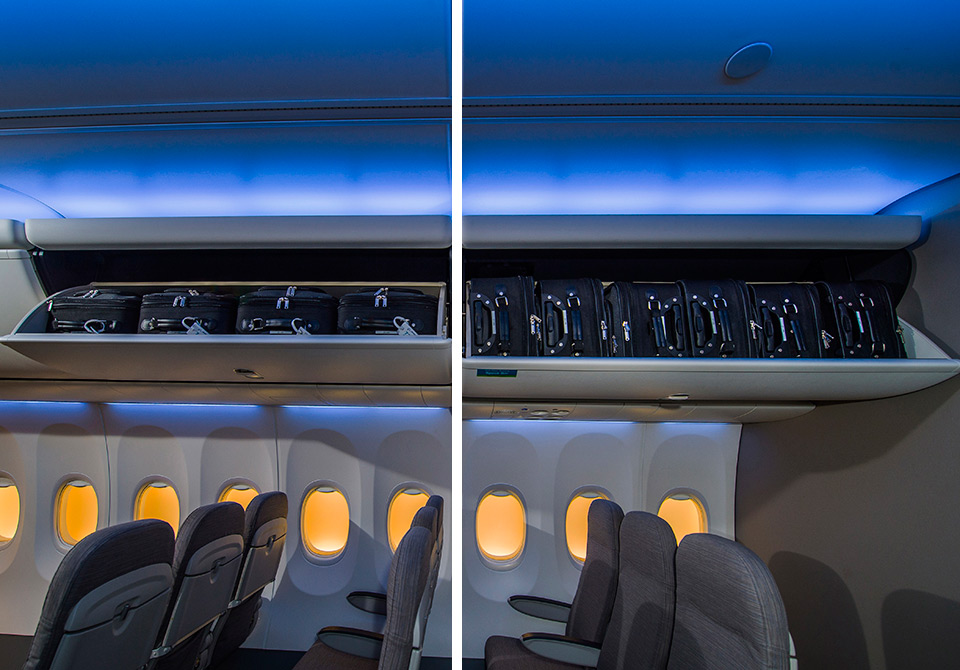 Jul 5, 18, 6:06 am
Join Date: Jan 2010
Posts: 7,927
My bag is never above my seat but above the seat across the aisle from me so I can keep an eye on it.

I don't have rights to any of the space though, so I rely on early boarding if I'm to get what I want. Saying you have your own space is nonsense.
Jul 5, 18, 9:14 am
Suspended
Join Date: Dec 2013
Posts: 1,271
Overhead space is shared 'common' space as noted. No one has any rights to it in any regard.
What annoys me more however is the now common practice of tagging smaller bags at the gate by GAs as having to be placed 'under the seat in front of you' when they have a full flight and expect a large number of roll aboard bags to be involved. This annoys me as someone who checks a bag and carries on only a smaller backpack with valuables, etc. that I will not check. From my perspective, when they want to 'tag' my backpack for under seat, to accommodate someone else who insists on bringing aboard the biggest, heaviest carry-on they can get away with, they are punishing me for carrying on a smaller bag and rewarding the jerk who insists on a bigger carry-on.
Why don't they tell the person with the big carry-on to put it under their seat and lose their legroom? I have had my backpack tagged several times and each time I remove the tag and place my bag in the overhead. So far I have not had to have a conversation with an FA as to why someone else's carry-on should get priority in the overhead over my bag. But I am prepared to have that conversation if necessary. I know of no airline with rules that give priority to roller bags over any other type of 'carry-on' bag someone chooses to use.
Most use wording like, "
"Carry-on bags must be small enough to fit under the seat in front of you or in the overhead bins. Heavy items should always be placed under the seat."
That means someone's heavy roll aboard, not just my smaller backpack. In fact, the second sentence of that quote should indicate that the roller bag (presumably heavier) should be placed under the seat, not my backpack.
Jul 5, 18, 9:32 am
Join Date: Apr 2009
Location: NEW YORK
Programs: JB,VA,UA,,USA,DL,AA
Posts: 18
Let me tell of my last 5 flight on B6. My husband & I had seats 6A & B on A321 Mint for which I paid dearly for the EMS and early boarding so we could carry on our bags. They are airline regulation overhead pieces. Every single time we boarded the overhead above us were completely filled, one time by a non-rev who was already seated in 6c and it was his stuff. The overheads across from us were also filled by the people sitting there. Row 7 was almost filled and no one sitting there. My bag wound up in row 8 and my husbands row 10.

All the other flights again everything around us was filled with no people seated there for the most part. Three out of the 5 flights seat 6C was a non-rev. One time the guy was in uniform and the rest they had on their employee i.d.

So no more paying for that privilege. The F/A's cannot do anything about it because it is a shared space. B6 needs to stop touting the costly seats as advantageous because it hasn't worked out for me yet or maybe it's just the flights I'm on typically JFK - LAS and return.