Tumi 19 International Review
Sep 22, 18, 9:49 am
Join Date: Dec 2014
Programs: DL DM, HH Plat
Posts: 17
Tumi 19 International Aluminum Review
---
So in my searches far and wide on the inter webs, I couldn't find much of a review on the Tumi 19 International, so here is my 2 cents. Ever since it was released I have been extremely intrigued. It looks awesome, but I wanted black and had to come to the conclusion that it is going to get scratched...but more on that in a bit. So after about a year of walking into the Tumi stores, picking one up. spinning it around, opening and closing it, along came the 20% off sale and I decided to pull the trigger. To be completely transparent, I did the same with the Rimowa products as well. The only store I was close to was in Manhattan a few months back, but I have spent a fair amount of time around them in various Neiman Marcus stores.
So I travel between 140 and 190 segments annually and have to fly in Satan's Butt Hole (CRJ200) a minimum of twice a week. This means my carry on is gate checked and is going to get beaten to hell and back BI-WEEKLY. My previous bag was a Alpha Bravo International Tumi that I liked, but was ready for a change. The bag looks as good as the day I bought it, but I simply grew tired of the styling. So on to 19...
This is by far the best carry-on I have owned. I have used a Briggs and Riley 2 wheeled Continental, 2 wheel Tumi Alpha Continental, and the Alph Bravo. This carryon allows me to somehow pack more than any of those other bags. I do not know how, and did not expect it, but I can pack for 6 days and close the bag with relative ease. The interior has latching covers that keep things in place, and even if you overpack a bit, compression is very easy. On the side without the handle, I pack clothes. On the side with the handle, I pack shoes, toiletries, etc. I just works better for some reason that the Alpha Bravo.
The reason I picked this over the Rimowa is for a few reasons...the latches and handles. These are simple satisfying. The sound the latch makes when you open it is luxurious. If you haven't heard it, you should (I can't believe I am going on about a sound of a latch). The handles...oh my the handles...leather wrapped with soft closures.It really makes a difference. These two items are what steered me to the 19 and away from Rimowa. In all fairness, the Rimowa is an excellent product, but even with its pedigree and higher price point, not having the feel of luxury in these two areas is why I went with the 19.
So there is one thing I had to prepare myself for and even though I did, I didn't do it enough. I wanted black, and knew it was going to scratch...but I swear, you can scratch this bag by breathing on it. Before I even took it on a plane the ribs on the contoured design pattern scratched on the hotel bag stand...yes the hotel bag stand. If you want black...be prepared that your bag will look like you've battled through a war zone. With that said...I have no regrets and would do it again. I am looking forward to seeing how the bag does after 100 segments.
One other thing I was worried about....the wheels. I do not know if they are any different...they look the same as my Alpha Bravo, but they roll beautifully. This may be new bag effect, but I do not recall the Alpha Bravo rolling so effortlessly.
Opportunities for improvement....
The interior straps are too short on one side. So when your packing, you can't keep the strap out of the bag.
The handle is the standard Tumi handle. It's ok...not great...but not bad.
All in all, I truly love this bag. I wasn't willing to pay the full price for it, but truly believe it is worth the discounted price. Hope this helps potential shoppers interested in this bag.
---
Last edited by Tmsmedic; Sep 23, 18 at

9:17 am
Nov 11, 18, 11:11 pm
Join Date: Jul 2004
Location: Seattle, Wa
Programs: AS 75K & BR Member- HHonors Gold - Hertz PC - BW Diamond - IHG Plat
Posts: 2,345
I ordered a Black 19 today. Excited to transition from a Softside to a Hardside. Not excited for it to get scratched up from use but thatís the trade off I guess.
Feb 18, 19, 10:18 am
Join Date: Dec 2014
Programs: DL DM, HH Plat
Posts: 17
5 Month - Hard Use Review
---
So after having this case for 5 months, it has been used heavily...4+ segments weekly with 2 in Satan's Chariot (CRJ200) requiring gate checking. Like I mentioned, I expected the 19 Aluminum to get the crap scratched out of it, and it has. With that said, it still has exceeded my expectations. It rolls extremely well...better than any Tumi I have had in the past. Additionally, the handles and latches are still as good as they were when new. I can almost guarantee the first failure will be the expandable handle. I don't know why Tumi can't seem to make this a bit beefier. Anyway, if you can handle the "weathered" or "patina'd" look, this bag is awesome. If you freak over the slightest blemish in a bag, then stay far away.
I will say this about the scratches...compared to my wife's polycarbonate Tumi, the 19 Aluminum looks much better, classier, and stylish. That poly looks beat to hell and is just plain ugly.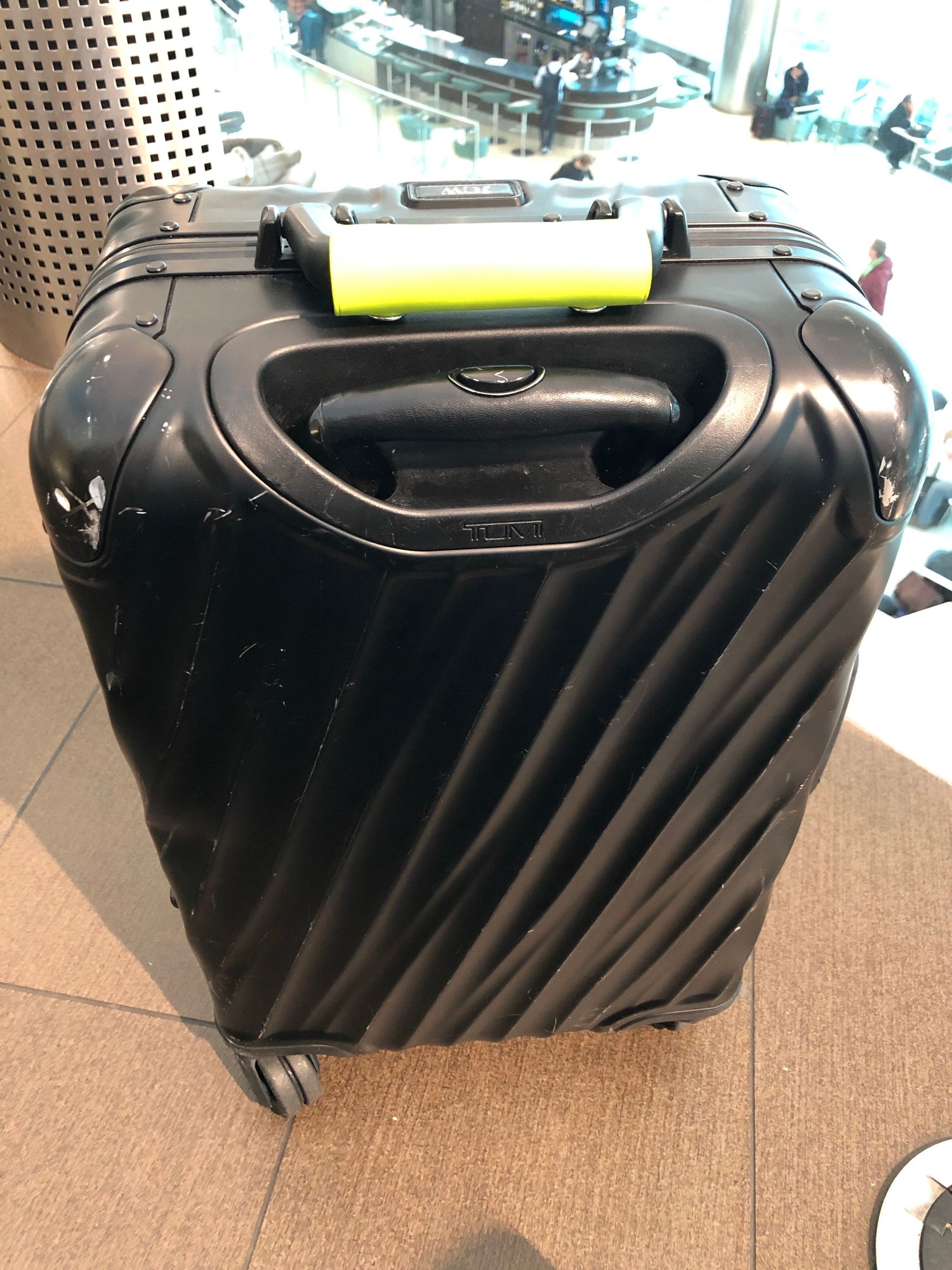 Feb 20, 19, 9:53 am
Join Date: Oct 2010
Programs: SPG Gold, Hyatt GP Platinum
Posts: 413
Thanks for the follow up. I'm considering this vs a Rimowa Hybrid. It seems the Rimowa holds more volume vs the Tumi and the Tumi is heavier. Still, the Tumi aluminum black does look very good and I do like the attention to detail such as the locking mechanism and the soft close handles.
Feb 22, 19, 3:54 am
Join Date: Nov 2012
Location: NYC
Programs: Marriot Am, MU Pt
Posts: 3,094
I've had mine for over a year now and I agree with many of the points in this review. I don't fly with mine nearly as much as the OP.
I wrote a little feedback last year in this thread:
https://www.flyertalk.com/forum/29744384-post18.html
I agree the latches on the Tumi 19 aluminum are outstanding. The wheels are also very nice and so is the overall design of the suitcase. I have two of them, both in black. One is the iata sized carry on and the other is the short trip 26". On one trip one of the wheels got broken off, the tumi store replaced the wheel within a few minutes no questions asked. Second time the corner piece got cracked somehow, tumi store replaced the suitcase under their one-year replacement guarantee again no hassle whatsoever. I would say however the the Tumi feels more finished than the Rimowa. Most of my Rimowa cases don't shut straight anymore (granted they are many years old), even my last purchase from a year ago [Topas Stealth IATA carry on] seems to be already out of alignment.
Feb 23, 19, 2:16 am
Join Date: Oct 2010
Programs: SPG Gold, Hyatt GP Platinum
Posts: 413
Hmm.... my Rimowa 26" was misaligned after my first trip. It was repaired by Rimowa no questions asked. Just annoying because it happened on day 2 of a 7 day trip.

Maybe be if/when the Tumi goes on sale, I will consider it.
Mar 20, 19, 8:46 am
Join Date: Dec 2014
Programs: DL DM, HH Plat
Posts: 17
It does have compression on both sides, but it's not great. There are the traditional straps and what I believe could be considered a compression cover...but it doesn't truly compress. These are identical on both sides.