Choosing a seat in new suites
May 15, 19, 10:27 am
Join Date: Dec 2005
Posts: 144
Choosing a seat in new suites
---
I've been reading reviews about the seats in new suites, but it's hard for me to visualize. It seems like it makes a big difference which row I choose.

I like looking out the window during takeoff and landing. It seems like row 1 doesn't allow looking out the window while facing forward. Do both rows 2 and 3 allow one to look out? Is the seat so far enough away from the window that I won't be able to see out (and down towards land/sea)? Is row 3 really much different/smaller vs row 2?

Thanks!
-- Ethan
May 15, 19, 1:52 pm
Join Date: Oct 1999
Location: Don't know....
Programs: BA LTG GGL CCR, SQ TPPS, CX DM, AA Plat 2MM
Posts: 3,923
Yes row 1 view out of the window is harder because it has fewer windows. Row 2 has more windows but as with all rows there is a gap between window and chair. On take off, you face the front and not facing the window at all. I've never done row 3 but done row 1 and 2 many times. I still don't have a hard preference between row 1 or 2 yet.
May 15, 19, 2:26 pm
Join Date: Jun 2007
Location: Sydney, NSW
Posts: 464
Row 1 is definitely bigger, but theyíre all very sizeable, so Iím not sure it really matters.

1A/2A can interconnect/form a double bed.

Iíve only flown 1A (partner had 2A). Hopefully will have the same on our next suites (NRT) if the aircraft is switched.


May 15, 19, 6:39 pm
Join Date: Apr 2013
Location: Singapore
Programs: SQ Krisflyer/Star Gold, QF Gold/Oneworld Sapphire
Posts: 87
Originally Posted by
solomita
I've been reading reviews about the seats in new suites, but it's hard for me to visualize. It seems like it makes a big difference which row I choose.

I like looking out the window during takeoff and landing. It seems like row 1 doesn't allow looking out the window while facing forward. Do both rows 2 and 3 allow one to look out? Is the seat so far enough away from the window that I won't be able to see out (and down towards land/sea)? Is row 3 really much different/smaller vs row 2?

Thanks!
-- Ethan
Hi
Ethan
! 1A/1F suites appear to be marginally larger than row 2 and 3, however all the suites are large. You have quite a decent view out of the windows from the row 1 Suites.
Here is a picture of the view from 1F, taken while seated after take-off from SYD.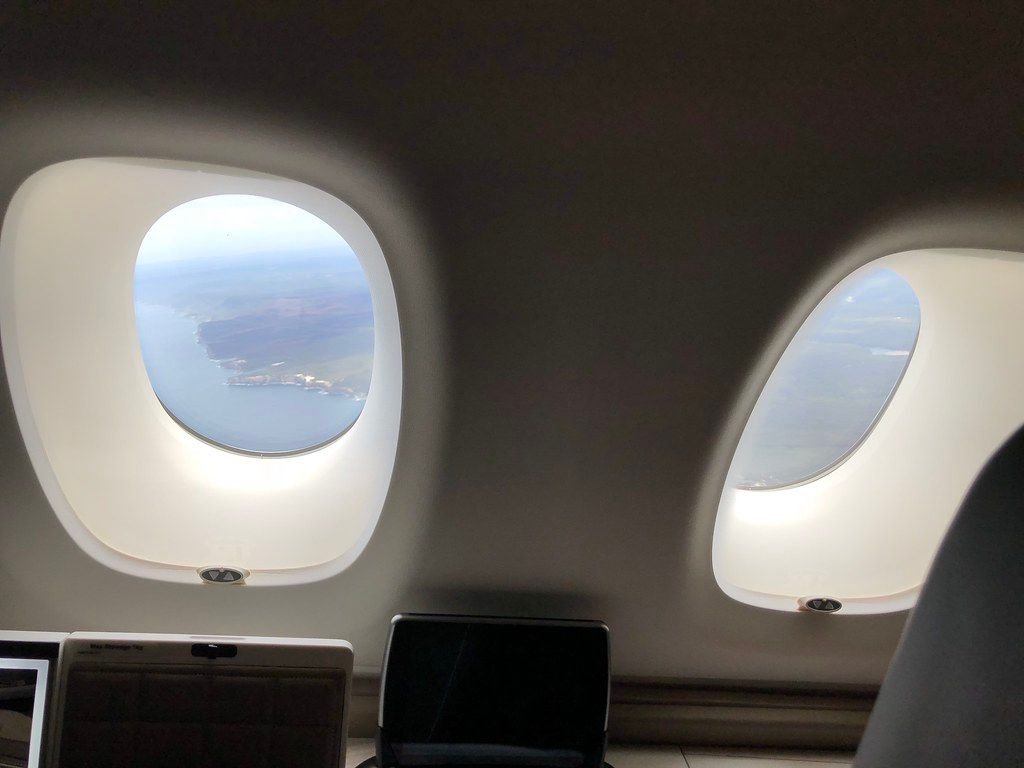 A few more pictures of the new SQ A380 Suites in seat 1F on the SYD-SIN sector in a TR
here
(Link to external SQTalk site), and some pics of row 2 and 3 suites as well, so you can judge for yourself what the view is out the window, and the relative sizes of the Suites.
May 17, 19, 8:30 pm
Join Date: Oct 1999
Location: Don't know....
Programs: BA LTG GGL CCR, SQ TPPS, CX DM, AA Plat 2MM
Posts: 3,923
Row 1 on take off you face a wall that is quite close to you... I find it a little restrictive when compare to row 2. Row 2 is more space in front of you in the take off / landing position.
May 18, 19, 9:50 am
Join Date: Apr 2006
Posts: 661
May 18, 19, 10:27 pm
Join Date: Sep 2007
Location: Singapore
Programs: TG Gold, MPC Silver, SPG Titanium (LT)
Posts: 523
I've flown in both rows 1 & 3. When I flew in row 1 I really didn't like the wall being so close to me during take off and landing as noted by bagold. I didn't notice any difference in space between rows 1 and 3 and when I flew in row 3 I wasn't disturbed by any noise from the galley.

If I fly again I'll be opting for row 3.
May 24, 19, 5:08 am
Join Date: Apr 2010
Location: Oarstraya
Programs: QF SQ VA CX DL UA PR MH MU
Posts: 321
See here o/h of 6 R layout - I would avoid Row 1 if at all possible as it can feel like your snout is literally pressed against TV screen at take-off and landing - 2A/2F are the prime Suites IMHO as you may score the double if nobody takes up the Row 1 suite.
---
Last edited by Cruiser Elite; May 24, 19 at

4:56 pm