Five Days In Irkutsk In February / Lake Baikal Ice Tour Advice Needed
Dec 7, 17, 12:26 pm
Join Date: Feb 2014
Location: OTP, CHQ, EIN and beyond
Programs: AF/KL platinum, Turkish gold, Aegean silver
Posts: 1,060
Five Days In Irkutsk In February / Lake Baikal Ice Tour Advice Needed
---
I got 5 days in the middle of February in Irkutsk, Siberia as part of a ticket bought in a nice little "flash sale". Arriving on a Tuesday early morning, leaving on Sunday afternoon.
Was wondering if some have first-hand experience in the Siberian winter? In particular, any advice on the following would be appreciated:
- I have seen lovely photographs of frozen Baikal lake such as this below. Would love to walk on the lake - preferably in an area that feels like being in the "nature" and not near a bigger town - and admire the beautiful shades of blue of the frozen water. Can anyone recommend tours (on a lower to mid-budget, dont want to splash $$ on a fancy private tour geared towards foreigners knowing that Siberia in general is cheap) to do this.
Otherwise, can someone perhaps advice on any public transport option making this possible as a day trip? Or perhaps would recommend an overnight stay somewhere on Lake Baikal itself in the nature?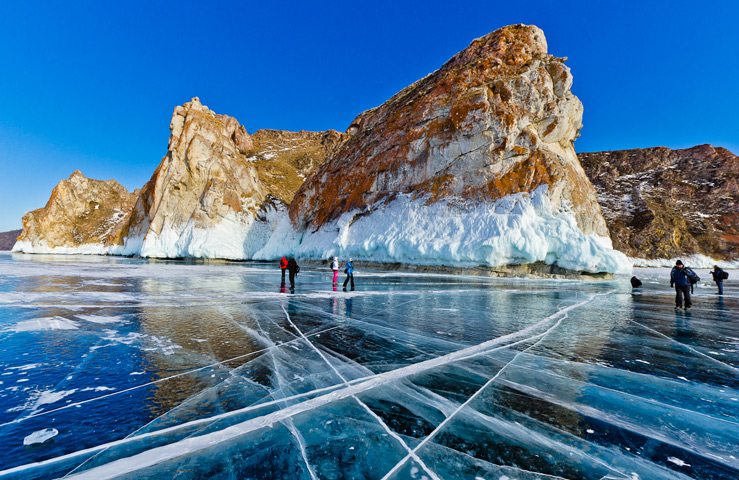 - Would you stay the entire time based in Irkutsk to take the time to appreciate the sights and making a few day trips, or consider an overnight stay somewhere out of town as well? Besides a trip to Lake Baikal, other ideas I had were perhaps to go cross country skiing, stay in a quiet town in nature overnight, or perhaps even take a ride on the Transsiberian to the next major stop in Ulan Ude to see the crazily big Lenin head statue.
- Any other ideas or personal experiences from those who know the area well/have visited before are always appreciated, be it good places to eat, to stay or to visit!
Dec 10, 17, 3:07 am
Join Date: Sep 2009
Location: ZRH
Programs: LH SEN, BAEC Bronze, S7 Приоритет, TrueBlue
Posts: 160
I spent the New Years holidays at Lake Baikal a few years ago - it is a very beautiful place for a winter visit. I did some travel in Siberia, including in winter, and speak enough Russian to be able to travel independently.
Irkutsk is a pleasant enough city, but I would recommend to spend not more than one night there - this will be enough for a first impression, and see the main sights (of which there are not that many). Plus, staying at Lake Baikal will be better for exploring the lake and the nature - Irkutsk is too far to serve as a base. The place with most variety in terms of accomodation and other infrastructure is Listvyanka directly at the lake. At this time of the year, it will be quiet with not many visitors.
Although I usually prefer to travel independently, we went with a small group tour operated by
Ice season tours | Tours | Baikalov
, and it was a good choice, including many outdoor activities such as hiking, snowmobile, dog-sledge riding etc. - I would recommend this because distances are large, and public transport is infrequent, inflexible and may not take you to the most attractive places, as it is focused more on the needs of locals. The operator even helped with additional winter clothing (when I was there, temperatures were in the range of -35C)
All of course depends on your preferences, but given the beauty of Lake Baikal I would stay there as much as possible instead of cities/trains etc.
Greetings from CLJ
Dec 11, 17, 3:20 pm
Join Date: Nov 2017
Location: Netherlands - AMS
Programs: Flying Blue Platinum; Alaska MVP
Posts: 102
Thanks for the topic, I will follow it.
I hopped on the IKT fare too, and I am exploring some options now. Going end january/beginning of february. How likely is the lake to be frozen by then?
Dec 13, 17, 2:15 pm
Join Date: Sep 2009
Location: ZRH
Programs: LH SEN, BAEC Bronze, S7 Приоритет, TrueBlue
Posts: 160