New Russian Airport Names
Jun 1, 19, 2:02 am
Join Date: Apr 2001
Posts: 1,155
New Russian Airport Names
---
From
today's Moscow Times:
Airports in dozens of Russian cities will now bear the names of their famous residents after President Vladimir Putin issued a decree on the name change Friday.
Here's a look at some of the newly minted names of some of Russia's most popular airports. Hopefully, this will help you avoid confusion if you see "Pushkin Airport" instead of Sheremetyevo when you book your next ticket to Moscow.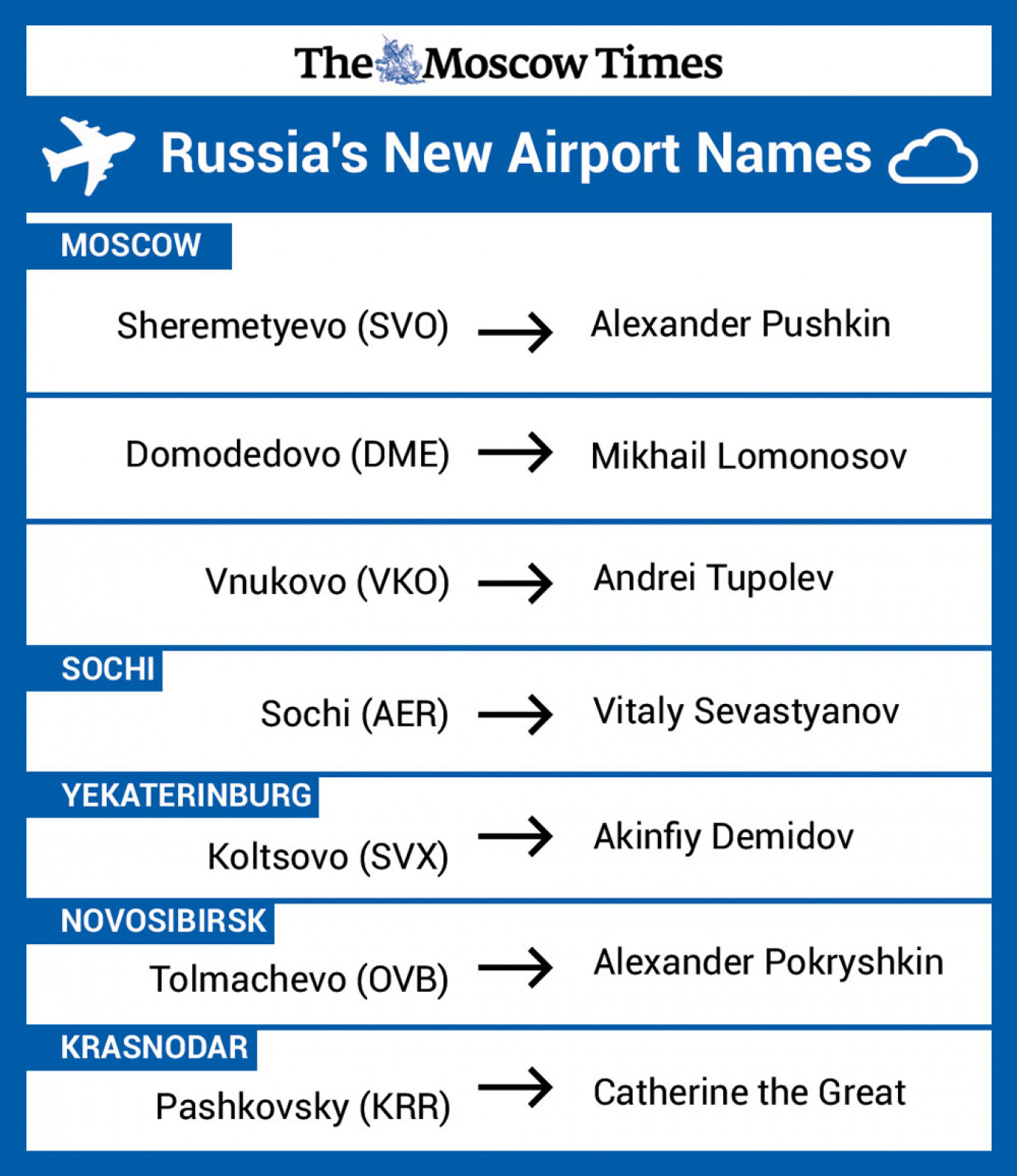 I dont know about the rest of you, but I'm going to have difficulty remembering that DME is Lomonosov and not Tupolov, for example.
Hopefully they wont change airport codes also...
Jun 1, 19, 4:06 am
Join Date: Apr 2007
Location: Australia
Programs: NZ *G
Posts: 5,732
Given that Ho Chi Minh city is still SGN, and Beijing is still PEK I suspect you have little to worry about...
I must say though I'm pleased to see Alexander Pokryshkin commemorated in this way... 3 times "Hero of the Soviet Union", 59 kills (2nd highest scoring Soviet pilot of WW2) and more importantly a man who trained many other Soviet pilots so successfully. Thirty pilots who first saw action under his tutelage became "Heroes of the Soviet Union".... Six of them were awarded it twice. Those 30 destroyed more than 500 German aircraft between them. Yes, WW2 was a long time ago... but it is hardly surprising the Russians refuse to forget it. They are not the only ones of course... When I flew Norwegian I was equally impressed that one of their aircraft carried the image of Max Manus on the tail, a hero of the Norwegian resistance.....
Jun 4, 19, 1:54 pm
Join Date: Aug 2015
Location: ZRH/LUX
Programs: SU GOLD, BA GOLD , SQ PPS. RIP: UA 1999-2015 EY Partners 2006-2017, LH SEN 2006-2018
Posts: 418
Its just another way to F with people's brains. I assume this costs money also, and in my opinion quite unnecessary.
For what purpose?
Jun 5, 19, 8:54 pm
Join Date: Jul 2011
Location: Tokyo
Programs: JAL Diamond, SAS Eurobonus Gold, Marriott Titanium (LTP), Hilton Gold, IHG Gold
Posts: 9,561
I was speaking with a Russian colleague during a break the other day. There has been the possibility for residents in the local areas of the airports to propose and vote on names for the airports. Many of the smaller regional airports (not on this list) have ended up with names of people only really known in that region.

It seems Sheremetyevo has become A S Pushkin Sheremetyevo International Airport (Международный аэропорт Шереметьево имени А. С. Пушкина) so I am not sure the original names will go away. For now at least.

Tegel Airport in Berlin is named Otto Lilienthal, though no one ever uses that name. Might end up the same way here.
Jun 6, 19, 1:40 am
Join Date: Apr 2007
Location: Australia
Programs: NZ *G
Posts: 5,732
Jun 6, 19, 1:48 am
Join Date: May 2015
Location: WAW and KBP
Programs: Gold: Flying blue / Silver: Club Accor
Posts: 840
to satisfy some people's egos !
also iam sure even if there was a vote , the list wasnt open and free , so basically you wouldnt see any dead political dissident/activist
Jun 7, 19, 11:52 am
Jun 7, 19, 7:07 pm
Join Date: Jul 2011
Location: Tokyo
Programs: JAL Diamond, SAS Eurobonus Gold, Marriott Titanium (LTP), Hilton Gold, IHG Gold
Posts: 9,561
Jun 8, 19, 2:11 am
Join Date: Jul 2011
Location: Tokyo
Programs: JAL Diamond, SAS Eurobonus Gold, Marriott Titanium (LTP), Hilton Gold, IHG Gold
Posts: 9,561
Jun 8, 19, 11:30 pm
Jun 9, 19, 1:04 am
Join Date: Jun 2009
Location: LHR/SEA/DME
Programs: BAEC G/*O E
Posts: 829