Hainan Airlines 787 Dreamliner Service
Dec 8, 13, 9:23 am
Join Date: Dec 2013
Programs: BA Executive Club, ANA Mileage Club
Posts: 5
Hainan Airlines 787 Dreamliner Service
---
Anybody out there in FT land ever travelled on the HU 787-8? I came across a very attractive (business class) fare from ORD to HKG (via PEK), and I'm seriously considering it. Any help/advice would be appreciated. Thanks,

3AonBA
Dec 15, 13, 6:41 pm
Join Date: Dec 2013
Posts: 54
Background
This is a trip report on two recent (December 12th, 2013) Hainan Airlines flights I took from Chicago OíHare to Beijing on a Boeing 787-8 and from Beijing to Bangkok on an Airbus A330-300 in business class. My trip originated in Boston. To get to O'Hare, I took a United flight which operated on a Boeing 737-900. I fly to Asia at least once or twice a year and have taken JAL, ANA, EVA, Cathay Pacific, United, and Emirates, Thai Airways out of BOS, JFK, EWR, LAX to get from North America to Asia. This trip was my first time flying Hainan Airlines. Before booking this flight several months ago, I'd never even heard of this airline before. What got me interested was the fact that they're flying the 787 (I'd taken the 787 on JAL for BOS-NRT before and loved it). After doing some research on the airline, I decided to give Hainan a try.
My destination for this trip is Bangkok. At the time I made the booking, Hainan's website did not allow me to book BKK as a final destination, so I had to book over the phone which turned out to be pretty easy once you actually get to a rep. To my surprise, the round-trip business class ticket was priced at $2,3XX (fare code "I") which is only slightly more expensive than an economy class ticket for the other airlines I've flown.
After I confirmed and paid for my booking, I received an e-ticket number and a booking ID. I was able to use these numbers to view my itinerary on Hainan's website immediately. However, the day before my flight, I tried to look up my record on Hainan's website, and it said that my record doesn't exist (both booking ID and e-ticket number). I also tried several other websites that allow you to look up your itinerary from your booking ID - all said the same thing--that the booking ID or the ticket number doesn't exist. By that time, Hainan Airlines' North American offices had closed, so I called their head office in China. A rep I finally connected with spoke good English. She took my booking ID and was able to confirm that everything was in order, and that I still had my booking.
Pre-boarding
Hainan Airlines operates out of Terminal 5 (concourse M) at O'Hare. When I arrived at the check-in area, the entire check-in hall was pretty empty. Hainan occupied 4-5 counters, each had about 5 staff working off of, which I thought was a little excessive. Some of the supervising staff appeared to speak no English at all, but all were very helpful. I'd never connected through Beijing before, and apparently the check-in staff did not quite know how to deal with issuing boarding passes for connecting passengers either. Usually when I connect in Hong Kong or Narita, I would get a boarding pass for my second leg, and I wouldn't have to check in again at the connecting airport. Hainan staff also weren't sure whether my checked bag would go all the way to Bangkok, or whether I'd have to collect and re-check it in Beijing. Anyhow, the staff asked me to wait while they phoned the head office in China to confirm what the protocol was. In the end, I was told to go through customs in Beijing and check in again for my flight to Bangkok, but the bag which I checked in Chicago would go all the way to Bangkok. Before I headed to the gate, the staff told me that she'd never seen such a short connection before (about 2 hours). She said usually connections are over 10 hours... and I thought that was weird. Maybe this is something unique to the Beijing airport?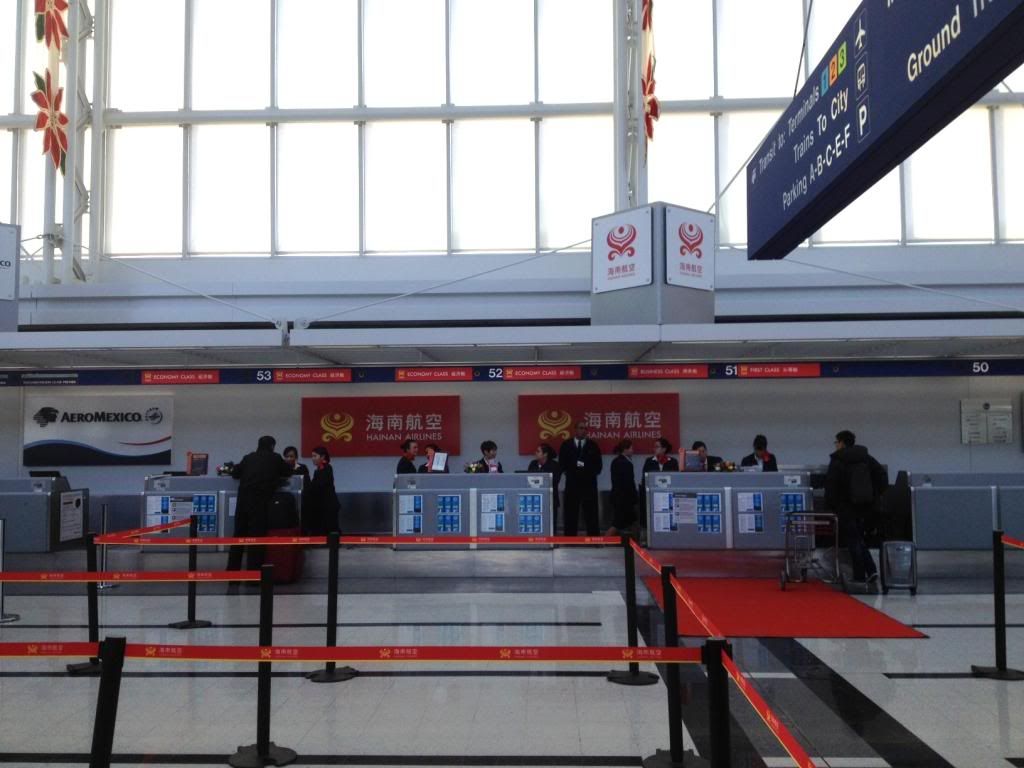 Business class passengers get a pass to the Swissport lounge which is located right across the hall from the gate. The lounge is cozy, and the staff were very nice. I sat down at one of the work stations and tried to get some work done but ended up quitting because the provided wi-fi internet was too slow to be productive.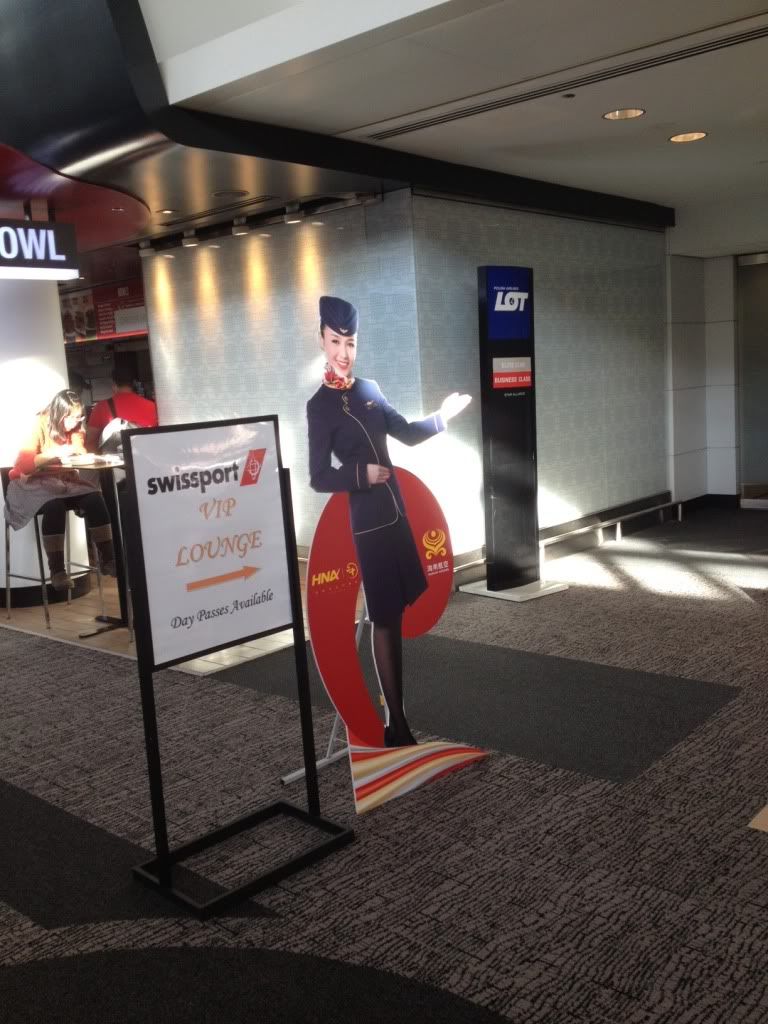 Boarding began right on schedule, and they got everyone on the plane in about twenty minutes or so.
HU 498 - The ORD-PEK flight
The business class cabin on Hainan's 787 is split into two sections, each with 3 rows of flat-bed seats in a 2-2-2 configuration. When I booked the ticket, the only window seats available were in the last row, so I got the seat 6A. However, I noticed that Hainan blocked the seats in row 1 and 2 off on their system with every flight which I assumed those seats would open up at some point. Hence, when I checked in, I asked if any of the window seats in row 1 or 2 were available. 1K was, so I got it.
The seat is very comfortable and even has a massage function! There isn't much room for storage, however- just a little space under the ottoman. When in the lie-flat position, I am able to fully stretch my legs, and the seat width is enough for me to toss and turn like sleeping in a real bed. I was able to sleep on my back and on my side very comfortably. (I am 5'8"). The duvet provided is HUGE and quite heavy--made for a good night sleep. The pillow was fluffy and comfy.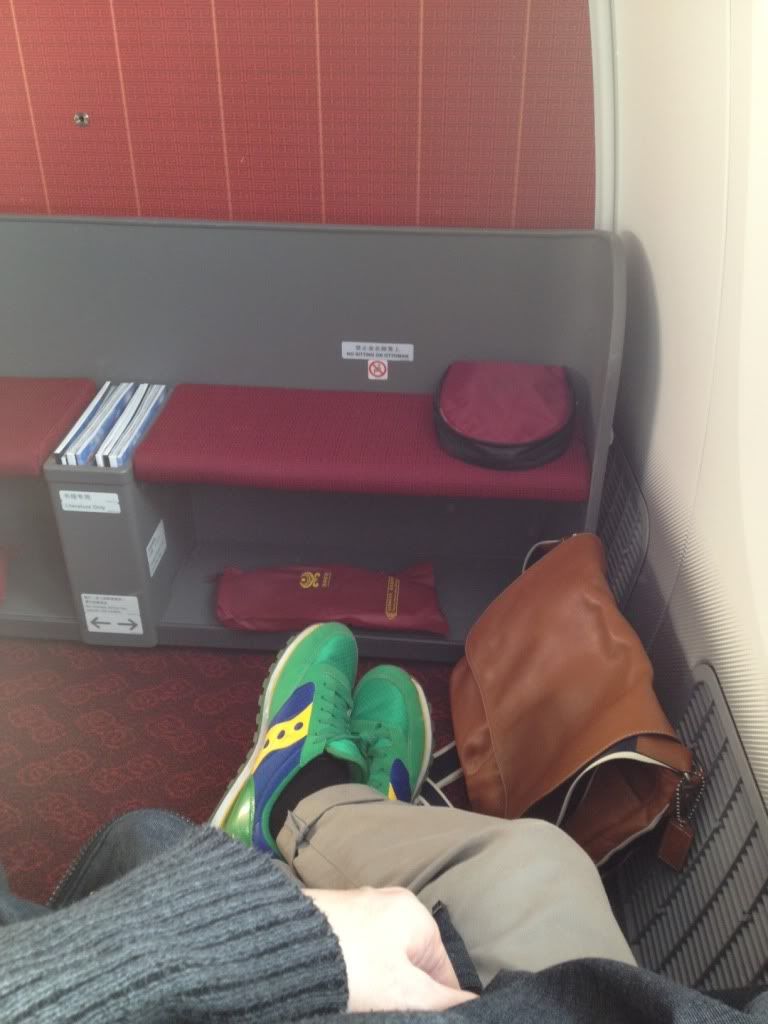 Once seated, I was given a Bvlgari amenity kit, pajamas, and a food and drink menu. They have a bunch of cocktails to choose from, 5-6 different selections of wine, and I'm especially impressed with the tea selections. The food was OK--not terrible, but also not fantastic. Luckily, I usually don't choose airlines based on their culinary offerings.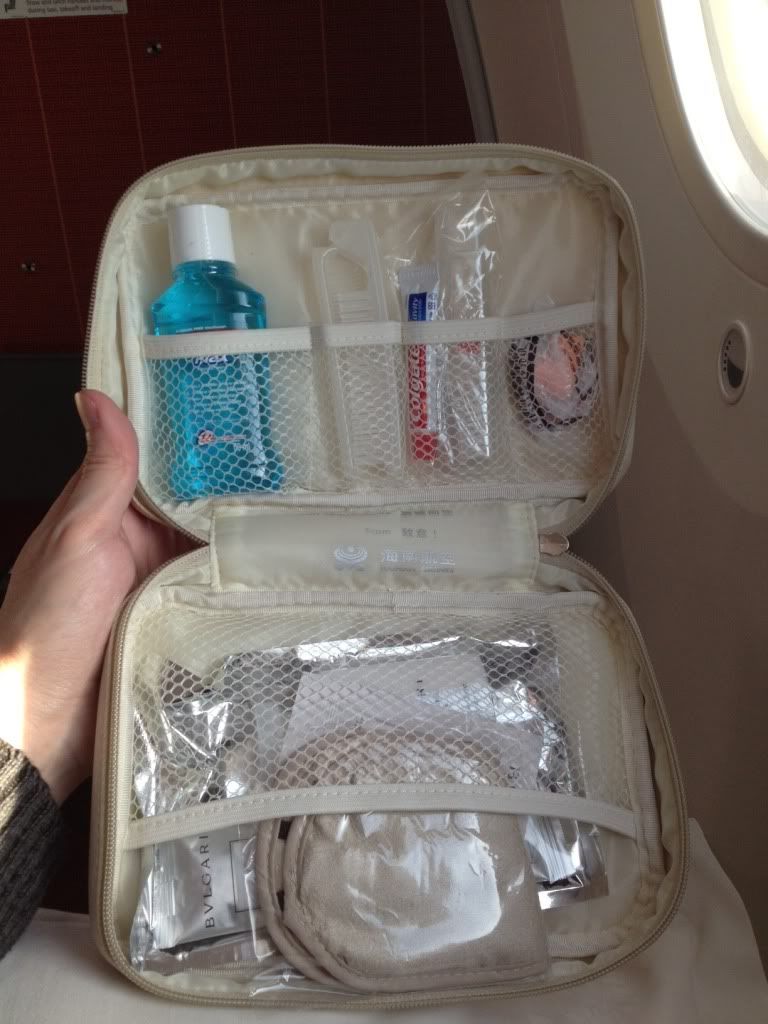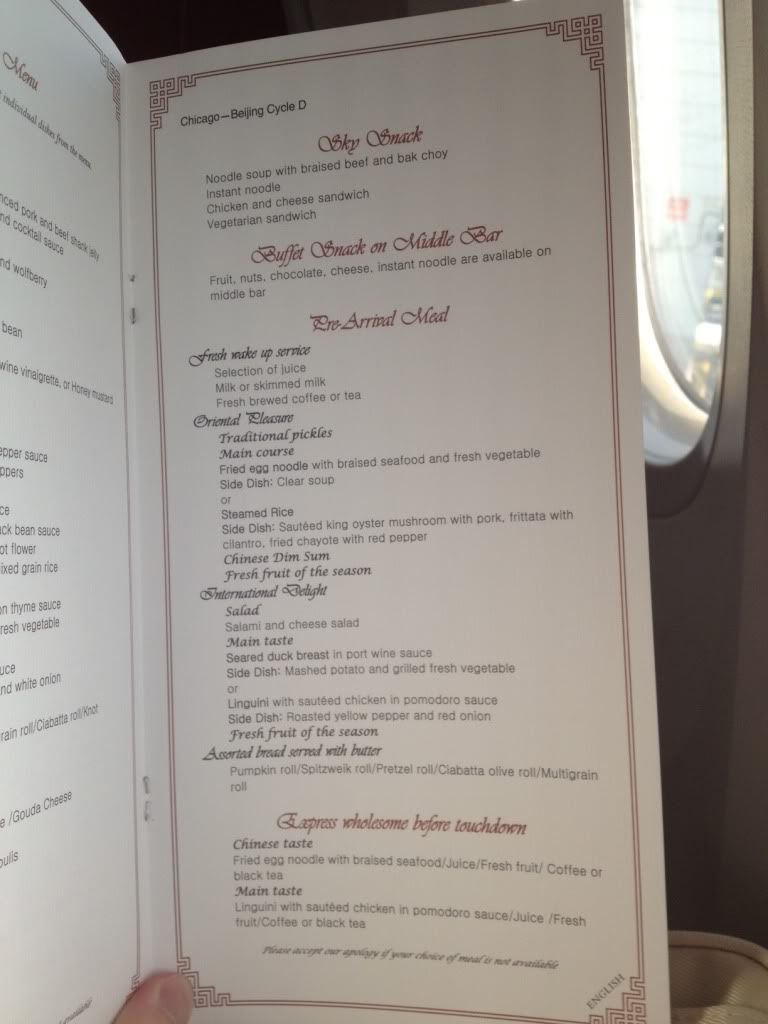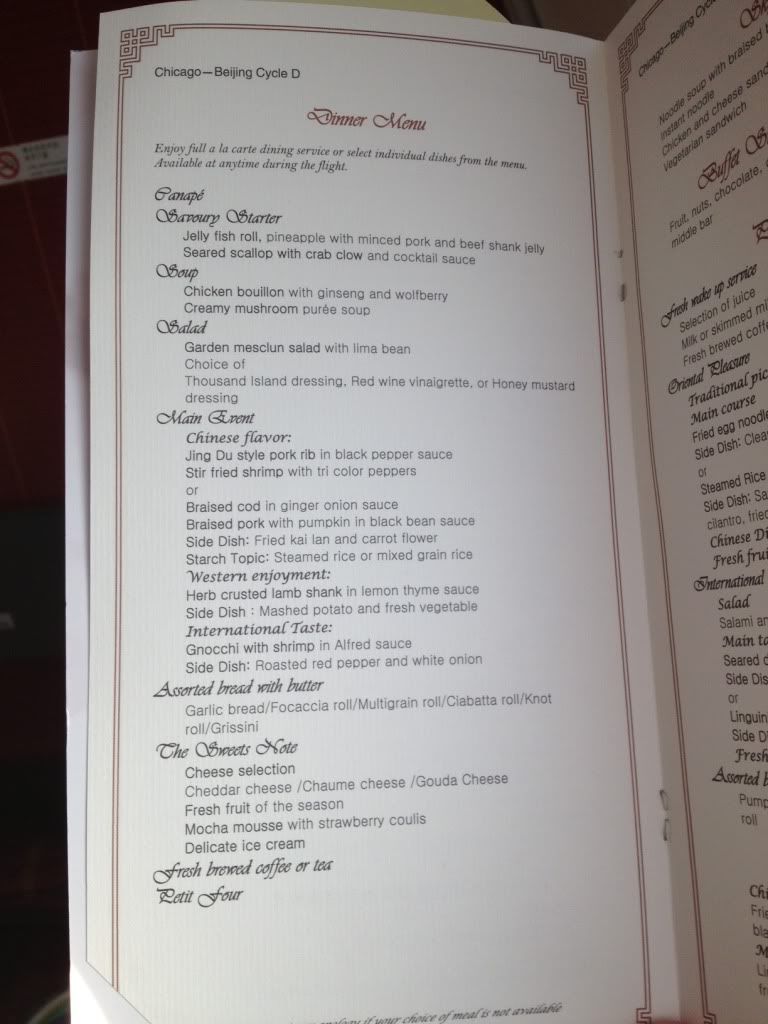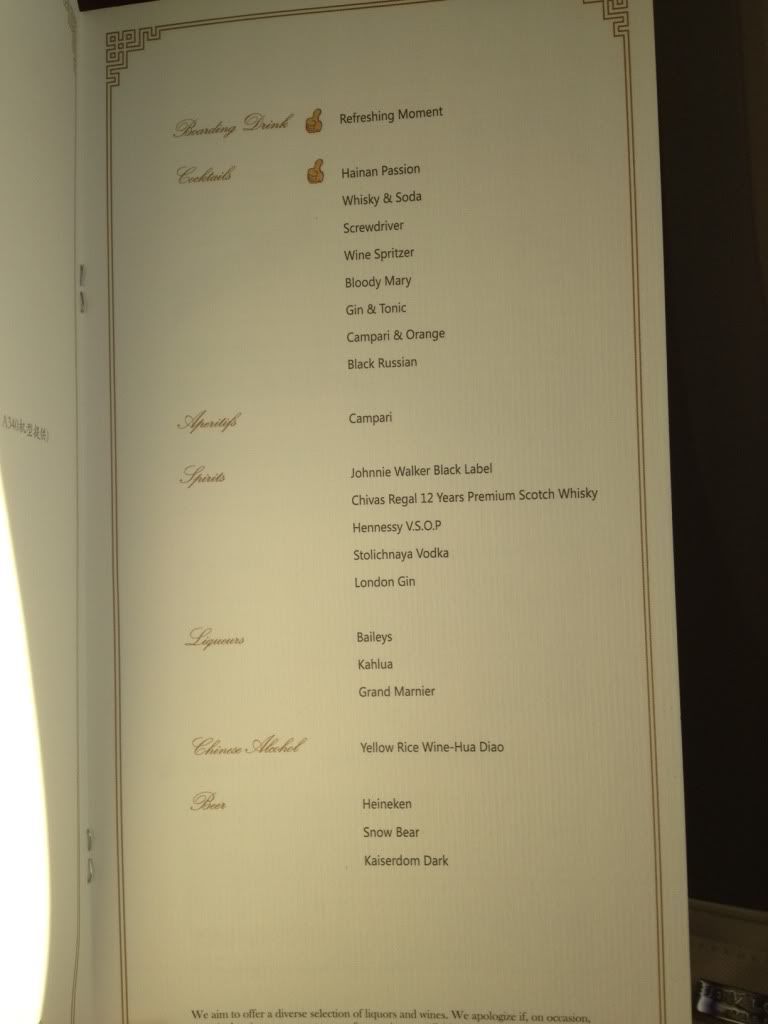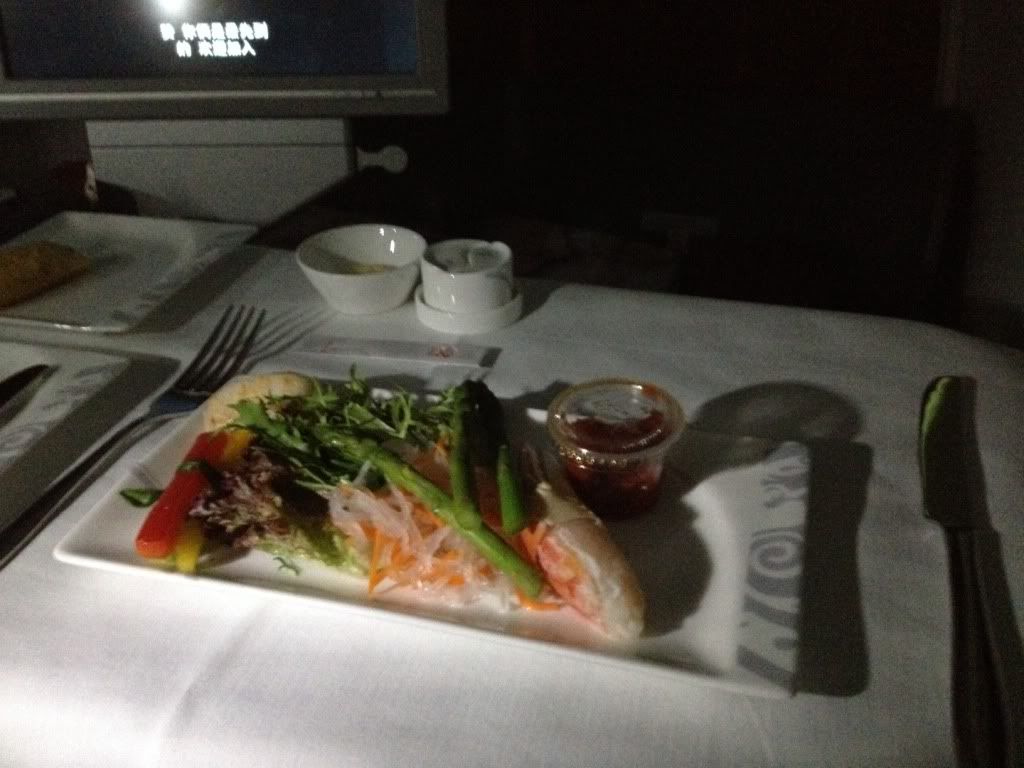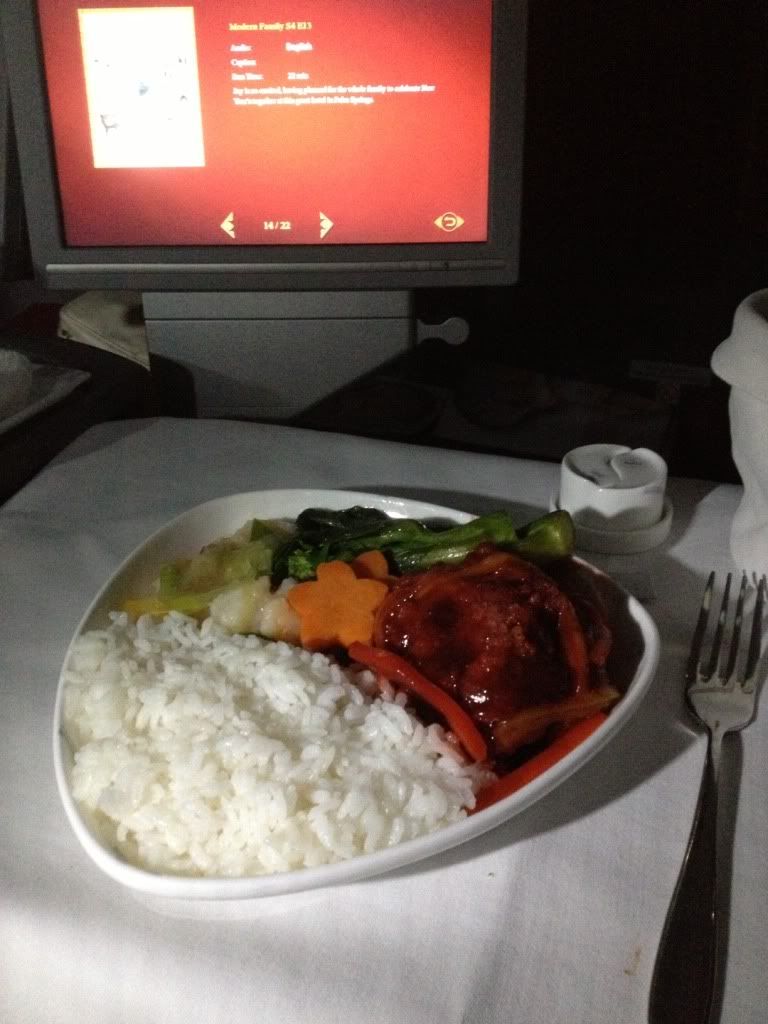 The quality of the service is good. Staff were attentive and plenty. In the business cabin, there were at least 3 male and one female flight attendants. The male flight attendants spoke good English, but the female attendant struggled with verbal communication quite a bit (although I could tell she really tried to be helpful). There was no turn-down service or anything fancy like that, but what was provided was more than sufficient for me.
The entertainment system has a fair amount of English-language content. There are some recent films and TV series (I watched Pacific Rim, After Earth, City of Bones, and a few episode of Modern Family... if I had more time, I would have also watched the second Percy Jackson movie). The headphones provided are not noise-canceling, but luckily I brought my own. The screens are large and are mounted on the back of the seats in front of you. Seats in row 1 and 3, however, have a pull-out screen tucked in the arm rest (which I like better because the screen can be tilted to the angle you like, and itís not too far away).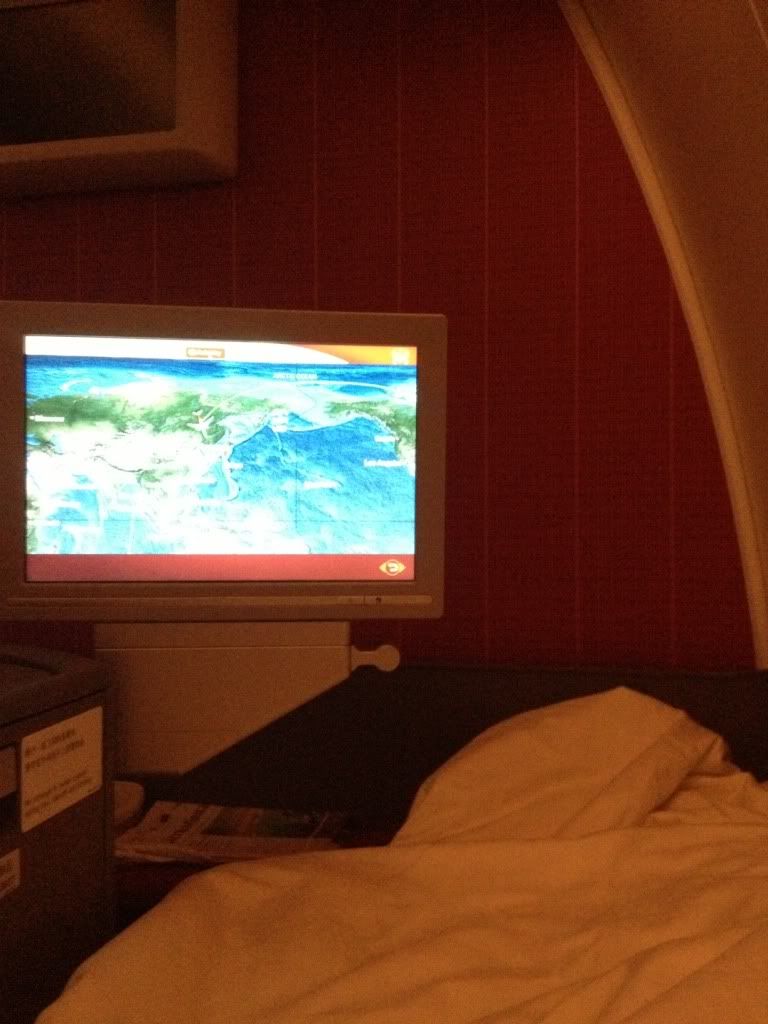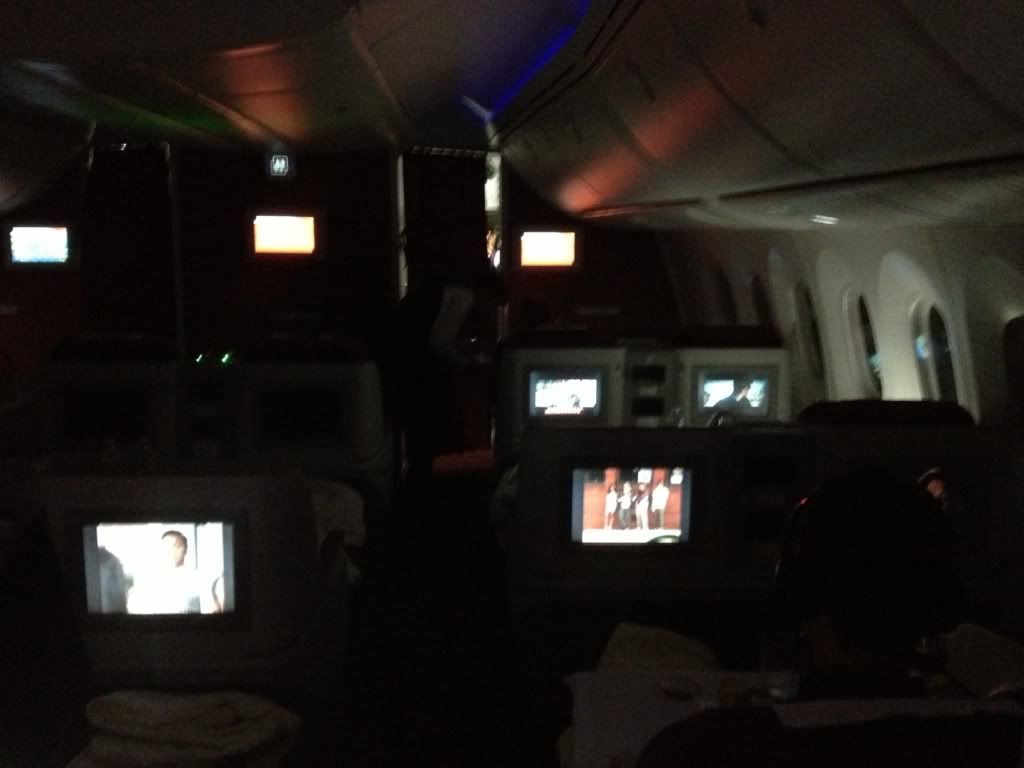 The bathrooms are very tiny and at times not very clean. This business class cabin was rather full (I counted 4 empty seats), and this might have contributed to the bathrooms not being so clean all the time.
The overall flight time was about 14 hours. Coming from the 737-900 plane just a few hours before this flight really made me appreciate how HUGE the windows on the 787 are. The cabin feels airy and comfortable. The lighting is beautiful. I loved that the pressure and humidity are kept at a more livable level. My ears did not pop at all during this flight (they did every other flights). The flight departed and arrived on time. The ride was very smooth until a few hours before we landed did we experience some short instances of turbulence. I slept for about 6-7 hours straight. It was a good flight.
Connection in Beijing
Right outside our arrival gate at PEK, a there was a Hainan staff holding a sign for passengers connecting to Bangkok (there were about 8 on this flight). The staff led us through customs, and after a really long walk, we were brought to a check-in counter where we got our boarding passes for the flight to Bangkok. After I received my boarding pass, I got through security check and looked for the lounge, hoping to take a shower. I'm not sure if the lounge I got to is the same one Hainan advertises on its website. The restrooms are not very well-maintained. There's only one shower room, and there was no hot water.
My flight to Bangkok used a satellite gate. The boarding started on time, and 10 minutes into it, most economy passengers were on the shuttle bus already. Business class passengers had a separate shuttle. I got on the shuttle and waited in there for a good twenty minutes when we were told that there's a problem with the plane, and the flight was being delayed. We got back in the terminal and tried to ask the staff what's going on, but they weren't able to communicate in English very well ("The plane is broke" - that's the only response we got). The bus which had earlier taken the economy passengers to the broken plane then came back, and rowdy passengers flooded back into the terminal. About ten minutes later, however, boarding started again (apparently the broken plane was fixed in 10 minutes). After all, the flight was delayed for 40 minutes.
HU 7995 - The PEK-BKK flight
The business class cabin on this Airbus A330-300 has flat-bed seats in a staggered 1-2-1 configuration. I got the seat 2A which is a window window seat and feels very private (the odd-number row window seats are aisle window seats). Less than a third of the business class seats were occupied. Prior to take-off, a flight attendant handed out a drink menu and personally introduced the food selections and took orders. There were two choices for food: either a Chinese rice dish or a steak dish. Since this was only a 5-hour flight, no amenity kit or pajama was provided. There were three female and one male flight attendants working in our empty business class cabin. Most of them seemed to speak considerably good English Ė although one time I asked for a glass of white wine and got red wine instead. The content on the IFE is exactly the same as on the 787.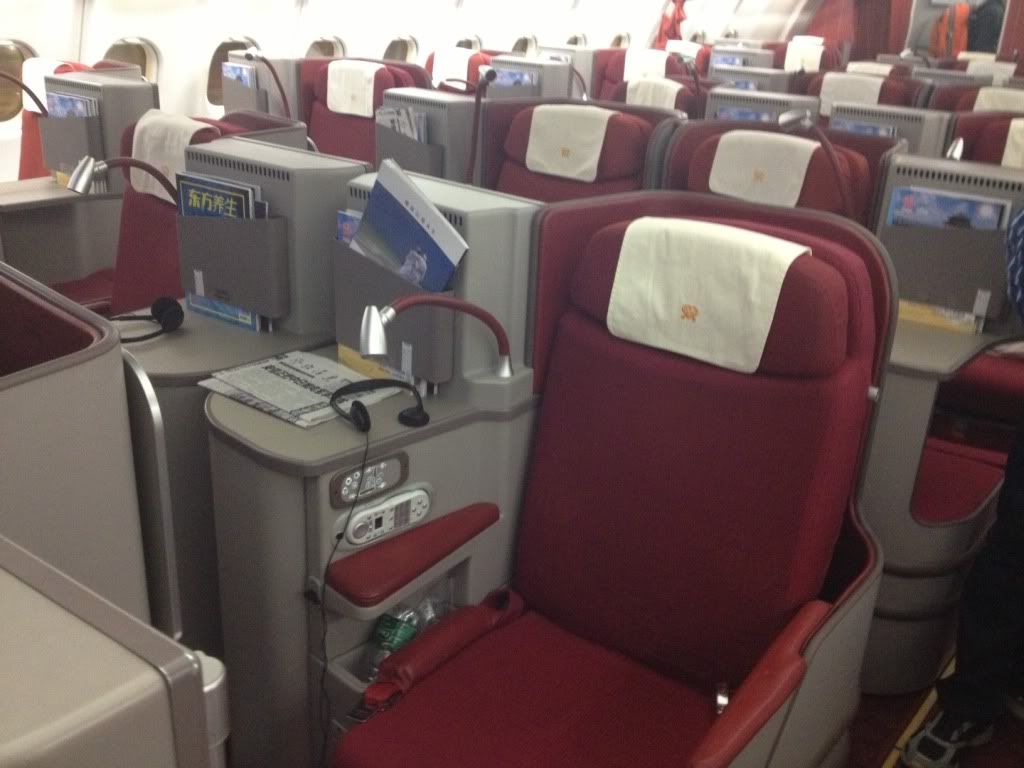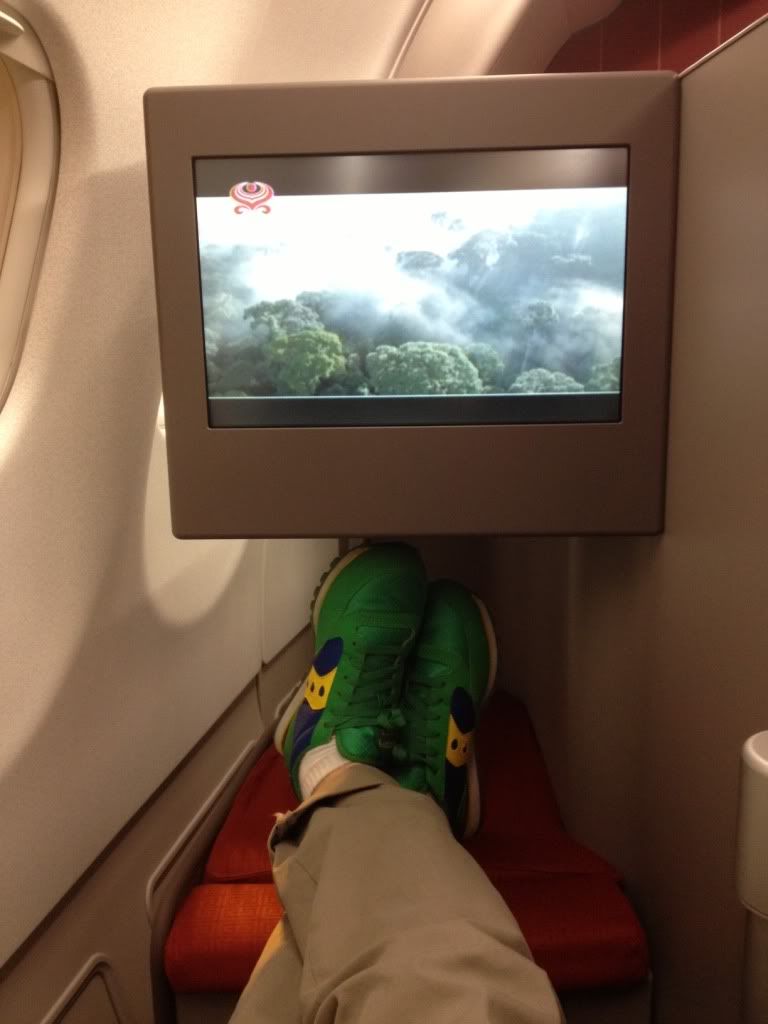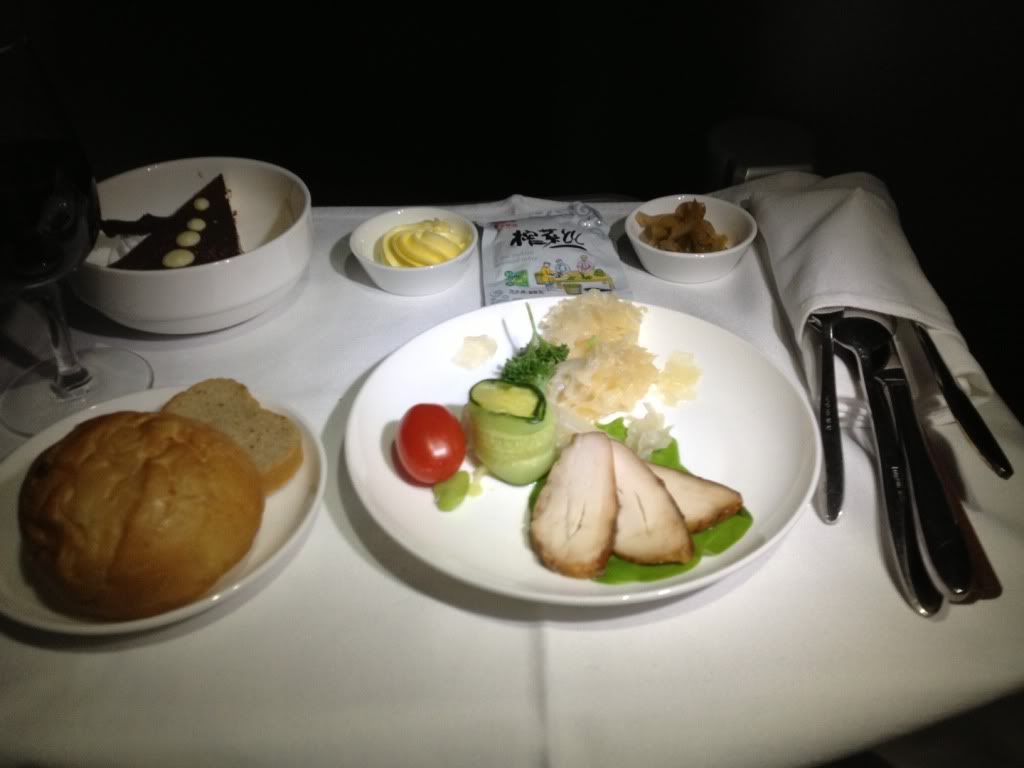 Even with the delay, this was also another good, smooth flight. Although this plane doesnít feel brand new like the 787, everything was in good condition. The bathrooms are tiny but kept very clean throughout the flight (then again, it's a 5-hour flight, and 2/3 of the business class cabin was empty). Landing was a bit rough; after the initial touchdown, it felt like the plane bounced back in the air three times. The pilot slammed on the break pretty hard at one point and things on the table fell on to the floor. We arrived at the gate about 40 minutes behind schedule. The walk from the gate to customs was super long. By the time I got to the baggage conveyor belt (and I was the first to get there), my bag had already come out.
Conclusion
My overall first experience with Hainan Airlines was a positive one although I didnít have much of an expectation going into it. It is certainly not in the same league as JAL, ANA, Cathay Pacific, in terms of service, but at the fare that I was able to get, this was a GREAT value. I would fly Hainan again, and Iíd also recommend it to anybody (on this particular route and equipment) Ė but just donít expect it to be the same as what you would normally pay 3 times as much for.
Dec 17, 13, 7:59 am
Join Date: Jan 2008
Posts: 46
Great report. I have the same itinerary departing mid-February. I usually do Miles and Copay with UA. This ends up being the same price but without the Miles (~$2400).

I guess I don't like the "connecting flight" operating procedure at PEK. I wonder if if in the future if Hainan plans to be able to 1) print the PEK-BKK boarding pass at ORD and 2) go through 'standard' connecting-flight security in PEK like NRT instead of being ushered out to the ticket counters.

Cheers.
Dec 17, 13, 8:29 am
Join Date: Dec 2013
Posts: 2
Thanks for the report. Excellent job. You no doubt saved me considerable consternation worrying about not having a BKK boarding pass at ORD. About what I expected. I also payed only about $2,200, and for that you simply have to temper some expectations. I'll try to add anything I can when I travel this in a few weeks.
Jan 5, 14, 7:36 pm
Join Date: Apr 2013
Location: Dallas, TX
Programs: AA Gold, Hyatt GP Diamond, Starwood Gold
Posts: 1
Thanks Doradee. This is one of the few reviews I've found on HU. I've booked the same itinerary in June to BKK in C. Hope the lounge and connection experience improves at PEK as HU adds more US flights.
Mar 5, 14, 8:37 pm
Join Date: Jan 2008
Posts: 46
The worst experience: I will never fly HU again.
---
I posted a reply to this post previously as I, too, was interested in the Y-class price (~$2500USD). My itinerary was ORD-PEK-BKK and back. I am now in PEK on the return.

(+) Based on my outgoing flight the In Flight Service was "good", not great. The food was kind of average and the IFE was complicated. The attendants were dutiful.

(+) The 787 was kind of cool, I was refreshed upon arrival and it had neat electrochromic windows "shades".

Everything was fine until...

(-) HU cancelled my BKK-PEK return leg. This was done with an email. The original was a 1:40AM DEP and 6:45AM ARR. This left 6-hours of layover time at PEK. The new flight left a day earlier and had a one-stop in Nanning and an ultimate ARR in PEK 11:45PM the evening before my PEK-ORD for a total of 13.5 layover time. This was unacceptable as 1) I had committed plans for the entire day and 2) was not going to sleep on the airport floor and definitely did not want to deal with a temporary stay visa. There was no verbal communication and no way to call them from Thailand and received no reply via email. I said "screw it" and purchased a Y-class one-way ($800USD) on TG that DEP at 12:05AM and ARR at 5:10AM. This is when the real challenge arose. The Star Alliance Terminal is in Terminal 3. HU is in Terminal 2. If anyone has done this before they know that there is no signage for Terminal 2. I intuitively did not know that I needed to leave the airport and should have followed signs for baggage claim. An hour later I finally figured it out, waited outside in 35'F weather, waited 20 minutes for the Shuttle bus that took 25 minutes to get me to T2.

(-) I stormed inside ... only find the ticket counter empty at 7AM; it's unattended until 3-hours before the flight. Tired, dehydrated, no RMB in my pocket I was VERY dissappointed.

(-) When I arrived at the desk at 10AM it was attended by a contracted Service who did not represent Hainan. They gave me a 6-digit phone (?) number to call. I was livid and internalized it, of course, because my Mandarin is no existent.

(-) Hainan's website is utterly useless for self-service.

(-) Being used to UA biz-lounge I thought I might be pleased with HU's lounge. Absolutely not. ORD is a contracted lounge in some tiny dark corner of the airport. I rate it as poor. The lounge in PEK is equally unimpressive with a stupid Wifi system, a poor food selection (maybe slightly better than UA!) and with not a single real spoon to found.

In summary PEK has got to be the WORST airport in the world, certainly the worst APAC port-of-call I have ever flown through. I will leave it to others to share the thoughts about HU to hopefully temper mine. That being said I will never never never never fly through PEK again and never never never fly Hainan, China's supposed only 5-star carrier. It's definitely back to UA for me.
Mar 5, 14, 10:44 pm
FlyerTalk Evangelist
Join Date: Dec 2000
Location: Shanghai
Posts: 31,794
Mar 6, 14, 11:05 pm
Join Date: Feb 2007
Location: PVG, FRA, SEA, HEL
Programs: UA Premier Gold
Posts: 3,964
There is one rule, when travelling by air to or from China.
Do not transit in PEK!

PEK has enourmous problems regarding air traffic congestion.
If there is one drop of rain, everything shuts down.

Moreover, Chinese airlines often cancel at free will (often like 7 days in advance) without offering anything in return. They sometimes even give you a run for a full refund.
Mar 17, 14, 12:01 pm
Join Date: Mar 2014
Posts: 5
Hainan ORD-PEK-SHA and Return
---
My wife and I just returned from two weeks in China, flying over and back from ORD to SHA via PEK on Hainan in Business/First. Overall, it was a terrific experience - especially at the bargain rate of $2150 each. Our experience was largely consistent with Doradee's description, except that the rest rooms were pristine every time we used them.

True, transferring in PEK is risky. We were lucky. On the way out, we had to gather our luggage, recheck it, and then make our way from Terminal 2 to Terminal 1 (a 15 minute walk). On the return, we were met at the arrival gate by a Hainan rep who walked us to a bus that ferried us to Terminal 2; stopping for luggage along the way. We would do this again - comfortable seat, fair selection of English content movies on the AVOD (including Nebraska, which I hadn't seen), very courteous and helpful flight attendants - especially on the return flight from PEK to ORD.

The only thing inconsistent was having to ride a bus from PEK Terminal 2 all the way across the airport to board the plane. Any farther and we would have been at the Badaling Section of the Great Wall.

Last time I checked ExpertFlyer, the return flight from PEK averages over an hour late in arriving at ORD. If you have a connection in Chicago, leave lots of time - especially if you don't have Global Flyer; US Immigration can have long lines.