Westin Excelsior Rome, Italy, 2007 on [Master Thread]
Mar 5, 11, 6:23 pm
Join Date: May 2010
Posts: 82
Does anyone here know why the reviews on this hotel are so incredibly mixed? From what I have researched, people either think it's a palace or a horrible place. Anyone know why there seems to be nothing in between? I think there must be a reason for such widely different views...

We were planning to stay there at the end of this month, but are also thinking about switching. Since we're paying for the room, and haven't booked anything above a standard room, I'm quite concerned as to what we will find and how they will treat us.
Mar 6, 11, 3:53 am
FlyerTalk Evangelist
Join Date: Feb 1999
Location: Seat 1A, Juice pretty much everywhere, Mucci des Coins Exotiques
Posts: 31,327
Not at all. I was comparing this hotel to the Eden, St. Regis and Intercontinental which all cost about the same in points although I think the St. Regis would go for more in cash, right?
I don't think this hotel is all bad. It just not as good as the others in the same category. It has a few faults that you should not experience at a luxury European hotel. If I couldn't get into the St Regis or Eden and I really needed to stay at a Starwood hotel, I would return here.
Mar 6, 11, 10:49 am
Join Date: Jun 2002
Programs:  UA 1MM, JAL JGC Diamond, SPG Lifetime PLT, AMEX PLT
Posts: 1,231
I had stayed several times for the last ten years.
At first time, I stayed at the room with inner view without the renovation.
The room was not impressed at all.
The last year, I had the suite facing via veneto.
The room was so spacious and the view was much better to feel Rome.
Totally different experiences.

Since the lobby of the hotel is somehow boring and nothing special, the quality of the room and services at each time we receive influence the impression of the hotel.

I still like the location of the hotel compared to St. regis.
Mar 8, 11, 1:46 am
Join Date: Jun 2007
Location: europe
Programs: EX˛-*wood platinum, EX-hyatt diamond, sixt platinum, hilton silver, leaders club, esselunga verde...
Posts: 2,012
Some stays here in the last year
s
. I like the hotel. If I am there I feel at home.
Breakfast buffet is very good, lunch and dinner also.
The rooms I have gotten were all the time the best available or a little bit better.
Rooms are clean and huge, the baths also.
The staff is very friendly and really helpful, the service is outstanding and the kitchen is very good.
A real *****L Hotel.
BTW: LOCATION, LOCATION, LOCATION!!!
---
Last edited by Forstbetrieb; Mar 13, 11 at

2:49 pm

Reason: years
Mar 13, 11, 2:34 pm
Join Date: Mar 2011
Location: Amerika
Programs: SPG/Marriott Plat LT, AK 75K, and the rest
Posts: 49
Mar 22, 11, 8:48 am
Join Date: Aug 2009
Location: IND
Programs: SPG Plat, DL DM, HHonors Diamond, Avis First, National EE, Marriott Gold
Posts: 434
Just completed a 5 night stay on points here. I was booked into a room with a balcony overlooking the Via Veneto. Room itself was huge - much larger than even some rooms at Westins in the States. The bathroom was also larger than I expected. Typical white tea and aloe soaps, as well as slippers and robes. Outlet placement was a little odd, so most things were charged in the bathroom. As other posters have said, it's the location that is truly the benefit of this property. You are a 5 minute walk from the Metro at Piazza Barberini, but things like the Trevi Fountain, Piazza Navona, etc. are within walking distance. We took the Metro once, and it was coming home from Trastevere late at night. The gym wasn't as great as I hoped (I had just done a one night stay at the Rome Cavalieri, which had one of the nicer hotel gyms I've seen), but it was functional and served it's purpose.
Mar 25, 11, 7:55 pm
Join Date: Apr 2010
Location: Canada
Programs: AA EXP 3.2MM, Hyatt Courtesy Card/Diamond, Hertz #1 Gold
Posts: 764
good experience
---
stayed in the westin rome early march, I lost my platinum status in feb 28, so I didn't have any expectations as Gold. booked pre-paid 30% off rate. by mistake I did reservations for 1 person but I was traveling with a friend and needed 2 single beds. reception desk staff gave me an upgrade to a deluxe room and no charge for the 2nd person. the room was big and hotel overall very nice. not my style (old furniture , chandeliers, etc) but great location. did not use any facilities in the hotel, nor breakfast nor restaurants as they were ridiculous expensive. it was weird house keeping never replaced the dirty glasses we used and left in the night table.. stayed 4 nights, no one time they replaced the glasses.
photos here:
westin excelsior rome photos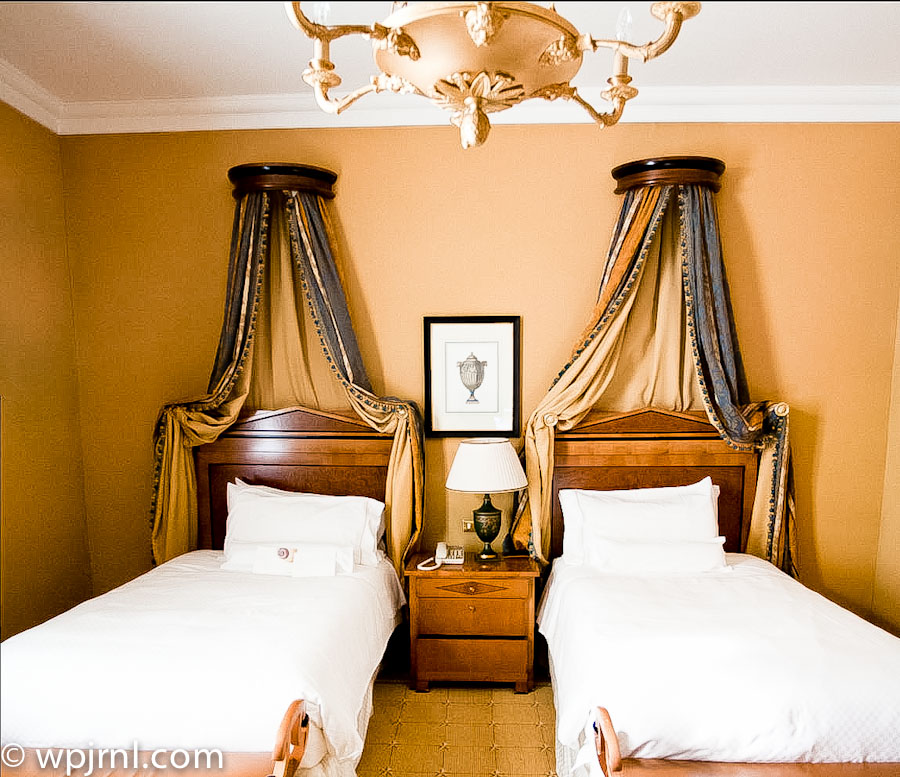 Apr 11, 11, 7:25 pm
Join Date: Nov 2007
Programs: Aeroplan, Marriott Bonvoy (Gold)
Posts: 273
Does anyone have an email contact for the hotel? I emailed the hotel this past Friday at
[email protected]
about my upcoming reservation but still did not receive any reply.
Apr 21, 11, 8:51 am
Join Date: Feb 2006
Programs: SPG plat
Posts: 31
Originally Posted by
peroorim
Does anyone have an email contact for the hotel? I emailed the hotel this past Friday at
[email protected]
about my upcoming reservation but still did not receive any reply.
"Bortolotti, Massimiliano" <
[email protected]
>
I had called Platinum Services and they forwarded to me contact information for Westin Rome, Florence and Venice. It took a week for Rome and Florence to respond and over a month for Venice to respond.
Apr 28, 11, 3:47 pm
Join Date: Jul 2007
Location: San Diego CA
Programs: SPG Plat/Hyatt Plat/DL/AmexPlat/CO
Posts: 142
We just returned from a 3 night stay and it was great! We got a Plat upgrade to a 2 room (Huge!) suite overlooking Via Venetto and the Cafe de Paris across the street. While it may be a long walk for some - but we had no problem in trekking to the Spanish Steps, Trevi Fountain and the Vatican.

We ate in the street side restaurant and it was very good - though not as good as the Cafe de Paris across the street. The bar was very nice with excellent service. We also had drinks at the rooftop bar at the Eden - very expensive but worth 1 drink for the view..........

All in all a great hotel - right next to the US Embassy also!
May 31, 11, 2:52 pm
Join Date: Mar 2011
Location: Amerika
Programs: SPG/Marriott Plat LT, AK 75K, and the rest
Posts: 49
Just completed a 5 night stay on points
---
This is a wonderful property- we were in room 516 which was Huge. I've been Plat for 12 years and this was in the top 3 of all upgrades.
Some things to consider-
Coffee- if you like early morning coffee (before 7:00), bring your own coffee pot. If you go to the restaurant (Doyen)- expect to pay 7 eu for a small pot. This is a very good but spendy pot of coffee!
Stores- the restaurants around Via Veneto are extreme in price $$$$$, and expect levels of food that should be in the $$$ range at most. $85 US for pasta and water (no booze) for 2 at Cafe de Paris. So we opted for Despar, which is a short two blocks from hotel and also Carrefour, which is at the top of hill, down the metro steps, and a tunnel walk. Salads and Prosciutto with chianti for two under $20 Eu, plus- bottled water at these stores was very cheap.
Hotel is close to all and a fun walk. Skip the metro and bring your shoes. You'll love Rome and this property.