Le Méridien Khao Lak Resort & Spa, Khao Lak, Thailand [Master Thread]
Oct 12, 19, 2:17 pm
Join Date: Oct 2011
Location: BKK
Programs: World of Hyatt Globalist; Marriott Bonvoy Titanium; Hilton Honors Diamond; QR Platinum
Posts: 2,136
Oct 13, 19, 1:29 am
Join Date: Jan 2015
Location: Kuwait (KW)
Programs: Qatar Airways, Hyatt, Hilton, Marriott, IHG
Posts: 2,297
I read a recent article about Marriott's repositioning of the Renaissance brand, and how they went back to the drawing board to focus on the brand's roots of 'discovery' and defining a dedicated design direction for it. It mentioned that Le Méridien, which was a competitor to Renaissance and occupied the same 'travel discovery' space, needed a facelift when it was picked up from Starwood and has since been re-jiggered to focus on the 'glamour of travel.' I read other pieces about how mid-century modern design, the Hub experience with coffee by day and drinks by night and programs like Au Soleil are all supposed to make travelers feel like they're having a grand time are all part of the new Le Méridien experience, and after watching the 2019 Security Analyst Meeting in March, it appears that Marriott has positioned Le Méridien just above Renaissance and will treat it as a more premium product.

That being said, the owners of the Khao Lak hotel have clearly made some improvements - I saw some recent pictures on Google where the furniture in the lobby/lobby lounge has been swapped out for mid-century modern chairs, but the rooms look like they've been avoided [for now?]. I hope they can inject some more personality into them because even though they look premium, they're totally anonymous and devoid of the local personality that Le Méridien says is part of its brand identity. Let's not forget that the hotel just converted to the brand on the first of this month so they haven't been part of the family for two weeks at this point, and hope that Marriott and the owners are working together to bring more upgrades to the table and bring the property more in line with what is expected.

khabah
Oct 13, 19, 12:08 pm
Join Date: Feb 2017
Location: UK (previously Singapore and HK)
Programs: BA GGL, Bonvoy Amb Elite
Posts: 33
Thanks for the photos and mini reviews. Any chance to share some photos of the breakfast buffet and/ or dinner menus? Also, is the 'Inclusive' dinner only at Nest restaurant or can you eat at others too (pizzeria and beach grill)?
Oct 14, 19, 12:41 am
Join Date: Jan 2014
Posts: 541
@
PhilE
: be prepared for good Four Points breakfast or dinner, but all what they serve (not a lot of choice) is realy good. I will try make photos tommorow early, when restaurant will be empty.
On checkin I was informed that we can use dinner cupon at Beach Grill too but only for a'carte orders but inside restaurant they told us sorry no, you can use it only at Nest restaurant.
Yesterday at dinner I see that staffs told one woman that she can't seat in restaurant in white bathroom robe - finnaly maybe beggining of ending tour operator restaurant.
You have now cheese spoiler :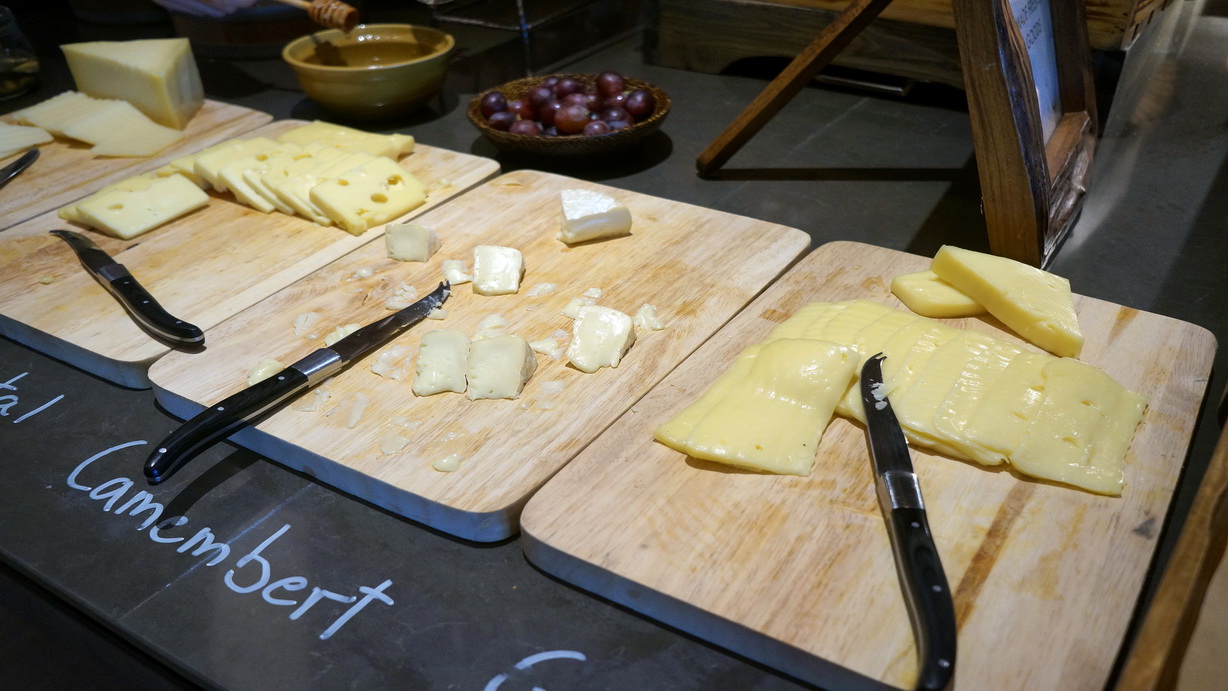 Oct 14, 19, 3:23 pm
Join Date: Jan 2014
Posts: 541
Dinner at NEST
---
Today hotel have photoshooting day, I do my own recordings :
Today dinner at NEST and finally I have answer that cupons you can use only at NEST. Video @ Youtube.
https://www.youtube.com/watch?v=JUKW...ature=youtu.be
Next day morrning breakfast at NEST
https://www.youtube.com/watch?v=TXmQ...ature=youtu.be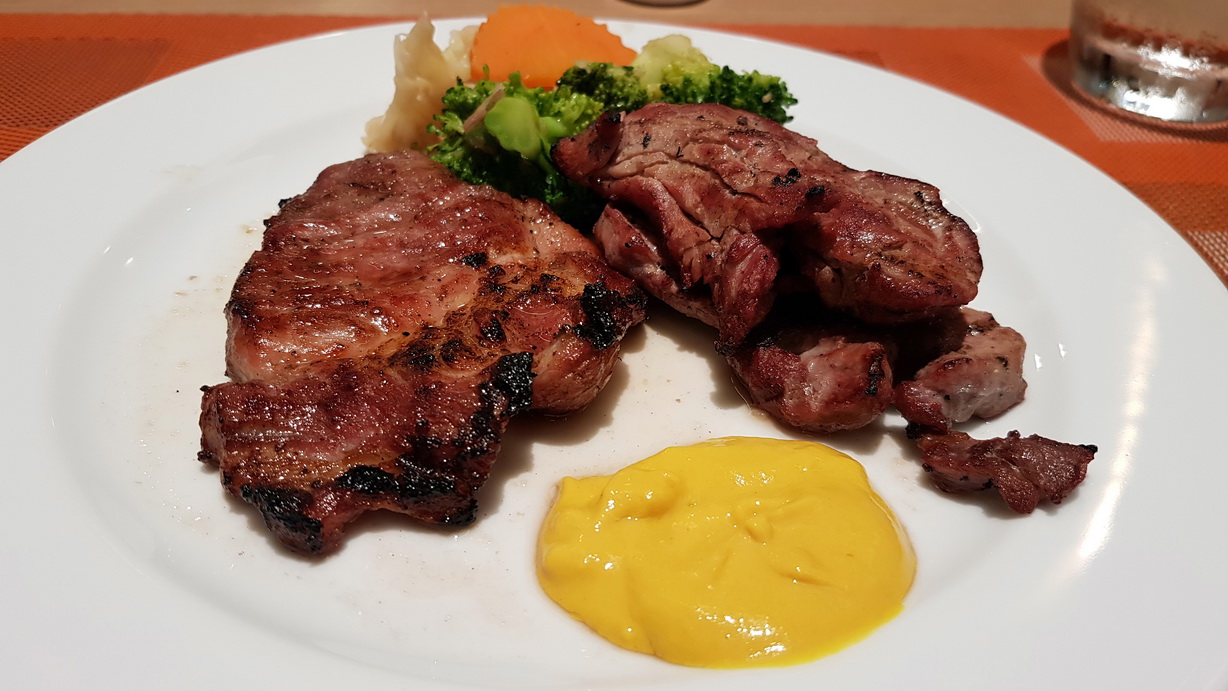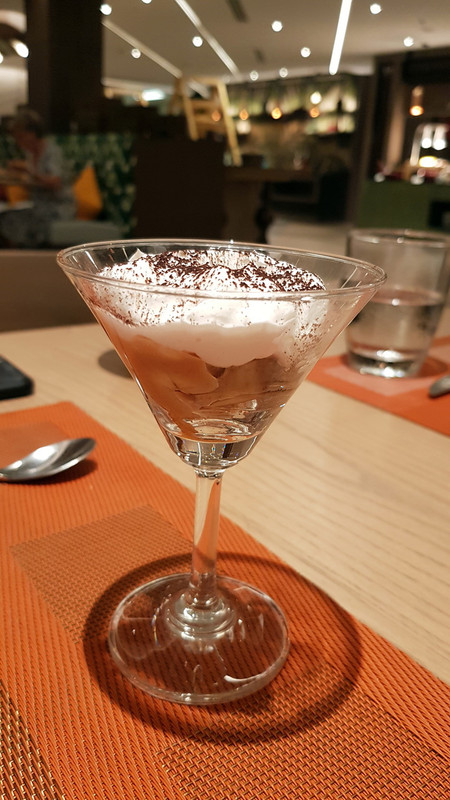 ---
Last edited by HHQX888; Oct 14, 19 at

11:25 pm
Oct 15, 19, 5:06 pm
Join Date: Sep 2018
Programs: UA Gold, Hilton Gold, Marriott Gold, IHG Platinum Elite
Posts: 178
That's a shame - I am arriving next week and was hoping that the "free" dinner would have been a little more flexible. It's not a deal breaker, however. I am banking on the fact its a "new" property that it won't be as crowded as some of the other properties in the area.

Will report back as to my findings to see if there is any improvement in the weeks to come.
Oct 19, 19, 2:45 am
Join Date: Sep 2006
Location: Moscow
Programs: Marriott Titanium, IHG Platinum
Posts: 1,595
My take on F&B situation:
Had breakfast and dinner in the main restaurant as they were included in the rate. Quality was good for both, quantity - good for breakfast, not so much for dinner. I still enjoyed the latter as they always had decent grilled or roasted meat, but say a vegan won't have many options on some days (dinner buffet changes from day to day - international, Thai, etc., breakfast varies just a bit).
Usually ordered lunch via room service, but once went to the beach grill restaurant. Menu is pretty small and they only cook steaks for dinner which made zero sense as most guests were on the same rate as me. Anyway ordered fried rice and it was decent; however, the Plat 20% discount was not automatically applied . Was fixed in a minute after I mentioned it, so not a problem. Prices were very reasonable for a LM (fried rice 250 THB++, fish&chips 250 THB++, burger with fries 320 THB++, small beer 130 THB++).
Fun fact: in my room there was a voucher for a free cup of coffee in the lobby bar which I only noticed several days into my stay. Coffee was mediocre %)
Nov 16, 19, 2:33 am
Join Date: Feb 2017
Location: UK (previously Singapore and HK)
Programs: BA GGL, Bonvoy Amb Elite
Posts: 33
Great 4 night stay, with room for improvement
---
Positives:
The hotel grounds, beach and sunset are all beautiful. You can walk for miles towards the south and the beach is great for a run at dawn or during rain.
As Ambassador Elite, we were upgraded to a huge pool villa from the original (base) room category. The villa had a large refrigerator with ice tray, glass-bottled drinking water, Nespresso machine (3 capsules, replenished daily) and a vast bathroom (see Marriott app for pictures). Doors to the pool had decent fly screens. Air con and ceiling fan were a bit noisy as both had a high minimum fan speed - our workaround was to run the a/c unit in the lounge, with door half open to the bedroom at night. Plenty of sockets (some international, some combo-euro/US style).
Happy hour is 2-for-1 on all listed drinks, including soft drinks from 5-7pm at pool/ beach bar and 7-9pm at lobby bar. Chang/ Singha beer is 130 THB, Asahi is 150, and wine is exorbitant like everywhere in Thailand.
Staff were all very friendly and keen to help, if still finding their feet at times
Very fast internet and good coverage including the beach (over 100mbps local and international bandwidth)
Our villa was close to the pool bar, but they kept the music volume low at all times so we didn't mind. The hedge that screens the pool villas from the resort is a bit 'thin' at the moment but it will be effective once it's grown a bit
Breakfast spread was decent (fresh orange juice and smoothies, fresh fruits, surprisingly good eggs benedict with freshly made hollandaise sauce and perfectly done egg, tasty bacon, 'real' (ie. not processed) sausages, decent Jura coffee machine)
Dinner wasn't bad either - as others said, it's not 5*, but their Thai/ Asian food is very tasty and there is a wide choice for differing palates. I remember Le Meridien Khao Lak from 10+ years ago (now the Robinson Club), and I'd say the buffet is much better quality for both breakfast and dinner.
Hotel has an 'eco' theme related to providing a bird sanctuary in vicinity of the resort. We found the bird life varied and it's worth taking a walk up to the spit and around the neighbouring streets if you're interested. However for serious birding you'd need to look at overnight trips into Khao Sok national park. Note, what looks like a water treatment works on google satellite maps is actually a set of prawn hatcheries just north of the hotel. So no bad smells, and presumably some fresh prawns on the menu!
Areas for improvement:
No one was around to meet us when the hotel taxi dropped us off, but front desk were very friendly once we'd lugged our own bags up to reception
First impression of Beach Grill food was very bland - no spice/ chilli at all (ordered Khao Pad and spring rolls), but staff were happy to provide Thai condiments which quickly fixed that. Fish and chips next day tasted great and was a large portion for just 250 THB - enough to share at lunchtime given the buffet breakfast and dinner in the Opening Offer rate.
Nest restaurant staff helped us choose a table on arrival, but no cutlery or water appeared until we asked someone else. Other guests seemed to be getting frustrated that bar drinks took a long time to arrive - we didn't bother with drinks and enjoyed the various happy hours and our own GnTs in the villa. Breakfast was better organised, although the table we were assigned was grabbed by others by the time we got back from the buffet. The service/ organisation did improve significantly on subsequent days for both breakfast and dinner, so hopefully this was just an opening issue.
Regardless of service hiccups and quality of food (which was good), Nest just isn't a very relaxing or romantic environment for dining - it feels more like a canteen. If we hadn't been given half board, we would probably have enjoyed the pizza or beach grill restaurants which were much quieter.
We saw a few TUI reps being shown around, so this hotel is clearly going to feature on the European package holiday circuit. There was a broad mix of European and Asian holiday makers in mid November - and only one large party on our first night - so I don't think this is really an issue.
Villa (3rd villa from the beach) physically shook and rattled at high tide. Probably not really a worry, but knowing Khao Lak was badly affected by the 2004 Tsunami made us feel a touch uneasy!
In summary, for the equivalent of 70 GBP (90 USD) including taxes and half board - and with F&B prices significantly lower than similar Marriott group properties in Phuket - it's a great place to enjoy a Thai beach holiday. Add in our villa upgrade and we were very happy overall. It's not quite 5* in terms of service yet, but to be honest, I don't really expect that in rural SE Asia and I'm not sure it matters at this pricing - if you want pampering and top tier service, Phuket offers other hotels at multiples in terms of price. Remember to factor in the Khao Lak transfers (~50 GBP and 1.5 hrs each way).
Would we go back? It's a difficult question when you've enjoyed a free upgrade to a top-tier room - we'd have the same challenge going back to Ritz Carlton Langkawi and Renaissance Phuket - both of which also upgraded us to pool villas. I'd say yes, if we were in Thailand anyway and looking for a good value beach break, away from the madding crowd.
Nov 18, 19, 12:53 am
Join Date: Feb 2017
Location: UK (previously Singapore and HK)
Programs: BA GGL, Bonvoy Amb Elite
Posts: 33
Originally Posted by
HHQX888
@
PhilE
: I think you was at this same villa as we, pool is 10x4.5m size. Renessance Phuket have only plunge pool at villa.
Looks like it (room 8002)
I noticed the 3 villas on other side of the resort didn't get as much sun. You're right, LM pool is a really good size for a 1 bedroom villa - enough to do a few laps. The villa at Renaissance Phuket is more like a junior suite in comparison and the plunge pool is small, but overall the Ren's villa still has a really nice layout, more privacy and we found it very relaxing.
Nov 18, 19, 1:03 am
Join Date: Feb 2017
Location: UK (previously Singapore and HK)
Programs: BA GGL, Bonvoy Amb Elite
Posts: 33
A few photos
---
Beautiful flat beach
Amazing sunset (when there are some clouds in the sky)
Villa 8002 pool
Villa 8002 pool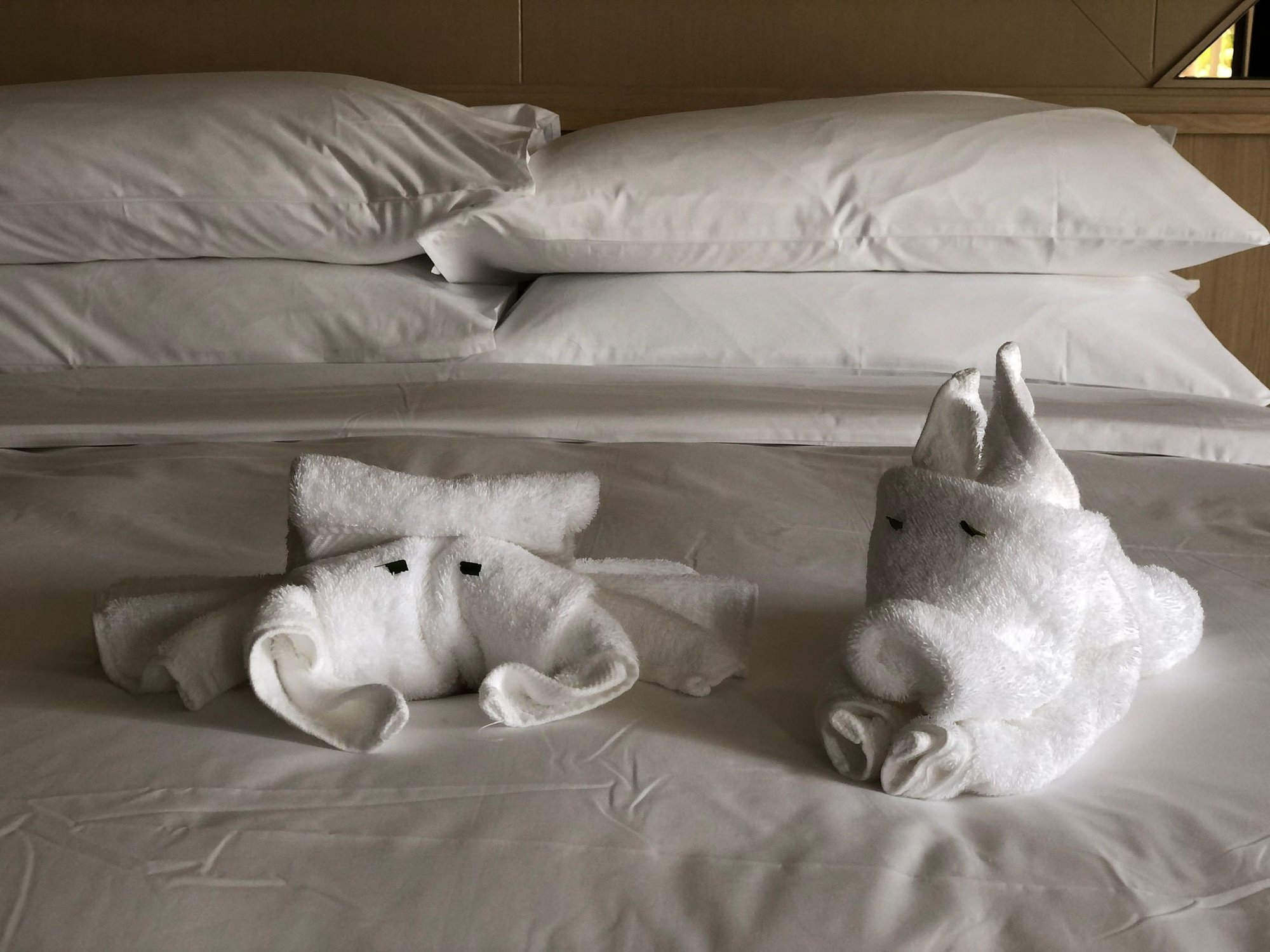 Towel 'art'
Resort map (markings show hours of operation for breakfast, dinner, happy hour etc)
Nov 18, 19, 5:34 am
Join Date: Sep 2019
Location: JFK & LHR
Programs: EK Skywards Gold; BAEC Gold; Marriott Bonvoy Plat
Posts: 50
My parents are travelling out here as part of a TUI package towards the end of this week. Does anyone have any experience of what the TUI all inclusive package includes at this hotel? If not, I'll be happy to report back soon.
Mar 6, 20, 1:52 am
FlyerTalk Evangelist
Join Date: Jul 2005
Location: Seat 2A
Programs: AA EXP LT GLD 1MM, BA GLD, NH/UA*G, Hyatt Dia, Marr Tit LT PLT, IHG Spire,HH Dia, MGM NOIR,Hertz PC
Posts: 10,534
These "Experience" rates are truly funny. Pretty much 45% off the base rates but including breakfast, lunch, dinner and some short massages.