[LEAVING Marriott] W Paris Opéra, France [Master Thread]
Mar 2, 12, 5:10 pm
Join Date: Jan 2005
Location: TLS/London
Programs: BA Gold, SPG Plat
Posts: 442
[LEAVING Marriott] W Paris Opéra, France [Master Thread]
---
I needed to be in Paris this week and noticed that the W was opening on Wednesday night. I needed a hotel for the Thursday night so splashed out on a reservation for a fabulous room which was a bit pricey despite being able to apply a corporate discount.
Location is always subjective depending on your reasons for being in a city but for me the location of the W is excellent - right in the thick of the "Grand Magasins" area and easy walking distance to great shopping, sights and transport links (there is probably a metro station within 2 minutes walk of every direction you go from the hotel). Clearly a "trendy" spot as the flagship Paris Apple store is immediately next door!
The building is an old bank and the renovations have kept a number of the original features whilst still applying the W brand touches. Reception is to the left as you enter with the lounge and bar to the right.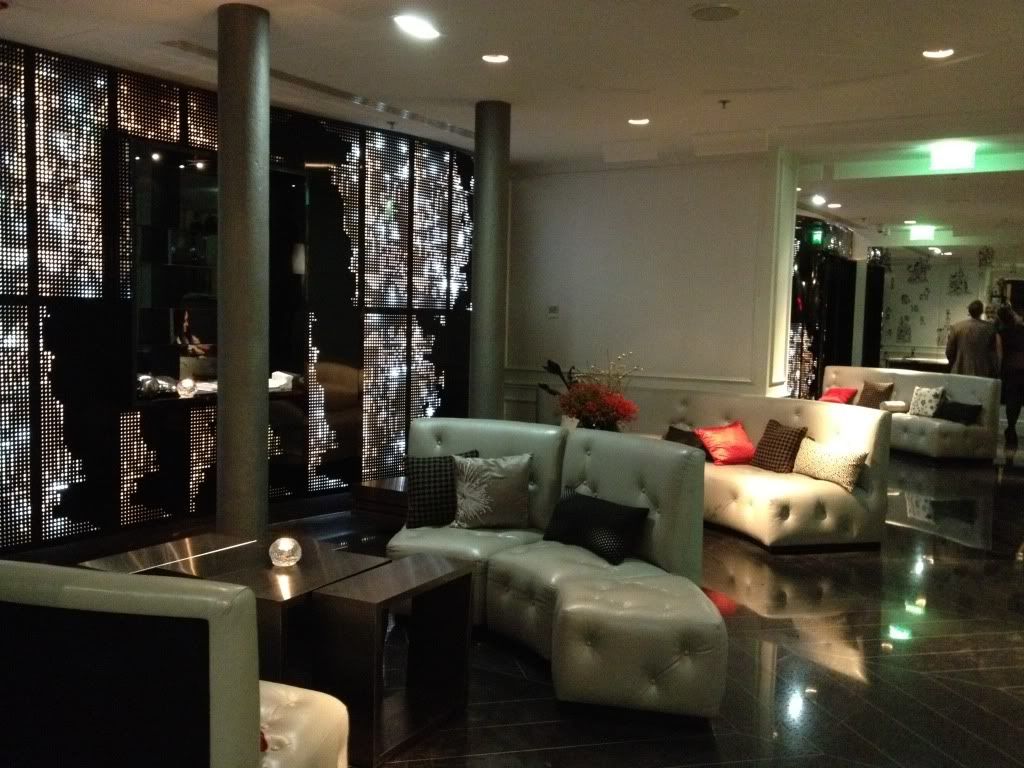 The lounge
They have a lot of ornaments in glass domes
The central staircase is a stunning original feature beautifully restored (though without the cage lift that would have originally been in the middle)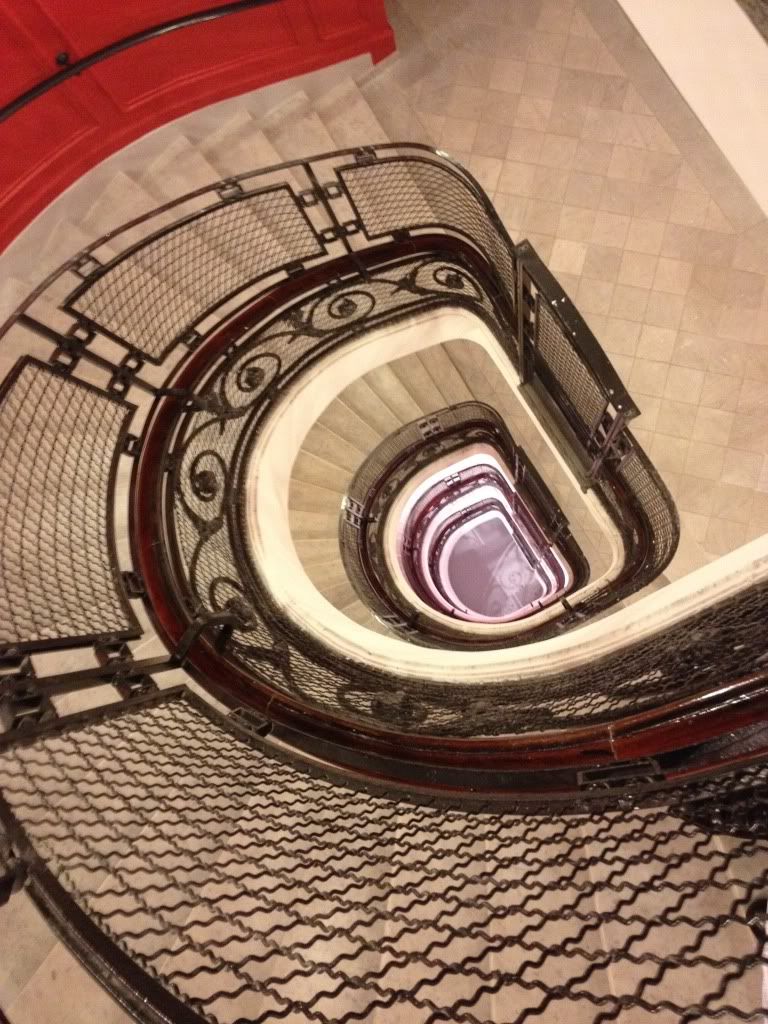 The staff are a mixture of the experienced and the "green" - I was checked in by probably the most enthusiastic and genuinely friendly receptionist I've ever had - he was clearly excited about working at the W and proud of the hotel - really nice to see. I suspect the novelty of checking in a platinum guest with a stack of points in the account may wear off after a few weeks so get there quick if you want to experience it! After the formalities he insisted on taking me up to my 3rd floor room. The fabulous room isn't enormous but pretty big by Paris standards and was fairly comprehensively equipped as the photos hopefully show.
High points for me:
- incredibly comfortable bed
- full array of input ports for the tv to allow you to connect your laptop etc
- nifty charging device for every gadget imaginable in the room
- enormous and excellent shower
Some detractors:
- mini-bar door where the glasses go was empty - they'd obviously forgotten to put them in
- there was a kettle at a dressing table but no cups or indeed coffee/tea? Couldn't work out whether it was left there by mistake or they'd forgotten the cups etc
- there is a nice balcony outside the room with an excellent view to the Opera; it would have been nice to go out there but the french doors leading onto it appear to have been secured shut with no way of opening them without the appropriate device.
I'll let the photos do the rest of the talking.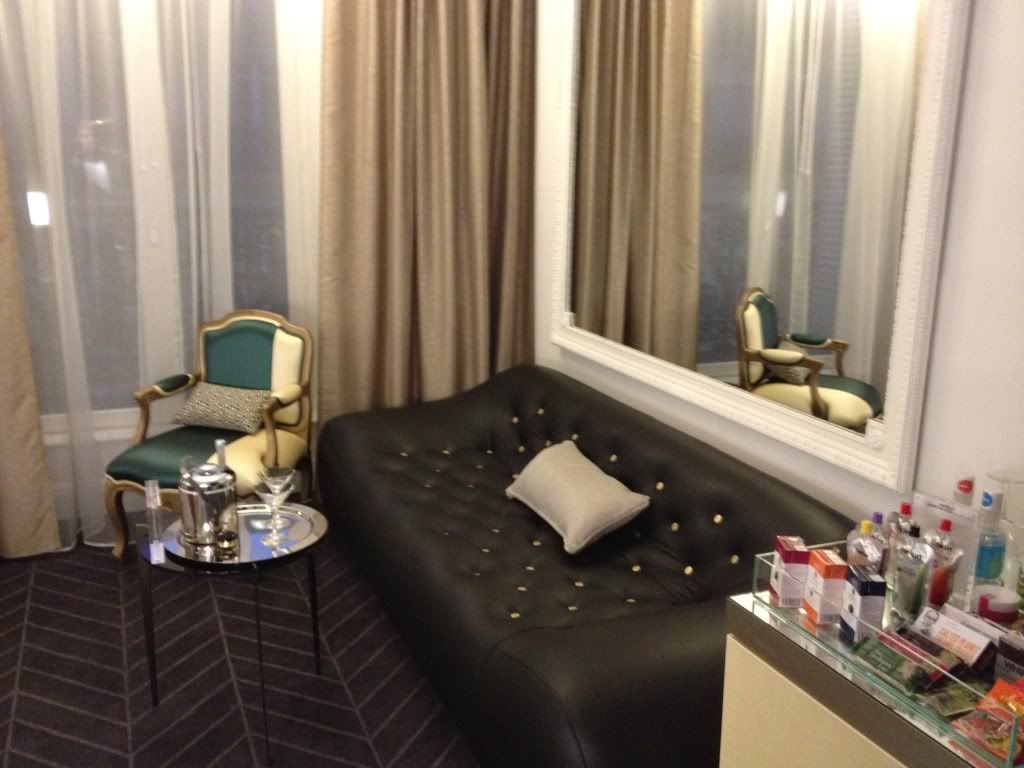 The sofa in my "fabulous" room - more comfortable than it looks!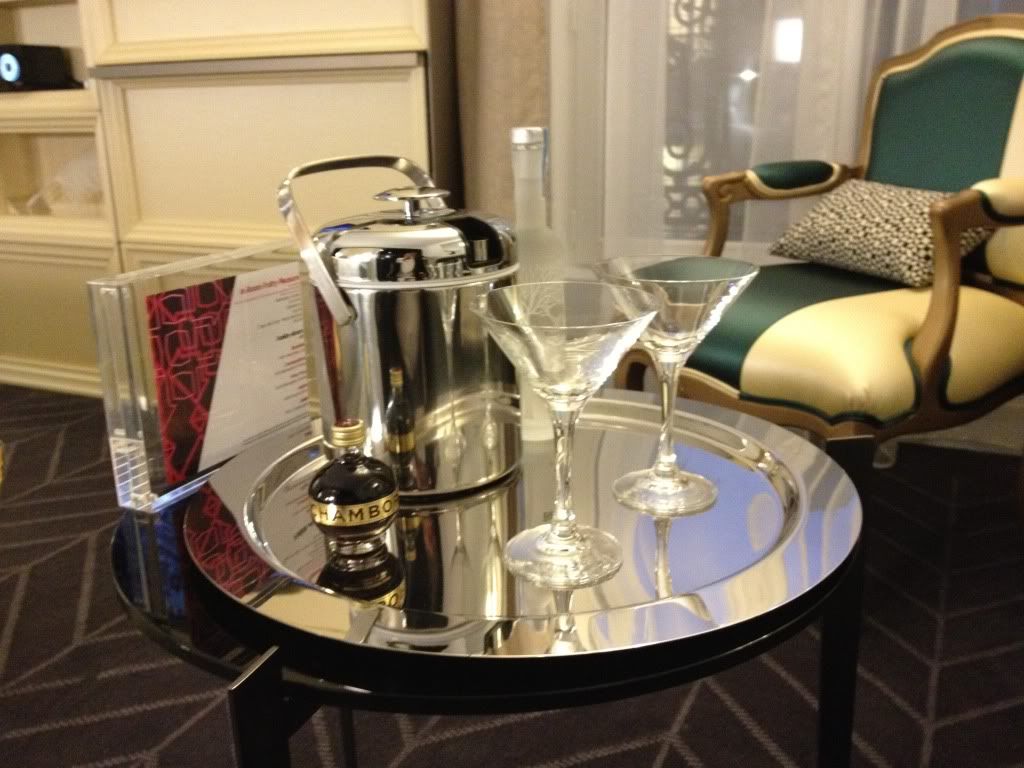 Mix your own cocktail with Chambord and Belvedere vodka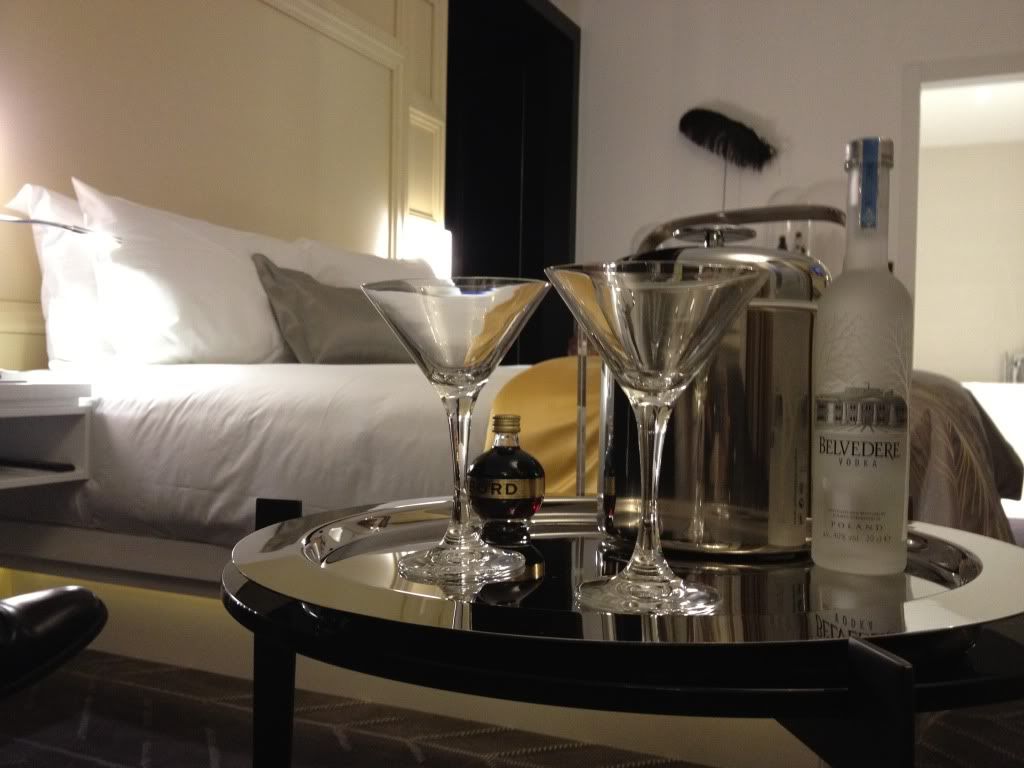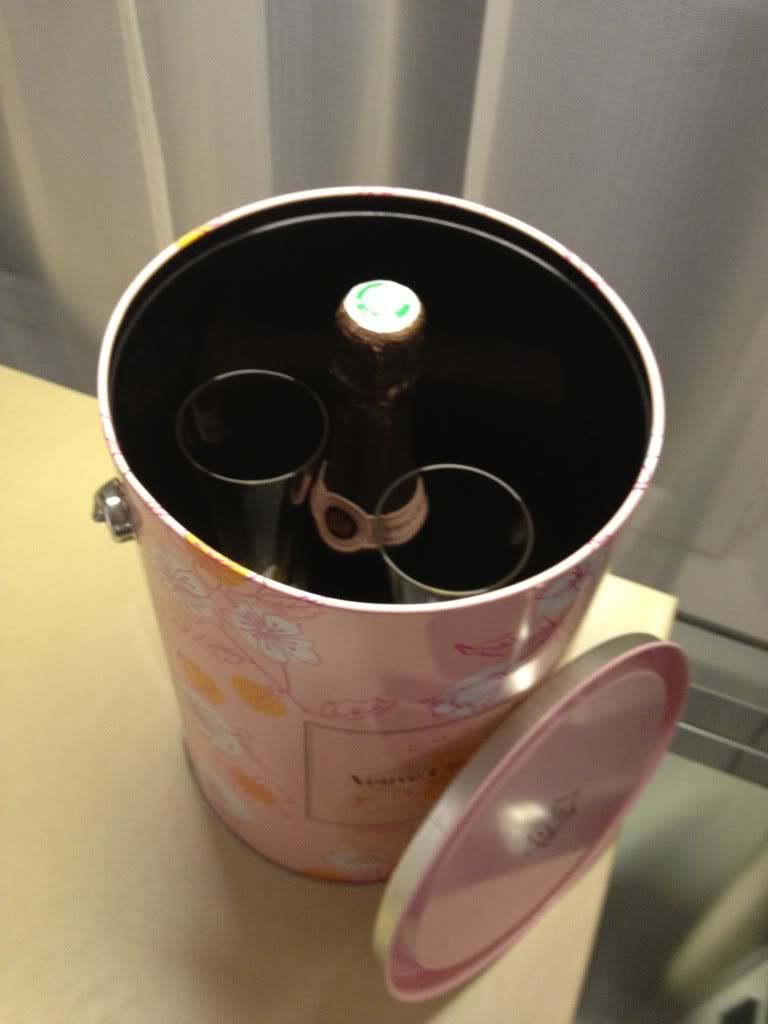 or have some champagne (do they think we're all alcoholics or something....)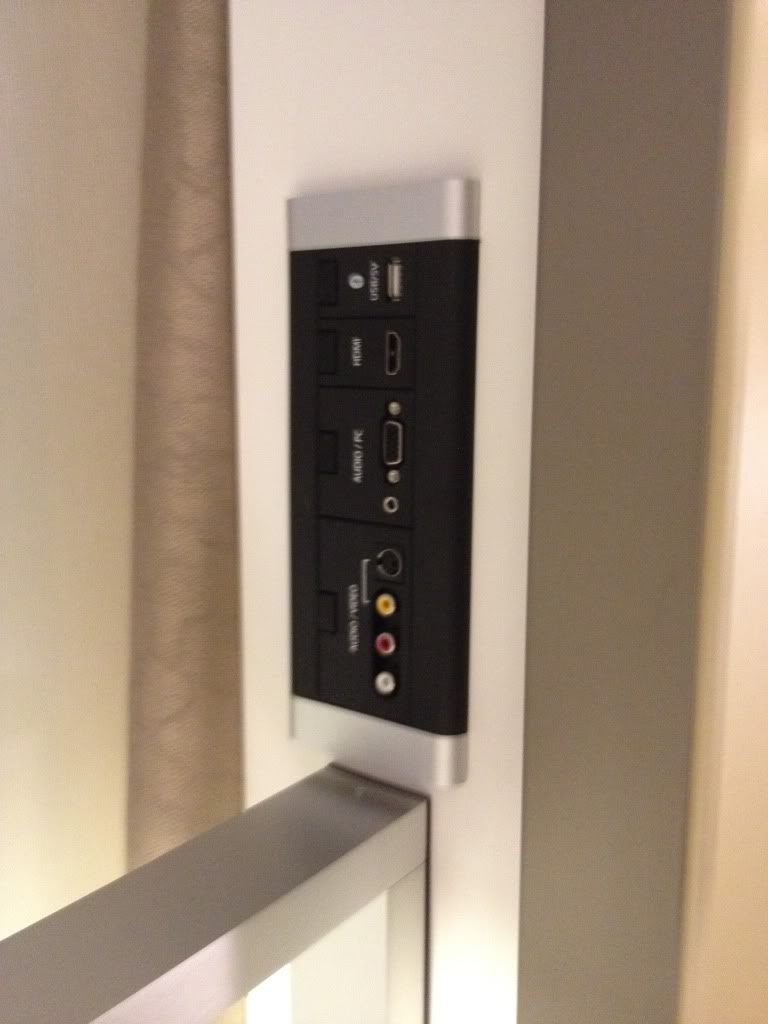 The panel to attach various devices to the TV - positioned just by the desk.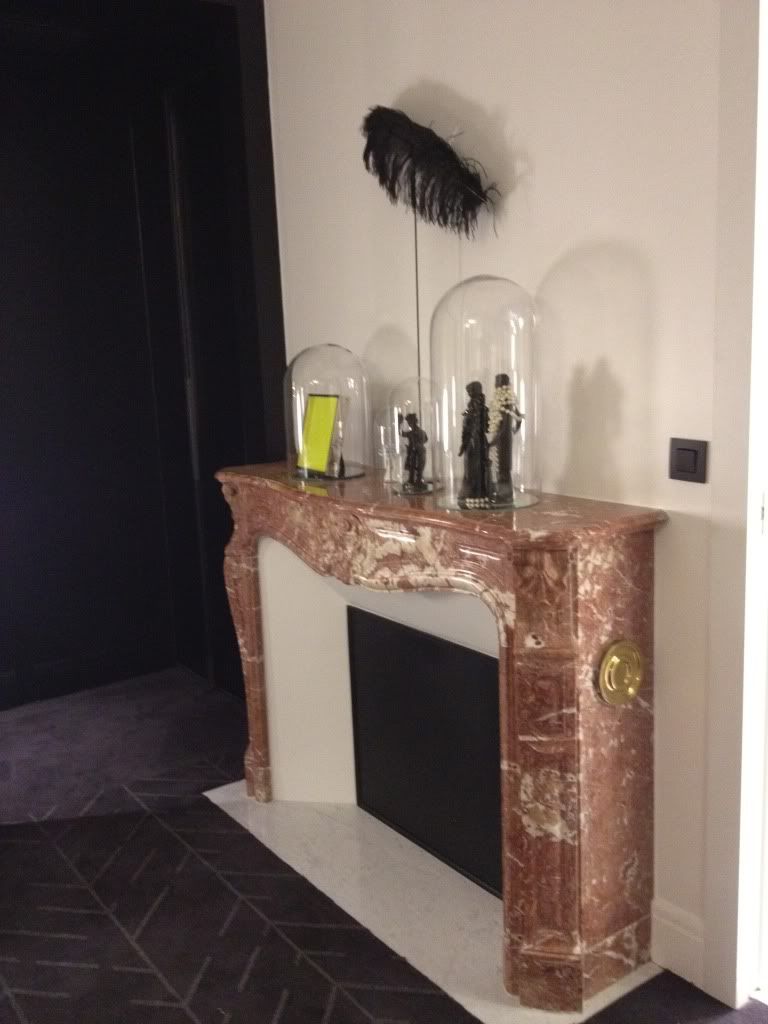 more knick-knacks in glass domes
usual excellent W bathroom amenities
huge shower, you can get the whole family in here, let alone a couple!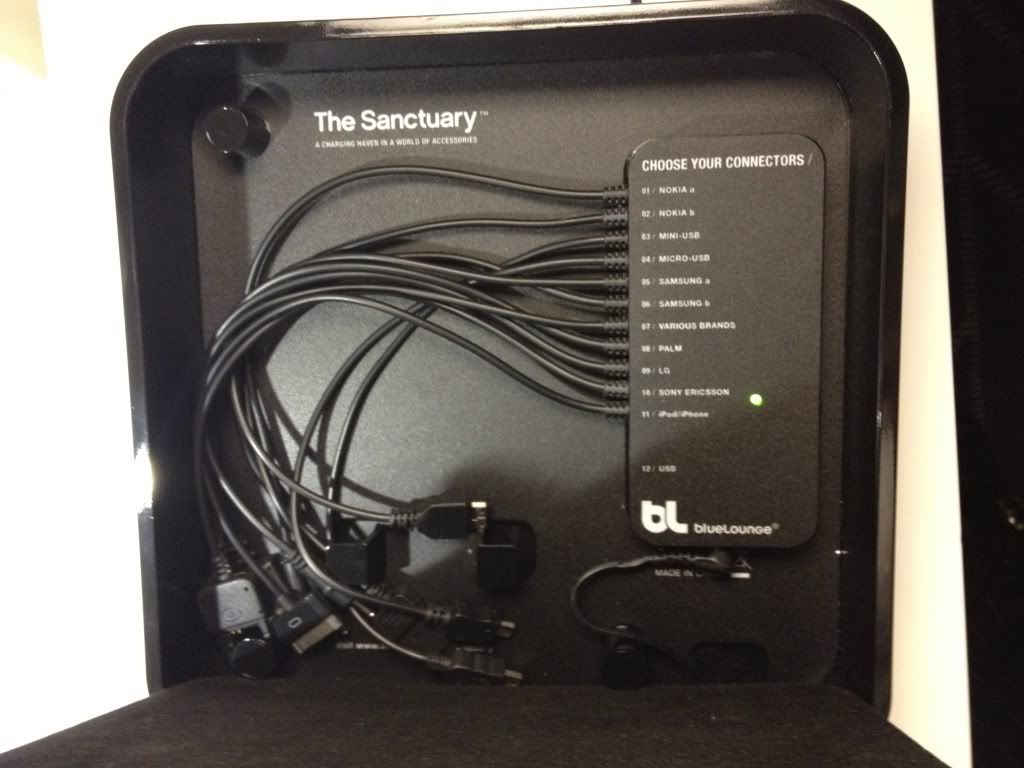 Panel beside the bed with a charging lead for every conceivable gadget.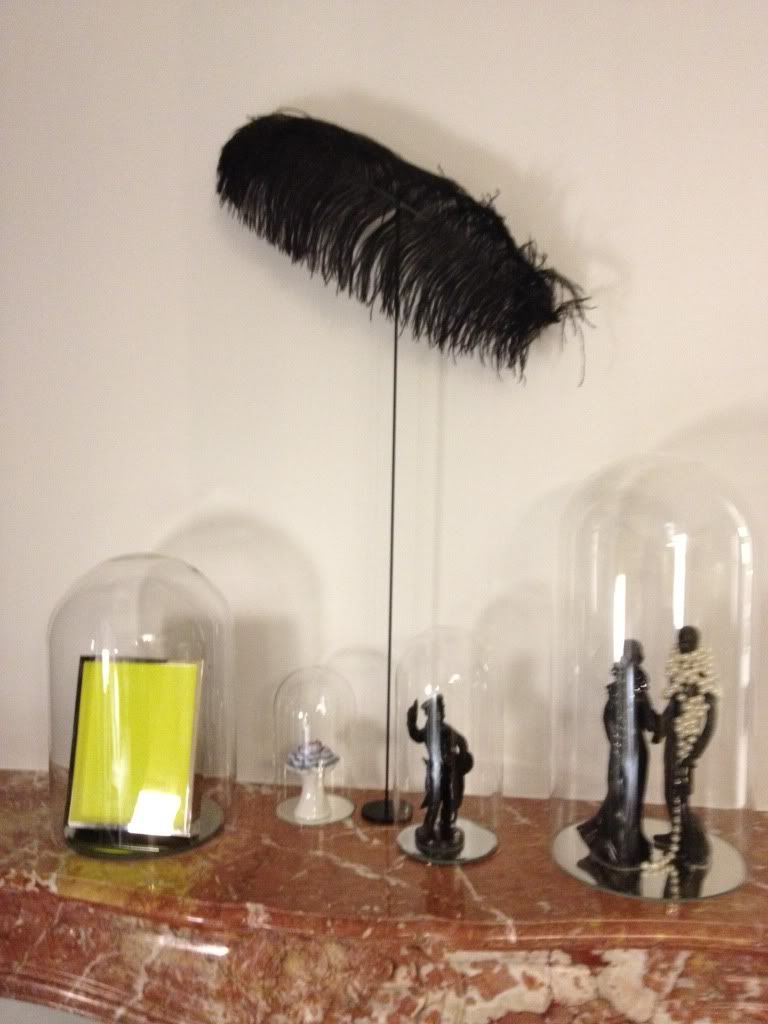 The view from the room
I met up with a couple of friends in the bar and had dinner in the restaurant at the hotel. It took us a while to find the restaurant as the signage isn't great! It is basically on the floor above the bar but working out where the stairs were stumped us! Both the bar and restaurant were buzzing. I was pleased to see the bar serve gin with Fever Tree tonic as standard though was a little disappointed by their signature Spark cocktail.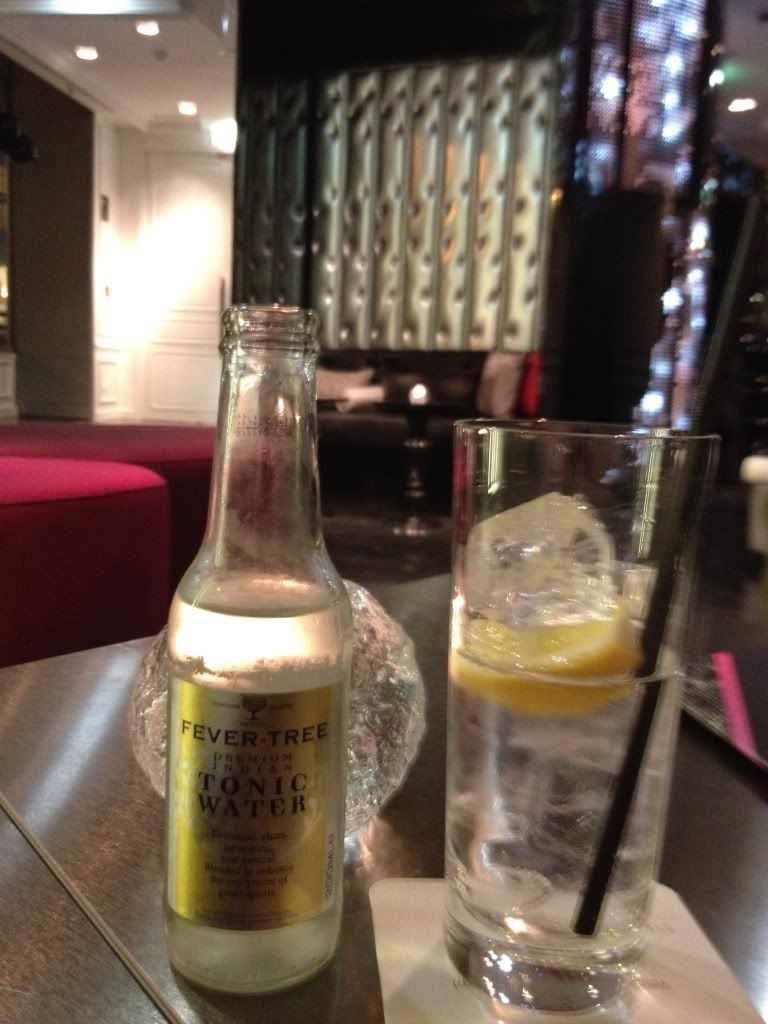 The restaurant is run by Sergi Arola, a Spanish michelin starred chef and the menu is based on choosing several smaller plates that you share. The food was excellent although if you're hungry you may want to order 3 per person rather than the 2 we were advised. Particularly good were the ox-tail ravioli, the pork with pistachio and the sardines. The waiting staff were excellent and showed the same enthusiasm as my receptionist earlier (as did all the staff).
Overall a great stay (although expensive) - I liked the vibe of the place that was much more casual than the achingly cool of the W Istanbul when I stayed there before Christmas. I'm back in Paris next week and thinking of trying out one of the "cozy" rooms to see how it compares.
Mar 2, 12, 10:21 pm
FlyerTalk Evangelist
Join Date: Oct 2001
Location: check foursquare
Programs: Delta DM & 2MM, SPG Lifetime Plat, Hyatt, AA, HH Gold, $tarbucks Titanium
Posts: 14,358
Mar 3, 12, 2:17 am
Join Date: Jan 2005
Location: TLS/London
Programs: BA Gold, SPG Plat
Posts: 442
back to answer a couple of questions....

Breakfast Amenity

At check-in I was offered continental breakfast as an amenity (along with the points and local gift). This is Paris where I normally just grab a croissant from a boulangerie on the way to the office and have a good expresso at the office so I hardly ever take breakfast at the hotel so I took the points. I did however notice that in my key card wallet I had a voucher for breakfast. Just had a look at it and it says...

"Present this card at the beginning of service to receive complimentary continental breakfast for you and one other guest registered to your room each morning during your stay. It's a welcome gift to you - for being one of our best members".

I assume it was mistakenly put in my key wallet as none of the detail is filled in (like validity dates etc!)


Room Cost

I'll preface this by saying that Paris is an expensive city and it is Paris Fashion Week at the moment. My rate for the night was €575 (Fabulous room, not incl breakfast but fully flex up to 6pm day of arrival). The cheapest rate available was for a "Cozy" room at €345 (iirc). In comparison the Westin cheapest rate was around €400 and Le Meridien Etoile was €200 (we have a special corporate rate there rather than the chainwide discount that applies at the other hotels).

I've just had a look for this week and the cheapest rates for the 3 hotels are €340 for the Westin, €209 for LM-Etoile and €460 for the W ("Wonderful" room) (all on public rates - I will get 10-20% cheaper than that with corporate discount).

I think this reflects the pecking order of the hotels and my view. The LM-Etoile is convenient for my office but I find soul-less and the rooms are tiny (even the upgrades). And if you go in the bar at night they hit you for a massive cover charge for the jazz. The Westin is worth a margin over the LM as has much more character, larger rooms and is in a more central location. 50% more seems reasonable to me. I liked the W and if I'm after more than just a bed for the night I think it is worth the price hike over the LM (for location as well as the ambience).
Mar 3, 12, 7:43 am
FlyerTalk Evangelist
Join Date: Apr 2008
Location: LGA/JFK/EWR
Programs: UA 1K1.5MM, Hyatt Globalist, abandoned Marriott LTT (RIP SPG), Hertz PC
Posts: 20,270
I won't of course post any
but looking at random dates in May, AAA is the same as the non-prepaid public rate (500 EUR); one of my codes drops it to 450, the other to 425.
Note that the Westin is 750 EUR on the same dates!!!
Mar 8, 12, 4:16 am
Join Date: May 2008
Location: SCF/MSP
Programs: DL Plat, HH Gold, Hyatt Diamond, Marriott LT Plat Elite, Hertz PC, Safeway Card
Posts: 22
W Paris Opéra [Master Thread]
---
I stayed here March 6th to the 7th, as the first stop of a European trip with my girlfriend.

First impressions: incredibly green staff, with some experienced people in the key spots.

I had booked the 'Ignite the Light' package, which supposedly comes with a welcome gift, welcome cocktail, and breakfast. Supposedly? You'll read later.

First of all, the good. I booked a Cozy Room, at 485EUR for one night. We were upgraded to a Marvelous Suite, with a great view of the Opera Garnier. Great bed, great living area, great bathroom. Also, Wim, the Concierge, had apparently been contacted by a family member, and was informed my birthday was the 6th; the hotel sent up a really nice cake for us...and even sang happy birthday (much to my embarassment). Truly a nice touch AND very unexpected. The hotel seemed very empty and unexpectedly, very quiet for a W; almost more like the Ivy (LC Property) in Minneapolis. Bonus is that there is an Apple store literally a few feet around the corner from the front door (great if you lose or, uh, forget, an iPad charger). Also, there is a really cool staircase! If you aren't hauling luggage, you should be reveling in the staircases' beauty!

The unfinished. The hotel is 6 days old, but you get the sense that not everything is *quite* done yet. There were not any towel bars or hooks in our <really large> bathroom. The 'Sinkside Six' was more like the 'Minus 1' - no Soapy Sap. Housekeeping did not know what it was. Very interesting.

Now, the bad. Being a new hotel, I get that staff is very green...and there are some problems here. The front desk is VERY efficient at checking in, but not so much at checking out. Front desk also not very good at looking up the rate on the computer. The rate I booked included the gift, a cocktail, and breakfast. I inquired on the morning of the 7th...and was told that, no, I did not get any of those with my rate. I just looked at my confirmation e-mail, and I feel scammed by the front desk. Not very happy that I paid more for the amenities and was told that I did not have them. Also, beware of keycards being deactivated at noon if you are using the late checkout. I was told that it is a glitch in the system that they have not quite figured out yet.

And finally, the headache. We rented a car at CDG. I'm not a huge fan of Parisian driving, but sometimes, like on this trip, it is necessary. Thankfully, the hotel has valet. Not so thankfully, the brand new Mercedes-Benz E-Class that Sixt gave me had its front bumper mauled by one of the valets. The valet who brought up the car had the attitude 'Eh, ca va' and told me that someone probably hit it in the parking ramp (it looked like someone hit a pole with it), and that I should just 'deal with it (myself)'. Wim, the concierge, came out and looked at it, and said they would get it
handled. 1 day later, no response yet....but I'm still holding out that they will be in contact before we depart France on Friday morning.

Mixed bag? Yes. Would I go back? Perhaps, in about 6-12 months.
Mar 11, 12, 1:48 am
Join Date: Sep 2005
Location: SIN
Programs: SQ, UA, Delta, BMI(RIP), Marriott Lifetime Platinum Elite, Hilton Diamond ( Thank Amex) Hyatt Discov
Posts: 1,824
Just booked an SPG 50 rate of EUR 360 inclusive of taxes for 4 nights later this week. An enthusiastic email from Cecile, the 'Insider'. Said breakfast for platinums is complimentary but only in the restaurant, not in room. Did not mention whether she meant full breakfast or continental, so will see how that works out.
Mar 11, 12, 6:14 pm
Join Date: Jan 2005
Location: TLS/London
Programs: BA Gold, SPG Plat
Posts: 442
I have actually now managed to rack up 2 stays at this property as had to be back in Paris this week... this time booked a 'Wonderful' room to see what the difference was to the 'Fabulous' I got last week. Needless to say, my plan backfired as I was upgraded to the 'Fabulous' which seem to be the x14 rooms (I had 314 week 1 and 214 this week). Room 214 is almost identical to 314 so won't post any more photos but couple of points to note:

- no kettle in this room which makes me think the one last week was an error!
- no glasses in the mini-bar fridge door again
- had room service this trip and have to say the burger was out of this world - beautifully cooked and with great flavour
- tip if you want to avoid room service...Galleries Lafayette is about 50m from the front door of the hotel, they have a food hall similar to Selfridges/Harrods where you can pick up a pretty good picnic, particularly if you find the cheese counter. The wine department also has a stunning section devoted to Bordeaux - if you are a fan like me then well worth a visit

I'm back in Paris this week but unlikely to make it 3 weeks running as have an early flight to Warsaw the next day so will probably stay at the CDG Sheraton. The vibe and location of the hotel is really winning me over though so I expect they'll get plenty of my custom in the coming months....