Mekong cruises, Cambodia and Vietnam
Dec 27, 18, 4:13 pm
Community Director
Join Date: Oct 2000
Location: Anywhere warm
Posts: 30,239
Mekong cruises, Cambodia and Vietnam
---
I am interested in a Mekong cruise in 2019. I'd like it to be a small ship, ideally 20 cabins or fewer, spacious cabins, and good food. I'm not a cruiser so my tolerance would likely be just 3 or 4 days. I'm in the early stages of trying to educate myself. I see the Heritage Line offers cruises from Saigon to Phnom Penh to Siem Reap. The total trip is 7 nights. It's 3 nights from Saigon to Phnom Penh and 4 nights from Phnom Penh to Siem Reap. Which stretch would be the more interesting? We've already visited Saigon, Phnom Penh, and Siem Reap. For us, the interest would be in what we see between those cities. We would also return to Amanoi and perhaps include Azerai in Can Tho.
My key questions:
Which stretch of the Mekong should we visit?
Which companies should we consider?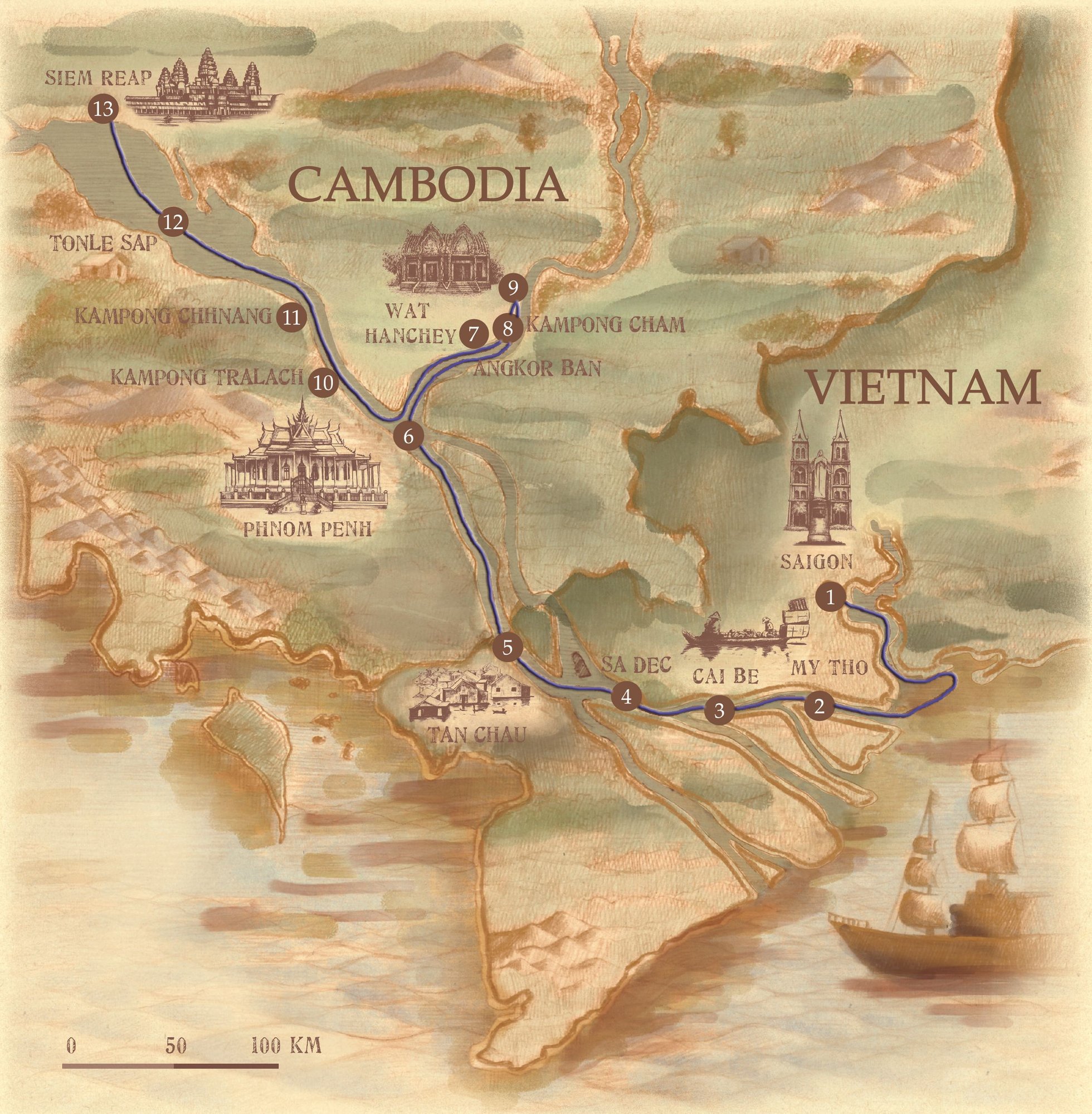 Dec 27, 18, 5:11 pm
Join Date: Oct 2003
Location: Berkeley, CA
Programs: Virtuoso, FSPP, STARS, MO FAN Club, PEN Club, Bellini Club, Dorchester Diamond Club, Travel Leaders
Posts: 1,791
I'd check out
Abercrombie and Kent
. The boats they use will be the best ... and all the other aspects of your trip will flow seamlessly. You can book through A&K directly or through any of the TA's here on FlyerTalk.
Dec 27, 18, 5:18 pm
Join Date: Jan 2009
Location: BKK
Posts: 6,706
I have not been on it yet, but the best cruises between the Golden Triangle and Luang Prabang, and elsewhere in that vicinity, are operated by Mekong Kingdoms, which is owned by Minor International (Anantara, Four Seasons Thailand, etc...).
Incidentally, I have been looking into Rosewood Phnom Penh, and noticed that they offer a package called "Sense of Mekong" in conjunction with a cruise on a vessel called Aqua Mekong, which looks very nice. Presumably journeys on Aqua Mekong are also bookable independently, and perhaps there are different itineraries to choose from.
Sense-of-Mekong
---
Last edited by MikeFromTokyo; Dec 27, 18 at

5:42 pm
Dec 27, 18, 5:29 pm
Join Date: Mar 2004
Location: Canada
Programs: Virtuoso TA, Four Seasons Pref Partner, Rosewood Elite TA, Ritz Carlton STARS TA
Posts: 4,283
I think Aqua Expeditions is the leader in the market.... but more pax that what DavidO suggested
https://www.aquaexpeditions.com/luxu...s/aqua-mekong/
Heritage Line is owned by a large DMC operator in the region who have excellent pricing on the ship when blended with their other products.
Sometimes you are stuck a bit based on your flight dates, but if OP chose the ship first the rest it will make planning easier
Dec 27, 18, 7:56 pm
Join Date: Jan 2009
Location: BKK
Posts: 6,706
Looking into Abercrombie & Kent, I see that the exact same vessel, Aqua Mekong, is used for the four day cruise component of their packages. However there appears to be a different vessel called Mekong Princess that is offered for a different itinerary in 2019 on specific dates, apparently twice per month.
---
Last edited by MikeFromTokyo; Dec 27, 18 at

9:33 pm
Dec 28, 18, 12:06 am
Join Date: Jan 2013
Location: UK
Posts: 1,343
I did this trip in 2011, sailing from Siem Reap to Saigon. It was part of a much longer trip that started in Bali with an expedition cruise to Sulawesi and Borneo. We then flew to Luang Prabang and Amantaka, then Amansara before getting on the river boat. I would say that the Mekong section was the least interesting section of the whole trip and while enjoyable had some significant drawbacks. It was much less interesting than a river cruise in Burma which we did a few years before that.

The best part is just to sit on the top deck, sip a G&T, and watch the river and river communities glide past. Our boat - a Pandaw vessel - back in 2011 was quite primitive by today's standards. It had about 20 cabins so 40 people on board. Our motley group was OK but you can get boats booked out by quite large groups who can be disruptive.

In 2011 there was a significant difference between Cambodia and Vietnam - the latter was clearly still suffering from the Khmer Rouge trauma while Vietnam was clearly going places. Pollution levels in Vietnam were extremely high, even back then, as industrialisation had begun. Cambodia was still largely a rural economy. Shore excursions into small villages or towns were always frenzied and immersive - you have to want to really throw yourself into that world of sensory overload. Poverty levels will be fairly high in some places though nothing like Burma. There are some truly unforgettable things on this route, though nothing on the scale of Angkor of course.

In 2011 we did notice how tourism was taking hold and will be ever more so today. This was particularly noticeable when boats moored overnight, side by side, so to get ashore you had to walk across maybe two other boats. And every boat had its generator working for the air-con so there was a lot of noise and smoke at night. And sometimes a blizzard of insects.

I was glad I did this trip back then. Personally, knowing what I know, I wouldn't do it again.
---
Last edited by Pausanias; Dec 28, 18 at

12:11 am
Dec 28, 18, 11:48 am
FlyerTalk Evangelist
Join Date: Jun 2006
Location: IAD/DCA
Posts: 31,593
anyone asked luxury hotels about charters?
(obviously not talking about big - aqua etc)

unfortunate anantara only has >
anantara.com/en/cruises-bangkok
---
Last edited by Kagehitokiri; Dec 28, 18 at

12:00 pm
Dec 28, 18, 12:31 pm
Join Date: Jan 2009
Location: BKK
Posts: 6,706
Minor also has Mekong Kingoms, which is absolutely ideal for connecting Golden Triangle with Luang Prabang, and other cruises in that vicinity. It is a private charter, so perhaps they could do other itineraries upon request. Their vessel called Gypsy, I believe, is ideal for a couple or a family/with friends.
There must be other suitable vessels for charter between Siem Reap and Phnom Penh, Saigon etc...
Dec 28, 18, 12:40 pm
FlyerTalk Evangelist
Join Date: Jun 2006
Location: IAD/DCA
Posts: 31,593
2 cabin gypsy and 13 cabin boheme
Luang Prabang – Golden Triangle 4 Days / 3 Nights
Golden Triangle – Luang Prabang 3 Days / 2 Nights
mekongkingdoms.com
hopefully they expand to routes mentioned in OP
Dec 30, 18, 3:55 am
Join Date: Mar 2004
Location: Luxembourg
Programs: LH Senator
Posts: 255
I did the seven night Aqua Expeditions cruise last month, and it was a wonderful and unforgettable experience. Only 18 passengers on board and 38 staff.

All aspects were great. Interesting and well organised excursions, excellent service and good food.

We has a double cabin, which means that one cabin was set up as bedroom and the other one as a living room. That worked really well, and it was great to have two bathrooms.

If you don't want the full seven day cruise, I recommend doing the Cambodian part from Phnom Penh to Siem Reap, which is the most beautiful part with unspoiled nature. The Vietnamese part of the cruise is a bit more 'industrial', but still very enjoyable.

One of our best holidays ever. Highly recommended
Dec 30, 18, 10:25 pm
Join Date: Jul 2004
Location: LHR / TXL / BKK / MUC
Programs: Amanjunkie, LH SEN
Posts: 707
We also did Aqua Mekong, 4 days from Phnom Penh down to the Mekong Delta. What a brillant cruise!
Perfectly to be combined with
https://www.azerai.com/can-tho/
.
Dec 30, 18, 10:32 pm
Community Director
Join Date: Oct 2000
Location: Anywhere warm
Posts: 30,239
Originally Posted by
deer
My ears perked up on hearing that. I'm very interested in how to do that. I definitely want to go to Azerai Can Tho and have been puzzled at the logistics since I'll also return to Amanoi on the same trip. How do you put together the cruise and Can Tho?
Jan 7, 19, 2:18 pm
Join Date: Jul 2004
Location: LHR / TXL / BKK / MUC
Programs: Amanjunkie, LH SEN
Posts: 707
Take the downriver Aqua Mekong tour from Phnom Penh to Vietnam, it ends in My Tho. From there, take a limo to Azerai Can Tho, a 2 hour drive:
https://www.google.com/maps/dir/Mỹ+T...417;,+Vietnam/
When we were at Phnom Penh to do the trip some years ago (without Azerai then of course...), we staid at The Raffles. It was ok, but not great. Now I would choose
https://www.thebalephnompenh.com
outside the centre, or The Rosewood if i wanted to stay central. Btw.: We did an architectural city tour lead by intelligent students, which was fantastic.