Four Seasons Seoul, Korea -- Reviews and Comments
Oct 10, 15, 2:56 pm
Four Seasons Seoul, Korea -- Reviews and Comments
---
Dear fellow Flyertalkers. I'm going to do a multi part breakdown of my opening week stay at FS Seoul. Some parts will have lots of pictures and others will not. The new room fumes from 2613 caused me excruciating sinus headaches and pressure and made me not want to photograph everything or do much.

It's going to go like this:
1. Check-in
2. Premier Room
3. Hotel and hardware
4. F&B
5. Boccalino, Italian restaurant.
6. FS Seoul Breakfast In-room dining
7. Personnel
8. Spa and fitness
9. Conclusions
---
Last edited by Aventine; Oct 10, 15 at

6:50 pm
Oct 10, 15, 3:20 pm
Four Seasons Seoul, October 9-10 stay.
The lobby and check-in.
The lobby is quite stunning. You can sense that no expense was spared for this public space and it very much in the Four Seasons style. The shades are a bit dark and it seems very masculine. There are a ton of staffers at the check-in desk, assorted helpers and of course, security. The flower arrangements are done by the Danish, based in Tokyo florist Nikolai Bergmann and he has the first Korean Bergmann flower shop in FS Seoul.
Check-in itself:
Abysmal. I didn't even expect to have to go to the desk for this one. I've been room checked in from FS all over the world including Hong Kong, Guangzhou and Toronto. One would expect this considering our reservation was done through FSPP, the guest relations team knew I was coming and well I know the GM through a mutual FS acquaintance. Going to the desk and being asked my name probably set the tone for this entire visit.
It wasn't just the desk check-in that bothered me but the front desk person didn't explain or give a breakdown of the FSPP benefits and the special opening promotions.
As a benefit of our travel agency's status as a Preferred Partner with Four Seasons, you will receive the following added-value benefits during your stay:
Daily full American breakfast for two people per bedroom, served through In-Room Dining or in the hotel restaurant (including buffets)
Food and beverage credit of USD100
Upgrade of one category, based on availability at time of check-in (excluding signature suites and villas)
Complimentary basic Internet in all guest rooms, complimentary premium Internet in all suites.
2015年Oct10日 - 2016年Feb28日
INCLUDED IN THIS PACKAGE

Full buffet breakfast for two guests
KRW 100,000 Hotel credit per night
Luxurious accommodations
Just gave us our key and away we went escorted by a guest relations person. The guest relations person did apologize for the lack of explanation upon check-in and did print off a copy but it was lacking in all the benefits. Usually, FSPP guests can have in-room dining breakfast or a full buffet as breakfast options. The sheet given to me only suggested the Boccalino buffet.
I'm guessing they would only have given the promo benefits if asked about it. As my FSPP agent says, you can only give away 100,000 KRW
per day
, not stay(!) for so long. This could be used for dining or spaing but not off the room rate. Combining benefits makes FS Seoul to be quite an attractive proposition if you can get the benefits.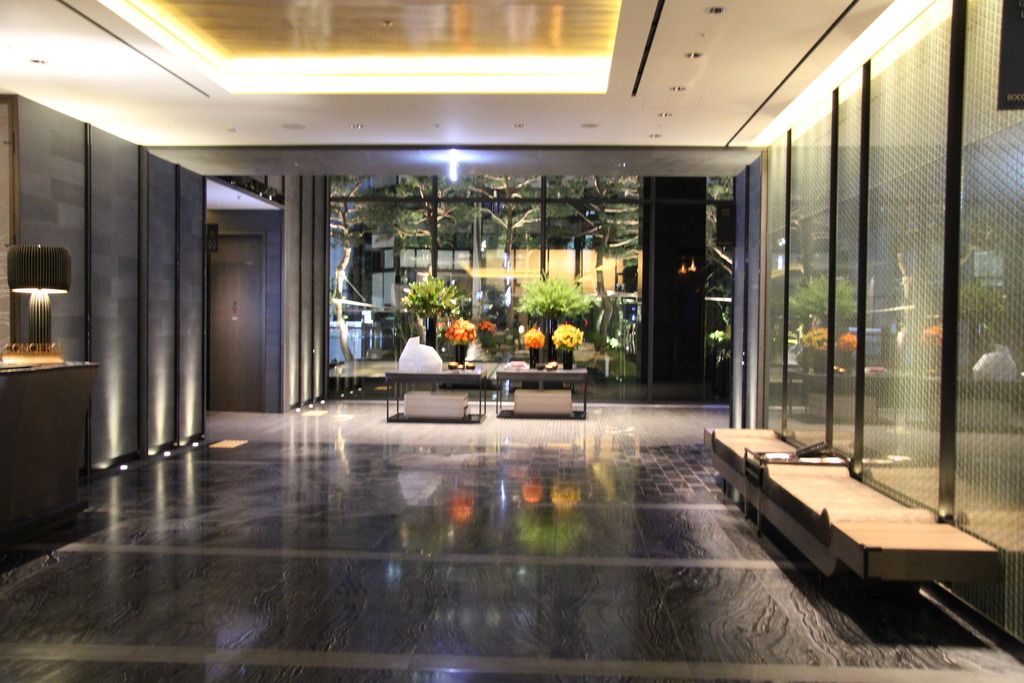 ---
Last edited by Aventine; Oct 10, 15 at

5:19 pm
Oct 10, 15, 3:41 pm
Four Seasons Seoul, October 9-10 stay.
2. Premier Room
We were originally booked into a Club corner Premier Room but switched our reservation up from the middle of the month. Was told that the original room was sold-out this weekend. It turned out that the hotel is in a "soft opening" phase with controlled rooms capacity.
This room was the cause of one of my worst ever hotel stays. It smelled like drywall, construction dust and really went to work on my sinuses. The whole stay had sinus pressure and headaches. It was a relief to check out of the hotel and breath Seoul city air (first time for everything)! My sinuses still feel a bit irritated from the continual bombardment at FS Seoul but I feel a lot better being at PH Seoul.
Mr. Barta told me that the construction was done for three months and the hotel was continually cycling the air through rooms, etc. I only know what my poor sinuses were telling me and that was the room had some sort of hazardous fumes in there. I toured another room and it was fine.
I would ask to see and smell your potential room before anyone checks in.
You'll know if the construction smell is there because it hits your nostrils immediately.
The hotel's pathetically, teeny air cleaner couldn't even take care of a sneeze. It certainly didn't help me in 2613 either. The weirdest thing was even a hot, steamy shower didn't alleviate the sinus pressure. I'm no stranger to sinus problems here in Korea but even drinking lots of water and keeping sinuses moist did nothing. Mr. Barta said the hotel will go out and buy the biggest, baddest air cleaners on Monday. I suggest Sharp plasmacluster ones.
This hotel has gone to an iPad format for its room menus, in-room dining orders, hotel details, specifications, etc. The only paper in the room is a notepad. The app works quite well, doesn't freeze up but is too rigid for a hotel like the Four Seasons. Where's the vaunted FS creativity and innovation? I should be able to mix breakfast items at will.
For example, my partner would have wanted a healthy body juice from their Healthy choices breakfast menu but it couldn't be selected with a Korean breakfast set. You have to settle for orange, grapefruit, carrot or apple.
The app also didn't convey special requests and the notes section from the bottom. I write detailed comments on how I like my breakfast items and was all in vain. My preferred egg white omelette came as a normal omelette and with a lot of items I did not ask for or want. The French toast got lost as well.
The rooms are very well appointed. Everything feels and looks quite luxurious. Italian marble is used in the bathrooms and there is the East Asian obligatory heated seat, washlet. One quibble, I have, with this Premier Room was the lack of privacy for the bathtub and bathroom. No separation from the entryway and you have to bathe with a view of the bedroom. The light switches were poorly conceived as well. They don't light up in the night and you can have an interesting time trying to figure out which one is which in the dark. They're also far from the bedside, tucked in behind those thin metal shelves flanking the bed. Those with long arms might do better than myself.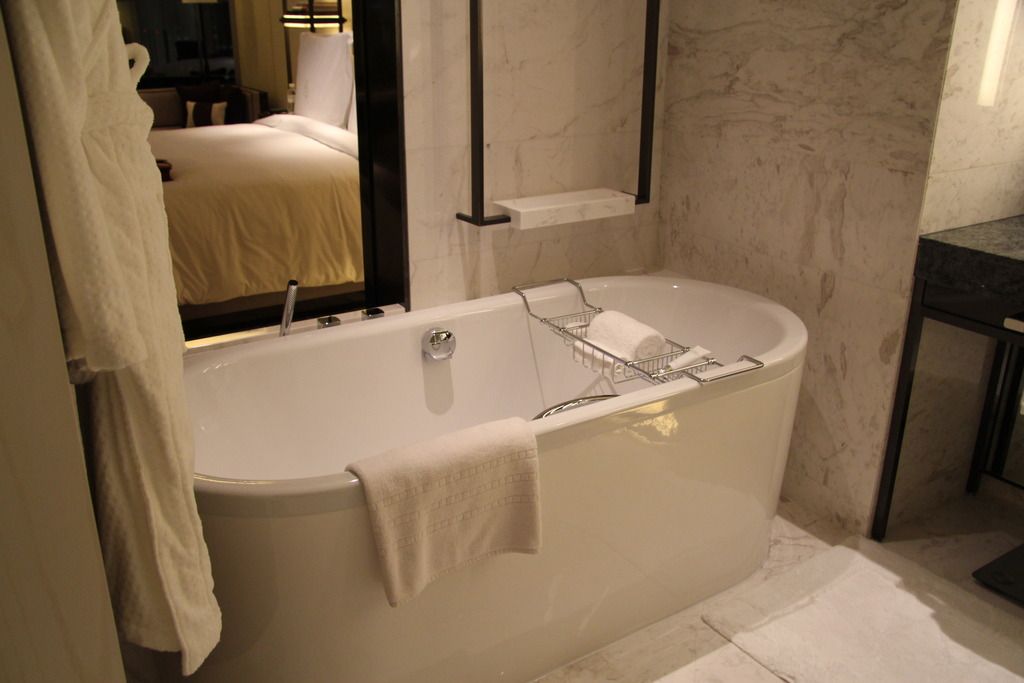 http://www.lorenzovilloresi.it/en/lo...villoresi.html
The toiletries here are unique to FS Seoul. Wasn't a big fan of them because they smell kind of cheap to me. I prefer the Aesop products used at PH Seoul. Aesop's just feel more substantial.
This really didn't make sense when there were three HUGE closets on the left handside. All of which, capable of swallowing our giant suit case and not obstructing the walkway. Another questionable judgment and service lapse.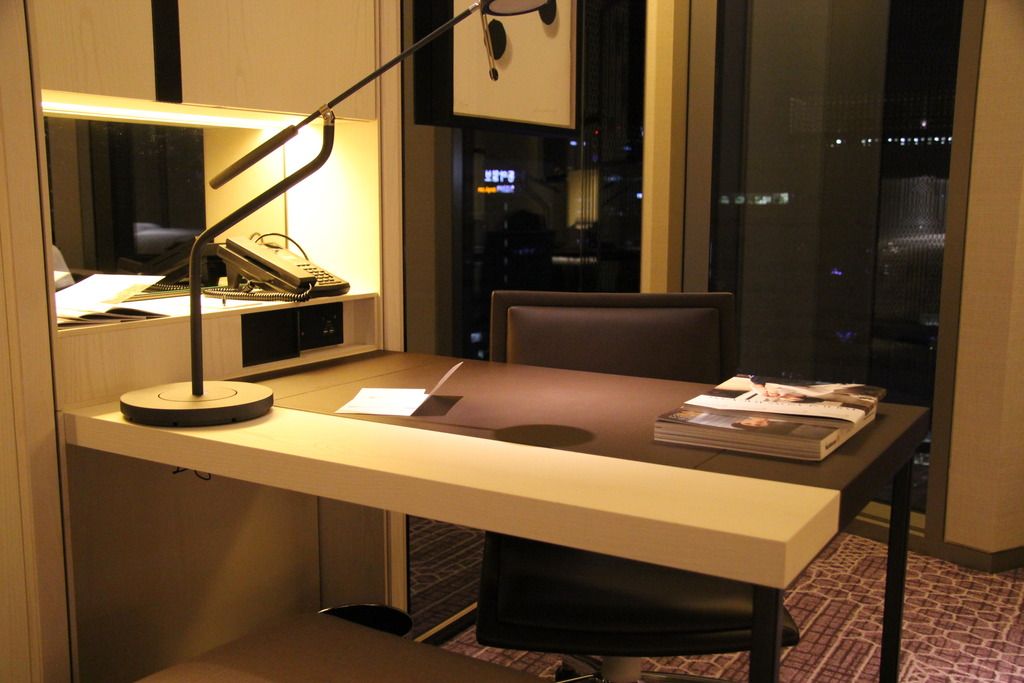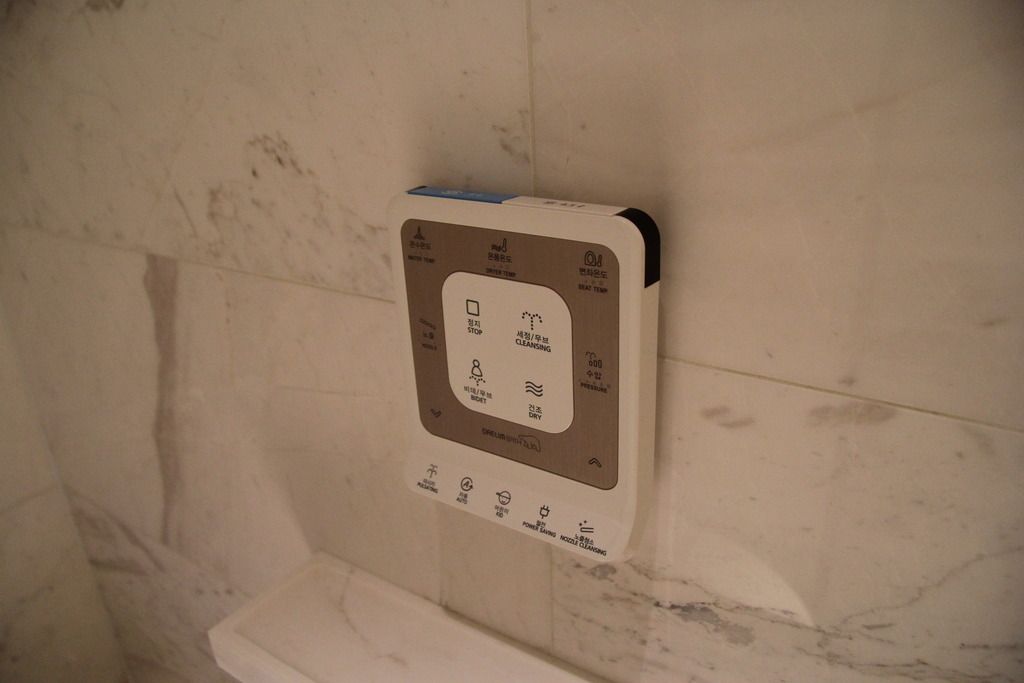 Double tap the function then use the arrows to make adjustments. Daelim toilets are not nearly as intuitive as Toto washlets in my experience. My partner thought the hotel was cheaping out by disabling the heated seat function. Took a little time to figure out the hang of things.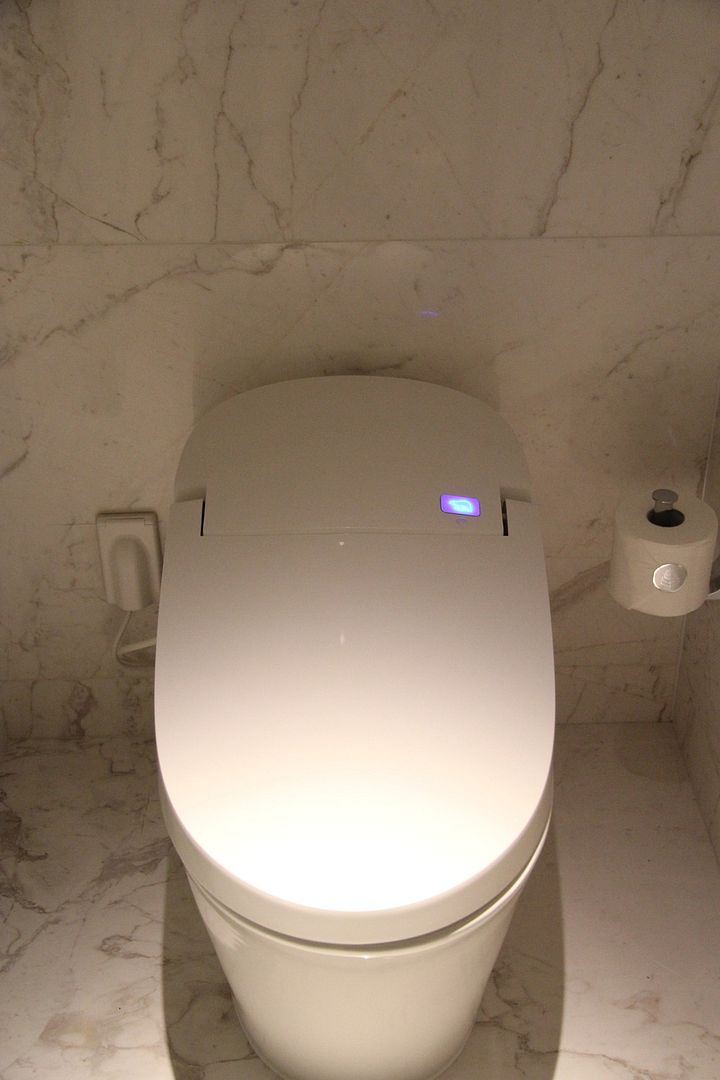 ---
Last edited by Aventine; Oct 10, 15 at

4:38 pm
Oct 10, 15, 3:51 pm
Four Seasons Seoul, October 9-10 stay.
3. Hotel and hardware.
Interior
You've already seen a lot of the hotel from my other posts but here are some pictures of the hallways, elevator and carpets. I really think they should have chosen a different carpet color and not used one that looks worn out 10+ years.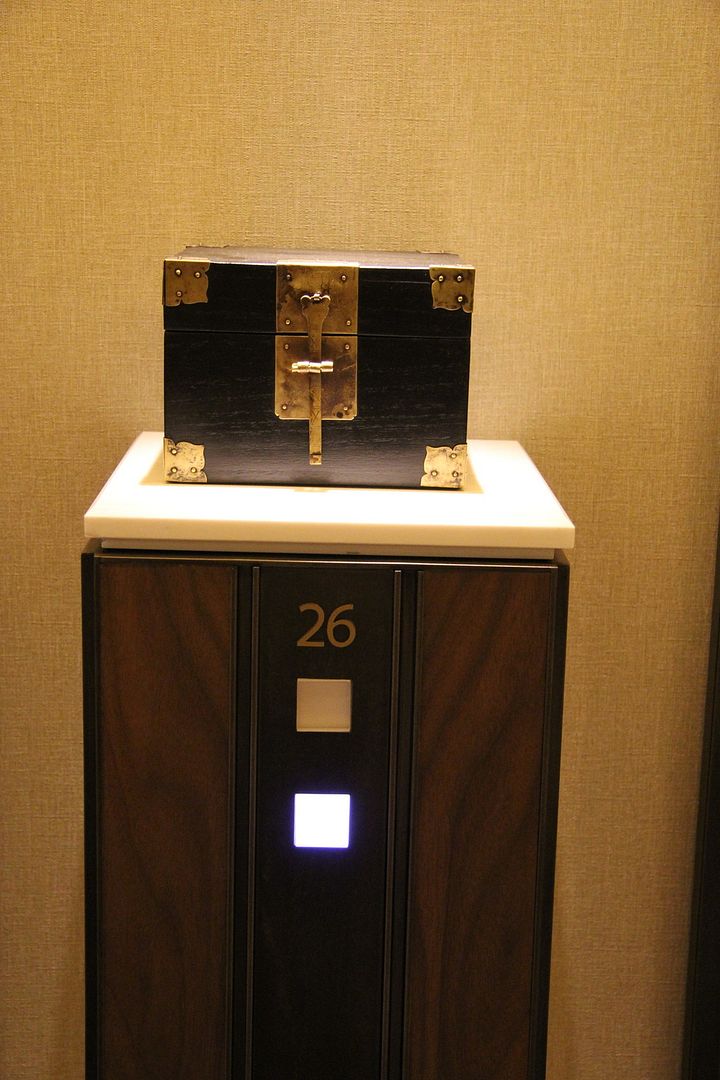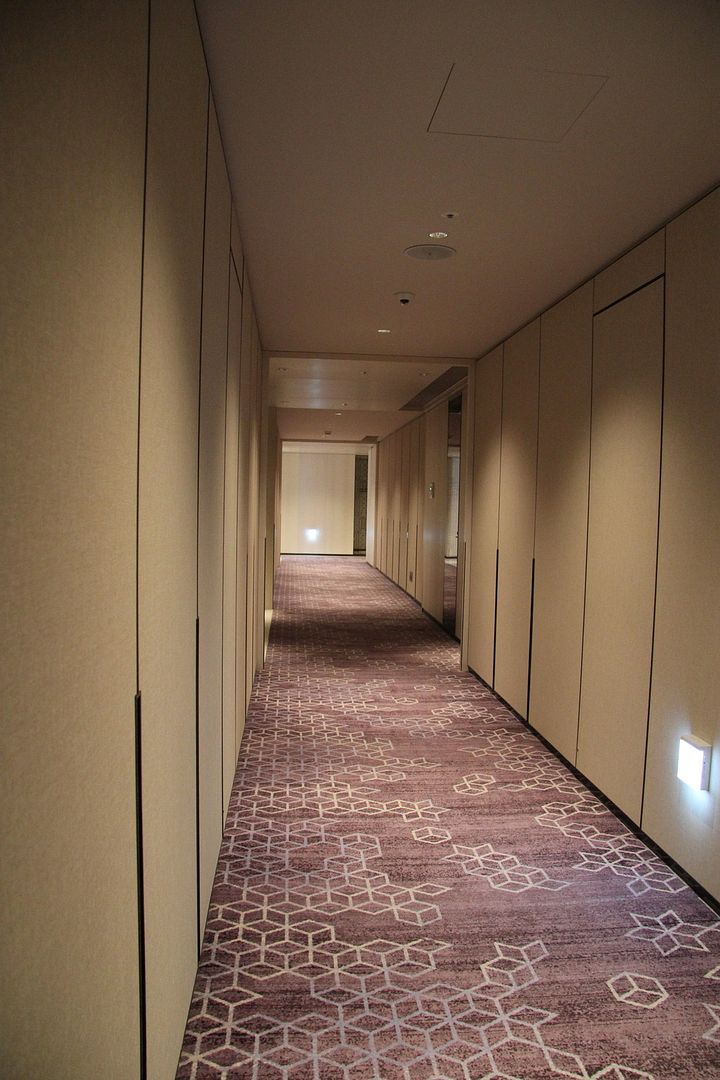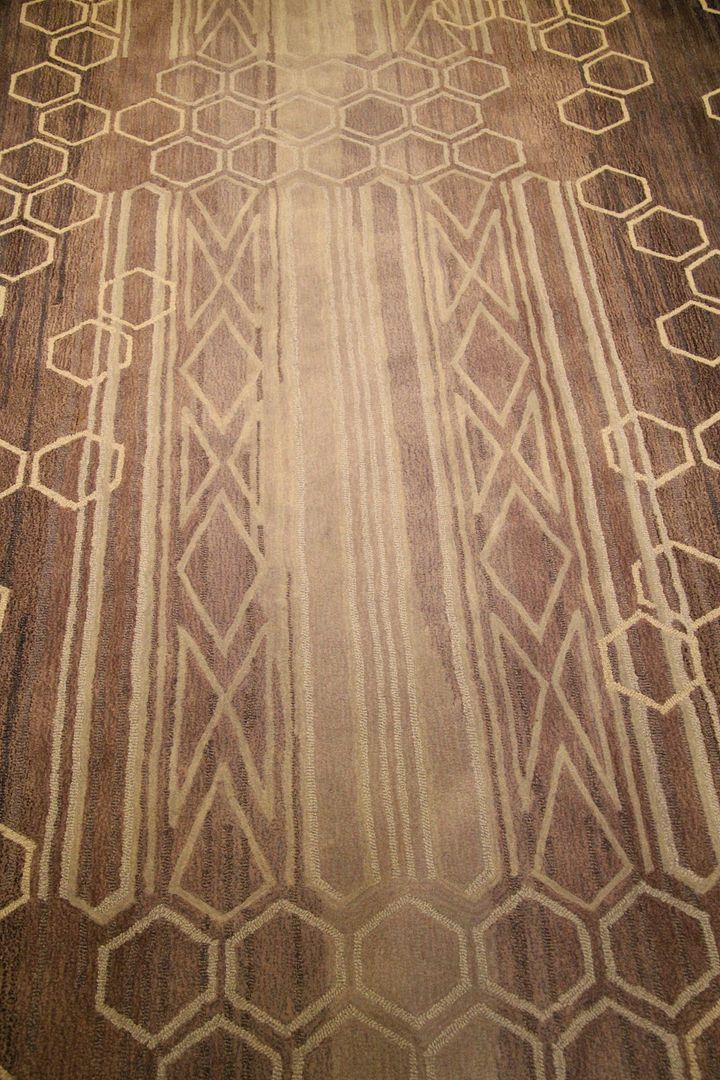 The 15th floor Garden terrace is probably going to go unused until late Spring at least. A nice place to get some fresh air from the rest of the hotel.
Parking lot
The Parking lot was underground, modern but very small. If Friday was controlled capacity then I can't imagine how a full capacity weekend with non-staying guests would swamp the garage. Nice that there's both valet and self parking options.
Public transit options
Subway, Line 5 is there to get you from GMP and ICN (with a change from Arex to Sangildong and Macheon bound Line 5 trains).
---
Last edited by Aventine; Oct 10, 15 at

6:35 pm
Oct 10, 15, 4:18 pm
4. F&B
Kioku
(sorry no photos)
This is a stunning Japanese restaurant. I did a walk through on Thursday and it's probably the fanciest, most well done Japanese restaurant in the entire city. The Korean power bloggers disparaged the food compared to the Shilla hotel and Weston Chosun. They could be right considering what I've seen from Boccalino and in-room dining...
Boccalino - Italian restaurant
This was the site of another enormous service failure when we showed up and the hostess said they were full for the night. She would not let us in. I put in a call to the Guest Relations manager and then a table was "made" for us. The empty table was already there and plenty of other empty tables were in the house.
I've heard this happened because of a controlled capacity restriction in the soft opening phase but a hotel should never be turning away its own guests. Period. You would think on Hangul Day long weekend that the hotel would want as many customers as possible. Befuddling.
I also found it annoying that the sommelier was trying to sell bottles to every table including ours. My wife bought a 40 dollar glass of Croatian wine but he still came by trying to peddle some wine every 20 minutes. Is this how Boccalino is going to recoup the operation costs?
It was also bad that the staff was always rushing to clear half eaten entree plates. Almost like they wanted us out of the door so they could go out for the long weekend.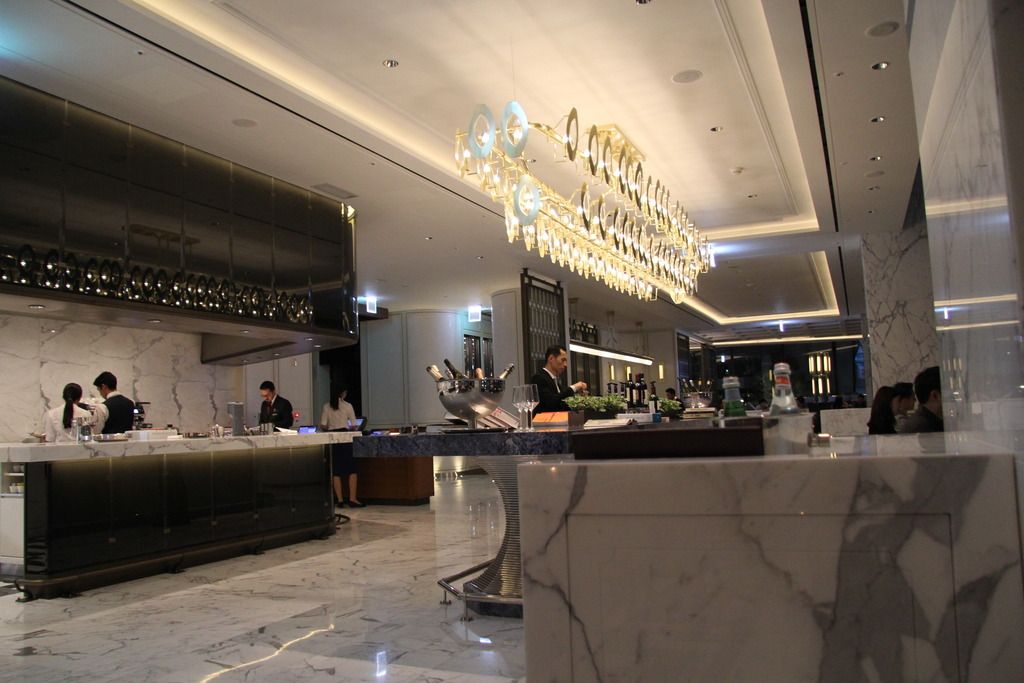 I think the restaurant is gorgeously done but it's HUGE encompassing the entire 2nd floor of the hotel. They do everything from grilled meats to brick oven pizza to pastas.
---
Last edited by Aventine; Oct 10, 15 at

7:56 pm
Oct 10, 15, 4:19 pm
5. Boccalino - dinner
This bread came out stone cold. It was a very bad start to Friday evening because bread should never be cold.
Sea urchin risotto. Where's the sea urchin? That yellow-ish cream doesn't contain a hint of sea urchin.
Grilled tuna Sicilian style with warm eggplant salad
My partner found the tuna to be too dry for Korean tastes. They love tataki and raw sashimi so this would seem like cardboard for them. I thought it could have been more moist and needed more warm eggplant salad.


The prices are very fair for a hotel restaurant and actually cheaper than PH Seoul! Can't vouch for the taste of the pasta dishes though.


The pizza was okay. Quality ingredients and brick oven made to order.
---
Last edited by Aventine; Oct 10, 15 at

9:14 pm
Oct 10, 15, 5:01 pm
6. FS Seoul in-room dining
This is where I am most ashamed and saddened that a
career FS F&B person allowed his hotel to serve this shambolic breakfast
. I expected a Korean breakfast matching the quality of Ekki's Japanese breakfast at FS Marounuchi or FS HK's stunning dim sum HK breakfast set. Something reflective of the local culture using quality ingredients that FS is famous for. The ginseng salad was the biggest item in the set and tasted awful. Ginseng is a bitter root and chopping it up in a salad is just asking for trouble. Honey mustard dressing is not a local traditional breakfast condiment either.
Then, there was the mushy rice and cold soup. I don't enjoy the dried, grilled Corvina fish and I'm guessing most other Westerners won't either. Too little flesh, too many bones and quite salty. The Korean side dishes also don't exude elegance or class that one expects from a FS. The kimchi dish is teeny and tired looking. Same goes for the fresh fruit plate. The fruit just looked substandard and perhaps pre-cut and left under a cling wrap.
FS Seoul's Korean breakfast
I made the comment to my FSPP agent that it was like eating like King Sejong at PH then going to FS and eating the servants food.
PH Seoul's Korean breakfast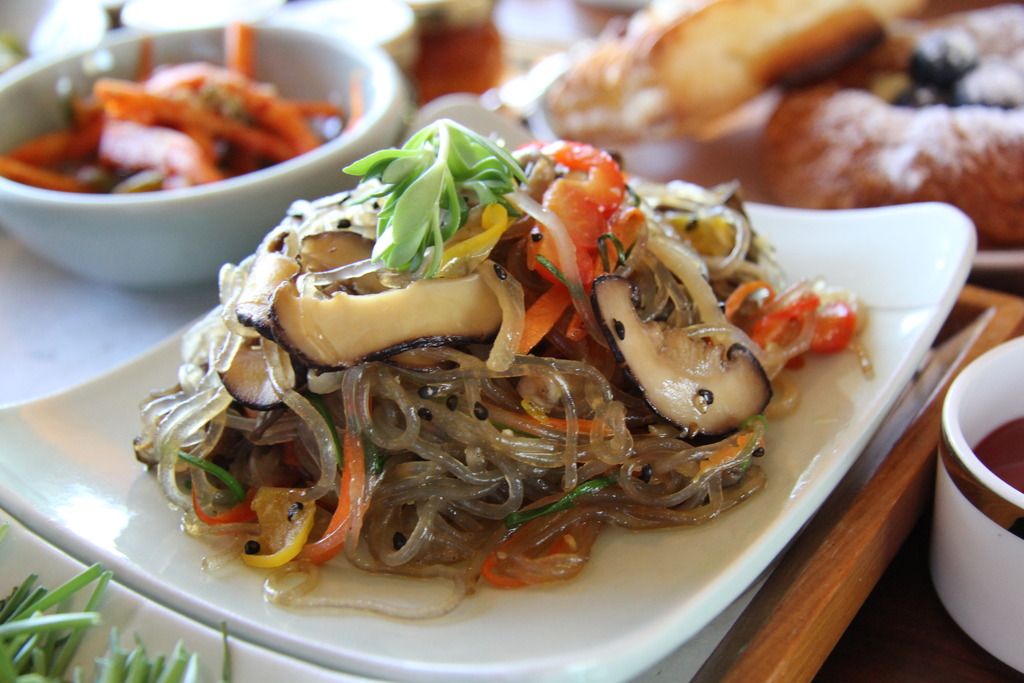 FS Seoul Western American breakfast in-room dining
The app screwed up my order because the special requests/ comments section got lost along the way with the order. The lamb sausage was interesting and different from other restaurants but this isn't how I like my omelette in the morning. It came with ingredients I didn't want or order. Room service did end up re-doing the omelette I like but would have been better if they could have just seen the preparation notes.
I suggest writing the dining card before 3am and selecting what you want from the card. Make specific notes and requests on there than the app.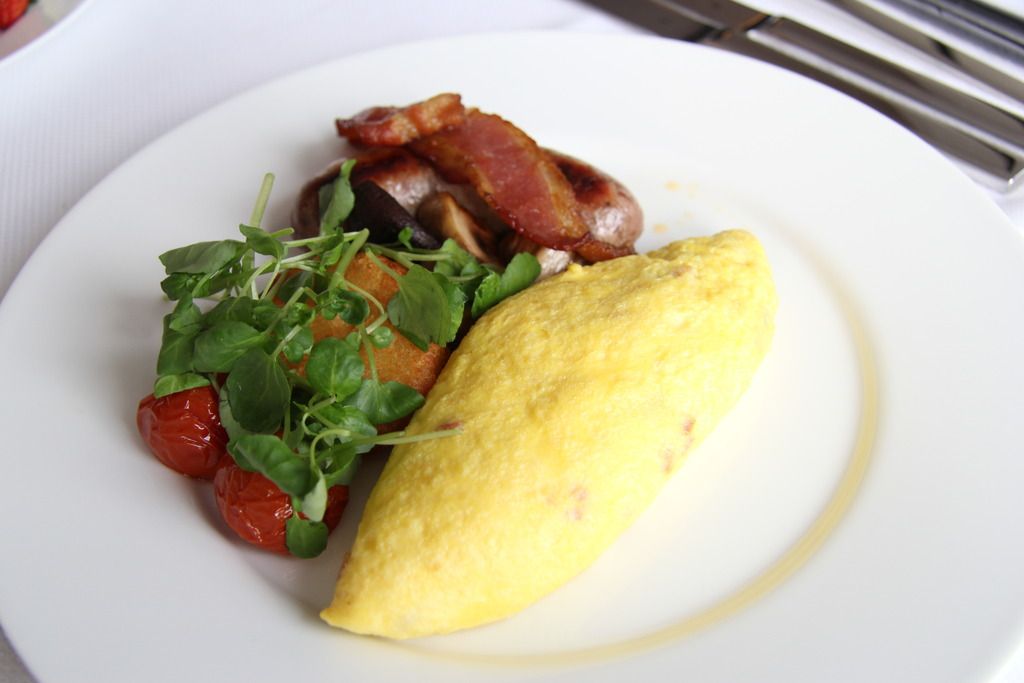 ---
Last edited by Aventine; Oct 10, 15 at

8:54 pm
Oct 10, 15, 5:17 pm
Oct 10, 15, 6:49 pm
7. Personnel

I know the GM Mr. Barta by reputation and through a FS contact. He's a second or 4th generation hotelier. I expected more from someone with an extensive FS background. I supposed with a 317 room hotel, 7 F&B outlets, etc that it is impossible to manage everything. He never ate the Korean breakfast before and didn't know if his Korean 1st floor lounge restaurant would be any better. Most disturbing.

The FS Seoul F&B director Mr. Rarayan is also a career FS person. I met him on Friday night but he looked worn down probably from opening week. I read he only had Korean food at age 29 but someone in his position should have been bench marking all the other leading Seoul hotels for Korean breakfast and Korean food. A FS can do many great things and with all the FTAs Korea has signed. Hoteliers can no longer hide behind, "oh the ingredients aren't available."

The rest of the personnel are a mix of new hires and staff poached from GH, PH and the numerous Hilton's.
---
Last edited by Aventine; Oct 10, 15 at

7:41 pm
Oct 10, 15, 7:08 pm
8. Spa and fitness

The fitness center is huge and has a great selection of full free weights, cardio machines, TRX, etc. It has the new gym room smell.

The swimming pool looks better in photos than real life. It's also a hassle to go to and be careful because the marble staircase can get slippery.

There is one Jacuzzi and one kids pool in addition to the full sized one. Full of families and children as to be expected on a long holiday weekend.

Spa:

Did not end up keeping the appointment because they couldn't move it up. They were surprisingly full and could only fulfil 2 treatments? Mr. Barta said that they were supposed to do all of them. A case of the left hand doing something different than the right.


My spa blogger partner also read on the Korean blogosphere that they were skimping on time. Counting the changing, showering, tea time and foot ritual as part of the total treatment . This meant the 90 min massage became more of a 60-70 min treatment. Mr. Barta didn't know about this happening either and it reflects badly on a FS for pulling cheap time tricks like reducing 90 mins to 60-70.
---
Last edited by Aventine; Oct 10, 15 at

7:40 pm
Oct 10, 15, 7:50 pm
Conclusion:

Everything was comped after what happened and I was given the usual platitudes about them being very sorry, deeply apologetic and invited back again.

I would like to think they will take the litany of feedback and run with it. However, I won't be returning anytime soon though. Maybe a year after...

I hope FS Seoul will get better and that the FT community will give it a chance and judge it for yourselves. Time will tell if Friday was teething problems or the sign of an institutional rot.
---
Last edited by Aventine; Oct 10, 15 at

7:57 pm
Oct 10, 15, 8:25 pm
Executive Lounge: FS Seoul
Definitely the nicest club lounge in the city. Spacious, well decorated with views of Namsan, Seoul tower and towards Gwanghwamun. Very decent wine and spirits offerings and the food was inventive, colorful and tasty. You could make a light supper here but they're definitely more of the canape type. I do hope that this place won't become like every other Seoul club lounge in that it gets filled with local families, children on the weekends. I also hope they will keep the food quality and offerings strong throughout rather than dimming quality once the honeymoon period is over.
Access granted to Club room and Executive suites and above guests only. Interestingly, no lower suites have Lounge access.
---
Last edited by Aventine; Oct 11, 15 at

4:42 pm
Oct 10, 15, 8:42 pm
Join Date: Jan 2009
Location: BKK
Posts: 6,741
Thanks for the review, Aventine.

While they really have dropped the ball, and that is inexcusable of Four Seasons, it does seem like most of the issues you experienced can be fixed and that the building itself and hardware are quite well done.

I hope they treat you like royalty if you graciously decide to return in the future and give the hotel another chance.
---
Last edited by MikeFromTokyo; Oct 10, 15 at

8:50 pm
Oct 10, 15, 8:50 pm
Originally Posted by
MikeFromTokyo
Thanks for the review, Aventine.

That breakfast looks very disappointing. Was that huge plate of chap chae(SP?) the main dish?

While they really have dropped the ball, and that is inexcusable of Four Seasons, it does seem like most of the issues you experienced can be fixed and that the building itself and hardware are quite well done.

I hope they treat you like royalty if you graciously decide to return in the future and give the hotel another chance.
The japchae photo is from PH's Korean set. Four Season's barely came with any side dishes. The irony is that their Korean chef came from PH so Mr. Barta was quite surprised that he didn't make his new hotel's breakfast as good as his old one.