Sneak Peek at JetBlue's New Gate Monitor Screens
Sep 5, 18, 11:20 pm
Join Date: Jun 2012
Location: New England
Programs: DL GM, UA, B6, AA, WN, AS, AGR
Posts: 3,702
Sneak Peek at JetBlue's New Gate Monitor Screens
---
I was on the JFK-ONT inaugural tonight and at JFK, the JetBlue IT team decided to test the new gate monitor screens which will be rolled out systemwide at the end of November. If these look familiar to you, it's because you've probably seen it before under a different color scheme on another airline
The new screens will display far more information on a cycling basis.
Just for comparison, this is the current gate monitor screen. Not much changes while this is being displayed.
The new screens display information on four cycling tabs, and will cycle between English and Spanish. This is the "home" tab where it displays the gate information.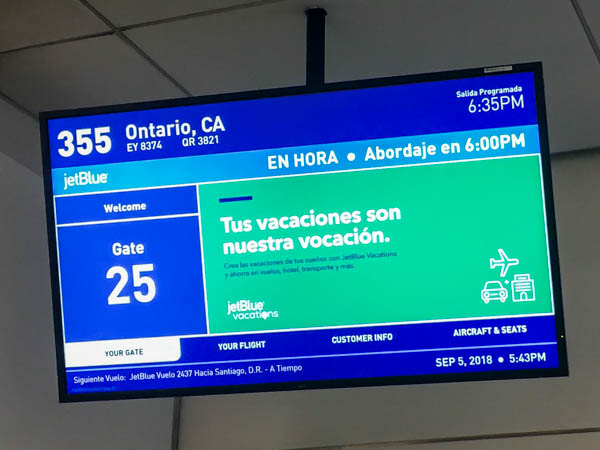 The second tab displays the inflight amenities. This is currently a generic screen that displays all possible amenities. Going forward, the screen will display amenities based on the tail number of the aircraft assigned. For this flight, the screen was incorrect (because it was showing all possible amenities) since the aircraft was not a refreshed A320, and was not an 800-series tail, so there was no in-seat power. Because this is a new route, catering has not been set up to cater the Eat Up boxes on this route (yet).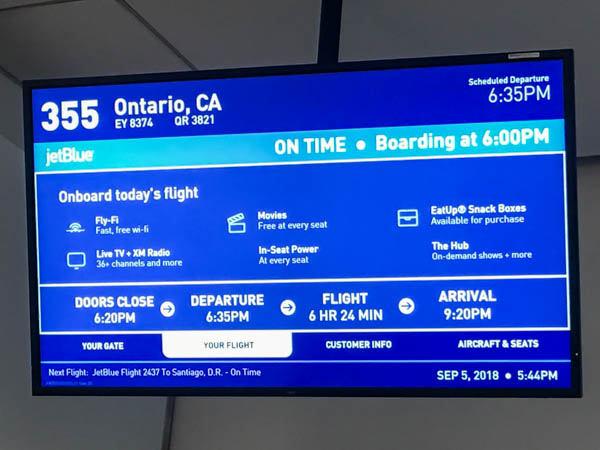 This next screen actually has two parts. The first part displays the standby list, and it shows who cleared and who hasn't. This is fairly standard amongst legacy carriers. Then, the screen also cycles to a secondary screen (shown below) showing which passengers need to go to the podium for a document check for downline international connections.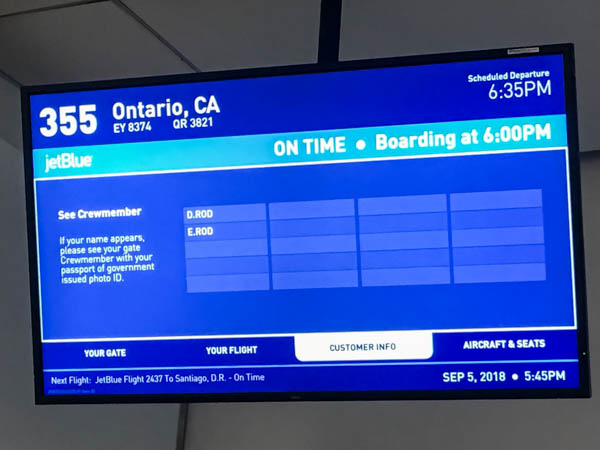 The fourth tab shows a seat map as well as the name of the plane. Right now this is not tied into the real time seat map, so it shows every seat as available. In the future, this will show the seat map in real time, with messages indicating that EMS seats are available for purchase.
When boarding begins, the screen shows the current group boarding.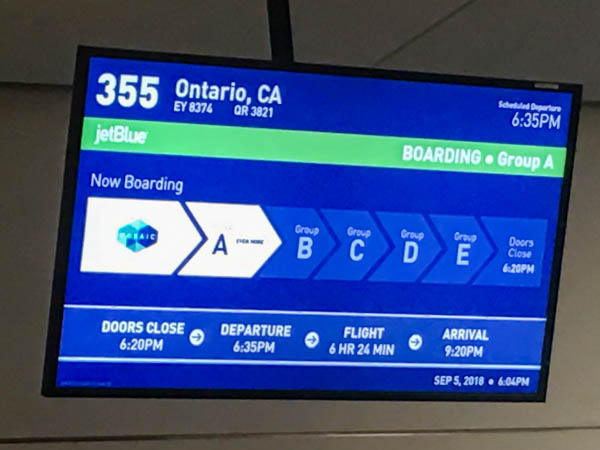 Sep 12, 18, 8:09 am
Join Date: Aug 2016
Location: MA
Programs: TrueBlue Mosaic, HHonors, Marriott
Posts: 28
Sep 18, 18, 10:50 am
Join Date: Dec 2008
Location: Hands of Fate
Programs: MR LT(!)TE, DL DM (sigh) MM(!), HTZ PC, 2V Fanboi, CBP GE
Posts: 4,673
Sep 18, 18, 11:47 pm
Join Date: Feb 2011
Location: San Francisco, CA
Programs: Amex Platinum, Chase Sapphire Reserve
Posts: 739
Sep 19, 18, 5:40 am
Join Date: Dec 2011
Programs: DL DM, HHonors Diamond, SPG Gold, etc etc etc
Posts: 2,239
Oct 10, 18, 11:32 pm
Join Date: Jun 2012
Location: New England
Programs: DL GM, UA, B6, AA, WN, AS, AGR
Posts: 3,702
These new screens were implemented in Boston yesterday (10/10). Not sure if this was a systemwide rollout.