Badges
Sep 4, 18, 10:50 am
A FlyerTalk Posting Legend
Join Date: Apr 2001
Location: NYC
Posts: 69,035
I don't think there was even an intention to retire the program with the prior announcements. It was very successful for the company, though it may have needed a contract renegotiation or extension to keep going.
Sep 4, 18, 2:20 pm
Join Date: Aug 2015
Location: NYC
Programs: Marriott Platinum Elite, D23 Charter Member, Southwest A-LIst, JetBlue Mosaic
Posts: 542
The email I received today gave me the impression that they might be switching vendors or something like that
Sep 26, 18, 9:50 am
Join Date: Jan 2005
Location: NYC
Programs: AA EXP, SPG Plat, JetBlue Mosaic, Hertz whatever they call it
Posts: 708
anyone hear any updates on this? have a lot of travel coming up, trying to figure out where to book it!
Sep 26, 18, 12:30 pm
Join Date: Aug 2016
Location: MA
Programs: TrueBlue Mosaic, HHonors, Marriott
Posts: 24
Sep 26, 18, 6:46 pm
Join Date: Jun 2012
Location: New England
Programs: DL GM, UA, B6, AA, WN, AS, AGR
Posts: 3,389
I've been keeping track of the things I've been doing while Badges are on hiatus. Hopefully the old badges all still exist, and that they'll simply track easier/better after they come back.
I don't have high hopes that they'll track any better though. JetBlue's own points tracking system is a little wonky. Example: This was my BOS-JFK-ONT-JFK-BOS trip to fly the inaugural: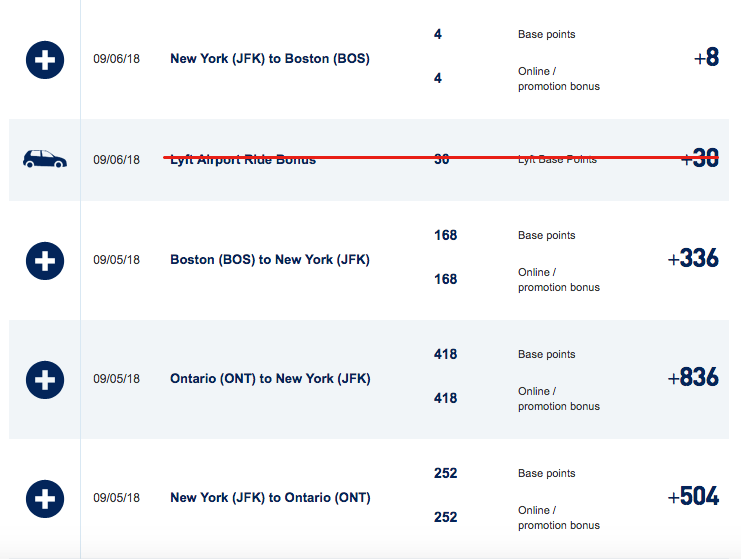 It posted weird, but the points added up correctly for my fare. Also, the JFK-ONT/ONT-JFK legs tracked properly for Go Long. I did SDC the JFK-BOS leg, and I've noticed that SDC often causes the system to do weird things when the points post. Another example was an EWR-BOS flight that only posted half the points when I SDC-ed. I contacted them and they weren't sure what happened, but they did a manual adjustment (which didn't include any Mosaic qualifying points, but I don't need them, so that was fine).
---
Last edited by diburning; Sep 26, 18 at

6:52 pm
Sep 26, 18, 8:29 pm
Join Date: Dec 2014
Location: Around
Programs: AS MVPG, SPG Gold
Posts: 39
Noticed something funny on my Facebook the other day - new widget called "My Games," and the only thing on there was JetBlue Badges. I think I connected my Facebook account with it when I first signed up.
The funny part was hovering over it - it says "97 players." Wonder if that's the active user count for badges (or badges connected via Facebook), and why it's on hiatus
Nov 19, 18, 10:12 am
Join Date: Jan 2005
Location: NYC
Programs: AA EXP, SPG Plat, JetBlue Mosaic, Hertz whatever they call it
Posts: 708
a lot of travel plans that i havent been able to solidify because of the lack of clarity on badges. not sure how to weigh possible stopping points, connections, all kinds of things.

really disappointed with the lack of communication now three months into this hiatus
Posting Rules
You may not post new threads
You may not post replies
You may not post attachments
You may not edit your posts
---
HTML code is Off
---