Consolidated "Buy Whiskey in Japan" thread (was: Haneda/Narita Duty Free Whiskey)
Nov 28, 19, 9:07 am - Wikipost
| | | |
| --- | --- | --- |
| Please read: This is a community-maintained wiki post containing the most important information from this thread. You may edit the Wiki once you have been on FT for 90 days and have made 90 posts. | | |
Apr 14, 19, 10:31 pm
Join Date: Jan 2002
Location: Oakland, CA USA
Programs: UA MM, Avis CHM
Posts: 116
Hey everyone, what an interesting thread. I didn't buy since it's not really my thing, but I'll contribute a photo of this here Hibiki 21 from NRT T1 on Friday around 17:00.
I did, however, buy all 6 of these mini's. Makes for nice presents LOL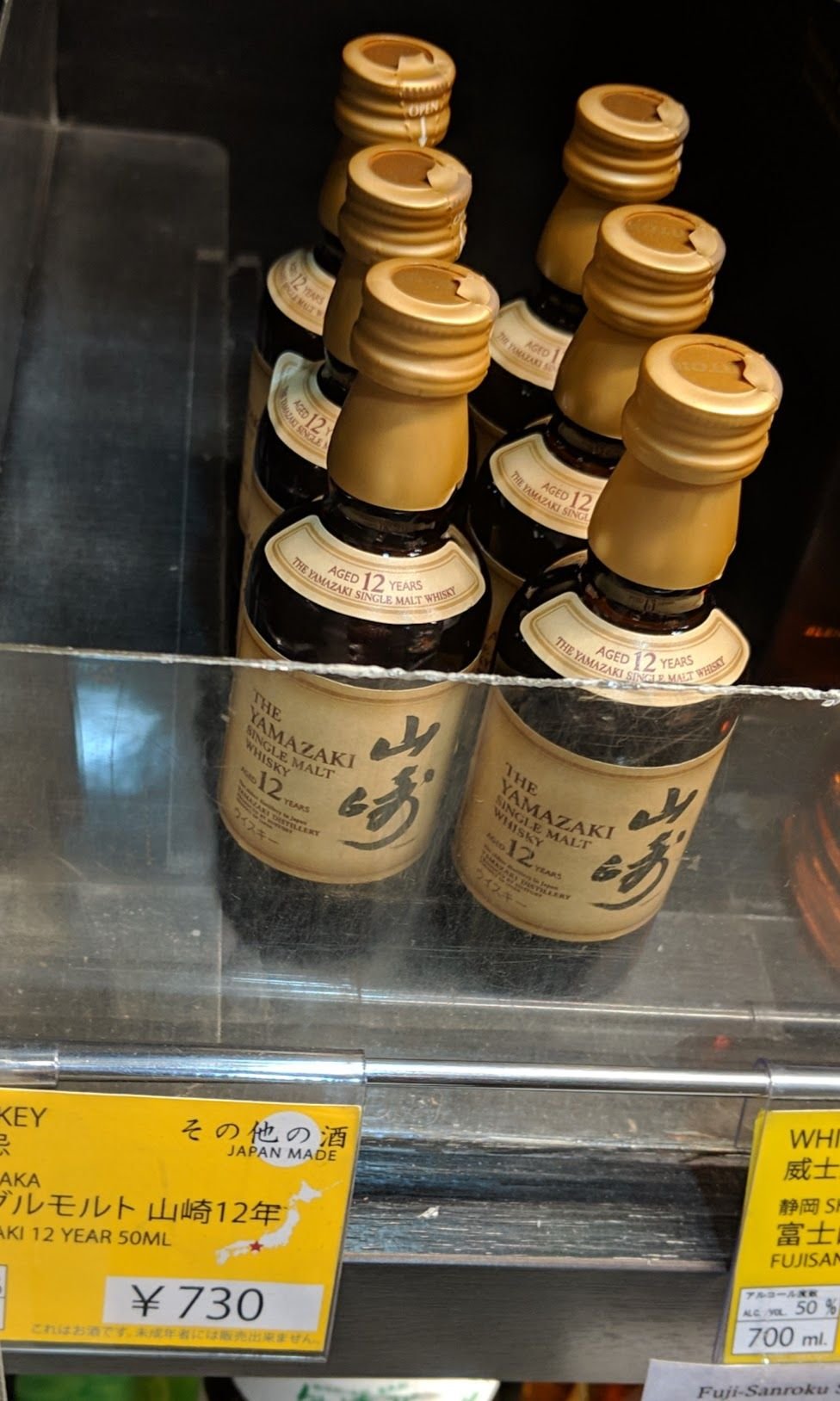 Apr 15, 19, 7:21 am
Join Date: Feb 2019
Posts: 27
Apr 16, 19, 6:02 pm
Join Date: Sep 2018
Posts: 119
Apr 17, 19, 3:15 pm
Join Date: Jan 2002
Location: Oakland, CA USA
Programs: UA MM, Avis CHM
Posts: 116
Apr 22, 19, 1:34 am
Join Date: Nov 2018
Location: MEL/YMML
Programs: QF Gold, CX Green, A3 Gold, Hilton Gold, Hyatt Discoverist, Amex Platinum
Posts: 241
I was in a town somewhere in Victoria, where I visited a bottle shop, and found out they're selling Yamazaki 12 for around A$270. This must be unexpected.
Apr 22, 19, 2:52 pm
Join Date: Sep 2014
Location: SFO
Programs: Hyatt Globalist, Alaska 75k, Marriott Plat
Posts: 1,194
That's about the normal price at most shops that still have stock these days, even in Japan.
Thankfully a certain warehouse retailer in the US still sells it for $79.99 if you're lucky enough to be around when they get a shipment.
Apr 22, 19, 9:57 pm
Join Date: Sep 2014
Location: SFO
Programs: Hyatt Globalist, Alaska 75k, Marriott Plat
Posts: 1,194
Apr 22, 19, 11:16 pm
Join Date: Nov 2011
Location: LON, BOM
Programs: BAEC Gold, LH SEN
Posts: 132
Apr 23, 19, 7:08 pm
Join Date: Jan 2008
Location: TYO
Programs: UA MM *G, NH Plat/SFC, HH Diamond, GE
Posts: 224
Apr 23, 19, 8:34 pm
Join Date: Sep 2014
Location: SFO
Programs: Hyatt Globalist, Alaska 75k, Marriott Plat
Posts: 1,194
​​​​​​
bubble wrap and check-in