Western vs Japanese Meal in F
Feb 7, 19, 2:05 pm
Join Date: Jul 2009
Location: New York, NY
Programs: AA Platinum, UA Gold, Hilton Diamond, Marriott Platinum
Posts: 117
Western vs Japanese Meal in F
---
I'm flying F from JFK to NRT next Saturday and am wondering if I should try the western meal on this flight? I had two Japanese meals in business in November two/from New York, but this is my first time flying JAL First. I'm torn between "you're going to Japan dummy" and "the food was made in New York dummy" when deciding which is likely to be most delicious.

I'm flying back on Delta so sadly only one option to try.
Feb 7, 19, 3:46 pm
Join Date: May 2017
Posts: 202
My wife and I flew JL first class from SFO to HND in March of 2018. What an experience! It was our first premium economy flight ever and it blew us both away! As for the western or Japanese menu. Fortunate for us we were able to order one of each. While my wife had the western beef, and it was cooked perfect, the Japanese menu for me was just wonderful. It was great because of all the bite sized portions. I was able to try many things I would never try normally and while I did not like everything, it was such an experience trying the Japanese menu. Also, on our menu the caviar was not listed under the Japanese menu so I requested if I could also have the caviar course, and the FA was happy to provide that as a starter along with the entire Japanese menu.
I think either way you will have a fantastic meal.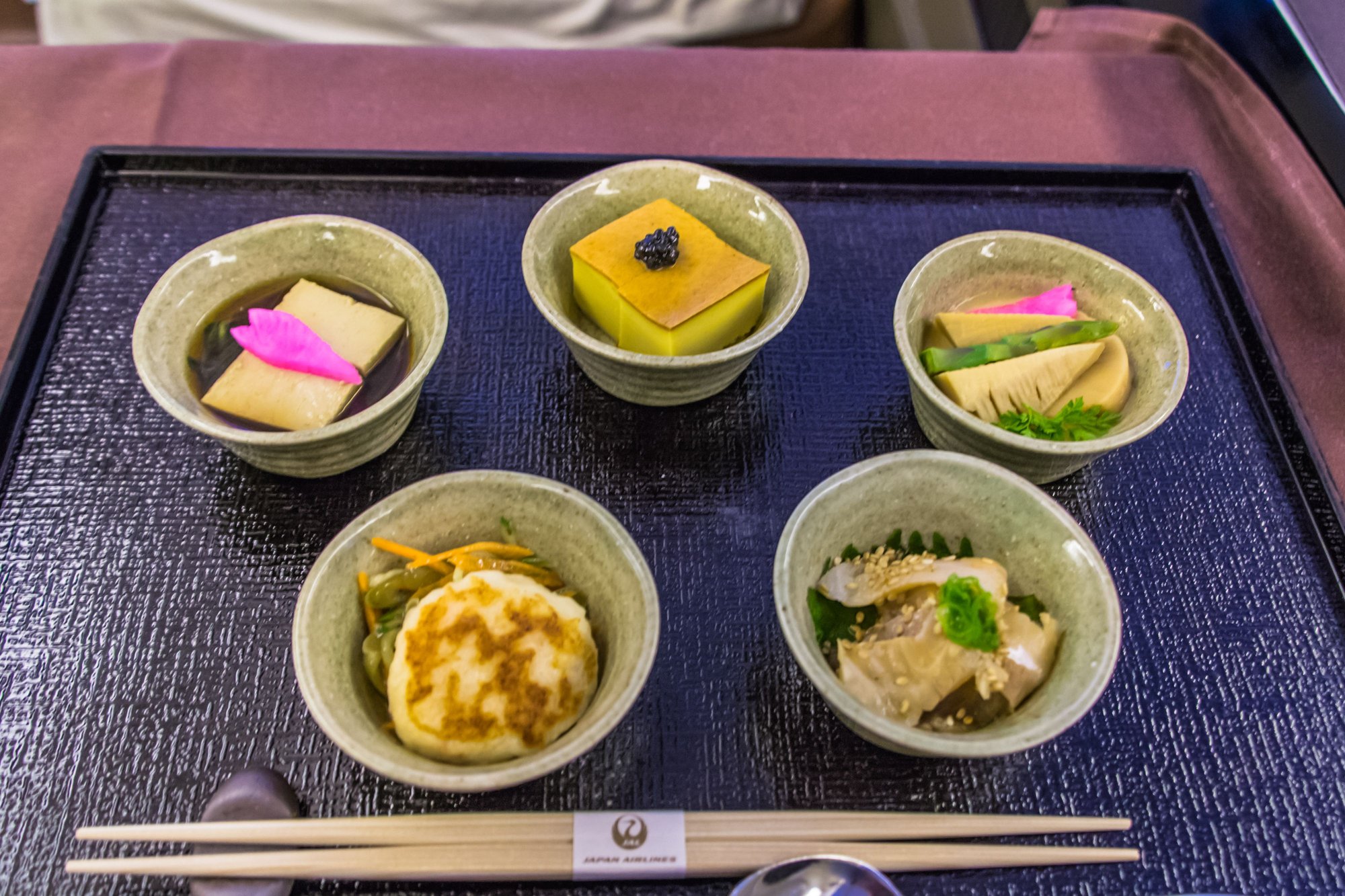 Feb 7, 19, 3:48 pm
Join Date: Oct 2012
Location: Tokyo
Programs: Marriott Plat, HH G,Hyatt E,*A Gold, OW Emerald.
Posts: 2,530
either is ok, none better than the other. you should stick to your preferences (western or japanese).
You can pair the western course with japanese sake etc.
Youtube for reviews of JAL F JFK-HND/NRT.
Feb 8, 19, 9:47 pm
Join Date: Jun 2017
Location: NYC/LAX
Programs: BAEC Gold, JAL Diamond (JML), TK Elite, Hilton Diamond, SPG/Marriott Gold, SUMA Silver
Posts: 112
If you are a fan of Japanese meal then you should go for it. It would be the best Japanese food you can get on a commercial flight. However since you are departing JFK you will sadly not getting the Kohaku/Ishikawa menu.

Also you can combine any course as you wish (i.e. a caviar appetizer then the Japanese set menu, or the Japanese appetizer and a western main)
Feb 10, 19, 8:03 pm
Join Date: Jul 2003
Location: WAS/ Silver Spring, MD,USA
Programs: UA/AA
Posts: 843
I found the meal service to be most accommodating fly JL F. Allowing me to select whatever food I desired from either menu. The service, presentation, and quality was of the highest level for dining in the sky. Also, the vacant adjacent seat was prepared for sleeping, so I could swap places depending on what I felt like doing. Always enjoy JAL.
Feb 11, 19, 3:50 am
Suspended
Join Date: May 2006
Location: HKG
Programs: A3, TK *G; JL JGC; SPG,Hilton Gold
Posts: 9,959
given that they cant reuse the food sof if your flight isnt full, you can prob try ordering everything on the menu for photos. I've never done this myself as i see it rather antisocial. but if you tell them you are torn for choice they will definitely be happy to bring everything your way.

In my younger years I have tried ordering everything on the JAPANESE menu tho (inc snacks). but yeh, having tried NH F, CX F and JL F, I can say JL F has the best Japanese meal on a plane (beats NH by the small things).
Feb 11, 19, 4:39 am
Join Date: Mar 2017
Programs: BA Gold
Posts: 153
I am on JL43 at this moment, my experience with the Japanese meal, the time I have had it, is that it can be a hit and miss, with some courses at least in the cornucopia that the Japanese meal is. I was on JL26 HKG-HND last night, I struggled to decide what to have, the very lovely CC member said they had enough for me to try the Japanese section, and if I didnt like it I could have the Western. The Japanese was great though. Today we are 2pax in the F cabin, I am sure the same approach would have worked here. On another flight I have been with 7 Japanese business men in the F cabin and was told I might not get my Japanese meal, and I would have been fine with that.

So after this Cristal infused rambling, my suggestion would be to have an interest in the Japanese meal, your CC will most likely be happy to help you out with alternatives, unlessed packed cabin. If its your first JL F I would go Japanese, if it is not to your taste, you tried it, and you can grab a good steak anywhere in the world, and the snack menu will npt leave you starving.
Feb 12, 19, 12:29 pm
Feb 12, 19, 9:05 pm
Suspended
Join Date: May 2006
Location: HKG
Programs: A3, TK *G; JL JGC; SPG,Hilton Gold
Posts: 9,959
Feb 14, 19, 10:22 pm
FlyerTalk Evangelist, Moderator, Information Desk, Ambassador, Alaska Airlines
Join Date: Dec 2006
Location: ANC, MRI
Programs: AS MVP Gold75K, AS 1MM, Maika`i Card, AGR, HH Gold, Hertz PC, Marriott LTG, SPG Gold, CO, 7H, BA, 8E
Posts: 41,222
I have made it a habit to pre-order my Japanese meal. Very tasty, and yes enjoying most, if not all the Japanese snacks onboard is a must. Even the whole dried seafood ones