Kimpton Fitzroy London (Master Thread)
Dec 11, 18, 1:36 pm
FlyerTalk Evangelist
Join Date: Dec 2003
Location: MAN and LON
Programs: Mucci, BAEC LT Gold, HH Dia, MR LT Plat, IC RA, Kimpton Inner Circle, Amex Plat
Posts: 13,721
Kimpton Fitzroy London (Master Thread)
---
There doesn't seem to be a property thread for the Kimpton Fitzroy but I checked in tonight to see how it was and feel seriously underwhelmed.

it all feels a bit like a higher quality W hotel but without the charm.

Booked a queen urban room was initially given no upgrade and a £15 bar voucher. So pretty much bugger all in terms of elite recognition.

Being a raging cynic and Hilton and Marriott (nee Starwood) old hand I checked rooms for sale immediately prior to check in and at least 7 different upgraded room types were being sold. After my request to cancel my stay and move elsewhere, a Superior King became available.

It's not a terrible room (in fact the quality of fit out of the whole property, aside from picking some of the more budget equipment options for the gym, is good) but the value proposition at my corporate rate of £280 a night is shockingly bad. My other options tonight were the IC PL at the same price but with Club, free minibar etc. The excellent Hilton Bankside at £220 a night (with similar sized rooms as standard, better upgrade chances, great free breakfast and club), CP The City at £211 a night (good Club and usually decent upgrades), IC O2 at £210 a night, Various decent Marriott options with club, free breakfast etc. starting from £190, Hilton Park Lane at £185, CP Kings Cross (little upgrade potential but decent lounge and gym) at £190 a night etc.

Apart from American Kimpton devotees I just don't see why anyone sensible would pick this property when the competition offers more for less. Even without status in other chains Exec rooms with lounge come in at a similar price point elsewhere.

There seems zero reason to stay at the Fitzroy as a RA that is for sure. It's a real shame but at the somewhat outrageous price point I expected far better than this and a little more benefit as an IHG elite member.







Feb 15, 19, 5:41 am
FlyerTalk Evangelist
Join Date: Dec 2003
Location: MAN and LON
Programs: Mucci, BAEC LT Gold, HH Dia, MR LT Plat, IC RA, Kimpton Inner Circle, Amex Plat
Posts: 13,721
Nice of them to tell people, I assumed there was no social hour during my visit in December since they never mentioned anything about it, perhaps because I spent so much time arguing about my lack of upgrade. I cam away thinking that the Fitzroy was just shockingly poor value for money at current prevailing rates.
I have another stay coming up next week as a newly minted Kimpton IC so hoping for a better experience.
Feb 21, 19, 2:21 am
FlyerTalk Evangelist
Join Date: Dec 2003
Location: MAN and LON
Programs: Mucci, BAEC LT Gold, HH Dia, MR LT Plat, IC RA, Kimpton Inner Circle, Amex Plat
Posts: 13,721
Well what a difference a stay (and Kimpton Inner Circle makes).

Checked in last night after booking a park view room and upgraded to a one bed suite. This was so much better than most of the suites I have had at the IC Park Lane and at least on a par with those at the IC O2.

The quality of the fit out shows much more clearly in a larger room. The living room is a good size yet cosy, the bedroom is spacious and the bathroom is huge with a large feature shower directly overlooking Russell Square (no blinds either!) and a large roll top bath.

It really is a lovely room and surprisingly quiet. I had a nice welcome gift bottle of Malbec and chocolate coffee cake. There is a decent free minibar (beers, soft drinks and mixers). So overall I am much happier. I will experiment by booking other room categories and see how that pans out in future.

All in rather impressed, although still not sure of the pseudo W vibe.
Nov 19, 19, 3:26 am
Join Date: Aug 2019
Programs: IC Amb, IHG Plat
Posts: 34
Nov 19, 19, 3:46 pm
FlyerTalk Evangelist
Join Date: Dec 2003
Location: MAN and LON
Programs: Mucci, BAEC LT Gold, HH Dia, MR LT Plat, IC RA, Kimpton Inner Circle, Amex Plat
Posts: 13,721
Nov 27, 19, 12:26 am
Join Date: Aug 2019
Programs: IC Amb, IHG Plat
Posts: 34
Just had my stay in here, and the Social hour is quite nice.
Booked reward night, got no upgrade (which is acceptable), but they gave me 15gbp voucher for f&b.
Nothing special except the hotel location. The room was super small (Urban room) and the lobby etc doesnt look as big as the commercial picture.
This stay will be my first and last stay in here. I prefer other option.
Nov 28, 19, 2:41 pm
In memoriam
Join Date: Jan 2009
Location: MAN
Programs: Marriott Lifetime Titanium, IHG Spire, UA Silver, Dennis The Menace Fan Club
Posts: 1,457
Stayed here last month redeeming 2 vouchers. I stated here 20 years ago when it was the Hotel Russell. Then it looked like it had seen better days, now that period is clearly behind the hotel and it's glory really has returned. Spire but not Inner Circle. Received a fab corner suite overlooking Russell Sq.
Lounge and dining area
Four poster corner bedroom with views of Russell Sq
Fabulous soaker bath with good water pressure ensuring it filled quickly
Dec 11, 19, 5:17 am
Join Date: Jul 2002
Location: Dallas, Texas
Programs: AA Exp. Bonvoy Gold, Hilton Gold, IHG Platinum.
Posts: 1,085
Stayed at the Fitzroy in December. Iím platinum and no upgrade as the hotel was fully booked. I was given a 15 pound voucher for food and drink. I was also told that I would receive 10% off of all food and beverage in the hotel restaurants by mentioning my status to the server. In actuality at the Neptune at breakfast the server seemed knew so he spoke to the manager who promptly brought me a card for a 25% discount. The next day at Burr & Co the server was aware and gave me a 15% discount while notating my IHG number. Breakfast was a cold buffet at the Neptune with hot items available from the menu. The cold buffet was 18 pounds with hot items around 15 pounds. Burr and Co was menu only with prices in the 8 to 12 pound range.
the lobby of the hotel was beautiful and the gym was exceptional. The room was small (superior double) and even smaller (urban double) for my last night which was a separate booking on points. The superior double faced the park in an area which was mostly suites. The urban double was at the back of the hotel facing a light well and other rooms. I would not select anything below the superior double Iím the future. The room was comfortable with good bedding and shower as well as an Nespresso machine. The photos below are of the superior double.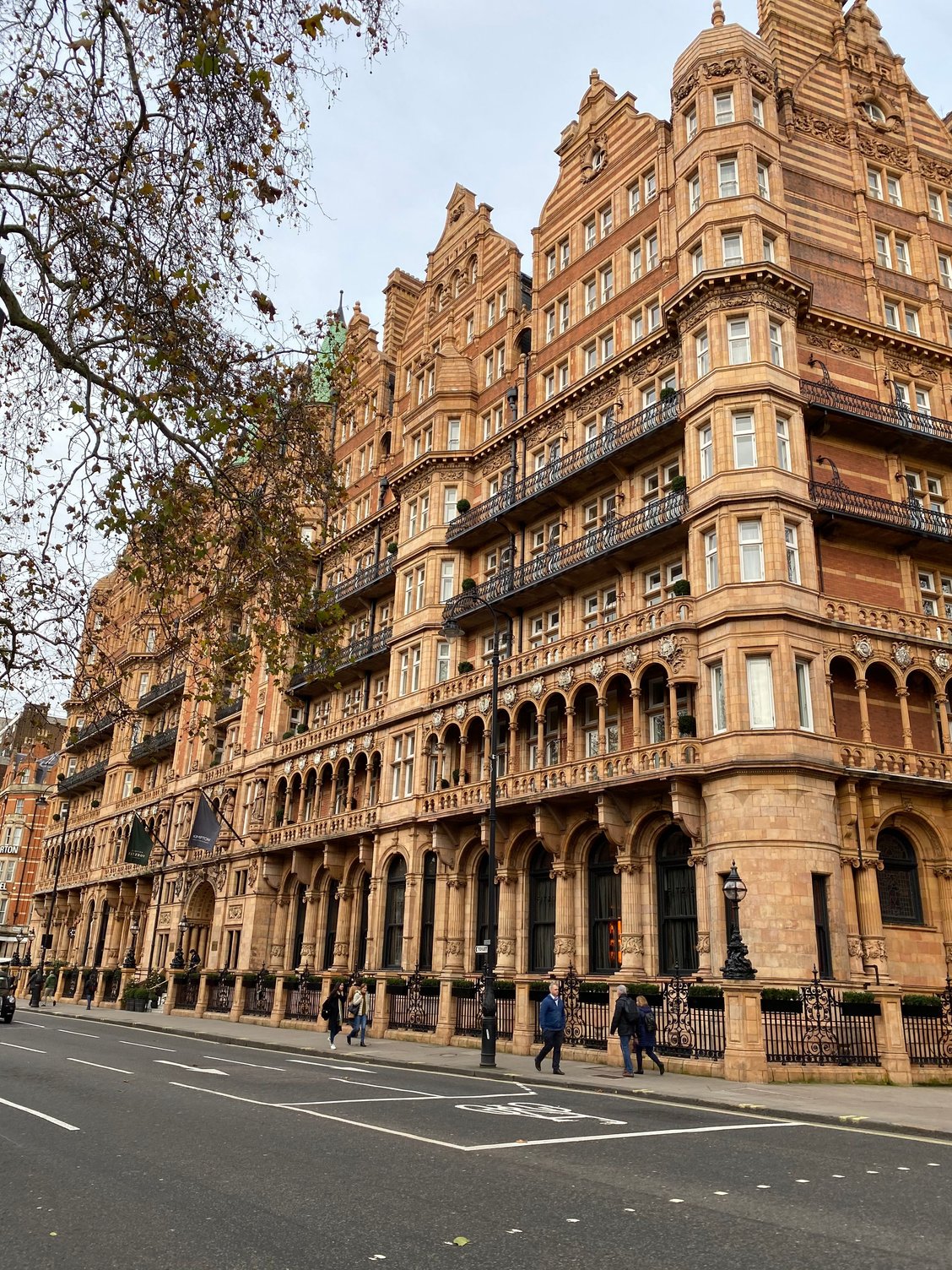 Sep 27, 20, 8:37 am
Join Date: Dec 2017
Posts: 5
Sep 28, 20, 2:34 am
Join Date: Nov 2009
Posts: 196
Originally Posted by
Tomh65
just stayed on a free certificate night for one night in king park view. As spire (Amb) no upgrade available, given the £15 voucher, no mention of discount and no social hour due to Covid. Given 1000 points for Kimpton password. Service terrible, only palm court open, v limited menu, I had the burger, wife had the club sandwich, food didnít come, asked where it was, apologies then it arrived instantly. The burger hand the been cooked, was cold and raw, the club sandwich was incredibly dry, the toast had turned into a crouton. They comped the burger and due to the bar closing at 10 (new UK Covid rules) they could serve it in the bar. Breakfast was a disaster, no service, multiple orders placed, nothing came, then wrong orders of both drinks and food twice, then when food came inedible, omelette had raw egg white on top etc, manager came and apologised and comped it. Due to delays in breakfast, (we started at 10:30) we finished at 13:00, we were after our checkout at 12:00. Manager assured us in the restaurant, that he would let the front desk know. Get the room, surprise the door card had timed out. Back to reception to be told that we were beyond our check out time! Started to loose my sense of humour again at this point and she apologised reset the card and off we went. Overall beautiful building but truly dismal service for very low occupancy (20% is what reception at check in stated) although hotel only partially open. I would strongly think twice!
I stayed on Saturday too, had pretty much the same experience. The hard product is amazing, even with some of the touches (throws, mini bar and pillows) removed for COVID. I declined the points and took the gift for the code, which was two really nice branded water bottles (chilly style). The room was available early, check in staff really friendly. Had lunch in Palm Court, really good service from George there, he really cares and took the time to chat - the food was good and reasonably priced. Went back to the Palm Court to spent the Raid the Bar but sat at the table for 30mins without service but then needed to go to dinner. Came back the next day for breakfast (included in my rate) and it took over two hours from sitting down to finishing - 1hr 30 for the food to come. The staff are super friendly but can't cope - it was odd because it wasn't even busy. Thought I'd give the Raid the Bar card a go again just after check out, had one diet coke and then asked for another, the server never came back.
I also had issues with the upgraded room they gave me (I booked Urban and they upgraded to Deluxe) the first shower I had the water wouldn't run cold. A guy from maintenance came and just ran it through for 30mins and it appeared. I then showered, meaning I missed social hour. Arrived back after dinner for another shower and no hot water again, left it to run for 15mins and then it comes. I was awoken several times by some sort of industrial noise making the bed vibrate and the sound of almost extractors going constantly. I was at one point (4am) ready to check out and go home but I had appointments the next day in London. I mentioned it to George at breakfast and he was horrified, went to tell reception who came over. She firstly tried to tell me it was the AC (I didn't have it on) and then that she can't think of any reason why it was there, was I imagining it?. Quite aghast at that interaction, the only poor member of staff encountered on the whole stay.