Flight Review Thread - Air India
Nov 24, 12, 6:33 am
Join Date: Apr 2012
Programs: AA EXP | US PLT | Marriott PLT Premier | IHG PLT
Posts: 168
Flight Review Thread - Air India
---
Is there a reviews thread? if not can someone start one?

Airline: air India
Aircraft: Boeing 777-300er
Flight route: JFK-DEL
Booking class: economy
seats: have room but they have no padding. It's like sittingxx on a wood bench.
Boarding: no system. everyone just huddles to the front
Entertainment system: is so-so. Flight path maps did work work. In info section I tried filling the survey but that didn't work. There are a lot if Hindi movie chooses but the English movie section is very lacking. I did not have this issue but the passenger next to me had to get his system reset twice because the screen froze on him. Video games section is lite on choices. The camera view did work work. I have not clue what the "broadcast" section is but that also "was not available at this time"
Food: veg food was pretty good. But for drinks only orange juice was available.
FA: very willing to help. But their. System needs work. I pressed the FA call button in 2 different occasions but they never showed but. However my call light magically turned off.

Overall: not a bad flight. Hard product is decent (compared to Kuwait airways). Soft product needs work.
Nov 24, 12, 7:14 am
Moderator: GLBT travelers, India-based Airlines and India; FlyerTalk Evangelist
Join Date: Jan 2004
Location: Asia
Programs: Yes!
Posts: 15,483
Nov 24, 12, 10:09 am
FlyerTalk Evangelist
Join Date: Apr 2009
Location: India
Programs: Bonvoy Ambassador & Lifetime Titanium, IHG Plat, HH Gold, Trident Plat, DL Diamond, AI Maharajah
Posts: 27,914
Nov 24, 12, 10:15 am
Join Date: Mar 2008
Location: London, UK
Programs: BA Gold (OW Emerald) & Jet Airways - Thank goodness i never got started.......most awful FF program
Posts: 2,384
Just a polite request for all posters. Lets not swamp this thread with I love Air India / I hate Air India opinions. Lets just keep it tidy and have short, sweet and simple reviews so that we can all get an idea of the current state of affairs.

I suggest we have a Jet Airways thread as well.
Nov 24, 12, 11:03 am
Join Date: Feb 2004
Location: bombay
Posts: 1,302
Amdavad Javanoo
---
This was my fairly recent IC trip, and the review's going to be short, like the duration of the flight.
* Three of us recently flew one-way BOM-AMD on Indian Airlines (yes, I know, they've merged and all, but why taint poor IC?).
* I booked the tickets using Citibank's Premier Miles website (to take advantage of bonus points & Rs 1,500 discount vouchers):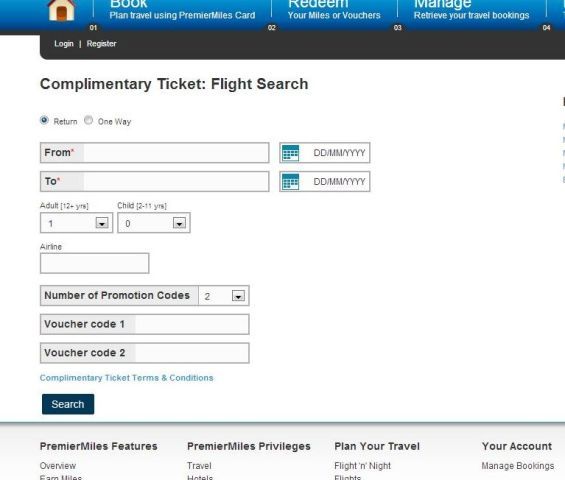 * Went to ai.com to add the itinerary to my profile and I was able to select seats (and change my selection as often as I liked.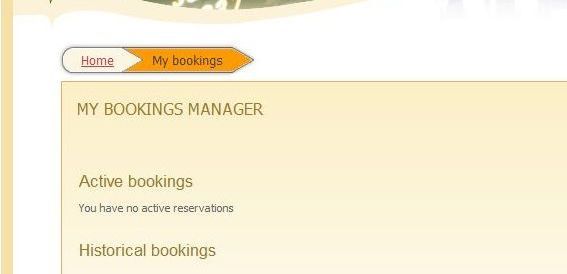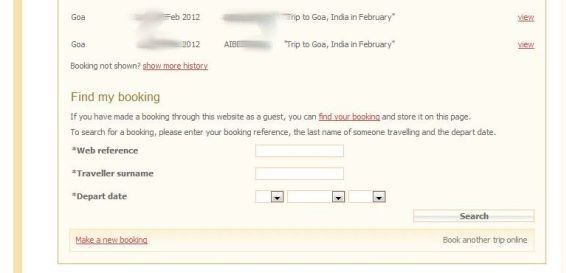 * I must have got over a dozen texts and emails from AI reminding me of my flight, starting from 3 weeks before. It's either too much (AI) or to little (Jet).
* The day before the flight, online check-in worked effortlessly and the rather professional-looking boarding pass was printed.
* Traffic was light for some reason, so we got to the airport by 16h15, nearly 90 minutes before departure.
* No queue to find a spot to stop the car.
* No queue to enter the terminal.
* Not much of a queue to check-in; of the three check-in aisles, only half of one was operational.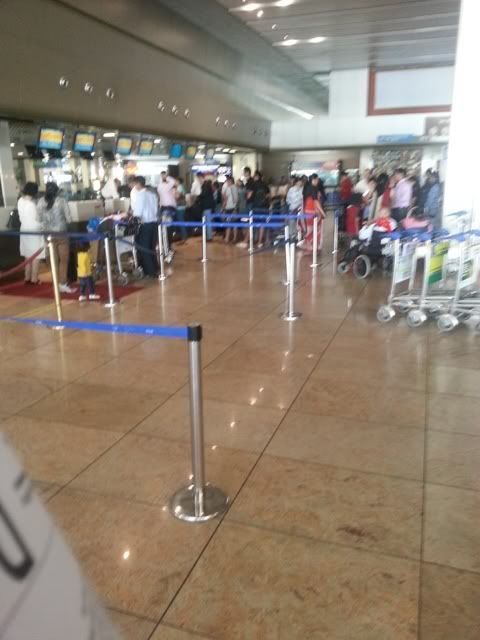 * They didn't re-print the boarding pass onto their card stock, by the way.
* And no queue at security, who, by the way, didn't ask for the home-printed boarding pass to be stamped by the airline.
* Since we had time, we went to the food court which is just past security and has a pretty decent selection of outlets, everything from pizza to dosa to beer to chop suey to khandvi.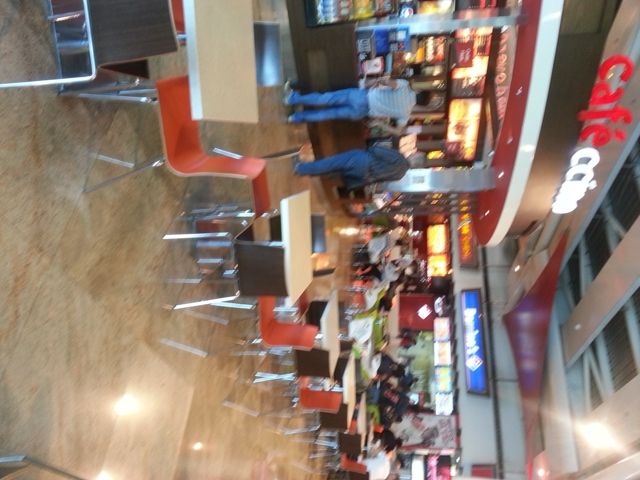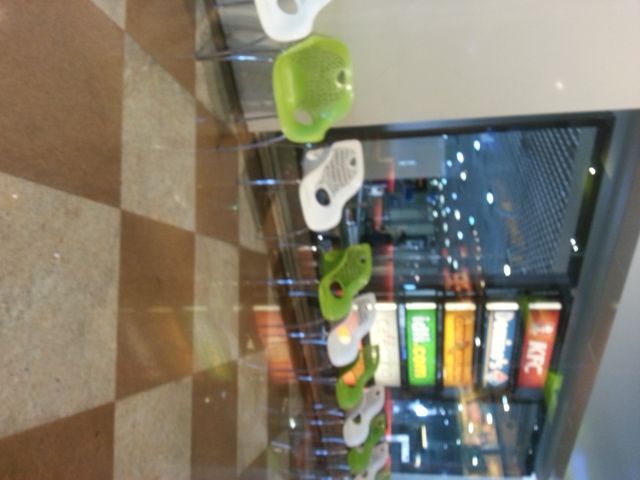 * Bird's eye view of 1-C from the food court.
* The other two wanted a smoke, so I went into the crack den too, to savour the second-hand (since I've given up).
* Boarding was from the old 1-A, so we set off towards our gate.
* View from the upstairs of the downstairs section of 1-A (I presume it's for the bus gates?). What a marked difference in décor and brightness between old and new.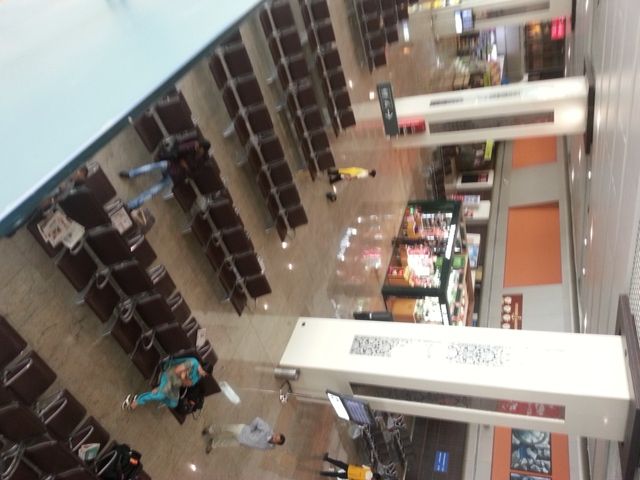 * Our flight had a boarding bridge. Looking around, the only airlines using boarding bridges were IC and Indigo. Jet, of course, are too cheap and clueless.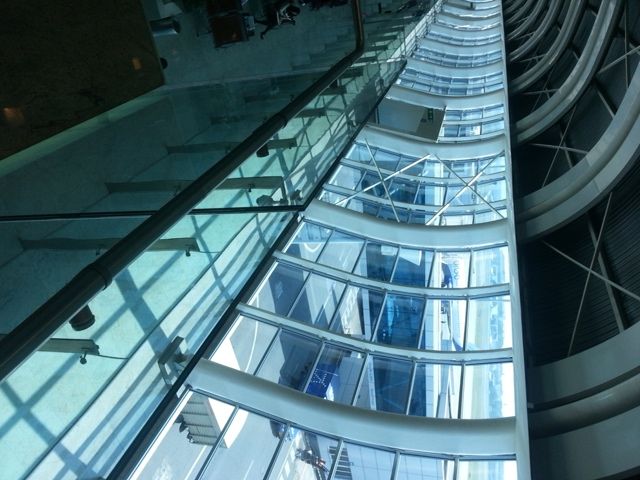 * I expected the plane to be a 319, but it turned out to be a 321. Not sure if it was a sub or a planned change. But the flight was full.
* Boarding was efficient and we entered a typical AI plane : tally but clean, and sporting a bodily function-inspired décor. And
lotes
of
phoreners
seem to have also decided that "Amdavad javanoo"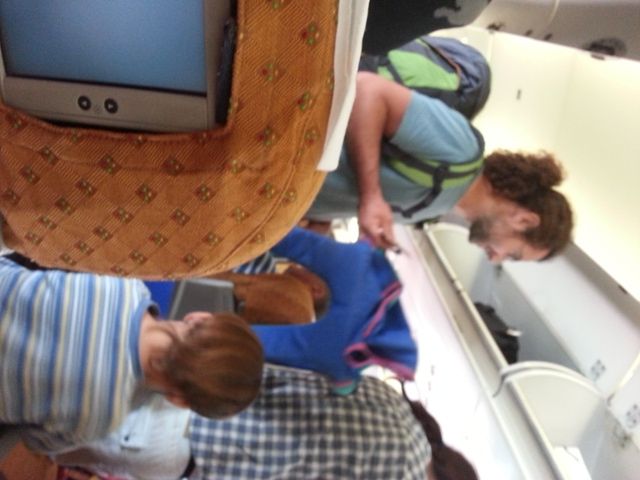 * We pushed back and after a quick taxi were airborne 5 minutes ahead of schedule.
* The plane had IFE screens that were switched on and throwaway Chinese earphones in the seat pocket. Here's the map: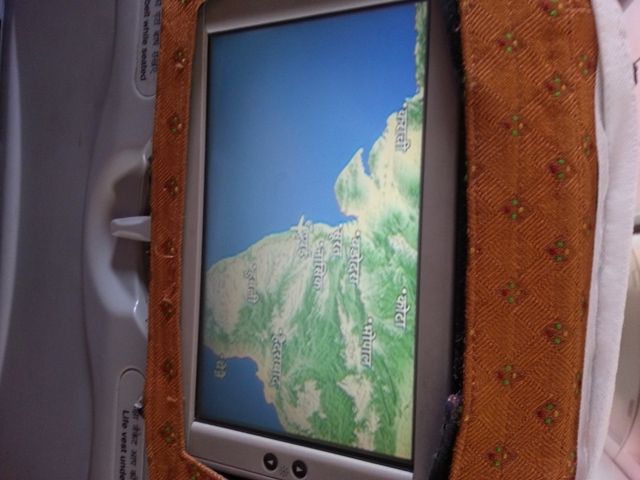 * Though it was November, they still had the October magazine in the seat pockets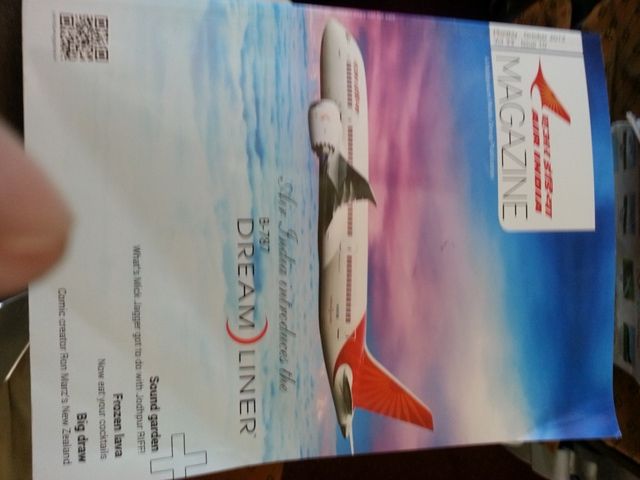 * Inside the magazine, a Jet-inspired timetable, that showed the on-the-hour BOM-DEL flights have been around for a while: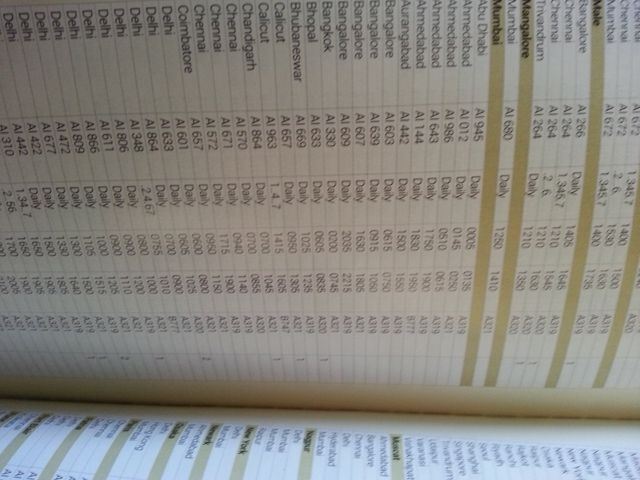 * Unlike the nasty AI, the IC crew were not enormous, lazy, old or khadoos. They were young, proportioned, efficient, helpful, happy and smiling.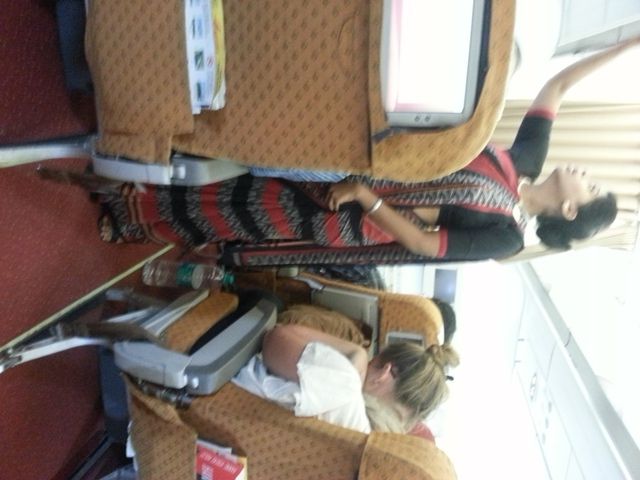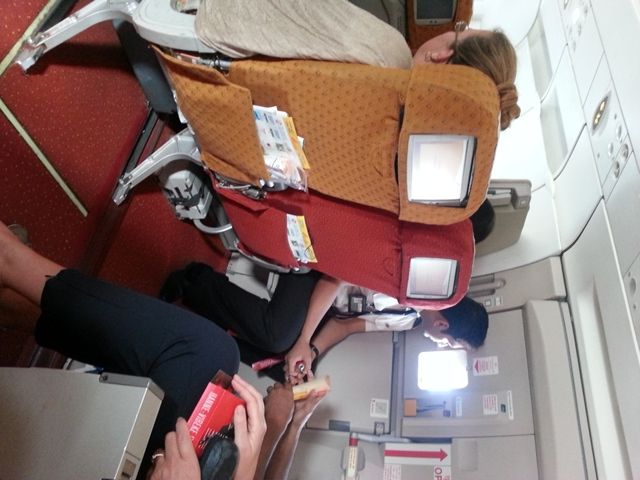 * They handed out the snack pack (peanuts, imitation Frooti and tissue paper in a ziplock). And also came around offering water / tea / coffee to anyone who wanted any. Of course, they had to poke people awake if they were sleeping "Your snack sir!". I suppose some things won't change.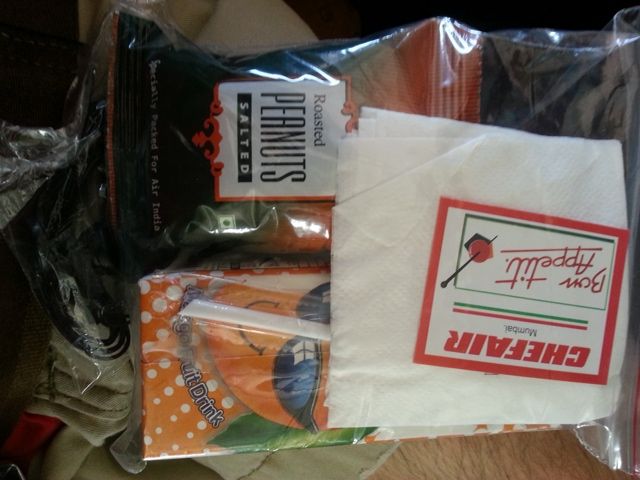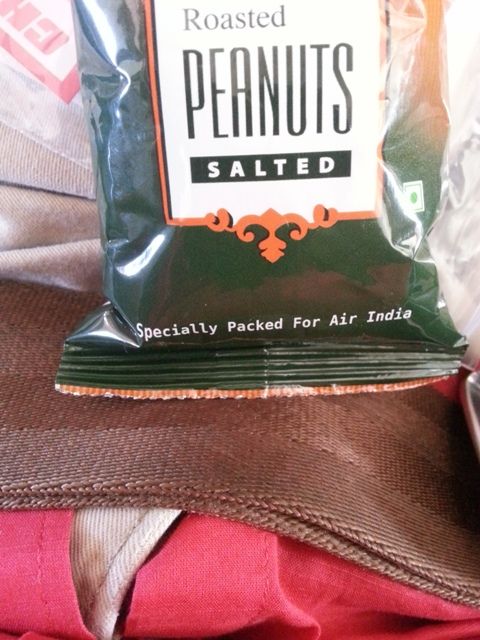 * Before you knew it, Amdavad
Pochvanoo
!!
* We landed nearly 15 minutes early.
* Where, again, we had a boarding bridge.
* Where, again, we saw Indigo at a boarding bridge.
* Where, again, Jet were too cheap and clueless.
* We had no bags, so were were off and out and in the car in nothing flat.
A few random things:
- Overall a perfectly good job by Indian Airlines. I'll give them a 9 on 10, all things considered.
- AI/IC really need to do something about their schedules, at least to Ahmedabad. On a busy route such as BOM-AMD, they have four flights a day : 2 am, 5 am, 6 pm and 6.30 pm. And only one of those is a domestic flight; the rest are those dumb "connectors" operating out of bloody Sahar.
- Our IDs were checked only once : by the CISF wallah at the terminal entrance. And that's hardly a valid check at all. After that, no one asked to see any ID, not even once.
- When we got to check-in, a bit of drama with a woman was just ending ahead of us. When it was our turn, the agent apologised and said the obnoxious woman was an Air India employee, was flying for free anyway, and must have come back 10 times demanding something or the other. "These Air India people think we should pay them to fly." I'm not surprised at that level of entitlement.
- One of my companions was returning AMD-BOM the next day and wanted to change his flight, so we figured we'd go to the ticket desk after checking in. Turns out AI's ticket desk cannot be accessed from inside the terminal, and, of course, the CISF pandu wouldn't let us out. How dumb is that?
- Nice as it as to use 1A at Santa Cruz, it led me to think that Jet really should look into the possibility of swapping. It makes sense on a lot of levels – not just the fact that IC are nowhere near big in BOM as they used to be and 1B is a right royal mess. Doing so can enable Jet to offer a lot of things at little – if any – additional cost. Just like Sahar, where AI still hog up an entire section, even though they have barely a handful of flights remaining.
But then if it comes down to improving the passenger experience – even when at a minimal cost – Jet's not interested.
- I always thought AI's self-service boarding pass looked rather professional. Perfectly formatted and sized to fit on a standard sheet of paper (unlike the blue and yellow mess, with the relevant information etc. Turns out other airlines have the exact same thing too (this is from someone else's report on TAAG):
Nov 24, 12, 8:23 pm
Moderator: GLBT travelers, India-based Airlines and India; FlyerTalk Evangelist
Join Date: Jan 2004
Location: Asia
Programs: Yes!
Posts: 15,483
Indeed. Glad you spelled it out. Let's stick to this philosophy please and save babu and me from clean up tasks. Thanks!
Nov 25, 12, 12:25 am
Join Date: Jun 2005
Location: London
Posts: 604
AI's online check in system is supported by SITA through their fastcheck.sita.aero website. Another airline that uses the same system is MH, identical online boarding cards.

On another note, I am taking AI 143 MAA-CDG on Nov 26 with the return on AI 142 on Nov 28. I will add a review by next weekend.
Nov 26, 12, 4:43 am
Join Date: Feb 2004
Location: bombay
Posts: 1,302
Hahah.. Both pictures and language should be family-friendly once I've censored them!
In the meantime, is there any way to add a new first post to include a nice table like in the Jet thread?
Nov 26, 12, 10:18 pm
Join Date: Jun 2005
Location: London
Posts: 604
Quick review...
Flight: AI 143
Aircraft: Boeing 777-200LR
Flight route: MAA-DEL-CDG (MAA-DEL on A321) on Nov 26
Booking class: Business
Seats: 2-3-2 layout, almost flat (the foot area doesn't come up fully)
What I liked:
~ Business class was barely a third full, so plenty of space
~ Service was fast & friendly, quick response when I needed anything between meals
~ Food quality & taste was excellent
What needs work:
~ Food is served all at once on a single tray
~ Entertainment system is great if you are a fan of Indian movies & music, but nothing else is available (and why does the map software not show expected time of arrival?)
~ No dedicated lounge in DEL
~ Online check in or seat selection refused to work, got some error message repeatedly (probably because of the split flight)
Overall: Not a bad flight, even though it was an hour late on departure due to some late connecting passengers. Let's see how the return goes tomorrow night.
---
Last edited by 678flyer; Nov 26, 12 at

10:20 pm

Reason: more info added
Nov 27, 12, 12:25 am
FlyerTalk Evangelist
Join Date: Apr 2009
Location: India
Programs: Bonvoy Ambassador & Lifetime Titanium, IHG Plat, HH Gold, Trident Plat, DL Diamond, AI Maharajah
Posts: 27,914
Nov 27, 12, 11:09 am
Join Date: Dec 2004
Posts: 5,123
Nov 28, 12, 10:15 pm
Join Date: Jun 2005
Location: London
Posts: 604
And the review for the return flight...
---
Flight: AI 142
Aircraft: Boeing 777-200LR
Flight route: CDG-DEL-MAA (DEL-MAA on A321) on Nov 28-29
Booking class: Business
Seats: 2-3-2 layout, almost flat (the foot area doesn't come up fully)

What I liked:
~ Business class was barely a third full, so plenty of space (not different from the outbound, Y was almost full though with tourists going to Kathmandu)
~ Flight was 30 mins ahead of schedule coming into DEL

What needs work:
~ Food wasn't great this time around, just no taste for the entire mass served on the tray
~ Why is the blanket so narrow and thin?
~ No amenity kit, but toothbrush+toothpaste available on request
~ No dedicated lounge in DEL, back to Delhi Daredevils restaurant
~ CDG lounge managed by AF was bad, no food at all other than a thin sandwich and beverages; my plan of having dinner in the lounge and getting about 6 hrs of sleep on the flight was therefore dashed
~ Online check in is not available for CDG departures
~ Be prepared to walk quite a bit in CDG - to the checkin counter, then all the way back to immigration and then to gate C91 which is the farthest in terminal 2C

Overall: My expectations were low, so AI had no problem meeting them. The DEL airport experience was excellent with an escort through security. Both ways, they had my paperwork ready including a security tag for my handbag.
Dec 18, 12, 3:29 pm
Join Date: Mar 2009
Location: michigan
Programs: miles and more
Posts: 68
ORD-DEL-MAA and return Buisness class
---
returned from the above trip and here are my comments;
shared buisness
[email protected]
,OK.,Buisness class was full,seats are of the older type so middle guy has to step over.hostesses were 50+ short Aunty types who did what was expected without a smile.lunch served all at once which was unacceptable to me.food uninspiring but filling and wine selection was poor.No Name brands.
Arrival in DEL on time recheck through through security WITHOUT a lane for buisness class so stuck behind our countrymen and ladies struggling through the indifferent unhelpful security personell.
NO LOUNGE IN DELHI their main HUB!!!
aircraft change so economy class seats with center seat vacant arrived 1 hour late
Return ;smooth check in shared lounge @ MAA with snacks, past security.Delhi flight uneventful which is good, again in a SPORTS BAR Called DELHI DAREDEVILS with poor seats and loud TV.DEL- ORD flight smooth same service nothing bad or good.
Slept 12 of 15 hour flight arrived on time,
Conclusion: passengers to delhi have good deal as prices are at least 1K less than BA or LH and the same for MAA,However service is way below 9W and in my opinion BA and LH or even Ethihad which are are ALL more than 1K higher.[ORD-MAA]Transit in Delhi is put off as it reminded me of Bombay transfer although not THAT BAD.
Dec 24, 12, 8:37 am
Join Date: Sep 2009
Location: Somewhere near a Airstrip
Programs: BAEC Gold, Hilton Gold, Marriot Platinum
Posts: 615
IXC-DEL-MAA
---
1. The IXC-DEL flight was cancelled due to Fog and AI put all in a Cab to Delhi and provided accommodation in Delhi . Not sure any other airline does in india for Domestic Weather issues.

2. The Ticketing / Re-scheduling is smooth. I called and they protected me in a later flight - Which also I missed. So they accommodated in the next day flight. The re-ticketing was smooth thru the call center and counter in Delhi.

3. Though they put us in hotels for overnight, the process was chaotic. There was a SATS guy, filling in forms in 4 copies, writing down the name/ Ticket number, hotel and the duty manager has to authorize each. If AI decides to provide hotels, they should automate it.

4. The Next day, the dreamliner flight was full. I could/should've asked to be waitlisted. But choose a later flight at 10:30 AM, which was rescheduled in continuous manner till evening and finally took off at 4:30 PM. The Aircraft reached DEL in the morning (Spoke to the captain), flights were departing throughout the day, so could not be ATC / Fog issues. But there i NO reason given for the delay. the Passengers got angry and asked for the duty manager for operations to come and provide a reason. NO good reason was given. Poor communication from AI side.

5. It's almost like free seating and after all that, I choose to stay standing and took a exit row seat after everyone settled down. Opened the arm rest to get the PTV out, it is a mini trashcan with wrappers and everything. Is it how the cleaning crew maintains it? (Note it's a IC aircraft)

6. During the flight, we hit some patches, and the crew said, passengers keep seated - Repeatedly, whithout mentioning that this is due to the turbulence. Not that it matters, but for occasional fliers, it may be helpful.

Finally I was happy to be at home after 40 Hrs. The longest trip I've ever taken till now & first Weather issue in 10 years of flying in india (I'm Lucky)

Q1 : Does any other indian carrier provide alternate travel / Accommodation / re-booking for Weather issues?

Q2 : What caused the flight delay. Today I saw a news on few flights getting cancelled due to crew shortage.