Hyatt House Shelton, Connecticut - REVIEW thread
Mar 28, 19, 10:51 pm
Hyatt House Shelton, Connecticut REVIEW - MASTER THREAD
---
Stayed here a few nights in Connecticut and enjoyed it for what it is. Much better than HP Milford or New Haven. I'd rather drive and stay at this HH than at any of the other choices in CT.
The studio room with kitchenette and full sized fridge is my favorite room. Very comfortable Hyatt grand bed!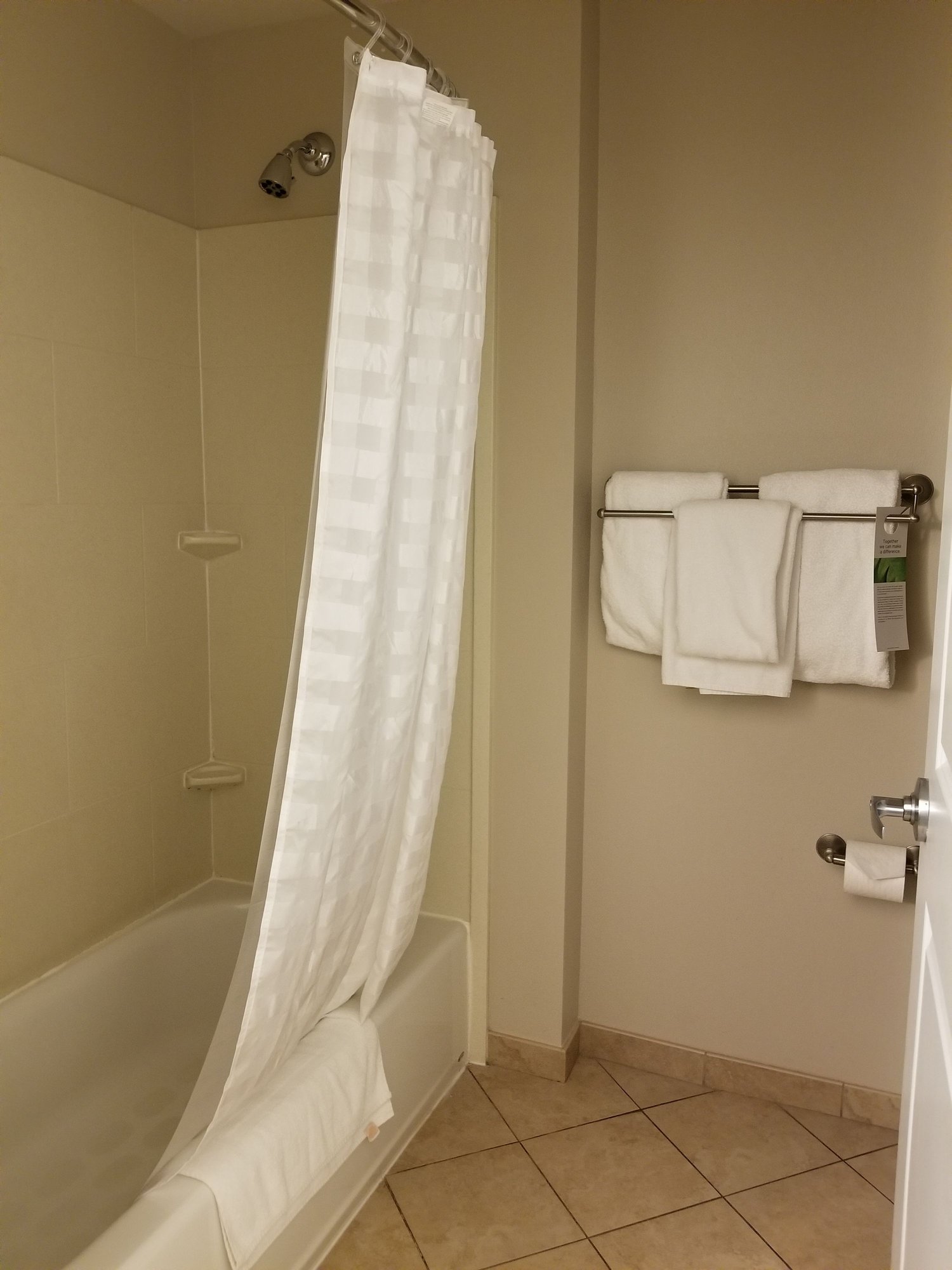 Bathroom
- simple shower/tub combo with excellent water pressure and temperature.
Breakfast
- had a fresh made-to-order omelette station. Omelettes were fine.
Fresh berries came in a fruit salad. Mainly, blackberries and a few blueberries mixed in there. Very basic items like an alterating waffle or French toast every other day. They'll give you styroform and you can take away as much as you desire.
---
Last edited by Aventine; Mar 29, 19 at

7:14 am
Mar 29, 19, 6:48 am
Join Date: Jul 2003
Location: CT/ Germany - Ich spreche deutsch
Programs: UA Plat, AA Gold, LH Silver, Bonvoy LTTE, HH Dia, Hyatt Disc, PC Plat, CC Gold
Posts: 4,041
I stayed at the Hyatt House for several weeks when I first took a job up here. Agree that it is much nicer than the Hyatt Place in Milford (which I also used frequently) and the location is much better as well. There's food options and a supermarket near by which add to the convenience.
Mar 29, 19, 7:25 am
Moderator: Hawaii-based airlines & Hawai'i forums
Join Date: Mar 2003
Location: Ka ʻĀpala Nui
Programs: NEXUS/Global Entry, Delta, United, Hyatt, IHG, Marriott, and Hertz
Posts: 15,963
We had a nice stay last summer; the rooms facing away from the road outside are very quiet with open fields and woods. I recall being able to see 4th of July fireworks from other towns in the area. The welcome amenity was memorable...
Mar 29, 19, 7:37 am
Jul 1, 19, 5:28 pm
Join Date: Dec 2013
Location: Homeless
Programs: M&M SEN; AC SE100k; Qatar Plat; HH Dia; SPG AMB100; Hyatt Globalist; Fairmont Plat
Posts: 2,233
Hyatt House Shelton, CT = Attractive Points Redemption
---
Map
|
1 Review
|
100% Recommended
HYATT house Shelton
830 Bridgeport Ave Shelton, CT US 06484
Recommended
Liked:
Location
Service
Food
Amenities
Room
Hyatt House Shelton, CT = Attractive Points Redemption
(10 Photos)
HYATT house Shelton
I needed a quick overnight somewhere in Southwest CT and thought it would be a good occasion to try a Hyatt House brand hotel for the first time and make progress for the free night award reached every 5 brands. I noticed the HH in Shelton CT costs the minimum 5k Hyatt points and considering that most people value Hyatt points at somewhere between 1.5-2.0 cents per point, booking this hotel on points is a no brainer. The cash rate was slightly above $100 when I booked at the last minute and while I am not familiar with average rates during the year for this hotel, I cannot imagine that it would be so far below $100 that someone could conclude that booking with points is bad value. Unless you are seriously strapped for points, most people should be able to afford booking this property for 5k pts. After my stay I came out positively impressed with this brand compared to other brands of a similar level I have seen before, for example Hampton Inn, Hilton Garden Inn, Homewood Suites, Courtyard, Residence Inn, TownePlace Suites, etc.
Location
In the immediate area of the hotel there are a couple of restaurants (Chili's and Long Horn Steakhouse) and several others either a short walk or drive away. The hotel has a shuttle bus which can bring guests within 3 miles of the hotel Monday to Friday which can be useful to people who are in Shelton on business. I drove to the hotel (free parking) so I did not need the shuttle but I though it is a good feature for a Hyatt House brand hotel to provide this service for guests.
Room
For a quick stay on the cheap, I got exactly what I needed: the room was clean, relatively new, and functional. I do not think HH hotels are included in the Globalist upgrade program so I expected to receive the rooms as booked (I had two rooms) but both were upgraded to a "studio with sofa bed". The studio only sells for $10 more than the entry level room so it's not a major upgrade but a good gesture nonetheless and it shows they pay attention to which clients have status or not. The room had a full kitchen with equipment to cook, a dishwasher, oven/microwave, and regular size fridge and freezer. The room was generally in good condition but if there is minor nitpicking I could do, I would say I wish they had a stand-alone shower rather than the shower in the bathtub. The power plugs should also be by the bedside rather than having to reach behind the night tables.
Bar and Billiards
I did not go to the bar in the evening but it seemed to be a nice place to hang out; in addition I thought it was nice to have a pool table for guest use.
Dining
Breakfast is free for all guests which I understand is standard for HH. I thought the offerings were decent relative to competitor brands listed above from Hilton and Marriott groups. Bananas did not look particularly appetizing, but instead of only having standard hotel fruits, they had blackberries and blueberries which I appreciated. The breakfast potatoes dish was an extra not always found in traditional boring North American breakfasts, and they also offer a rotation of omelets of the day which stands out from other hotels chains.
Overall
Obviously this hotel won't be confused with a Grand Hyatt, but if someone has the right expectations for the brand, I can recommend this hotel. Not only I found the room to be on par or better than similar competing brands, but also there were extra features which were better than expected (room upgrade, shuttle bus, pool table, breakfast) and they could be useful to some guests. Quickly comparing rates with nearby properties in Shelton, I found prices to be very similar between Hyatt House, Hampton Inn, Hilton Garden Inn, Residence Inn, and Courtyard, with HH being at the low end of the range therefore good value for the money comparatively speaking. If I had to pay cash I would have no hesitation returning there, and if points redemptions are available and remain at 5k then it's a slam dunk. My brief experience at this hotel will also help me see with a more favorable eye other Hyatt House hotels in the future and makes me more likely to book at HH than before my stay, if local alternatives are low-end Hilton or Marriott properties.