20-30% off plus breakfast at Starwood hotels in EMEA
Jun 3, 16, 5:45 am
Join Date: Apr 2016
Posts: 37
20-30% off plus breakfast at Starwood hotels in EMEA
---
As a result of its Starwood tie-up, Emirates is currently promoting a good value 20-30% off Starwood hotels in Europe, the Middle East and Africa.
The booking page is
here
.
The minimum stay appears to range from 2-5 days, with the heavier discounts on the longer stays. Breakfast seems to be included across the board, too.
Taking a random example, here's the Park Lane hotel in London booked outside of the
promo page
: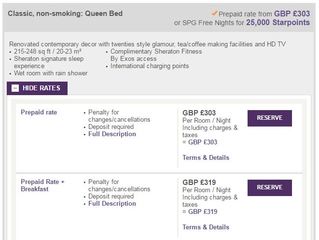 And here is the same stay booked through the
promo page
:
It applies to bookings up to 31 August, for stays by the end of 2016.
Jun 4, 16, 4:23 pm
Join Date: May 2006
Location: BOS and ...
Programs: UA 2MM, DL 500k, WoH 1M, HH Gold, Rad. Gold, CP Gold, Miracle Fruit-su Club
Posts: 9,910
Jun 6, 16, 3:28 am
Join Date: Apr 2016
Posts: 37
Originally Posted by
Firewind
Yeah, I have to say that one threw me a little bit.