£20 off a £20+ hotel booking on hotels.com
May 24, 16, 9:02 am
Join Date: Apr 2016
Posts: 40
£20 off a £20+ hotel booking on hotels.com
---
For those with UK bank accounts only:
Until 12.00pm UK time on Thursday 26 May, book a hotel with Hotels.com through Earnaway
using this link
[note: this is not an affiliate link], and you'll get £20 cashback on bookings over £20.
The value you'll get from that will depend on your exact requirements and preferences of course, but it really will take a chunk off any stay. As an example, I found UK hotels for as little as £4 a night with the cashback.
The offer is for existing, as well as new, Earnaway users too.
May 24, 16, 10:15 am
Join Date: Apr 2016
Posts: 40
They have previously paid me cashback without the slightest issue. You simply add your bank account number and sort code, and then request a withdrawal.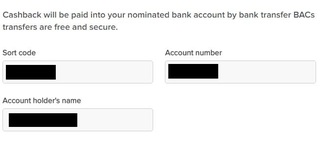 As an aside,
Earnaway comes from the same people behind Quidco
, which is also an excellent, and very well-regarded, cashback site.
May 25, 16, 3:17 am
Join Date: Jun 2009
Location: London, United Kingdom
Programs: British Airways Gold
Posts: 2,567
May 25, 16, 3:26 am
Join Date: Aug 2009
Location: Germany
Posts: 1,161
It's against SEPA rules to require a bank account of a specific country. They must accept all SEPA bank accounts. Couldn't find a better link than this now:
http://www.citizensinformation.ie/en...countries.html
The introduction of SEPA will allow you to:

Use your debit card anywhere in the euro area
Make cross-border bank transfers securely, promptly and in full
Set up direct debits from anywhere in the euro area
Need only one bank account for the whole euro area

You cannot be obliged by a payer or payee to maintain a bank account in any particular country to make or receive payments. For example, an Irish person working in France could have their French employer pay his/her salary directly to their Irish account and use that account to pay direct debits and bills in France.
---
Last edited by 31570324; May 25, 16 at

3:38 am
May 25, 16, 6:41 am
FlyerTalk Evangelist
Join Date: Feb 2000
Location: London, UK and Southern France
Posts: 16,880
Originally Posted by
31570324
I think you are reading too much in this. AIUI, the SEPA regulation imposes obligations on banking institutions only, not on retailers. It requires them to treat intra-Eurozone transfer operations in the same manner as intra-state transfer operations. It should therefore be the same for a French employer to pay a salary into a French or Irish bank account and the banks can no longer levy extra fees on such cross-border operations. The SEPA regulation and cross-border payment directive also impose a certain number of other obligations on banking institutions. However, those obligations are on banking institutions only (more accurately: "payment service providers" or PSPs).
The SEPA regulatory framework does not oblige retailers to accept transactions from anywhere in the EU. There is no general obligation on service or goods providers not to discriminate against customers in other Member States (although there are specific prohibitions on discrimination in certain situations and certain sectors). For the time being, it is still as a rule open to a trader to restrict access to its services to to residents of a particular Member State if it so wishes. Earnaway do exactly that and their TandCs make it clear that membership in the scheme is reserved to UK residents. It is equally open to them to require possession of a UK bank account if they so wish.
Finally, further note that, in any event, the UK is not in the Eurozone and much of the SEPA framework only applies for Euro payments, not Sterling payments.
May 25, 16, 12:55 pm
Join Date: Apr 2015
Location: YOW/YUL - BRU/AMS
Programs: M&More FF - Finnair Plus - Flying Blue Gold - Westjet Gold
Posts: 29
You can get a free UK bank account with Monese ( don't forget to cancel it after 1 month, otherwise 4.95£ per m. ) you can then wire the money to your local account, I don't know how long does it take to get the cashback, but It may be helpful if they do it within 30days.