100 Queen's Gate Hotel London, Curio Collection by Hilton {GBR}
May 6, 19, 7:08 am
Join Date: Mar 2015
Location: Dante's 6th Circle
Programs: British Airways, Hilton Hhonors, Avis, Hertz
Posts: 69
100 Queen's Gate Hotel London, Curio Collection by Hilton {GBR}
---
Thought I'd start a new thread as it's officially a new hotel.
Had a pretty good stay here Saturday night...Check in was great, the young lady checking us in (Valentina?) was extremely polite and efficient, going over history of the building, the amenities of the hotel (apparently diamonds get a discount in the bar).
She even took the time to escort us to our room - 517 the 'Henry James Suite'.
Apparently, the 5th floor had just been completed (there was still a fresh paint smell) and they were still working on the 6th floor.
The room was nice and pretty well appointed...Not huge (probably a real world Jr Suite) and tastefully decorated.
There were a couple of issues - Oddly, the fridge was not in the enclosure, but sitting on the floor next to it and it was not switched on. I will mention that all items in it were complimentary, which included four bottles of acceptable wine and two bottles of Becks beer as well as some soft drinks and orange juice.
We noticed that there were toiletries missing in the bathroom, which was remedied pretty quickly to the front desk. I will say though that when housekeeping brought the items up, they just came straight into the room without knocking!
Thankfully I wasn't walking around in my underoos at the time! The toiletries were all Floris branded, which is quite a nice touch.
Breakfast was quite nice - The young lady that seated us was extremely friendly, which is not always the case in many of my stays elsewhere.
The breakfast selection wasn't huge, but what was there was of good quality (especially the sausages).
We were given a complimentary late checkout of 2PM, which was welcome, so after breakfast, we relaxed in the room. When we came back to the room after breakfast, neither of the two TV's were working, saying 'no signal'. We called down and a maintenance chap came up relatively quickly, he said that he's go check the aerial, but no more was heard from him!
Also whilst enjoying the late checkout, housekeeping knocked on the door twice and then apologised after I opened the door...At least they knocked this time I suppose.
When we checked out, the person at the desk seemed relatively uninterested in the process and gave a meek apology when we mentioned about the TV (it wasn't a huge deal for us, but still...).
All in all, we liked this new product and already have another stay booked...I'm hoping the small issues were just teething problems. Despite lacking a lounge, I may be tempted to stay here over Bankside as South Ken is a great location.
Addendum
I forgot to mention the corridors...I should've posted a photo of myself in the corridor to give an idea of scale, but the they are very narrow and the ceiling is low...For those of us over 6' tall, you have to duck under or around the emergency exit signs over head!
---
Last edited by MoodyB; May 7, 19 at

5:09 am

Reason: Old age and poor typing skills...
Sep 3, 19, 3:50 am
Join Date: Mar 2017
Location: Jax, FL, USA; Sheffield, UK; Aarhus, DK
Programs: *G, VS Silver, HH Diamond
Posts: 577
Hoping to see more reviews for this given I'm currently torn as to where to stay for 2 nights before Christmas. Tentatively booked at my usual Bankside but would love to check this one out.
Sep 21, 19, 6:23 am
Join Date: Mar 2017
Location: Jax, FL, USA; Sheffield, UK; Aarhus, DK
Programs: *G, VS Silver, HH Diamond
Posts: 577
Review
---
Ended up staying here for one night last week. Overall, I liked this hotel. I had a prepaid rate at 207GBP booked into a Mews Superior Queen room (115, if I recall correctly). I didn't ask about upgrades on arrival mostly because I wanted to see what the more normal rooms looked like. Mine was on the 1st floor at the very end of the corridor, on the corner with a view of the entrance to Queen's Gate and the Gourmet Burger Kitchen across Old Brompton Rd.
The hotel foyer looked nice, but I was quite tired and didn't really get a chance to check it out. There was a nice display of sunflowers immediately when walking inside. To the right are the check-in counters and corridors to the restaurants. To the left is a larger lobby area that was cosily decorated.
Corridor
As reflected in the previous review, the hotel corridors are narrow. Passing people is tight. A note on the floors: floors 1 and 2 are accessed from Floor 1. Floor 2 is only accessible by stairs. Rooms 118-150 are accessed by stairs on a sort of lower half level from Floor 1. There was one room (I can't recall the number, perhaps 117?) closer to mine that was only accessed by a small flight of stairs as well.
Fireplace
Fireplace. The drawer actually comes out and was totally clean as if it has never been used. I'm not entirely sure it's functional? There is a large flatscreen television that is supposedly Chromecast-enabled above the fireplace.
Desk in tiny corner with hanging mirror
The desk was rather awkwardly placed. When you walk into the room, the closet is to the right, followed by a counter with a globe, Nespresso/tea service. Past that is a decorative fireplace with television over it. Then the wall angles farther left where this desk is hidden. It's not the largest by far and definitely more for work/reading than anything else. I could imagine being able to have a room service tray here but the larger counter would be more suitable but - where to sit? Then if one is doing hair/make-up/whatever, this mirror and the spacing are too awkwardly placed. This room overall is great for one person getting ready, but I would imagine if two were sharing, the logistics of needing to use mirrors could get tricky given how awkward this mirror is.
The angle also made these drapes a bit difficult. They were quite heavy black out ceiling-to-floor with shiny golden sheers for during the day. The windows extended the fulled length of the far wall and went up to the ceiling and started a few feet from the floor. I didn't try to open as there was cables attached. They seemed more like doors though especially given that there was a strip of astroturf on a small area that appeared it could have been a very narrow balcony.
The most important feature - the bed. It was comfortable. Firm but not hard. Definitely not soft though. Several Hilton properties in which I've stayed, the beds have wheels (?! yes, even with only one bed in the room so it's not for the faux-large bed by shoving together two twins). This did not have that problem thank goodness. Between the bed and the large drapes was a small cosy chair and a small round table. The table might have been substantial enough for a room service tray but more suitable for tea/coffee/biscuits/snacks. It had some reading material - two books about Victorian London and two travel magazines.
Pillow chocolates
I'm not sure if these were supposed to be part of a turndown service or if chocolate was on every pillow in the hotel. The pillows were great though. Four were enough. They're quite soft and cuddly so if you need something with more substance, you may need to request something from the desk. There were no other pillows in the room.
Bedside table with alarm clock
I don't fuss around with the electronics in most hotel rooms but this clock looked nice with the speaker built into it. Both sides of the bed featured the same light switch bank and socket bank. Light switches in hotels continue to confuse me so as per my usual practice, I kept flipping things until it was dark.
Bedside table with hotel phone
The phone was great! Designed to look like a rotary but it's still modern buttons. And the in-house connections were good. I had to call down to the desk and didn't wait forever and the line was clean, no static. I seem to have notoriously bad luck with hotel phones but not this one! Power sockets on both sides of the bed included USB ports (2.1 and 1.0) and standard UK wall sockets.
Counter with globe. Nespresso service
Underneath this counter is the fridge with a few complimentary soft drinks and bottled water. None of the decor felt cheap or flimsy which I find in some properties. Everything felt really solid.
Nespresso service
Pretty sure everyone knows what this is. I didn't partake this time.
Tea service
Milk was ... in tiny single serve packets in the fridge.
These beverages were complimentary with this particular room. The fridge wasn't cold-cold but it was cool enough. I wouldn't suggest trying to keep anything like medication at a cold temperature in here.
Glasses for the bottled drinks in the fridge. Random room chocolate was all over the place. Not that I mind...
Square light up make-up/shaving mirror with a large well-lit regular mirror
Fairly typical Hilton-y bathroom just rectangular/square. I'm a fan of small mirrors with backlighting for doing make-up and eyebrow plucking and other up close grooming. I don't recall the large mirror getting stuck with a ton of steam for a long period of time.
Floris toiletries. I'm not familiar with the brand but there was plenty of it. The shape of these particular individual bottles make them easy to use (unlike having to awkwardly squish out the Crabtree & Evelyn products from their tiny containers). And the amounts of product in each isn't minuscule.
The aforementioned dental kit. Also, manicure kit, cotton balls, cotton swabs, et cetera. And Listerine!
Excellent shower quality - though turning it on was a bit new
The shower situation was great. I have almost waist length hair and for any sort of proper shower test, I'll wash it. Pressure was great, temperature controls were easy. However, turning it on was not the most intuitive. There are two knobs, one on top of each other. One for temperature control and one to switch between the overhead shower and the attached hose. In order to turn on the shower, you press the temperature knob into the wall. It's pretty gentle. The temperature knob glows red/blue when you adjust warmer/cooler.
One thing I was not a fan of in this shower was the lack of anywhere to put soap, shower gel, shampoo, conditioner, rubber ducks, (a cheeky shower beer). All you get is the floor of the shower. It's certainly big enough.
Now given that I have such long hair, this does take time to wash and I've noticed on some threads folks mention how their showers flood the floor of the bathroom. So long as the drain is properly maintained, that will not occur here though there will likely be a bit of standing water in the shower. Definitely don't suggest drunken debauchery in this shower
This "sign was in the bathroom despite not having a bathtub and no such mats were offered. I thought that a bit strange?
Pre-order breakfast menu for room service
I will be the first to admit that I love getting breakfast sent to the room so I don't have to see people before I'm ready. I didn't go for it this time but here's the menu. It's an abbreviated version of what's available for breakfast that is served in the W/A downstairs. For instance, they only list the pork sausages on this menu but downstairs, chicken sausages were also available.
Two large branded umbrellas
Closet amenities! Came with two bathrobes (Harvard brand?) that were a nice soft waffle material. A reasonable iron and ironing board included. Also, two large size hotel umbrellas.
A nice hotel hair dryer!
Another hair thing: far too often, reviews skip the hair dryer. They keep a decent hair dryer with concentrator attachment in the rooms. Also located in the closet and not hidden away in some random drawer in the Upside Down. I cannot for the life of me recall where in the room was best for hair drying given the power outlet situation in the UK. The desk was too awkward, the bathroom was "off limits". I think there was a way to stand in front of a full length mirror though.
Outside of the room, I ate dinner at the W/A restaurant. The restaurant itself is well-appointed. It was really quiet on a Friday night, only one other table was sat. Service was rather casual. They were out of the wine I requested, but the bar can make a good French 75. The food wasn't exactly what I was expecting but it's wasn't bad either. It seemed more a case that the ideas behind the dishes were trying too hard to being interesting but in execution, didn't necessarily come out as intended? Or, they didn't and I just wasn't a fan. To each their own.
Beef carpaccio - cep foam, basil sorbet, and crushed walnuts
On this, the beef was good. The sorbet was... not. It had no flavour. And some of it was warm somehow? This was very confusing to eat.
Pistachio crusted rack of lamb - shoulder with almond couscous, asparagus, Sauternes sauce
The lamb itself was tasty. The pistachio-crust tasted strongly of mustard. The portion size was plenty for me. The serving of couscous was probably close to an oversized tablespoon. And the grains were quite large. It was good. I could see some people being disappointed in the portion size for this but I wasn't. The asparagus was some of the smallest I've ever seen...
Again, I was rather confused by this dish because it seemed as if the menu description didn't match what was served. In light of that, I would be hesitant to order here with food allergies or to be very specific about them.
Breakfast - chicken and pork sausages, bacon, really good scrambled eggs
Breakfast wasn't tiny but it certainly wasn't a large affair either. The entire spread is included for gold/diamond members. The scrambled eggs were delicious. I was not a fan of either sausage - they had a paste-like texture. Streaky bacon was available. In the hot options, a full English cannot be made given the lack of baked beans, hashbrowns, black pudding. American-style pancakes were available though. As for cold options, I wish I had stuck to that because there seemed a reasonable variety. Especially in the pastry department. Several juices and teas were available along with coffee.
A few notes on my actual stay. There was construction in front of the hotel making taxi drop-off a bit awkward. In the morning, on a Saturday morning no less, this construction started promptly at 8.00. And the windows are not soundproofed. Given that my room was located closest to the construction, this was extremely annoying. I would not stay in this room again if there is construction occurring nearby and would ultimately prefer to bury myself somewhere in the hotel. I don't think it's worth paying the premium. Traffic sounds were not a problem. The windows were quite lovely and large. I suspect without the construction, everything would have gone swimmingly. Only some minor sympathy was offered by the staff. So I was a bit grumpy after a late night and heavy travels with being awoken in such a manner. The pounding carried on until I checked out around 10.30. There was no note in the app or in booking about construction.
The tearoom looked lovely and there was a family there having a very late afternoon tea (21.00 or later) but I'm guessing that had been a special arrangement. I didn't go downstairs or really get to explore the hotel much outside of a basic overnight stay in transit. As for Diamond member perks, there really isn't much to offer. We get breakfast and the possibility for room upgrades (about which I did not inquire nor was one proactively offered) and that seems to be about it from what I can tell. I know in some Curio properties, beverage/snack/meal vouchers are offered when executive lounges are not available but this was not offered to me.
Overall, I adore Curio hotels in general. I think if you're not looking to maximise your elite status benefits, it's great especially at the typical price point.
Sep 21, 19, 12:46 pm
Join Date: Jun 2013
Location: norwich, uk
Programs: hhonors diamond
Posts: 3,983
Sep 21, 19, 1:23 pm
Join Date: Mar 2017
Location: Jax, FL, USA; Sheffield, UK; Aarhus, DK
Programs: *G, VS Silver, HH Diamond
Posts: 577
Sep 21, 19, 2:20 pm
Join Date: Sep 2010
Location: UK - BHD
Programs: BMI Diamond Club refugee: BA-S; HH-D
Posts: 882
Sep 21, 19, 3:14 pm
Join Date: Mar 2017
Location: Jax, FL, USA; Sheffield, UK; Aarhus, DK
Programs: *G, VS Silver, HH Diamond
Posts: 577
Thanks! I was inspired by the review just above mine.
It was really nice! I was a bit miffed about the level of service, it was all over the place. The restaurant was really nice looking and felt as if it would be more formal but the server was laidback and seemed new.
The whole place was this interesting balance of quirk and elegance. So it sort of all made sense but I would imagine some people being frustrated with that.
Sep 21, 19, 6:58 pm
Join Date: May 2012
Location: Phuket Thailand
Programs: HH Diamond, BA Gold, IHG Gold, Oman Gold
Posts: 861
Thanks for the review, good details and picture. Can I ask, did you find it value for money? To me £270 seems a lot for this hotel, when you could get better for that price, just my view of course
Sep 22, 19, 3:45 am
Join Date: Mar 2017
Location: Jax, FL, USA; Sheffield, UK; Aarhus, DK
Programs: *G, VS Silver, HH Diamond
Posts: 577
Sep 23, 19, 4:15 am
Join Date: Mar 2015
Location: Dante's 6th Circle
Programs: British Airways, Hilton Hhonors, Avis, Hertz
Posts: 69
Originally Posted by
AStarr
Thanks! I was inspired by the review just above mine.

It was really nice! I was a bit miffed about the level of service, it was all over the place. The restaurant was really nice looking and felt as if it would be more formal but the server was laidback and seemed new.

The whole place was this interesting balance of quirk and elegance. So it sort of all made sense but I would imagine some people being frustrated with that.
I think you put my initial review to shame! ;-)
Thanks for including lot's of details!
I have another stay booked in a couple of weeks time, will be interesting to see how things have shaped up since my last stay...
Sep 24, 19, 10:03 am
Join Date: Mar 2017
Location: Jax, FL, USA; Sheffield, UK; Aarhus, DK
Programs: *G, VS Silver, HH Diamond
Posts: 577
Sep 24, 19, 10:16 am
Join Date: Mar 2015
Location: Dante's 6th Circle
Programs: British Airways, Hilton Hhonors, Avis, Hertz
Posts: 69
I actually really quite enjoyed my last stay, there were really only a few minor issues, which I chalked up to the hotel still being mid-conversion...The location is superb for most of needs in London.
I'll try to remember to grab some more photos! ;-)
Sep 25, 19, 6:57 am
Join Date: Jun 2014
Programs: Honors Diamond, Bonvoy Gold, Accor Gold, OW Sapphire, SIXT Diamond
Posts: 612
Just check-ed out from my stay and first of all :
AVOID ROOMS with 10xx categorised as "Queens Gate Luxury Queen Room" , these are below ground and face the road. So you have road noise without the view. OLCI at this hotel doesn't come with a "layout view" which was a first for me so it impossible to know where the rooms are located if you're a first timer.
The hotel is designed to be quirky and the location is excellent with many eateries (fitting every budget) , grocers (Tesco Express, Little Waitrose) , and South Kensington station within 1-2 minutes walk.
I arrived at 8am (via Piccadilly line from Heathrow) and was able to check-in immediately which was a great perk coming from a 13h flight. OLCI on check-in day showed I had already been upgraded from lowest category Mews Room to "Queen Gate Luxury Queen Room". I did email the hotel 2 days before but received no reply until after I check-ed in (which thankfully reflected that I had check-ed in early and not just a template). Receptionist walked me to the lift, and this is where I learn room 10xx are underground.
Gold / Diamond benefit is a buy 1 main meal, free 1 main meal.
Benefit letter
Room rates on the day
Above just to show how confusing it is to select a room here, as there seems to be a Note despite rooms being of the same category.
So this is the room I received :
Queens Gate Luxury Queen Room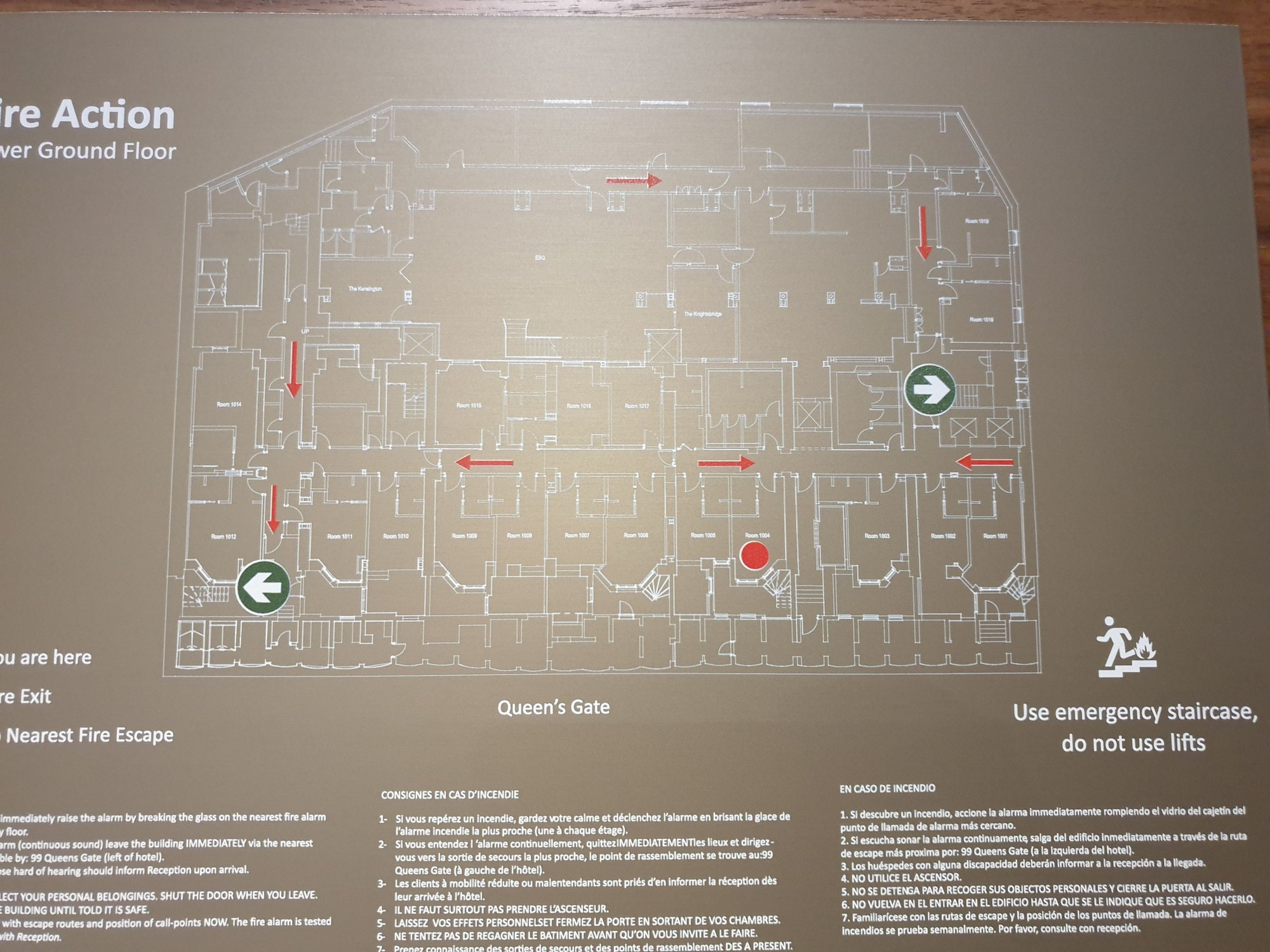 Layout Of Level 10xx (Underground)
very shallow cupboard
Now I was thankful for this room, left my luggage and left to explore. Back by 4pm exhausted and looked forward to a nap before a 7pm meetup. I'm not a light sleeper and have no problems sleeping on long haul economy etc but this room was just impossible to sleep in due to the noise.You get not just the road noise, but it is also directly below the lift lobby and the rooms themselves are not very sound proof. It also seems the staff office is immediately outside the window and you have the access door slamming as staff visit the public toilets located directly opposite the room.
After an hour of trying, requested for a change of room. Feedback was that no rooms were available (I checked beforehand and every category was showing). Told reception I would take any room as along as it's quiet and got the lowest caterogry room, (Mews Room) which to be fair was the initial category I had booked in. These rooms face the back of the building and the one I received on the highest floor was miles better as a room to sleep in than the first room despite the price difference.
An interesting note, in the room description the Luxury room refers to upgraded amenities, which mean a toothbrush and shoe polish. The fridge had complimentary soft drinks + water while in Mews room it was only Water. There was supposed to be some attraction tickets included in the Luxury rooms as well (website description) but I did not recieve and was not informed of this perk.
The toilet fittings are also different between Luxury room but nothing that makes a difference. The Luxury room had a cool shower control which was mentioned in the review above but overall hot water and water pressure was good.
During my 1 night stay, I had an actual fire alarm at 8am (due to workman) and due to this, water supply was cut which was only restored before noon.
Housekeeping also needs be improved, as in both rooms they there dead bugs by the window. Hair in the toilets and some of the shampoo bottles were not facing the right direction (minor point, but still a small touch). Housekeeping would also knock once then enter the room immediately. Not even enough time to get up from the bed ! And this is with the DnD sign on the door ...
So overall, definitely happy with the early check-in but if the hotel doesn't sort out it's noise and housekeeping issues, it'll be a hard property to recommend despite the location.
Sep 25, 19, 9:11 am
Join Date: Mar 2017
Location: Jax, FL, USA; Sheffield, UK; Aarhus, DK
Programs: *G, VS Silver, HH Diamond
Posts: 577
I'll note that I received no such letter on my stay nor anything beyond a confirmation that breakfast was included as a diamond member

Seems they're incredibly inconsistent in this regard
Sep 25, 19, 2:26 pm
a number of stays had here
---
Summary from various stays had here:
- Staff are usually trying hard. That does not mean they succeed though- training seems light touch
- the restaurant tries hard, but neither produces quality for the prices charged, nor is it particularly atmospheric. Indeed often I found it freezing. Service is very variable.
- more often than not even as a Diamond I had really questionable rooms here... no windows, noise from next door, ... (noise in rooms through walls and windows is a big problem in many rooms experienced here)
- breakfast: some variations from the normal DT/Hilton offer, which I welcome
Why do I stay here? At the right (low) rate it is a good location for my purposes. I would not stay with my partner though, and enter with low expectations. Sometimes I am then positively surprised