Conrad Bengaluru {IND}
Feb 23, 18, 2:52 pm
Join Date: May 2010
Location: London
Programs: HH Diamond; BA Gold
Posts: 146
Conrad Bengaluru {IND}
---
Hi all

This property opened in January 2018 so it's still very early days, but I can't see any discussion or trip reports online (other than some brief comments on Trip Advisor). Would appreciate the FT community's views as trying to decide between there and The Leela next week.

Of course the crucial question is do they have a stuffed animal, and if so, what kind?!
Nov 5, 18, 7:11 pm
Join Date: Oct 2010
Location: Switzerland
Programs: BA Gold, Hilton Honors Diamond, Nordic Choice Hotels Silver, Avis Preferred Plus
Posts: 4,954
Nov 9, 18, 2:22 am
Join Date: Oct 2010
Location: Switzerland
Programs: BA Gold, Hilton Honors Diamond, Nordic Choice Hotels Silver, Avis Preferred Plus
Posts: 4,954
I have recently stayed at this property on a 5 night reward stay. A friend of mine who is also a Flyertalker has stayed here in the beginning of the year and had highly recommended this property. According to him, it was his best Hilton property he has ever stayed at.
Needless to say, I arrived here with fairly high expectations. However, I try to be as objective as one can be.
Unfortunately, our experience was far from perfect and I was really disappointed by the property. There have been quite a few issues during our stay. To be honest, I expect more from a 5* property.
Before arrival
I was sent several emails beforehand about upgrade offers, pickup confirmation, other information etc. In total, I got about 5 of them.
Check In
We had booked a King Deluxe High Floor room. At check in, no upgrade was offered even though the hotel was barely half full at best. We were greeted as Gold members even though we had become Diamond members a week before. We then got an Executive Room after asking for an upgrade. I was disappointed not to get a Suite given that they were available and that we had been upgraded previously to Suites at both DoubleTree Agra and Hilton Jaipur.
They preauthorize 25k INR for incidentals.
Room
The room has a great view over Ulsoor Lake. Unfortunately, the room is quite small. The telephone didn't work and the bedside plugs didn't work when the lights were switched off. This is very annoying as I wasn't able to charge my phone overnight and had to use another plug by the TV instead. The bed was comfortable and the room featured the amenities one would expect such as a safe, slippers, umbrella, bathrobe, minibar, TV, work desk, sofa etc. The housekeeping was ok, however they didn't refill soap etc. once. We got 4 bottles of water per day.
Note that all rooms face the lake (north).
Executive Lounge
This was our highlight of the property, especially because of the very friendly staff working there. The afternoon tea and hors d'hoeuvres offerings were quite good and the drinks selection okay (I particularly liked the Indian sparkling wine). The staff were very proactive in refills and were really going above and beyond.
We also enjoyed the breakfast there. The spread was of course reduced compared to the Caraway Buffet downstairs but more than enough for us. There were never a lot of people in the lounge, maybe a handful for breakfast and during the evening maybe 15-20 people. The lounge was very quiet and relaxing.
Restaurants
We had breakfast once at Caraway Kitchen which was an average experience. They had quite a lot of waiters which were all working everywhere. IMO this is never a good way because then one has to say things repeatedly. For example, we waited for 10 minutes for coffee and had to repeat the order several times. Then, I was asked twice if the plate could be cleared (of course by different waiters) while I was still eating. This is plain rude and not a 5 star service. In general I have also found that they kept pushing for made to order food which we didn't want. I find it annoying when I am disturbed at breakfast several times to repeatedly say "no".
We had dinner twice at the Pan Asian restaurant which was very good with attentive service. The restaurant was empty at most times with a whopping of 5 patrons in one evening.
The poolside restaurant Tiamo was good and the food was fresh. However, I once had to find a waiter because we were forgotten only to find him play on his phone. Also, on one day, when I ordered a coke they said they were out of stock. The next day they had coke again, but when I ordered the second can they said they only have unchilled cans. So they had a grand total of 1 coke can chilled that day. Once the chef came by to ask how the food was. When I said "delicious" he commented that my order was "tough" (I had a special request). I find this inadequate.
We didn't try the buffet lunch / dinner or the Indian restaurant.
Note that the hotel doesn't have a real bar.
Pool area
Due to the building shape and tallness of the Conrad hotel the pool area and Tiamo restaurants get windy at times which could be uncomfortable for some. Unfortunately, there were issues with the pool heating at times. The deck chairs are not the most comfortable we have seen.
Transportation
They use Toyota Crysta cars which come with wifi, cold towels and water.
The hotel transportation was pricy and annoying at times. We did three trips. During two trips the driver didn't know where to go and had to ask for directions from some local people. Is it really too much to ask for that the driver knows where he's going? Furthermore, the drivers always wanted to show us more things which we didn't want to. After a while this has become quite annoying. They also commented on things like when we came back from a museum fairly quickly because we didn't like it etc.
The rates are about 4000 INR for half a day (40km incl.) and 8000 INR (80km incl.) for a full day. Additional kilometers have to be paid on top. Our trip to the Nandi hills for sunrise which had a duration of 5h and 180km cost a whopping 9000 INR! Not to mention that the driver had to stop for gas on the way…
The airport transfer is 3750 INR per way and takes about 1-1.5 hours.
The prebooked car for the return to the airport was 20 minutes late – no apology given.
Note that they try to sell their fixed packages and are inflexible to customized trips which I think is really weak.
Wifi
The wifi is unusable by the pool (very weak signal), otherwise fine.
Miscellaneous
We had to go to a dentist for an emergency treatment and the hotel recommended Manipal Hospitals. We told the front desk staff specifically that we wanted a clinic with western standards and that a private clinic would be fine too. They said Manipal Hospital is one of the finest in the city and we believed them. Unfortunately, this was not the case at all. Not only was the hygienic situation a catastrophe, but we also didn't see any western people there. We then went to a private clinic we had found ourselves on the internet which was fine. When we returned we gave a feedback about this and got a mere 'sorry'.
We had a 500 rupees note and wanted small change – but they didn't have any, twice, and then we gave up. According to them, due to the Diwali festival, the accounting department was not at work…
The checkout was big shambles as it took a whopping 25 minutes. We were not asked how our stay was at all. When I enquired about a charge on my folio which I didn't understand I mentioned that our expectations were not met and said that IMO the transportation was overpriced for what it is. The front desk staff didn't apologize or comment on it. As a goodwill gesture I got 1000 INR off my 50k INR folio. That's it.
The Conrad stuffed animal (elephant) is handed out on request only.
To conclude, I wouldn't stay at this property again.
King Executive Room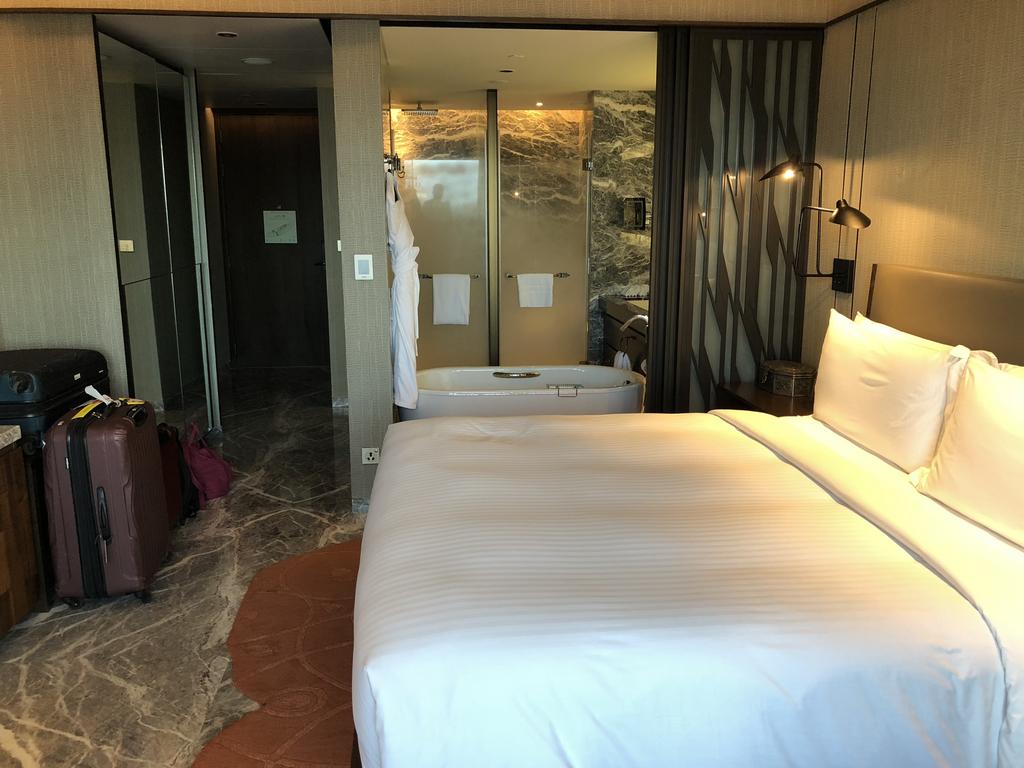 Bathroom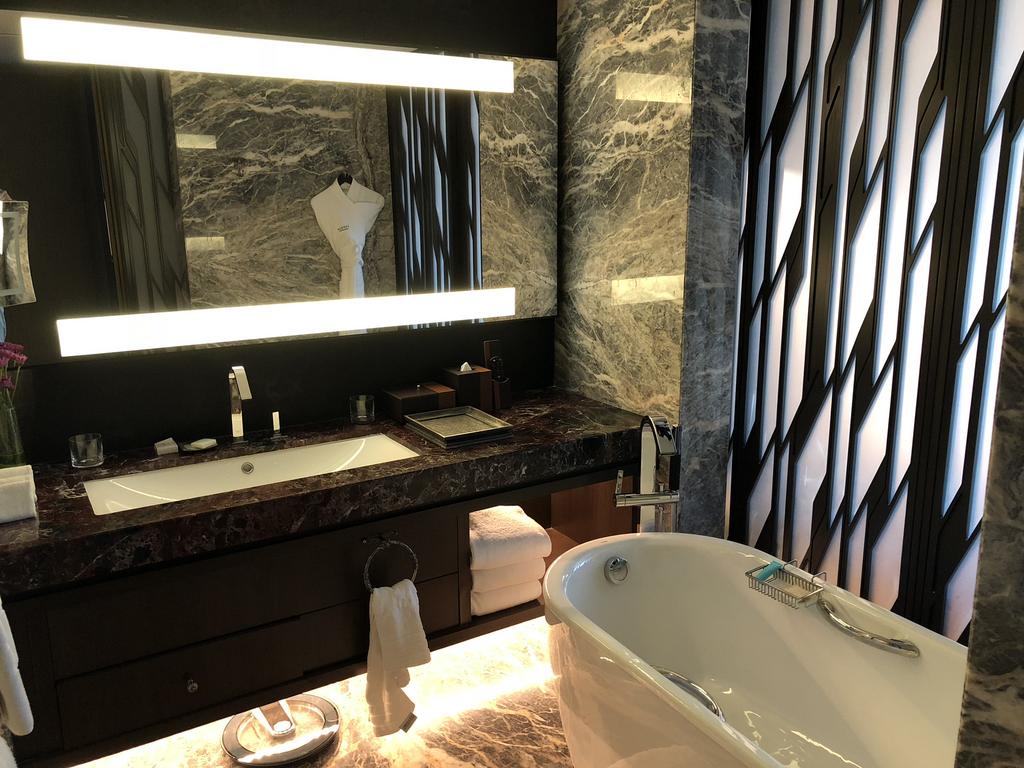 Room view

Housekeeping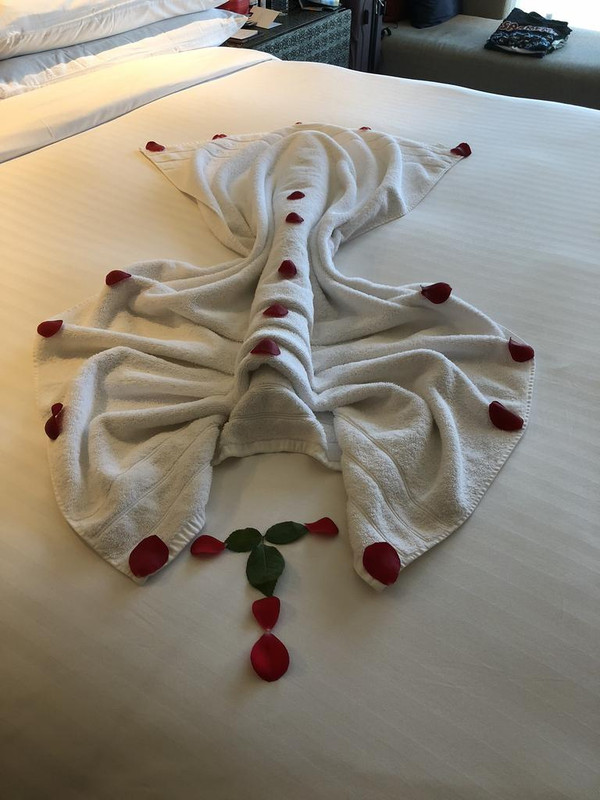 Pool area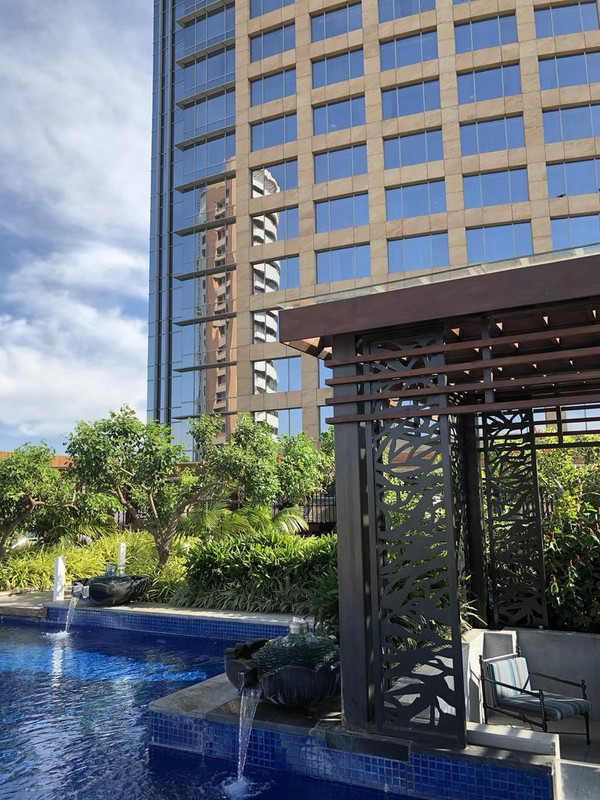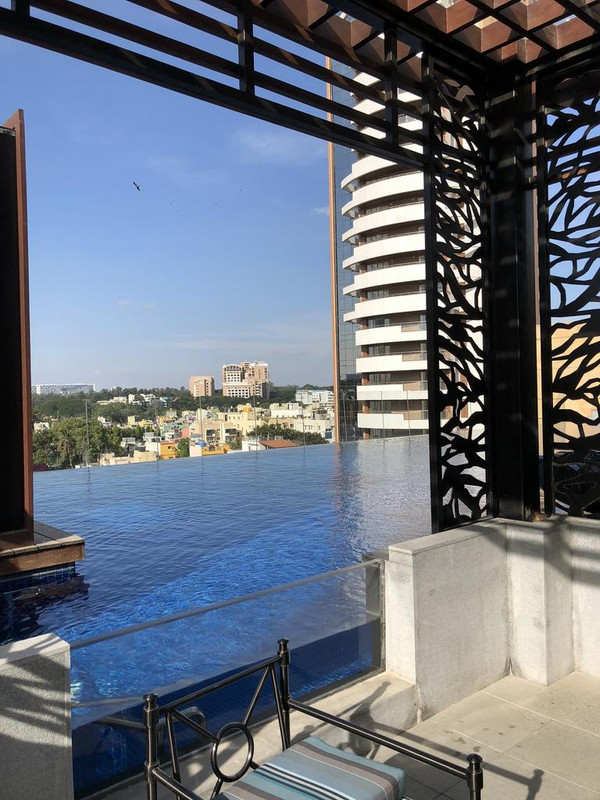 Lounge spread (not showing hot dishes)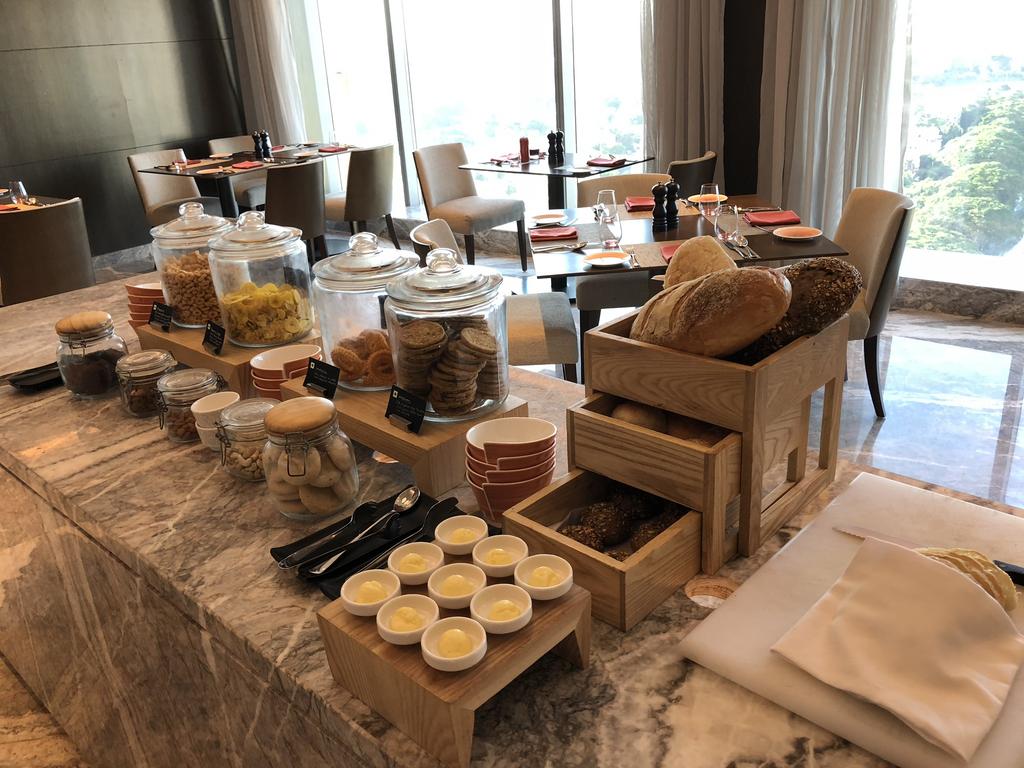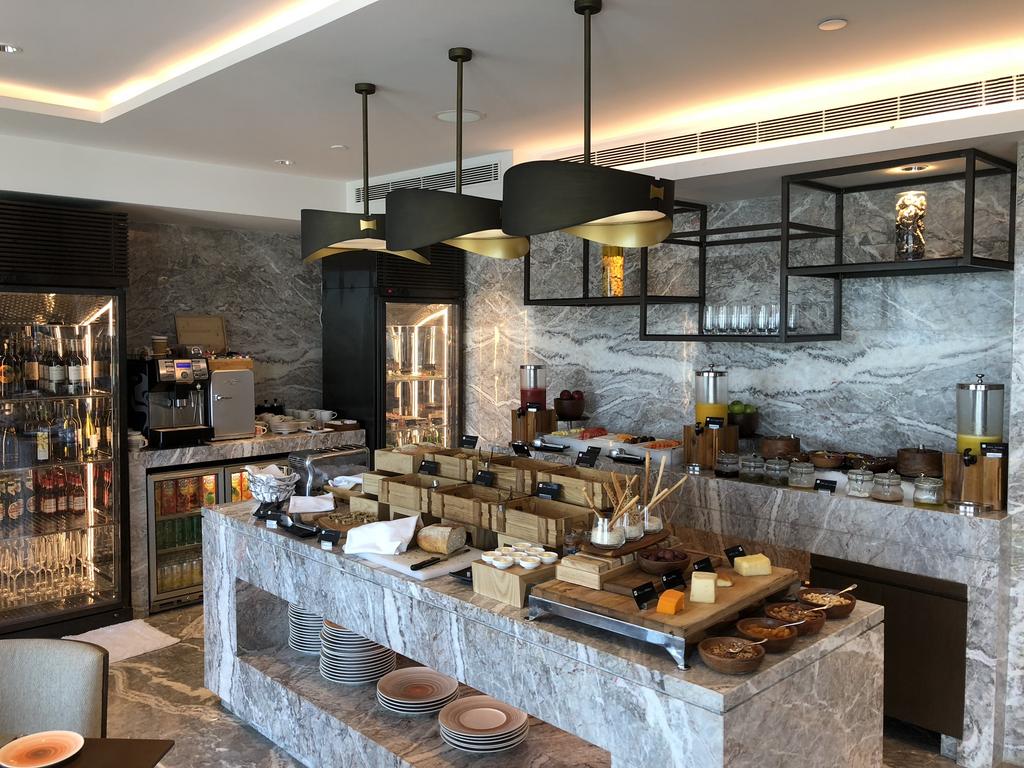 Lounge view (20th floor)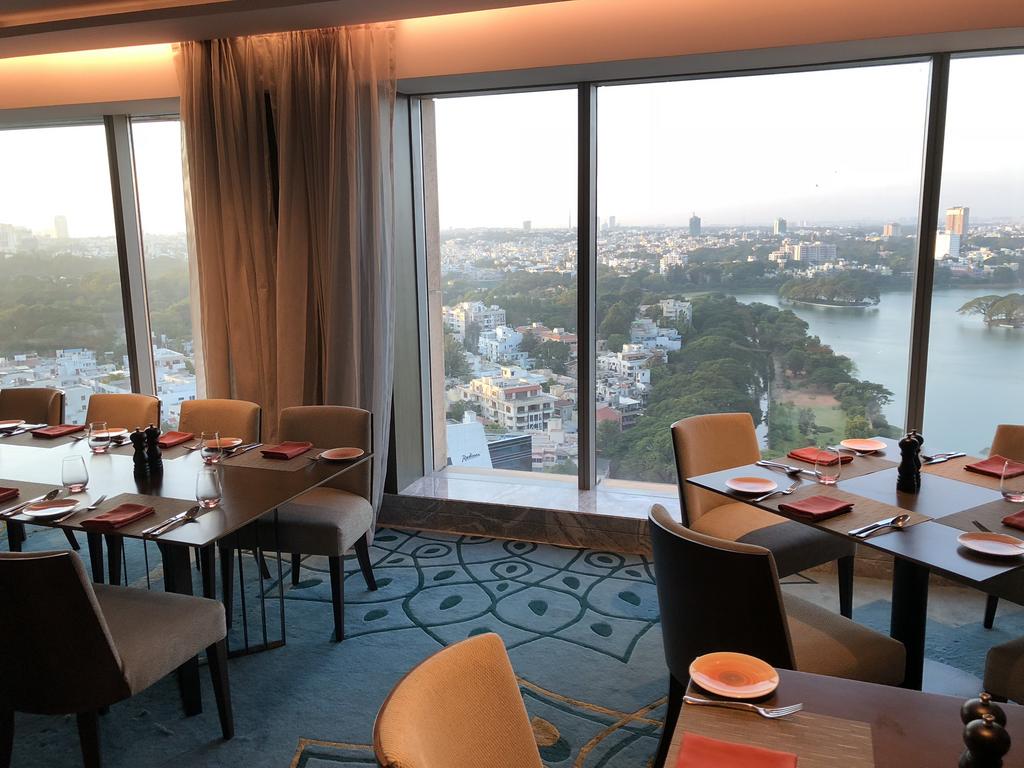 Pool area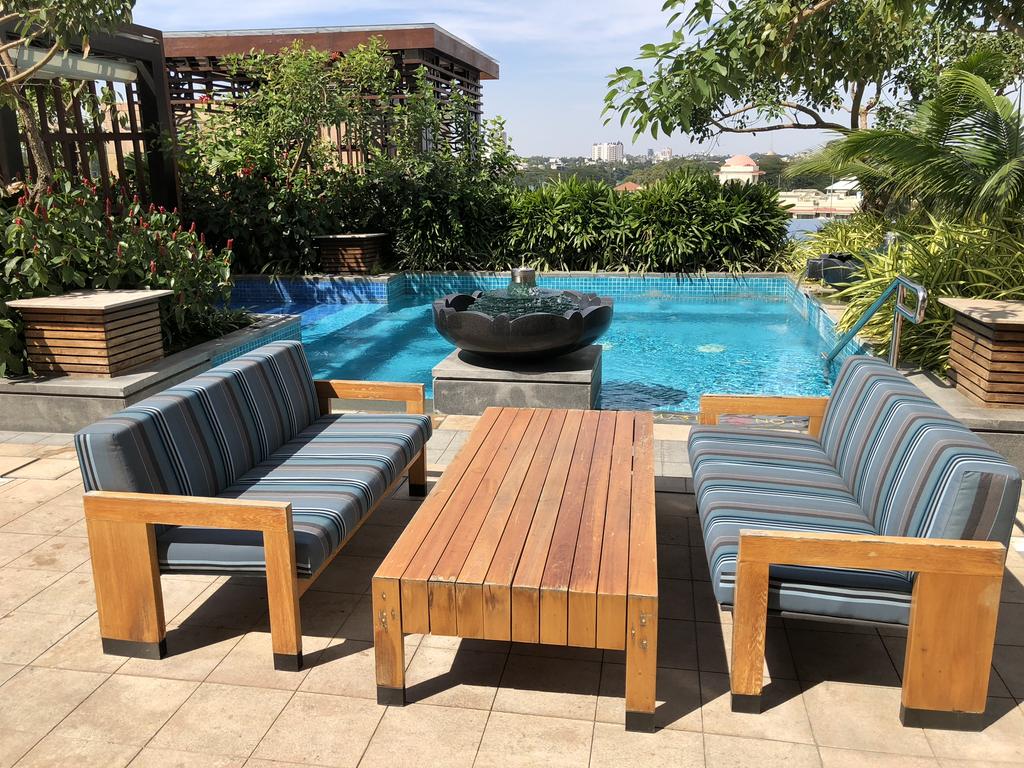 ---
Last edited by florens; Nov 9, 18 at

4:24 am
Jan 17, 19, 4:34 am
Join Date: Sep 2009
Location: London
Posts: 171
I stayed at this property a couple months ago.
Check-in staff was friendly and as Gold member I was given a room upgrade and breakfast was complimentary of course. I didn't have lounge access. While staff was processing check-in, I was given juice and a cold towel
The bedroom I thought was spacious, very modern. It had a TV embedded in the bathroom mirror, just noticeable by a small red light. Didn't have any issues with power sockets in my room, everything was working fine.
Breakfast was great, with plenty of options. Yes, I got asked few times if everything was ok and if could bring / cook some options.
Housekeeping didn't clear rubbish that I left in the bin, which makes me wonder what else they don't clean.
Checkout was done by the same person that checked me in. Once again very friendly, asked if needed a taxi and wished a pleasant journey.
Wifi dropped at times, even in my room.
The Conrad toy was upon request. I had to request quite a few times, was told someone would bring it, but never did, until I think the 5th time.
The swimming pool / outside space was nice to relax. I didn't try go in the water, it was cold.
Overall I had a great stay. The staff was super friendly, the hotel was modern, the food was great.
Jan 23, 19, 5:33 am
Join Date: Oct 2010
Location: Switzerland
Programs: BA Gold, Hilton Honors Diamond, Nordic Choice Hotels Silver, Avis Preferred Plus
Posts: 4,954
The hotel has a no pet policy which is indicated on the website:
https://conradhotels3.hilton.com/en/.../policies.html
There were a few birds around the pool but to be fair I would not call it infested. I have seen people by the pool. When we were staying there, and I believe you were too at that time, they had heating problems.
Jan 24, 19, 3:38 pm
Suspended
Join Date: Jul 2012
Location: Here
Programs: HHonors Diamond, AA EXP
Posts: 1,496
There were very Large eagles all over scooping down at regular intervals and a pair even had a kill on a rooms window sill. The pet thing reflects the quality of breakfast not an actual pet.
Jan 3, 20, 4:44 am
Join Date: Oct 2009
Programs: EK Skywards, AI Flying Returns, JetPrivilege, King Club, QR Privilege Club
Posts: 44
No lounge access for gold status
---
I found it peculiar that I was asked to pay INR 2000 per person per day for lounge access despite having gold status at the Conrad Bangalore. I was upgraded to the "executive" room and when I asked whether that confers me with complimentary lounge access, the check in agent said that's only offered for diamond memebers.

The Hilton site states that you'd get complimentary lounge access if you were upgraded to the appropriate room type. But it's odd that this property is an aberration.

Eventually, I opted to pay for it. But is there any recourse?
Jan 4, 20, 2:45 pm
Join Date: Oct 2010
Location: Switzerland
Programs: BA Gold, Hilton Honors Diamond, Nordic Choice Hotels Silver, Avis Preferred Plus
Posts: 4,954
If Golds are upgraded to Executive rooms, no lounge access. If you book an Executive room, then you get lounge access.

It's the same everywhere.
Jan 4, 20, 11:50 pm
Join Date: Oct 2009
Programs: EK Skywards, AI Flying Returns, JetPrivilege, King Club, QR Privilege Club
Posts: 44
Is that rule for Conrad hotels or Hilton as well? I stayed at Hilton Frankfurt last week and got bumped up to the executive floor with lounge access for free.
This is my first time staying at a Conrad so perhaps they function differently. Eitherway, I'm eating and drinking my money's worth at the lounge!
Jan 5, 20, 3:23 pm
Join Date: Apr 2009
Location: SEA
Programs: AA LT PLT; HH Diamond; AS 75K
Posts: 2,567