Waikoloa Beach Resorts - Mauna Lani Gas, Grocery Shopping & Cultural Attraction Hints
Jun 23, 17, 12:34 pm
Moderator: American AAdvantage, TAP, Mexico, Technical Support and Feedback, and The Suggestion Box
Join Date: May 2000
Location: NorCal - SMF area
Programs: AA LT Plat; HH LT Diamond, Maître-plongeur des Muccis
Posts: 61,512
Waikoloa Beach Resorts - Mauna Lani Gas, Grocery Shopping & Cultural Attraction Hints
---
Other locations for groceries for those headed to Waikoloa Beach Resorts such as Hilton Waikoloa Village, Marriott or HGVC et al could include, in order of convenience and cost - not distance.

NOTE: Using the store's loyalty card can generate significant savings at Foodland (Maika'i Savings), Safeway etc. Even if you're not ever returning, get that loyalty card - preferably as you arrive on your first visit. Get a card, then keep the number, bar code and photos in an app like Key Ring - no messy cards, etc.

KAILUA-KONA

:

(25 mi to Waikoloa Beach Resorts. (Good sense to drive to Kailua-Kona to stock up prior to driving up to Waikoloa.)

COSTCO

(membership required) Tel. (808) 331-4800 <

link

>

M-F 10:00am - 8:30pm; Sat 9:30am - 6:00pm; Sun 10:00am - 6:00pm

73-5600 Maiau Street, Kailua-Kona 96740

(not far south of airport off Queen Ka'ahumanu Hwy, mauka / mountain direction on Hini Lani St.)

Cheapest gasoline / petrol; may be worth your time to travel here even from Waikoloa or South Kohala coast)

KTA Superstore

- Kona Coast Shopping Center (5 Am - 11 PM daily) (808) 808-329-1677

74-5594 Palani Road, Kailua Kona, Hawaii 96740

Sack N Save

(also Foodland) (5 am - Midnight daily) Tel. (808) 326-2729

75-5595 Palani Rd., Kona, HI, 96740

(Queen "K" Highway and Palani, just n. of Kailua-Kona)

Safeway

Open 24 Hours Tel. (808) 329-2207 (Pharmacy M-F 9:00AM-7:00PM, Sa, Su 10:00AM-6:00PM)

75-1027 Henry St, Kailua Kona, HI 96740

(Also near Queen "K" and Palani)

Target

Open 8am-11pm 7 days (808) 334-4020

Pharmacy open weekdays 9am-7pm, Sat: 9am–5pm, Sun: 11am–5pm

74-5455 Makala Blvd, Kailua-Kona, HI 96740 (south of Queen "K" highway)

Wal-Mart

(8 AM - 10 PM daily) (808) 334-0466

(includes tourist tchotchkes at lower prices than downtown)

75-1015 Henry St, Kailua Kona, HI 96740

Link

to store website

FRESH fish / seafood:

Keoni's Point of View

has taken the place of the Bite Me! Fish Market / Bar & Grill at Honokohau Harbor / Marina. 74-425 Kealakehe Pkway, Kailua Kona, HI 96740. Usually open for informal restaurant 11-9, fresh fish often gone by late afternoon. You can call (808) 331-2327 the day before and order - they'll pass the request on to their fishers. See map below; it's a bit tricky to find.

WAIKOLOA BEACH RESORT, WAIKOLOA VILLAGE

:

(latter 8 miles away)

The ubiquitous ABC stores (<

link

> to locations) are not quite as complete but there are several on the West coast, and the one at HWV is kind of an extended ABC with airs:

Island Gourmet Market

Tel. (808) 886-3577

69-201 Queen's Marketplace, Waikoloa Beach Drive, Spc B1/B2 Waikoloa, HI 96738. Lots of items including wines, beers, more exotic fruits (like rambutan or longan) than we found at Foodland. Convenient, best booze supply, but

Expensive

! Keep your receipts if you do spend - each $100 entitles you to a variety of gifts. ATM.

Waikoloa Village Market

(a KTA Superstore) (6 AM - 9 PM daily) 808-883-1088

Highlands Center, 68-3916 Paniolo Avenue, Waikoloa (Village), Hawaii 96738

This is 6-8 miles form HWV (cross "Queen K" Hwy and proceed east on Waikoloa Rd.) and other Waikoloa Beach Resort locations, and is much larger, offering much more variety and significantly lower prices than anything in Mauna Lani or Waikoloa Beach Resort. (The Chevron here is slightly less expensive than the Kings' Shops Shell.) If you are at or near HWV, this store is the winner!

Whalers General Store web

Kings' Shops, location A05

69-250 Waikoloa Beach Dr

#A5

Waikoloa, HI 96738

Phone: 808-886-7057

Souvenirs, snacks, etc.

MAUNA LANI

:

(4-6 miles from Waikoloa Beach Resorts)

Foodland Farms Mauna Lani

(5AM – 11PM Daily) Tel. (808) 887-6101

68-1330 Mauna Lani Drive,

#200

, Kohala Coast, HI, 96743 (near Ruth's Chris; is part of the island Foodland chain; the deli offers lots of selection here, such as 6 - 8 varieties of

ono

(delicious)

poke

. The grocery selections are fairly decent, though possibly more expensive than the KTA or regular Foodland stores. Significantly cheaper than Island Gourmet - e.g. six-pack Kona Fire Rock ale, $2.50 cheaper here, but not inexpensive. Get your Foodland Maikai savings card for savings.

WAIMEA

: (AKA Kamuela

- some maps and USPS - 20 miles / 33 minutes)

Foodland Waimea

(5 am - 11 pm daily) Tel. (808) 885-2011 / -2075 Pharmacy

Parker Ranch Center

#109

, Waimea ("Kamuela"), HI, 96743

(north of HWV 25 miles if you are up that way)

KTA Superstore Waimea

(6 AM - 11 PM daily) (808) 885-8866

Waimea Center, 65-1158 Mamalahoa Highway, Waimea, Hawaii 96743

WAIKOLOA AREA DRUGSTORES / PHARMACIES

The nearest drugstores are in Waimea / Kamuela.

Foodland (market) Pharmacy, Parker Ranch Store, 67-1185 Mamalahoa Hwy (open until 11:00 PM)

KTA supermarket Pharmacy, 65-1158 Mamalahoa Hwy (open until 7:00 PM)

Long's Drugs, 65-1271 Kawaihae Rd (open until 10:00 PM)

WAIKOLOA AREA GASOLINE STATIONS

in the Waikoloa area

(pricey!)

If you're a COSTCO member, your best bet for fuel is at COSTCO, Kailua-Kona.

Use

this link

to check locations and prices, including (N.B. some have food marts, high prices and limited selection):

Shell

69-250 Waikoloa Beach Dr., Waikoloa, HI 96738

Closest to HWV et al at east end of Kings' Shops, open 6:30 AM - 1030 PM, convenient for fill when you are dropping your car at KOA rental depot. (The petroglyph trail is across the street.)

Waikoloa Highlands

Chevron

, (808) 883-8550

68-1845 Waikoloa Rd, Waikoloa Village, HI

Has mini-mart with limited selections; usually ~25 cents cheaper than WBR Shell

Cross "Queen K" highway, proceed up Waikoloa Dr. 6 miles

Link

to updating list of gasoline stations and prices

(Researched again 'cause we're at The Bay Club for a August 2019 stay

Very old post (2010) this supersedes

here

.
---
Last edited by JDiver; Aug 28, 19 at

7:22 pm

Reason: Add and update August 2019
Jun 23, 17, 12:53 pm
Moderator: American AAdvantage, TAP, Mexico, Technical Support and Feedback, and The Suggestion Box
Join Date: May 2000
Location: NorCal - SMF area
Programs: AA LT Plat; HH LT Diamond, Maître-plongeur des Muccis
Posts: 61,512
Cultural attractions Waikoloa - Mauna Lani area
---
CULTURAL
:
The Big Island of Hawai'i is the birth land of King Kamehameha "the Great". It was from here he unified the Islands of Hawai'i. There are archaeological and historical sites - major places of ceremony and living places, petroglyphs fields, etc. As well, as the land was formed by volcanism, the volcano dominates much of the landscape and history.
NOTE: The sites listed are still important to the people of Hawai'i. Please respect these places. Smoking, playing games, disposing of rubbish, etc. are frowned upon.
Overall map of volcanoes and major historical sites
CULTURAL ATTRACTIONS
:
A long wander through the petroglyphs, visit to the Ku'uali'i and Kahapapa fishponds, Ala Kahakai ancient trail, the anchialine ponds, Puako petroglyphs field (Malama trail, over 2,700 'glyphs dating back to the 1300s) upcoast for more...)
Waikoloa Beach Resort Petroglyph field
: We did the petroglyph field accessible from the side street by the Shell station at Kings' Stores, Waikoloa Beach Resort again - you can cruise it in 1/2 hour, or you can walk, look, explore the side trails and photograph; that will take two hours. The 'glyphs here range from older to more recent (one graphito is dated 1860), and are close to the Mamalahoa / Kings' Trail, which was something like 175 miles long. You will see 'glyphs like the man with the paddle over his head, which is about King Kamehameha's "Law of the Paddle", a humanitarian law that was largely included in the Hawai'i Constitution (much like the Iroquois Confederation's Great Binding Law may have influenced some of the U S Constitution).
As for naked people, they're only people, no
kapu
today, so no impalement, garroting, etc..
Waikoloa Beach Petroglyph field
: From the road stub between Kings' Shops and the maintenance area (next to the Shell station) there is a short, marked trail, part of the Mamalahoa or Kings' trail that takes you to a field of petroglyphs, some of them dating from the colonial period and others from before. It can get hot in this black lava field, so prepare yourself for lots of sun, take covered shoes (no slippahs!), water and preferably go in the early part of the morning. Guided tours are offered free three times or so weekly. See JessieonaJourney
here
.
Kings' Trail
: You can follow part of the Kings' Trail, elsewhere. At one time it used to connect to Kailua-Kona and on to Pu'uhonua O Hōnaunau to the south, to fish ponds and the older
petroglyphs field of Puakō
at Mauna Lani and ancient fish ponds (small fish swam in but as they grew they were trapped) and on - actually was the royal pedestrian highway that circled the entire island. More recently in the 19th century it was widened and lipped for animal-drawn wagons by prisoners.
The
anchialine ponds
near the Marriott include ancient inland brackish water ponds with interesting fish and other life and interesting colors.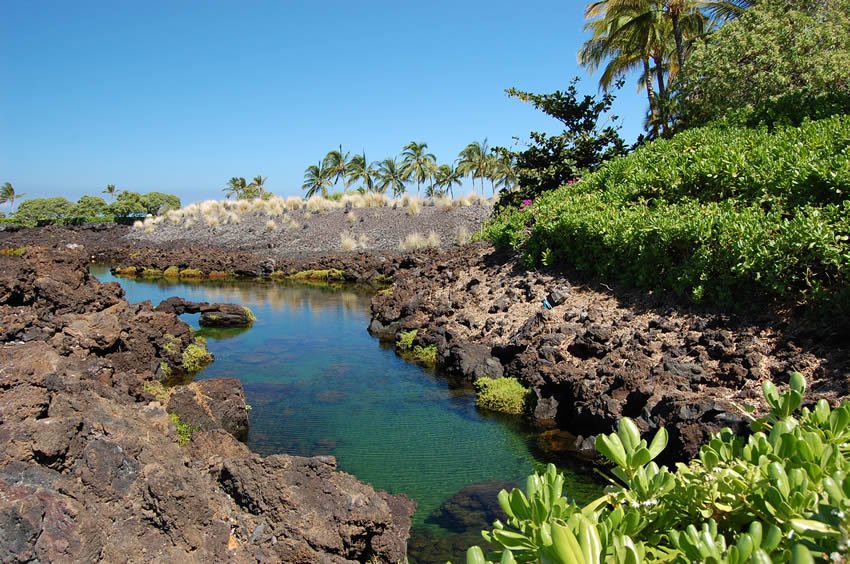 Puako Petroglyphs field
: Four miles up the road, take the Mauna Lani turnoff to the well signed Malama trail to the Puako k'i'i pohaku, or petroglyphs, much older than those near Kings' Shops. "The largest concentration of petroglyphs in the Pacific lies within the 233-acre Puako Petroglyph Archaeological District. These Malama Petroglyhs were made thousands of years ago. The field has over 3000 carvings including paddlers, sails, marchers, dancers, and family groups, as well as dogs, chickens, turtles, and deity symbols."
Link
This trail is quite uneven and it can get hot. Bring water, sunscreen good sturdy shoes. Best done earner in the day. Restrooms, showers, beach nearby at Holoholokai beach park where you will park.
While at Mauna Lani resorts, you can also visit
Kalahuipa'a fish ponds
: "The seven ponds--Kalahuipua'a, Kahinawao, Waipuhi, Waipuhi Iki, Hope'ala, Milokukahi and Manoku--were used by ancient Hawaiians to raise fish and supplement their ocean fishing efforts. Bottom samples taken from the ponds date the ancient aquaculture system to as far back as 250 BC. Some of the fishponds were created by walling off the pools' natural access to the ocean. Makaha (sluice gates) were incorporated in the walls to allow for circulation of seawater, essential for maintaining healthy fish. The ponds were used to raise mullet, milkfish, shrimp and other sea life strictly for the consumption of Ali'i."
Link
and
link
.
At the Puako turnoff past Mauna Lani you can visit
Hokuloa church
.."near the entrance to the Puako community. It was built in 1859. There is a Sunday Service at 9am. It was built by the Rev. Lorenzo Lyons, a musically talented man that composed ballads such as "Hawaii Aloha", the unofficial anthem of the islands."
Puako General Store
..."the only store in town, carrying a number of goods. For other shops you need to go to Waimea, Kawaihae or the Kings shops in Waikoloa."
Pu'ukoholā heiau
: A bit farther near Kawaihae is the Pu'ukoholā heiau, the last ceremonial temple built in Hawai'i (and submerged Hale o Kapuni, ceremonial structures built in honor of the shark deities). There is a new, small museum with parking, restrooms.
Lapakahi National Park
: Farther you can walk among the remains of a coastal village at Lapakahi National Park, and get a feel for how the true kama aaina lived and walk in their footsteps.
Mo'okini Heiau
: Harder to get to, where the eerie feeling reminds thousands were sacrificed here, their flesh stripped from their bones under the old system of
kapu
(taboo) laws. You can get quite close with 4WD, but with 2WD it's about a 3~4 mile round trip hike. Nearby is King Kamehameha's birth place. Not far from Hawi.
Link
.
There's also an ancient adze "factory" (mine, chipping grounds, hammer stones, flakes, primitive dwellings), but these are near the peak of Mauna Kea at over 13,000 feet. More for one with time, 4WD and a genuine interest in anthropology.
---
Last edited by JDiver; Jun 28, 17 at

12:53 am
Jul 11, 17, 11:53 am
Join Date: Oct 2000
Location: Captain Cook, HI, USA
Programs: BA, DL, HA, etc
Posts: 967
Limo Ride
---
My friend is a limo driver and often is assigned to the 4 Seasons. One day I call him and he says he is on his way into town to pick up a prescription for a guest.

They called in the order the pharmacy at K-Mart in Kona.

So being nosy, I ask what the prescription is for. He says "ranitidine".

So this guy who has too much money and probably no information about what he takes, sent a limo for a prescription. The cost is going to be like $100 round trip for Zantac, which is probably available at the gift shop.

You should know that the prescription dose of Zantac was twice the over the counter dose, meaning you just take 2 pills instead of one.
Sep 16, 17, 2:34 pm
Moderator: American AAdvantage, TAP, Mexico, Technical Support and Feedback, and The Suggestion Box
Join Date: May 2000
Location: NorCal - SMF area
Programs: AA LT Plat; HH LT Diamond, Maître-plongeur des Muccis
Posts: 61,512
Updates made with September 2017 visit. Target Kailua - Kona added (mahalo for the suggestion). Gasoline still about 25-30 cents higher in Kohala districts than Kona, 50 cents higher than Hilo, per gallon.
Aug 28, 19, 7:25 pm
Moderator: American AAdvantage, TAP, Mexico, Technical Support and Feedback, and The Suggestion Box
Join Date: May 2000
Location: NorCal - SMF area
Programs: AA LT Plat; HH LT Diamond, Maître-plongeur des Muccis
Posts: 61,512
Updated 28 Aug 2019 - additions, deletions, updates. Temps for August averaged 92-94 high, most days with Kona breeze or wind, and mid-70s lows. August is the hottest month, January the coolest. One or two days with measurable rain a month.