Island Air Files for Chapter 11 Bankruptcy [Last Day of Operations is Nov 10, 2017]
Oct 17, 17, 5:43 am
Moderator: Hawaii-based airlines & Hawai'i forums
Join Date: Mar 2003
Location: Ka ʻĀpala Nui
Programs: NEXUS/Global Entry, Delta, United, Hyatt, IHG, Marriott, and Hertz
Posts: 15,966
Island Air Files for Chapter 11 Bankruptcy [Last Day of Operations is Nov 10, 2017]
---
http://www.staradvertiser.com/2017/1...or-bankruptcy/
The company said the bankruptcy filing was caused by threats of legal action to ground the aircraft and strand hundreds of passengers. Island Air said the filing prevents the threatened action and allows it to continue interisland service for its customers.

During the reorganization, Island Air said it expects to fly its scheduled routes as normal and honor all previously purchased tickets and confirmed reservations. In addition, there will be no changes to the Island Miles frequent-flyer and other customer service programs, including Kupuna & Keiki Saver Fare, Island Biz corporate travel program, and military and group travel programs.
Oct 17, 17, 6:08 am
A FlyerTalk Posting Legend
Join Date: Aug 2010
Location: DCA
Programs: UA US CO AA DL FL
Posts: 42,963
A caution that any bookings should be made using a US-based credit card (or a card issued in a country with specific bankruptcy protections). While WP is in Chapter 11 and states that it will continue to operate as usual, there is a risk that it cannot and therefore cannot.

Credit cards provide statutory protection for the passenger and mean an immediate credit should WP cease operations or not be able to operate the specific flight due to bankruptcy.
Oct 18, 17, 12:25 pm
Join Date: Jul 2013
Location: HNL
Programs: UA HA AS
Posts: 37
http://www.staradvertiser.com/2017/1...2b374b175f854e
"Without any prior notice, Tom Dalton and Phillippe Poutissou are in Honolulu attempting to repossess the aircraft," an Island Air attorney wrote in a letter to Elix last week"
How does one reprossess a commercial aircraft?
Nov 4, 17, 3:08 pm
Moderator: Credit Card Programs & Chase Ultimate Rewards
Join Date: Aug 2002
Location: Anywhere a good IPA is served!!
Programs: Too many to list
Posts: 10,138
From the Star Advertiser article: Island Air has lost money for 17 straight quarters, including an $8.2 million loss in the second quarter of this year, up from a $5.1 million loss a year earlier.. Time to fold the tent and call it a day? How can any business survive after losing $$ for 17 straight quarters? I like the airline and hope they can continue.
Nov 9, 17, 9:27 am
Join Date: Sep 2003
Posts: 9,515
Avoid Island Air (edit: posted hours before they announced shut-down)
---
Although I've flown Island Air many times over the past years, there comes a time where avoiding an airline is unavoidable. I truly wish they could be a viable competitor to HA. They are going out of business, no doubt about it. When you can't answer phone calls, that's a death knell. They seem to have more ramp and gate agents than they need at HNL and not enough phone agents.

Phone wait time to change a flight yesterday - more than an hour.

Left iPhone on plane last night. I can see it flying around on "Find my iPhone". Counter agent at OGG says gate/cabin crew didn't find it. Wouldn't give me an airport number for someone at gate in HNL - I can guide them right to my frickin' phone. Tried calling this morning - almost an hour waiting and still no answer on phone at reservations. Noone answers at baggage lost/found.

Plan a trip on Island at your own risk - the writing is on the wall.

Edit: finally managed to get a ticket counter agent in HNL on the phone. He personally tracked down phone and sent it back to Maui yesterday. I will miss Island Air and it's people.
---
Last edited by IAH-OIL-TRASH; Nov 10, 17 at

9:32 pm
Nov 9, 17, 7:42 pm
Join Date: Mar 2012
Posts: 12
Island Air to cease service Friday the 10th of November, 2017.
---
http://www.staradvertiser.com/2017/1...ervice-friday/
Island Air, the state's second-largest airline, said today its last day of service will be Friday after having exhausted all options to remain flying.

"It is with a heavy heart that I must inform all of you that tomorrow Friday the 10th of November will be the last day for Island Air to be in service," CEO David Uchiyama said in an email today to employees. "We have exhausted all options that would allow us to continue and we have not been able to solidify any of those option(s) within the time frame needed.

"We will need to work through this day with our heads held high knowing that we did all that we could do to provide an affordable alternative to interisland travel for our islands."

Island Air, which has about 400 employees, filed for bankruptcy protection on Oct. 16 after its aircraft lessor, Ireland-based Elix Assets 8 Ltd., attempted to repossess the company's three remaining Q400 aircraft for nonpayment.

The airline, which flew interisland routes for 37 years, had lost money every quarter for the past 4-1/2 years.

Island Air said all passengers must make alternative arrangements for interisland transportation. The airline said in a message on its website that passengers need to contact their credit card company for inquiries on refunds. It said for any questions or concerns to call 1-800-652-6541.
---
Last edited by alohajoe; Nov 9, 17 at

7:57 pm
Nov 9, 17, 9:46 pm
Join Date: Jan 2010
Location: New York and Vienna
Programs: PA WorldPass Platinum, AA, DL, LH. GHA Black, SPG and HHonors Gold
Posts: 3,818
Island Air to Shut Down Friday
---
Breaking news, as they say. Was literally walking thru HNL an hour ago when a friend who's an HA exec called me and gave me the heads up. I snapped a photo of an Island Air sign for FBT's news team figuring it might be the last time anyone sees one.
Island Air to Shut Down Friday
[quote]HONOLULU—Island Air, Hawaii's second-largest inter-island carrier, said it would cease operations Friday. The carrier's CEO, David Uchiyama, broke the news to employees in an e-mail late Thursday.
The airline had "exhausted all options that would have allowed us to continue and we have not been able to solidify any of those options within the timeframe needed," said Mr. Uchiyama....
<SNIP>
[quote]
.

.
This link is to an online source to which I contribute and/or have a financial interest.
Nov 9, 17, 10:53 pm
FlyerTalk Evangelist
Join Date: Nov 2005
Location: Phoenix, AZ
Programs: American Airlines AAdvantage, Rapids Reward
Posts: 33,940
Wow! I didn't hear that! They won't be happy about that. They always losing a lots of money. That's big problems! They will be very disappointed.
Nov 10, 17, 5:55 am
A FlyerTalk Posting Legend
Join Date: Aug 2010
Location: DCA
Programs: UA US CO AA DL FL
Posts: 42,963
If you are ticketed through another carrier such as UA, call UA. This is hardly a major surprise and UA may have rerouting options for you. Capacity may be a problem.

If you purchased your ticket on Island Air, you should be protected through your CC issuer (up to 60 days as a matter of law, and with most cards much longer as a matter of customer service). You have the same problem locating availability and, needless to say, new tickets may cost more. Few travel insurance policies cover bankruptcy cancellations.
Nov 10, 17, 9:47 am
Join Date: Sep 2003
Posts: 9,515
Well, that was faster than I expected (shut down). I'll miss 'em. Brian in Honolulu made an extra effort to find my iPhone yesterday (post 5) and get it back to Maui.

Aloha, Island Air! Really wish you could have made it!
---
Last edited by IAH-OIL-TRASH; Nov 10, 17 at

9:56 am
Nov 10, 17, 4:45 pm
Join Date: Oct 1999
Location: New York
Posts: 6,563
It is sad to see this regional airline goes. There will be no competition anymore in these domestic flights between the Islands.
I flew Island Air for the first time a few days ago. While the Dash 8-Q400 was nice, I was not too impressed with its on time record. My flight suffered a rolling delay because of rain and also the aircraft had some issues. They had three Dash 8 but absolutely no spare plane.
Anyway here are a few pictures i took and link to my full album:
http://s1213.photobucket.com/user/Ca...ndAirDash8Q400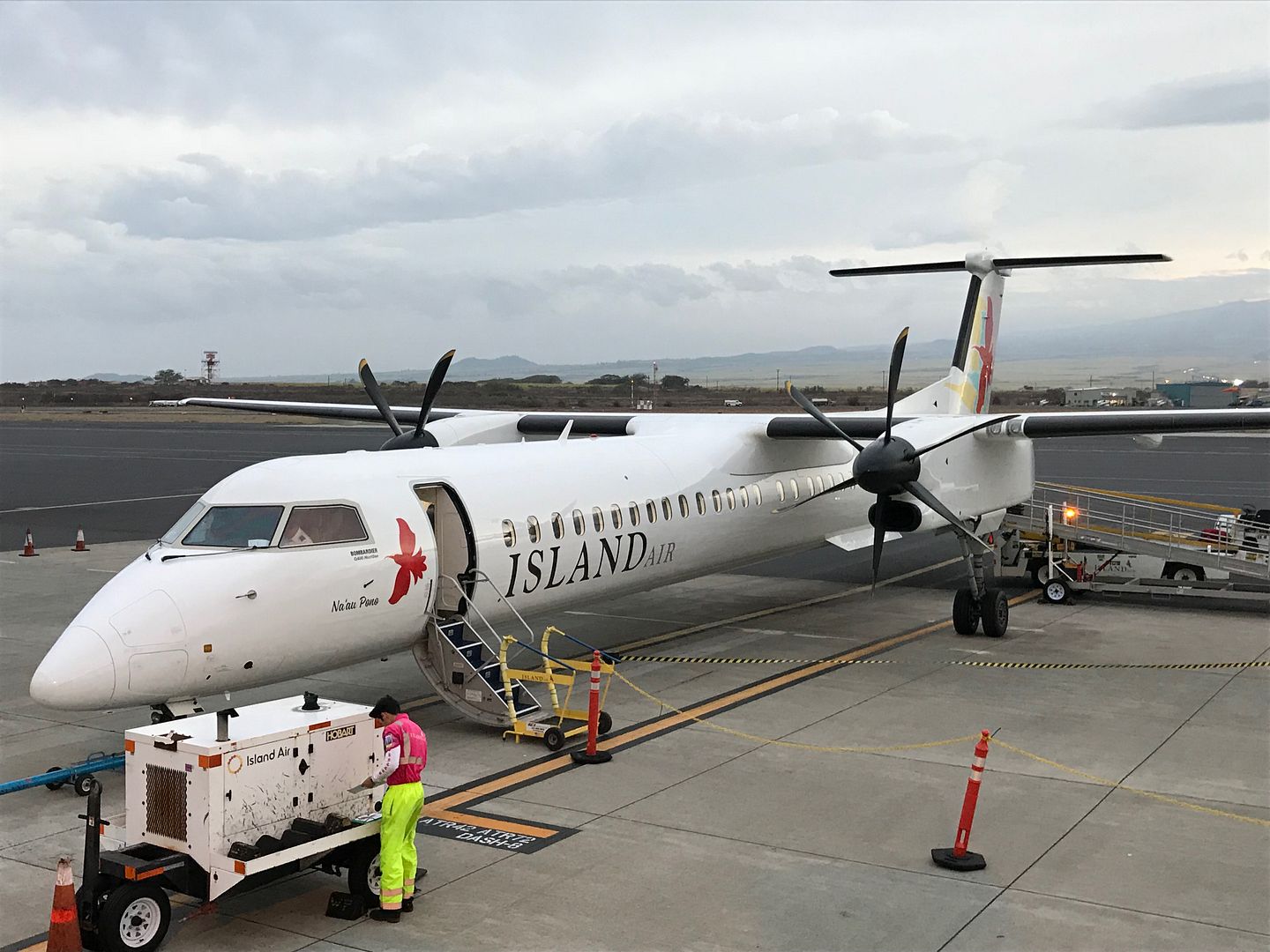 Carfield
Nov 10, 17, 11:36 pm
FlyerTalk Evangelist, Moderator, Information Desk, Ambassador, Alaska Airlines
Join Date: Dec 2006
Location: ANC, MRI
Programs: AS MVP Gold75K, AS 1MM, Maika`i Card, AGR, HH Gold, Hertz PC, Marriott LTG, SPG Gold, CO, 7H, BA, 8E
Posts: 41,239
Wow that was sudden.
Sad to see another go under
Never did fly WP myself.
Wikipedia has been updated by someone already. Their 1-800 number recording says free flights can still be earned
Nov 14, 17, 10:32 am
Join Date: Oct 2013
Location: NAS
Posts: 61
Mark me down as a casualty of this shutdown.

Back in Sep, booked on UA from NAS to KOA for xmas holiday. One leg was Island Air KOA-HNL.

Then booked an intra island flight KOA-LIH roundtrip for the entire family.

UA was able to reaccommodate me via KOA-SFO but I now have to dispute the tickets made directly with Island Air via credit card. Since it's been two months, not sure what my chances are.

Anyone else in the same boat?
Nov 14, 17, 1:42 pm
Join Date: Jul 2006
Location: SAN
Posts: 1,108