Cappadocia, Turkey
Jan 23, 10, 7:20 am
Join Date: Oct 2007
Location: Miami
Programs: Hilton Diamond, AA Lifetime Gold
Posts: 416
Cappadocia, Turkey
---
I have 5 nights in Turkey this summer and I am thinking about flying down to Cappadocia. How many nights do you think are needed here? Is 2 nights plenty? We plan on touring the city as well as doing the hot air balloon ride. How hot will be in July here? We are thinking of staying at the Cappadocia Cave Resort and Spa as well. Does anybody have any feedback on this resort? Thanks for your help !
Jan 23, 10, 7:40 am
Join Date: Jan 2006
Location: CNF
Programs: Priority Club, TAM Fidelidade, BAEC, Marriott Rewards
Posts: 2,096
Well, 2 nights could be enough, will need more if you are into hiking or insist to see
everything
. About "touring the city", actually they are several small towns and villages and a lot of the sights are scattered between them, so it is not like going to Prague for example. You can skip the underground cities if you are short of time.
The weather in July will be quite hot I suppose, I was there early November and liked it.
---
Last edited by neuromancer; Jan 23, 10 at

7:48 am
Jan 23, 10, 9:13 am
Join Date: Oct 2007
Location: Miami
Programs: Hilton Diamond, AA Lifetime Gold
Posts: 416
We are flying in from Greece and hopefully can take a flight from IST to Cappadocia when we get there, so we would arrive in the evening. I've been reading about the hot air balloons and they seem to depart in very early morning. I think 2 nights could be alright as I currently planned to spend 5 nights in Istanbul. I think if I do 2 nights here and 3 nights in IST, it might not be enough in Istanbul, so I am not sure.

ps: great photo !
Jan 24, 10, 5:04 am
Join Date: Jan 2006
Location: CNF
Programs: Priority Club, TAM Fidelidade, BAEC, Marriott Rewards
Posts: 2,096
The balloon flights take off about sunrise and last about 1 - 3 hours (there are short and long programs - long flights basically last until the balloon goes out of the scenic region). They take you from your hotel about 1 hour before the flight, then take you back there, so it may feel like half a day totally. I used Cappadokia balloons and highly recommend them. If you are based in Goreme, this will minimize the travel time. I think July will be quite hot, so you may add some time for rest at the hotel in the afternoon.
During 2010 Istanbul is designated as the cultural capital of Europe, so it will be full of events, exhibitions, concerts, everything. If you are into this, 3 nights might not be sufficient, but again if you don't insist to see
everything
, can be enough. The program is at
http://www.en.istanbul2010.org/index.htm
.
Jan 24, 10, 7:11 am
Senior Moderator, Moderator: Coronavirus, United MileagePlus, Carbon Conscious Travel, FlyerTalk Cares
Join Date: Jun 1999
Location: SFO
Programs: UA 1.7 MM/Plat; AS MVP 75K; AA gold; Fairmont & Starwood platinum; Hyatt diamond; Kimpton IC Elite
Posts: 17,442
I was there in June and it was quite hot ...yet it also rained a tad. The mornings when you leave for the hot air balloon are cool though, so bring warm clothing for that.

I stayed three nights, which was sufficient. The place is amazing ...very other worldly. Lots of great places to hike around.

I'm not familiar with where you are considering staying, but another you might look at is Anatolian Houses, which is quite nice.
Jan 25, 10, 3:33 pm
A FlyerTalk Posting Legend
Join Date: Mar 2001
Posts: 55,091
It will be very hot especially in July. We were there for 3 days/2 nights in May. I heartily recommend ballooning at the crack of dawn. You will love it! I hope your accommodations allow you to sleep in the caves because they will keep you nice and cool during the July heat. Plus staying in the caves is a GREAT experience.
Technically, you should have posted this thread in the Asia forum.
Jan 28, 10, 10:24 pm
Join Date: Dec 2000
Location: San Diego, CA , 4.2MM+ AA Platinum, Hilton Diamond, Starwood Gold
Posts: 576
Personally I think you need more time in both Istanbul and Cappadocia!
The biggest mistake I made on our last trip (our third to Turkey) was to have too little time in Cappadocia - I just didn't plan enough "down time" to just enjoy being there. The grounds of the hotel and the town itself are so lovely. We spent two full days touring after arriving around noon the first day. We hiked the Rose Valley, had a great dinner in town at the Local Restaurant (that's the name - Local) which was one of the best we had (chimney chicken and stew in a clay pot). Then we had a balloon on our first day and we did the Red tour and then the Blue tour the next day, spent the night and were on a plane at 11:00 AM the next day to Istanbul. Three nights was not enough! (But you would get a great taste of Cappadocia.) It is so far and hard to get to that I really think you need the extra night. And I would trade a night in Istanbul for another day in Cappadocia. It is much easier to return to Istanbul for a few days from Europe.
When you say fly into Cappadocia, you have two choices, into Kayseri or into Nevsehir one being a longer trip into Goreme or Urgup than the other. So you also need to take that into consideration. I really like Goreme. You do not want to stay in either Kayseri or Nevsehir - you want to stay in either Goreme or Urgup.

Goreme at night
To maximize your time, I would look into some excellent tours with Rock Valley Travel.
http://www.rockvalleytravel.com/gett...ia+Daily+Tours
You will be in a small group, in a small minivan, and they will get you quickly from one site to another- especially important if you want to tour an underground city or hike the Ihlara Valley (highly recommended). You can also get a private guide to hike through the rose valley starting at about 4:30 PM when it is cooler and the sun angles are more spectacular. We did the blue and red tours and had six people on each and a wonderful guide (same person - our good fortune it just worked out that way but he really got to know all of us).
I also recommend them as your travel agent within Turkey. I am glad I did as our flight from Cappadocia was cancelled and they proactively rebooked us on another flight before they oversold. They speak perfect English- (ask for Jodie, an Australian who was great to us) and offer transfer service from the airport to your hotel and back - or can book your hotel with transfers included.
I highly recommend the Kelebek Hotel.
http://www.kelebekhotel.com
The grounds are wonderful, there is a pool, and if you stay in a suite room, the Hamam is included - and a wonderful way to end the day. The breakfast is also great.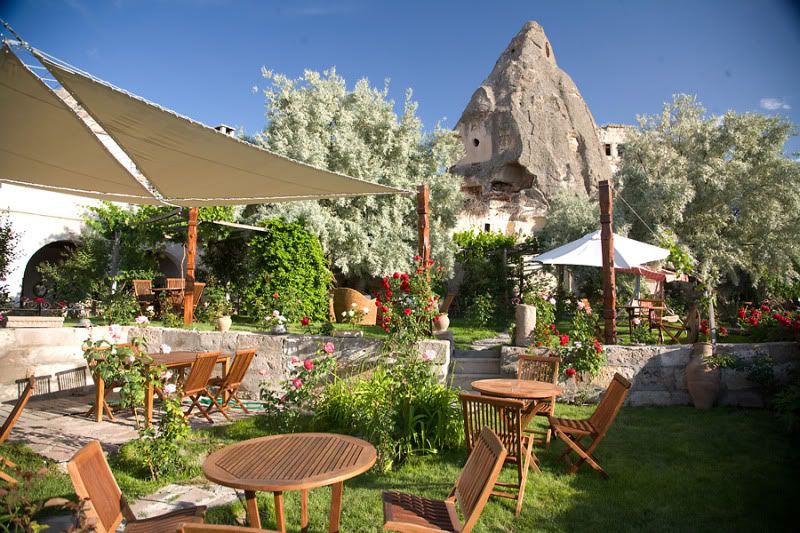 This is a shot of the Rose Garden where we ate breakfast.
I disagree about skipping an Underground City. Derinkuyu Underground City is 7 levels down (with more that you can't go to) and is an amazing feat of construction (and also very cool in the hot summer!) The other, Kaymakli Underground City is also impressive. There are others and they can be skipped if you see either of these. My recommendation is Derinkuyu but it is a bit further out and is best combined with a visit to the Ihlara Valley.
A hot air balloon is not to be missed. They usually pick you up at 5:30 AM and have you back at your hotel by 8:30 (in time for breakfast) and if you are touring, they pick you up at 9:30.
---
Last edited by FrAAmer; Jan 28, 10 at

11:10 pm
Aug 13, 10, 9:10 am
Join Date: Sep 2005
Location: Washington DC
Programs: UA 1P, BA Silver
Posts: 358
Hello,

So, what time of the year is considered an ideal time to visit Istanbul and Cappadocia? I have a week off during mid February and would like to see the place if the weather is warm enough. Thanks guys.
Aug 16, 10, 7:57 am
Join Date: Feb 2000
Location: New York, NY, USA
Programs: BAGold; AA3MMPlat; UA1MMGold; FBGold; MarriottAmb; AccorPlat; HHGold; ICPlatAmb; HyattDiscoverist
Posts: 4,377
Aug 16, 10, 8:55 pm
Join Date: Dec 2000
Location: San Diego, CA , 4.2MM+ AA Platinum, Hilton Diamond, Starwood Gold
Posts: 576
Personally- May-June or September-October for Cappadocia. Winter in Cappadocia is very special - snow on the fairy chimneys should be magical. The underground cities are the same temperature year round!
I really like the people at Rock Valley Travel and I would get in touch with them and ask their opinion.
I did three tours with them with no more than six people per tour. Even if you don't tour with them, they arranged all my hotel, transfers and in Turkey air flights.
http://www.rockvalleytravel.com/
Aug 25, 10, 5:30 am
Join Date: Mar 2004
Location: NYC, CDG, NCE
Programs: DL DM
Posts: 2,475
Just a heads up - in recent years, the F1 has brought huge crowds and the city gets pretty full of tourists.

Make sure to book early and reconfirm if you are planning to come then.




Apr 9, 13, 11:21 am
Join Date: Mar 2012
Posts: 940
Accommodation in Cappadocia
---
Hi guys,

Any suggestion on the cave hotels/accommodation in Cappadocia?I like the traditional cave setting but not with the metal bed frame which I think it downgrade the setting of the room a lot. I'm looking at Safran Cave Hotel (Deluxe Suite) which suites my preference. Any other hidden gem with similar feature?

The price of it is about 70euro/night in September, worth it?
Apr 10, 13, 12:48 am
Join Date: Jan 2005
Location: Tampere
Programs: BA EC Gold, Hilton Diamond
Posts: 3,069
Originally Posted by Analise
Technically, you should have posted this thread in the Asia forum.
Why is that, when the powers-that-be have specifically embraced the title 'Europe including Turkey' for
this
forum?
cheers,
Henry
Sep 13, 15, 9:21 pm
Ambassador: Peru
Join Date: Jan 2010
Location: LIM Peru
Programs: LanPass Premium, AA (former gold), MileagePlus Silver
Posts: 719
I'm reading some places (like the Goreme Open Air Museum) close at 19:00 on "summer", and 17:00 on winter. But when does that summer schedule end? Does it coincide with daylight saving time?