Pics: DL 767-400 business class -with newly installed lie flat seats (and more)
Aug 17, 09, 6:14 am
Suspended
Join Date: Jun 2009
Programs: Delta skymiles DM + 1MM
Posts: 8,144
Pics: DL 767-400 business class -with newly installed lie flat seats (and more)
---
The flight was JFK to LHR DL flight #1. The seat was Delta's newest lie-flat business class seat. This seat is a significant improvement over everything else that Delta has to offer in their business elite cabin. I had no issues with the tray table. In fact, I've read elsewhere that the tray was difficult to pull out and retract. Delta provides a placard that gives you instructions on how to utilize the tray table. It is a very, very comfortable seat and I have no complaints at all. I hope that Delta decides to put these in there 763's and the rest of there 764's. Hope you enjoy the pics. Also of interest, apparently, Delta has an onboard technician (seated in business class). I think I read somewhere that its due to assist with any malfunctions or other issues with the new biz cabin? Just a few interesting points. There are no forward bathrooms on the newly configured 764. Your essentially using coach bathrooms which is behind the biz cabin and directly in front of the coach cabin. They try and seperate it from coach by using a curtain but it really didnt work. Coach folks were consistently using the biz elite bathrooms. As for me, no big deal, a bathroom is a bathroom. Also, the most private seat in biz is definitely 1A and 1D.
I'm not going to bore you with a long narrative, suffice to say it was a very pleasant flight with a very pleasant and friendly flight crew.
Thought I would throw in a bonus - Heres N192DN landing, as seen from my hotel room. Not sure where this 763 is coming from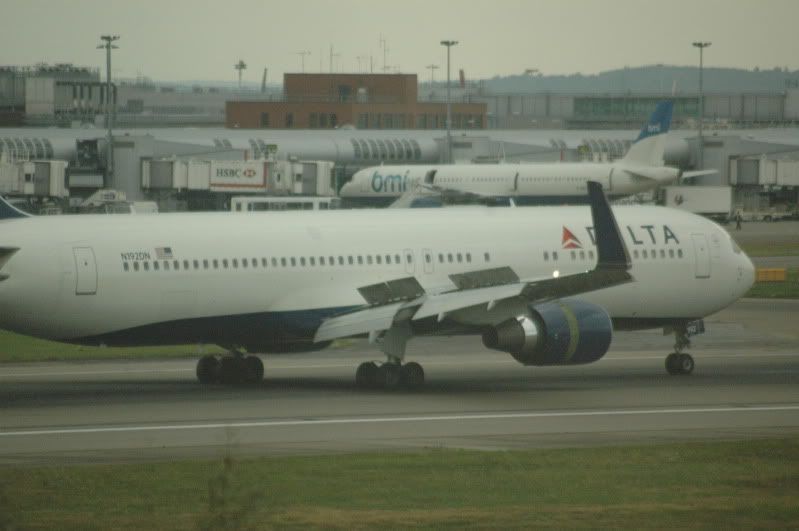 ---
Last edited by DL2SXM; Aug 17, 09 at

6:53 pm
Aug 17, 09, 6:39 am
Join Date: May 2005
Location: PHX
Programs: AA Gold, WN A+ & CP, HH Diamond, Hyatt Platinum, National Executive Elite
Posts: 3,072
Aug 17, 09, 8:52 am
Join Date: Jun 2005
Location: AUS
Programs: AA Exec Platinum/MM, DL Silver/MM, Hilton Diamond, Hertz 5* Gold
Posts: 5,793
The tray table instruction card is a nice idea. I wish they had one on the 777-LR. Did they have any other guides to using the seat or IFE? (On the 777-LR there are USB and other ports but there was no written instructions and none of the FAs had a clue what they were for.)
Aug 17, 09, 9:04 am
FlyerTalk Evangelist
Join Date: Oct 2005
Location: Ponte Vedra Beach, FL
Programs: DL PM, HH Diamond, Fairmont Prem, SPG Gold, Priority Club Plat/IC Amb, AmEx Plat
Posts: 10,839
I love the "Flat Out" picture, DL's ad for the lie-flat seats on the 77Ls while you're flying on a different aircraft with different lie-flat seats. I still think it was a bad decision to have so many different "BusinessElite" seats.
Aug 17, 09, 9:07 am
Original Member
Join Date: May 1998
Location: Atlanta, GA
Programs: DL 3 MM/DM, Starriott Ambassador, National Exec Elite
Posts: 3,846
Aug 17, 09, 9:18 am
FlyerTalk Evangelist
Join Date: Nov 2005
Location: Phoenix, AZ
Programs: American Airlines AAdvantage, Rapids Reward
Posts: 33,927
Aug 17, 09, 9:35 am
Join Date: Jul 2004
Location: Seat 1A
Programs: DL; AA; UA; CO; LHLX; NZ; QR; EK; BA
Posts: 6,632


All 7 of the 764ERs scheduled for reconfiguration to these seats are finally done and all are back in scheduled service - ships 1804 - 1810 (N828MH - N834MH). They will be operating the following routes until the end of August:

JFK-LHR (DL001, DL003)
JFK-VCE (DL186)
JFK-SVO (DL030)
ATL-LHR (DL010)
DTW-LHR (NW782)
Aug 17, 09, 10:38 am
Join Date: Jun 2005
Location: Gone to Carolina in my mind
Programs: AA ExpMM, DL 2MM, IHG Spire/RA
Posts: 1,981
There is always a transition period between seat generations.
I think the long term plan is to have only two wide body Biz-E seats. One type for the 777, and one type for the 767. The 747s will probably end up being sold off (or retired) and the 330s will be converted to either the 777 or 767 type of lie flat seats, depending on which will fit better.
The 767 can't use the same seats as the 777 due to the cabin width difference.
The big question is how many years will it take for DL to upgrade all their widebody aircraft.
Aug 17, 09, 12:40 pm
Join Date: May 2008
Location: Up in the Air
Programs: DL MM; UA MM/1K
Posts: 569
Long Term sub-Fleet Allocation?
---
I understand the LHR allocation where DL is trying to compete in a market where most competitors already offer flat bed in J.
SVO seems a good route to utilize a product that trumps the competition to capture market share or commad higher fares.
But VCE? there are better premium trafic destinations in Europe. I assume it is used during the introduction phase until all the conversions are completed.
Does anybody know on which routes does DL plan to use the 3 aircraft not allocated for LHR?
DLP