Which 777-200LR Delta One Suites seats are best for a couple?
May 20, 19, 10:54 am
Join Date: Jun 2012
Posts: 16
Which 777-200LR Delta One Suites seats are best for a couple?
---
We have an upcoming flight from LAX-PVG on the reconfigured 777-200LR. It will be our first time traveling in the new suites, and I'm not sure if the middle or window seats will offer a better experience. Based on what I've read, the middle seats are very private and don't really foster communication, so the window seats might be better. Would love to hear from others who have flown this configuration.
May 20, 19, 11:09 am
Join Date: Jun 2018
Location: Atlanta
Programs: Skymiles
Posts: 101
Middle seats have a little divider thing that should move so you can see each other. If you're both in window seats then you will each be completely secluded from each other unless you stand up.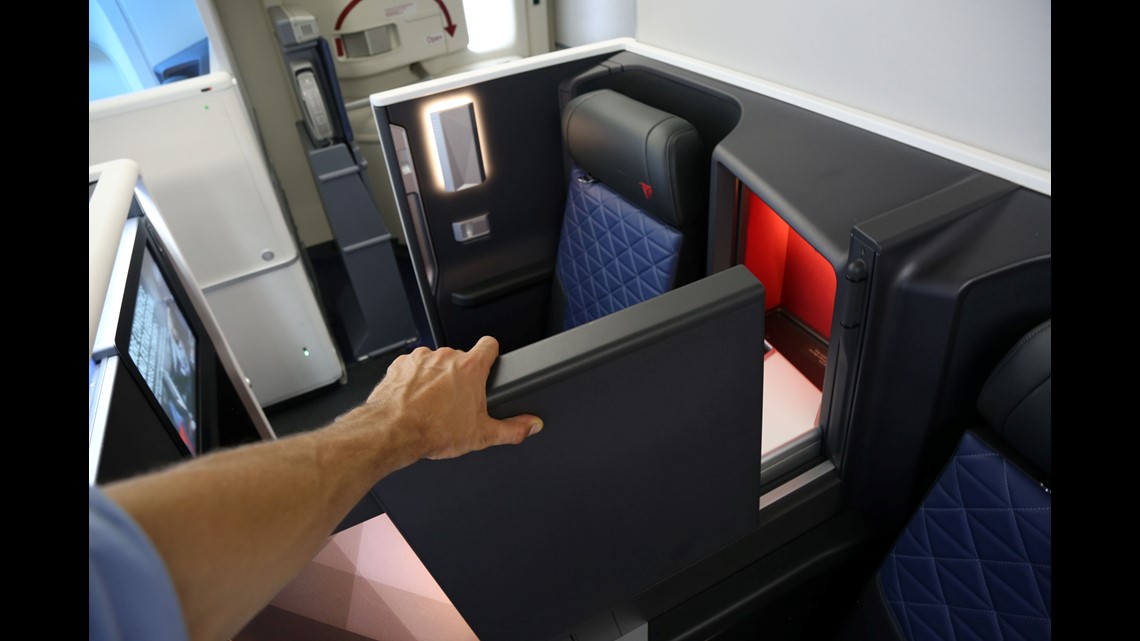 May 20, 19, 11:19 am
Join Date: Jun 2012
Posts: 16
That's helpful, thanks. If we go with the middle seats, are some rows better than others? Currently we're in 2B/2C, which seemed like a good option because it's the farthest away from the noise of the premium economy cabin.
May 20, 19, 11:20 am
FlyerTalk Evangelist
Join Date: Apr 2001
Location: NYC
Posts: 22,790
What exactly do you think goes on in Premium Economy???
May 20, 19, 11:25 am
For me...having a window beats sitting next to my husband which I can do anytime.
May 20, 19, 11:28 am
Join Date: Jul 2009
Programs: DL PM, HH Diamond, Marriott Plat, AA, WP
Posts: 640
Good one!
The old configuration had the middles pointing away from each other which was hard for couples, but the suites seem to face forward at the same angle, so that should be better. And it was okay to talk across the aisle in the old config, but the suites are more private and don't angle the same way as before, so I imagine both window-window and window-aisle will be more difficult now.
May 20, 19, 12:20 pm
Join Date: Feb 2017
Programs: DL DM, UA Gold, Alaska MVP, Bonvoy (lol) Ambassador
Posts: 2,180
May 20, 19, 1:00 pm
Join Date: Jun 2012
Posts: 16
Yes, heaven forbid I have to be remotely close to that squalor!
But in all seriousness, if there's a middle seat row that is better than others, I'd love to hear it.
May 20, 19, 2:47 pm
Join Date: Nov 2013
Location: PHX, SEA
Programs: DL Silver, Avis President's Club, Hertz President's Circle, Global Entry (Former AA Plt/Gold)
Posts: 2,965
May 20, 19, 7:36 pm
Join Date: Dec 2018
Location: The ATL
Programs: Delta DM, Marriott Lifetime Titanium, HHonrs Diamond
Posts: 429
Just flew the 7CB round trip ATL-LAX and the middle seats are virtually all the same.
Window seats get dual air vents. Middle seats each get a single air vent.
Overhead bins are over the middle seats, unlike the A350.
Here is the only choice you need to make:
If you want your little side table on your right (working on laptop with right hand, or writing with right hand), then choose the odd-numbered middle rows. Even number middle rows will have the table on the left for both seats.
Once you choose a pair of middle seats, you will always get one seat that is up against the suite door but has a larger workspace and a little storage bin underneath. The other seat will be further from the suite door, feel a little more distant from the aisle and open when you are lying flat. But no extended desk and no storage bin.
It's a great seat and a great space. We are flying the suites Xmas day and look forward to decorating it with a small strand of LED Xmas lights.
Posting Rules
You may not post new threads
You may not post replies
You may not post attachments
You may not edit your posts
---
HTML code is Off
---