Is It That Time? The Official 2015 Secret Santa Announcement!
Apr 19, 16, 4:10 am - Wikipost
| | | |
| --- | --- | --- |
| Please read: This is a community-maintained wiki post containing the most important information from this thread. You may edit the Wiki once you have been on FT for 90 days and have made 90 posts. | | |
Dec 24, 15, 11:17 am
Join Date: Jan 2012
Location: Mid Atlantic US
Programs: Hilton: Diamond/Everything else: Kettle...
Posts: 107
I've received several text messages from USPS that I have boxes waiting - guessing they're from Secret Santa... Will be able to get them when I get back to DC from Texas. It'll be nice to open some packages on Boxing Day!

Jim
Dec 24, 15, 1:05 pm
Join Date: Apr 2002
Location: Mt. Laurel, NJ USA
Programs: Hyatt Explorist, IHG SPIRE, HHonors Diamond, Kimpton inner circle
Posts: 150
Hi William-I have gotten multiple messages asking whether or not I have shipped my gifts and have responded affirmatively to all of them. I mention this only in case your PM feature is acting up-I can't imagine how much work it is for you to keep up with all of this. Thank you for all you do and Merry Christmas!
Dec 24, 15, 4:09 pm
Join Date: Apr 2014
Location: SEA
Programs: LH, BA
Posts: 59
Secret Santa 2
---
I was back from vacation couple of days back and was finally able to take some pics and update. Apologies for not updating sooner.
From an unknown secret santa from New York, a Constellation mug, couple of nice books (especially the one on the history of automobiles, i am eager to go through it, looks really nice).
Thank you very much
! Happy Holidays!
---
Last edited by vvbkumar; Dec 25, 15 at

1:07 pm
Dec 24, 15, 5:07 pm
Join Date: Jan 2010
Location: YVR
Posts: 1,931
Originally Posted by
miko2a
And I also received my final gift yesterday. I just can't wait to open these! This one was from my secret Santa in PA. I received a beer jigsaw puzzle. Which I can't wait to start. With all the rain we've been getting it sounds like the perfect rainy day activity. Also a Budapest city guide, I'm going next October and some Bath and Body works products. Love everything. Thank you secret Santa.
Also, Thank you Wharvey. Great fun and great gifts this year.
What a cool puzzle! And it could turn into a beers-to-try checklist!
Dec 24, 15, 10:47 pm
Moderator Communications Coordinator, Signatures
Join Date: Apr 2001
Location: deep within the Eskimo lair
Programs: TubWorld, Bar Alliance, Borratxo Legendarium
Posts: 16,921
I had so much fun opening all my gifts. Each was from a different place, and when I opened the card (which I was specifically instructed to open last), it explained where each of the items were acquired during my Santa's work travels.
I got a spiral slicer, because I MUST HAVE ALL THE KITCHEN TOYS!
An oven mitt printed with a New York Transit Map
A tea towel from Nova Scotia
Chocolates from Pennsylvania
Playing cards from Miami
A clip magnet from Energizer HQ in St Louis
an ornament from Frankenmuth, Michigan (the Biggest Christmas Store in the world .. I had no idea!)
and a wine stopper of unnamed origin.
Thanks SS! I loved the gifts, and loved learning their story!
Dec 25, 15, 3:42 am
Moderator: Lufthansa Miles & More, India based airlines, India, External Miles & Points Resources
Join Date: Dec 2002
Location: MUC
Programs: LH SEN**
Posts: 43,765
Originally Posted by
nomadic.relief
Getting excited! Got two more parcels today - one at the door from Indigo (I was actually home to answer it?!) and 90 minutes later got a notice to head to the post office for another one from Amazon!
As mentioned above, I'll be hanging on to them all for Friday morning, but regardless of what's in them, thank you to my Santas - this year simply receiving the parcels counts for a lot.
And a shout out to a Super Secret Santa who saw a previous post of mine and sent a gift without even being a part of the official FTSS this year. That was very touching and I thank you.
The elves tell me one more package is on its way but should reach only next week.
Dec 25, 15, 6:39 am
Join Date: Apr 2011
Location: Australia
Programs: AA, LM, Etihad Guest Gold, Honors Plat, IHG Ambassador, Star Alliance Gold,
Posts: 1,096
Is It That Time? The Official 2015 Secret Santa Announcement!
---
Fantastic to see so many respond with what they've been given. To those of you that haven't please do!! And I hope no one is going without a gift this year as I know from previous years what that feels like.
Dec 25, 15, 9:11 am
Join Date: Jul 2010
Location: CMH
Programs: UA 1K, 1MM, HH Diamond, Marriott Gold
Posts: 740
Singaporean Secret Santa
---
Many thanks to my secret Santa in Singapore! I opened my gifts this morning and really appreciated them all. The nice notes on each gift was a special touch and ironically I have an opportunity to move to Singapore, but my family is not open to it at all. I will have to be content with visiting whenever I can.
The day pack and hammock will get good use, and the Starbucks Via, luggage tag and Changi pin are also great touches. I am ready to go on a trip!
Dec 25, 15, 9:15 am
Join Date: Jul 2010
Location: CMH
Programs: UA 1K, 1MM, HH Diamond, Marriott Gold
Posts: 740
Secret Santa Andersonlutt
---
I opened my gifts from Santa Andersonlutt and love them! I've heard of Death Wish Coffee and now have the opportunity to try it - hope I survive!
Also the KISS flash drive combines both my love for hard rock with IT and you can't go wrong with an iconic band like KISS!
Many thanks!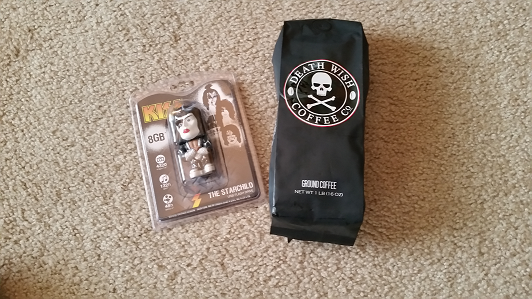 Dec 25, 15, 12:16 pm
Join Date: Sep 2009
Location: Durham, NC USA
Programs: AA EXP and 1MM, UA 1K, HH Lifetime Diamond
Posts: 424
Received 2 boxes See's chocolate, two special dark chocolate bars (one sea salt the other orange), a Poket Monkey multi tool (flat so excellent for travel), gadget for my ear buds to wind around (also fantastic for travel - mine are always getting tangled), a Washington State credit card sized mini flashlight, and a fantastic book "The Best Place to Be Today" with great travel ideas.
Thank you very much to my anonymous Secret Santa. I appreciate the thought and effort of your gift. See's chocolates are legendary. ALl the travel items will be with me on many trips.
Merry Christmas to all.
http://www.flyertalk.com/forum/membe...766-image.html
Dec 25, 15, 12:30 pm
Join Date: Sep 2009
Location: Durham, NC USA
Programs: AA EXP and 1MM, UA 1K, HH Lifetime Diamond
Posts: 424
Another anonymous Secret Santa sent me a solar charger which will come in handy, especially when we go hiking. Also sent an amazing cookbook of Spanish Cuisine by Mario Batali which he/she says is on of their favorites.
My Secret Santa obviously knows my home town (Durham NC) as he recommended a Spanish restaurant here and suggested that it was up to real Spanish standards. The ironic thing is that I can (and do) walk to this restaurant from my office when I am in town. I travel to Spain (Madrid and Barcelona mostly) at least three times a year and am a fan of the food. This gives me the chance to try to recreate the magic of good Spanish cuisine.
My SS also suggested one of the recipes from the book and provided suggestions for where to acquire ingredients.
A special thanks to my SS. If you are from this area and are interested, would be happy to meet at Mateo's for some tapas.
Thanks again to all my Secret Santas.
---
Last edited by DevilDawg1960; Jan 3, 16 at

11:53 am
Dec 25, 15, 1:01 pm
Join Date: May 2011
Location: CWL
Programs: BA Blue, Hilton Gold
Posts: 290
Thank you to my 2 Santa's.

From my first, I am now learning Arabic while enjoying a selection of real ales.

From my second santa, I have a collection of crime novels and some real ale to top me up with!

There may be quite a drunk man, mauling the Arabic language, and driven to crime when it all goes horribly wrong.

You have both made great choices for me, and I will update with pics when I have sorted a Web hosting service.

Also, thanks to wharvey for his efforts in organising secret santa, I now realise the scale of effort required and it is no small undertaking. Once again, thanks to all, and a healthy and prosperous 2016 to you all!