R.I.P Jim, magic111, my dear friend
Feb 24, 12, 1:20 am
Join Date: Sep 2010
Location: Los Altos, CA
Programs: AA EXP 2MM, Delta Platinum Medallion,AMEX Plat,Hyatt GP Platinum, Hilton HHonors Gold, SPG Gold
Posts: 95
Very sad - deepest condolences to his family and loved ones. I can only hope to have touched so many lives as magic111, may you rest in peace.
Feb 24, 12, 6:22 am
Join Date: Aug 2002
Location: Sydney, NSW, Australia 33% of the Year
Programs: QC Life, QFF Plat No 0010XXX, AA Ex Plat 2 MM, Sinbad Blue, HHonors Dia., Marriott Titanium, IHG RA
Posts: 407
This news is so sad. He was always warm and helpful. It was great to meet Jim at a number of the Ozfest's in recent years. Have run into him in San Francisco and dined in Chicago in recent times. I haven't met his family - must be a tough time for his loved ones.
Too young to be taken from us.
A very nice man.
Feb 24, 12, 12:14 pm
Join Date: Sep 2002
Location: Heading to Costco for more popcorn...
Programs: UA 1K 2MM Flier, SPG Plt, Hilton Dia
Posts: 8,447
My deepest condolences to Jerrie and the rest of the family. Like others I've seen Jim & Jerrie at many DOs, but the one that sticks out in my mind the most was Bali Do 2006. Jim was such a generous contributor here at FT and his presence (both on board and at DOs) will be missed by many.
Feb 24, 12, 12:57 pm
Moderator Hilton Honors, Travel News, West, The Suggestion Box, Smoking Lounge & DiningBuzz
Join Date: Jun 2000
Programs: AS MVP Gold, Honors Diamond, Hertz Presidents Circle, National Exec Elite
Posts: 34,338
Feb 24, 12, 2:46 pm
FlyerTalk Evangelist
Join Date: Mar 2001
Location: Fort Worth TX
Programs: Earned status with AA, DL, SPG, HH, Hyatt, Marriott, Seabourn, NCL, National, Hertz...I miss my bed!
Posts: 10,924
Wow... very sad news. Jim really was an amazing guy - passionate about so much and it showed, especially here on FlyerTalk.

My condolences go out to Jerrie and I know he's flying first class on that 777 in the sky.
Feb 24, 12, 7:45 pm
A FlyerTalk Posting Legend
Join Date: Dec 2000
Location: Potomac Falls, VA
Programs: AA Plat 2MM, MR Gold, Avis Pref
Posts: 41,108
I did not know him but may he RIP & condolences to his family

I hope that FT made his life better and his travels helped him have 64 wonderful years
Feb 25, 12, 8:11 am
Join Date: Nov 2000
Location: New York USA
Posts: 2,933
How nice that Flyertalk was mentioned in his obituary
Jim and Jerrie were among the FTers I met at one of my first Dos. I remember speaking to Jerrie more than Jim, but they were a lovely couple and my prayers are with her and their family at this very sad time.
Feb 25, 12, 9:47 am
Join Date: Apr 1999
Location: SFO
Programs: UA Million Miler (mostly earned on CO)
Posts: 2,598
So sad to hear this news
---
RIP, Jim, and condolences, Jerrie. I have very fond memories of attending my first (and probably last) bullfight with Jim in Valencia in 2003, during the Las Fallas festival.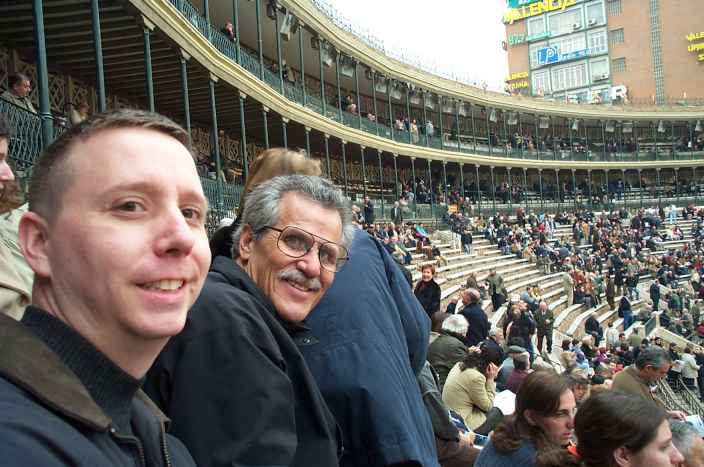 Feb 25, 12, 10:29 pm
Community Director
Join Date: Oct 2000
Location: Anywhere warm
Posts: 30,238
Several FlyerTalkers attended Jim's remembrance service today. The family asked me to post their appreciation for this thread and the one in the AA forum. His children began reading the threads yesterday, and were moved by how much Jim meant to people here. Yes, they had heard about FlyerTalk, yes, they knew that Jim traveled a considerable amount, but it was thru reading these posts that they realized how much he meant to us. It really expanded their understanding of their father.
Feb 26, 12, 10:43 am
Moderator: Hilton Honors, Practical Travel Safety Issues & San Francisco
Join Date: Jan 2001
Location: San Francisco CA
Programs: UA, Hilton, Starwood, Priceline
Posts: 10,688
It was a beautiful day for Jim's service.
---
The weather cooperated for us to send Jim off to that big soccer game in the sky. Jerrie's daughter and son had created lovely photo posters of Jim in his travels, including places I'd never even heard of. There was his and Jerrie's wedding picture, pictures of his children and grandchildren, and photos of him with several FT'ers who were present for the wake. We brought greetings form those FT'ers who couldn't make it, including Dhammer53, who was attending his mother's 90th Birthday. I know Jerrie and the family so appreciated everyone's support.

There were friends from all his big walks of life - fellow travelers, soccer friends, extended family, and neighborhood buddies. His daughter- in-law (who recounted the story of how he showed up on her doorstep unannounced to see his 3-week-old grandchild) read a lovely note from his niece who could not be there. As a teenager, she had an amazing trip to Europe with Jim carrying only one suitcase that had to fit in the cabin and that she had to carry herself.

Jim's son (Diego?) spoke very movingly of Jim's early challenges with his sons and how Diego now hoped he would be as good a man as Jim was.

JDiver, SanDiego1K and myself all spoke briefly, remembering a gentle, opinionated, life-living, smart man who we all loved and will miss.

The ultimate FT tribute - which I found so much a part of who Jim was - the flowers that JDiver arranged to send were through AA's shopping portal and earned a few miles.

I for one hope to be a better person for knowing Jim.
Feb 26, 12, 11:18 am
A FlyerTalk Posting Legend and Moderator: Air Canada Aeroplan, Canada & Manufactured Spending
Join Date: May 2002
Location: YEG
Posts: 52,087