Plastic replacement for metal cards - do both still work?
Mar 24, 17, 3:56 pm
Plastic replacement for metal cards - do both still work?
---
I requested a plastic card from an agent for upcoming travel to a place that is known to want imprints in addition to swipes... They had to look up how to even submit the request, so I assumed they wouldn't know the answer to whether the metal version will still work. Number, exp, and cvv are all the same so I assume it's literally a clone (perhaps the chip is different?)
Mar 25, 17, 7:13 am
Mar 25, 17, 9:42 am
FlyerTalk Evangelist
Join Date: Jan 2005
Location: home = LAX
Posts: 25,072
Does plastic guarantee imprints (sufficiently raised characters) at Chase?
It certainly doesn't a Ctii. Citi makes plastic cards aplenty without raised characters at all.
And even Chase doesn't do "real" raised characters on
all
of its plastic cards. I have a Chase Freedom which has conventional raised characters which will work with all imprint machines. Same with my IHG card from Chase. But then I have Marriott Rewards card from Chase which has the number just barely barely raised, to a degree that wouldn't work most imprint machines I would think. And yet all of these are plastic cards!
So I'm not sure that I agree your apparent assumption that just because it's a plastic card means that it will work with imprint machines.
Mar 25, 17, 1:05 pm
Join Date: Jan 2003
Posts: 3,228
Chase CSR plastic has the regular imprint. I don't know if it still works since we have not used it since we got the metal replacement. I did a PC on my CSP to Chase Freedom Unlimited. And the metal CSP cards still work even after I got my plastic CFU cards. They the same numbers but different 3 digit code and different exp date but the metal one still work a month after.

Even with the imprint machine, they don't have to actually imprint the card to process it. It is just an easy way to get the info off the card without writing it down. We used to do credit card that way 20 years ago and once in a while the number won't show at all, writing it down is just fine for the bank.
Mar 27, 17, 12:29 pm
Join Date: Aug 2008
Location: Somewhere in Florida
Posts: 2,114
@
sdsearch
: The plastic CSR is identical to the Freedom cards in terms of physical layout & raised numbers. The branding matches the metal card, but all of the information is on the front like a traditional card, even with the ISO-style embossed card #.
My initial CSR card was the plastic embossed one, with the metal CSR card arriving a couple of months later. Same #, same CCV2 #, same expiration date. Both still work beautifully. I do tend to take the plastic one with me instead of the metal one when traveling abroad.
When you get further off the beaten path, some merchants still use the knuckle-busters AND the imprint is the extent of their fraud prevention techniques. I'm assuming their merchant processor requires the imprint as proof of having the card present, as these areas don't have on-line terminals. Similarly, these people don't see a lot of American tourists and are often reluctant to accept unusual-looking credit cards, fearing that they're fake.
Here's a pic of a plastic CSR: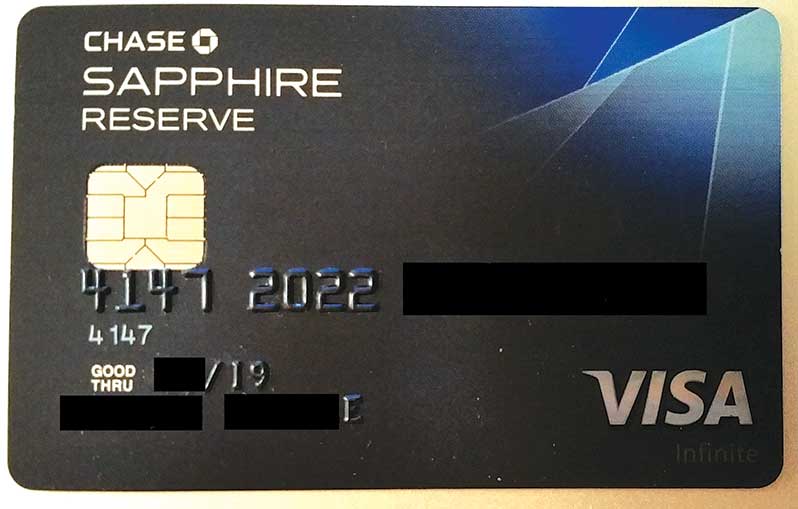 ---
Last edited by KRSW; Mar 27, 17 at

10:23 pm

Reason: Added photo.
Mar 28, 17, 9:49 am
Join Date: Aug 2011
Location: West Central Illinois
Programs: DL,BA,Marriott
Posts: 98
Mar 28, 17, 12:59 pm
As shown above, my CSP is the same format. Traditional layout and all, with full branding (that interestingly actually matches the color Chase shows for the CSP, unlike the metal version).
I am aware of the Citi new design plastic cards that simply have printed number, which these are not like.
its a few places in Europe where I have anecdotal evidence of them not taking non-embossed cards.
While I'm sure in certain situations you can argue that it is a valid card and MasterCard/Visa agreements dictate they should still accept the cards, foreign language/cultural barriers would probably not be your friend. Better safe than sorry and frankly, it's not the end of the world to be carrying the plastic one all the time.
Mar 28, 17, 1:39 pm
Join Date: Jan 2003
Posts: 3,228
I just realized that the metal card also have imprint numbers. They are just smaller and not raise as high and not in the front of the card.
I wonder if anyone tried to have the merchant run the imprint machine with the turn turned over?
Mar 29, 17, 12:41 am
Join Date: Aug 2008
Location: Somewhere in Florida
Posts: 2,114
Mar 29, 17, 3:10 am
Join Date: May 2013
Posts: 367
Mar 29, 17, 9:46 am
Join Date: Jan 2003
Posts: 3,228