Long haul in-flight catering 2023 | First
Jan 22, 23, 3:30 pm
Join Date: Aug 2017
Posts: 651
Me too. I've also gone from being a big champagne drinker (where I could easily have 6-7 glasses on a flight to LAX) to struggling to even get through the welcome drink without it going straight to my head! Incredible how your body changes as you get older. Strictly G&T's on a flight for me now.
I'm flying F to ORD in March, 10.30am I think. Would we be served a full English as the first meal? Would seem odd to get breakfast at around midday. Not sure I'd want it either!
Jan 23, 23, 2:28 am
Join Date: Feb 2020
Location: UK
Posts: 55
Flew back from LAX last Friday and honestly I thought the food offering was awful. Maybe I got unlucky. The King Prawns hadn't been loaded I presume (I was In 1K) or only 1 had, so went for the salmon. I couldn't finish it, the rice was like a rock, the wasabi cream was sickly sweet and the salmon just tasted like an ash tray. Had the Rib-Eye after, which was a novel combination of grease and rubber. Genuinely the worst meal I've had on a plane in a long time. CW food on the way out was far better.

Appetisers at the start weren't bad tho.

But as an F offering the food and drink were just bad, no other way to put it. They really need to up the wine game too... LPGS is good but the rest is just crap- a fun game is to Vivino the wine list, I can almost guarantee nothing will be a) over £20 a bottle and b) over a 3.9 rating. Not really acceptable for F.

Flying to NY early next month in F so hopefully that will be better, but have now booked Cathay to HND in April to try that out now its up and running in F again... for context, their featured red at the moment is a 2000 Lynch Bages which retails around £150.


Anyway- rant over...and if anyone is travelling from LAX with that menu shortly- QF F lounge is a must to eat and drink prior!
---
Last edited by enemigo; Jan 23, 23 at

4:19 am
Jan 23, 23, 4:14 am
Join Date: Sep 2019
Location: LDN / NY
Programs: BA GGL, Marriott Amb, Hyatt Glob
Posts: 474
JFK > LHR BA182 Jan 20
Seems the previous poster and I had the same menu. Whilst I agree that none of it was exceptional for F; for BA F it for me was better than usual. Though I did skip dessert and breakfast because this crew I believe were mixed - it took almost 2hours from takeoff to finish my main so had lost my appetite.
Smoked Salmon Poke Tartare. I rather enjoyed this, at first I did think however it was the caviar salmon dish, sadly not. The wasabi cream I though was very good - for me the best starter I've had on BA in a while.
Chargrilled rib-eye steak. Having tried the other mains before I thought I'd take the gamble on BA beef. Whilst the corn and sides felt and looked random as well as quite lacking all of it was ok. Beef a tiny bit over for me, but still tender and easy to cut. If I could go back I'd probably still order this out of the options as the cod is too strong in flavour for a red eye and the chicken just too simple for me.
Jan 23, 23, 4:18 am
Join Date: Feb 2020
Location: UK
Posts: 55
Jan 23, 23, 3:16 pm
Join Date: Nov 2017
Posts: 2,357
Jan 23, 23, 3:32 pm
Join Date: Jul 2017
Programs: Mucci Chevalier des Internautes Amables; BAEC
Posts: 860
Jan 23, 23, 3:45 pm
Join Date: Nov 2017
Posts: 2,357
Jan 24, 23, 1:42 am
Join Date: Aug 2017
Posts: 651
Jan 24, 23, 4:00 am
Join Date: Oct 2014
Programs: BA GGL
Posts: 483
Haven't done the 0825 JFK BA117 departure in F before. Have to say I was pleasantly surprised, as the CW offering on that flight is pretty average in my experience.
The lemon and raspberry meringue was the highlight, so good that I didn't take a photo of it.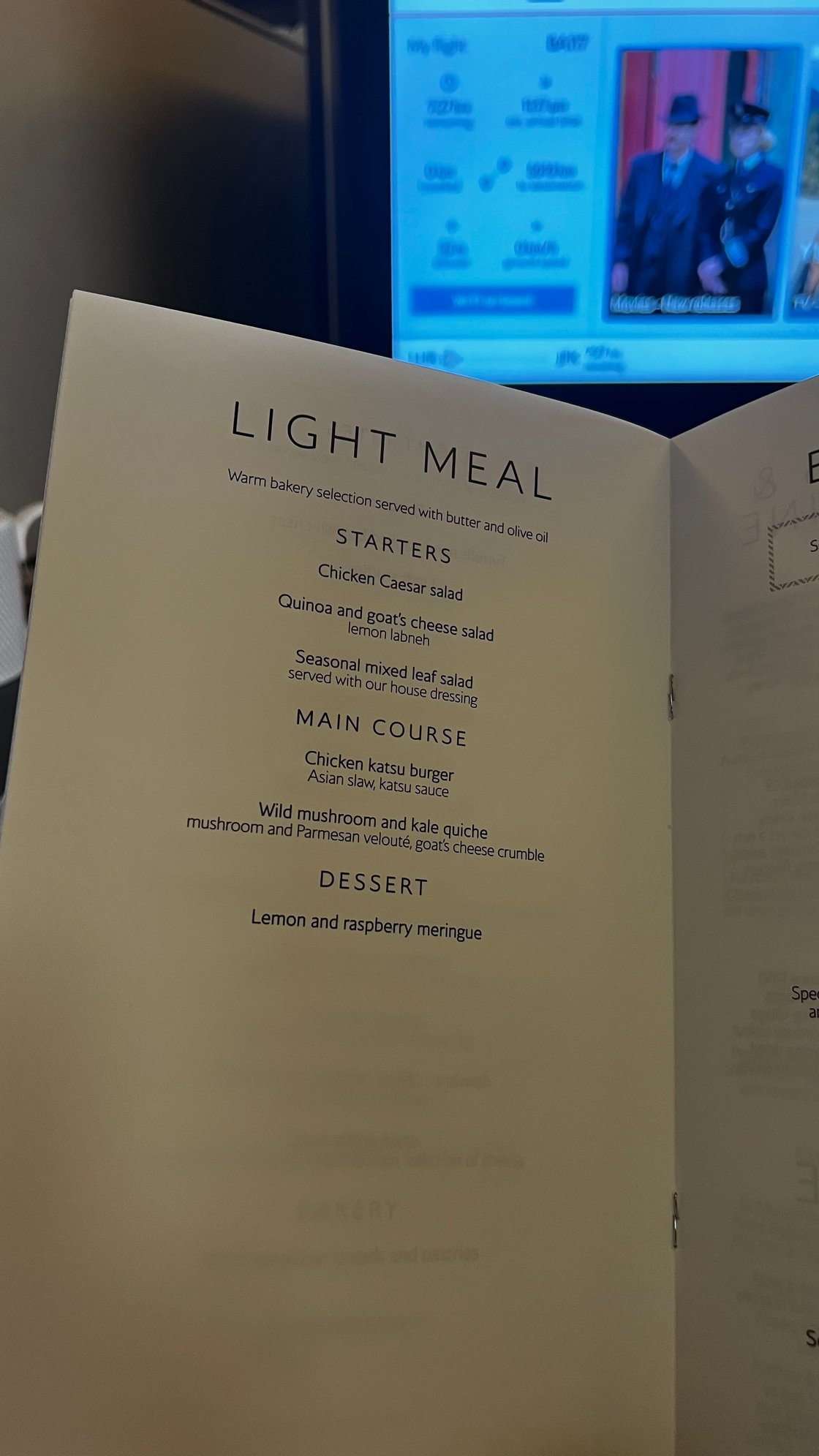 My breakfast was a hybrid of the omlette and chosen bits from the full English breakfast.
The katsu burger is on as a light meal on later TATLs too, and I'd recommend it if you see it. A burger done well on a plane is a treat.
Doing Washington DC - LHR in F in a few days. Will do a review of that one.
Jan 26, 23, 5:13 pm
Join Date: Oct 2019
Posts: 37
We are flying from LHR to LAX, in couple of weeks on the 3:45pm flight - I am unable to pre-select a meal or see option as when flying CW. This is my first time flying F so not sure if may pre-selection isn't available in F unless an dietary specific meal and just hope they load enough food. I have left an enquiry with You first on sunday after reading on here but have still not got a response and tried to call but just rang for 20mins so gave up.

Anyone done this route or similar recently, what would be on the menu? Like to know so do (under or) over indulge in the lounge before (not that the current CCR menu has too many options!)

I am in 2k on the A380 incase they don't load much food which i have seen has been the case on this route in the 2022 page, will the crew be taking orders from row1 even if the galley is behind?