Trip Report ATH-LHR-ATH CE
Mar 20, 17, 6:39 am
Join Date: Jan 2016
Posts: 2,000
Trip Report ATH-LHR-ATH CE
---
Hello guys, just got back from my London weekend trip flying with British Airways from ATH-LHR-ATH in Club Europe!

All in all it was an enjoyable experience.

Let's start with Athens. When check in opened 24 hours before departure, it was trying to force me seats towards the back, thanks to theoretical seating. This is really bad for non-status passengers as it was forcing on me row 7A, which, for this flight was the farthest back for Business Class! It was showing nothing else available, so I just went to the airport and asked when dropping my bag if anything else was available, and i bagged row 1A, so that was a welcome relief before boarding.

The lounge in Athens is more than a joke, the food consists of lousy sandwiches, so I tried a few without finishing them off and just having some juices and hot chocolate to pass the time before boarding.

At the business lounge, the flight was called (I like this feature as it means you dont have to look at the screen all the time, although for obvious reasons in LHR this would be not practical due to the sheer volume of flights) and the second I got to the gate I just boarded the plane!

Once on board in 1A, I was amazed how much legroom there is compared to the rest of the plane, including other business class seats. Thank god I got this seat.

Sitting waiting for the plane, I noticed that there were no drinks offered prior to take off, even water. Is this normal these days? I didn't mind as I had many beverages before boarding.

After take off, the meal service started. The last time I did CE about 5 years ago, they were giving out a pre meal which was a cereal sort of thing, which I didn't like at all. So I believe, this 'enhancement' of now only just giving the main breakfast is actually an enhancement. When they served me first they gave me a nice full English Breakfast. The very cheerful flight attendant Chrissie asked me what I would like to drink and I said champagne, orange juice and sparkling water (a nice start to the morning I see as Chrissie told me). There were 2 crew members at the front, Chrissie and the Purser whose name I didn't remember, as she as very quiet and barely showed her face the whole flight! All my interactions on board were with Chrissie!

When Chrissie passed by around 10 minutes later she proactively offered me another bottle of champagne, which was much appreciated, really good service on her part!

After the meal, I just sat and enjoyed the views of the alps, which is why I always like sitting on the A seat in the row for this specific flight. If you look closely at my picture, you can see Monte Rosa, the Matterhorn and Mont Blanc on this beautifully clear day!

The descent into Heathrow was eventless with the usual 2 laps of holding before landing into Heathrow taking about 10-15 mins. Once I landed there we went straight to the B gates so I took the walk on the pathway back to passport control. There was no line, but the automatic gates did not accept my passport for some reason so went to the manual guy!

Of course, by the time i got to baggage reclaim, my bag was already waiting for me, which proved my theory that you might as well just check in your bag! (unless you have 1000000 cash in it of course).

So, all in all a very decent flight with very good service from Chrissie!
---
Last edited by ahmetdouas; Mar 20, 17 at

7:02 am
Mar 20, 17, 6:44 am
Join Date: Jul 2010
Location: Betwixt SEA and LHR
Programs: BAEC GGL/CCR, AS Gold MVP, IC RA, IHG Spire Elite, HH Diamond, Dennis The Menace Fan Club
Posts: 1,259
Settling in with the popcorn... those feet-on-bulkhead pics are going to be a trigger!
Mar 20, 17, 6:47 am
Join Date: Feb 2006
Location: London
Programs: OneWorld Emerald (BA) & Sapphire (QR), Star Alliance Gold (O6), SkyTeam Elite Plus (AZ)
Posts: 2,041
Yes, this is normal in CLub Europe (and most other European business classes, LX/A3/TK offer something though)
Has the fruit plate been enhanced from the Band 4 breakfast? It looks like a rather small breakfast. This was my LGW-SKG breakfast for 18 months ago: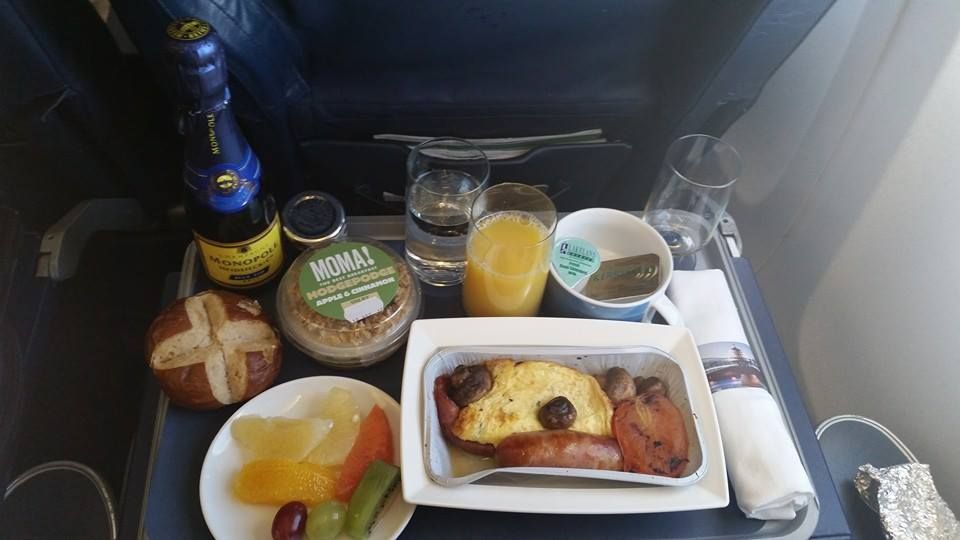 Mar 20, 17, 6:53 am
Join Date: Jun 2008
Programs: TK*G (E+), AA OWE (EXP), IHG Plat, SPG Gold
Posts: 5,657
Mar 20, 17, 6:59 am
Join Date: Jan 2016
Posts: 2,000
On to the return LHR-ATH, more of the same. Checking in was a bit of a hassle, the gate agent said I needed a visa to go to Greece with a British Passport. She called the helpline and manually overrode the problem. I chose 8A on the check in and I checked with the agent if anything better was available, but she said it's completely full only 8D was available. So no 1A this time!

I went early to T5 as I had some shopping to do at the terminal, then headed over to T5B. It was very nicely quiet, and because I was running around London all day, I welcomed the opportunity to have a shower. To be honest, I felt the showers could be better constructed, the flooring looks very cheap. Other than that, the size of the room and the equipment itself is decent.


Back to the lounge, it was around 5pm, so no hot food, so just had a few tomato juices, etc, but enjoyed the quietness of this lounge! Unfortunately, the lounge agent told me that it was looking like my gate was A13, so had to head back to the A terminal using the walkway!

Back to T5A, i headed to the very busy Galleries South. The same style, went to the hot food area. While I must say the spirits selection in the lounge is Top Notch with all the premium spirits and decent wines, the hot food is really a let down. Baked beans, very stale rice with no taste at all. The curry wasn't too bad, but the spicy beef could be done better! If it was me, I would just introduce a few more Pasta dishes that really wouldn't cost BA more money.

I asked the waiter to give me some champagne, which they happily obliged.

One thing I noticed, and also on the flight ATH-LHR is that the champagne is served fairly warm. Is this normal? I like my champagne ice cold, maybe I am wrong! So had 2 glasses of champagne and several coca colas, cheeses, etc, before I headed over to A13 and once again boarded immediately after getting to the gate.

Back on board, we sat and waited as all the Economy passengers boarded. Upon take off, there was an initial drink service. The Purser on this flight was much more proactive with the passengers than the last one, a very nice man called Simon. He memorised everyone's last name and did very well to serve the passengers and keep them happy, proactively offering everyone whatever they wanted. Another good touch was the paper menu handed out, which gave 2 meal choices. I went for my first choice, the salmon. I was worried sitting at the very back my choice would be finished, but even so the pork of my neighbour looked pretty good, so I wouldn't have been too annoyed.

The only let down here was the red wine selection, the wine was the same Chilean stuff they used to service in ET last year before BOB! It was the only one they offered me, the neighbor had 2 choices of white wine.


So all in all, decent flights from CE! I would not pay a huge premium to fly CE, but for European Standards BA CE is a decent product from my experience, and most likely better than A3!

So BA in Business Class, A3 in Economy!
Mar 20, 17, 7:00 am
Join Date: Jan 2016
Posts: 2,000
Yes no fruit plate. To be honest, I found the breakfast adequate.
Mar 20, 17, 9:13 am
Join Date: Feb 2013
Location: London, Centre of the BA Universe
Programs: BA Gold, Alitalia Freccia Alata Plus, *A Gold (Avianca Brazil)
Posts: 5,677
Now I know who's been putting great big footprints all over BA's A320 bulkheads.
Mar 20, 17, 9:29 am
Suspended
Join Date: Aug 2006
Location: Argentina
Programs: 00.05% towards Lifetime Gold.
Posts: 35,967
Mar 20, 17, 10:54 am
Join Date: Mar 2009
Location: JAX
Programs: Former BA/AA/CP/LY employee, BA Blue, IHG Platinum, Hilton Diamond
Posts: 2,229
Mar 20, 17, 11:59 am
Join Date: Jan 2016
Posts: 2,000
Guys relax I only put my feet on the bulkhead to show the legroom on my 190 m frame! I wasn't like that the whole flight !
Mar 20, 17, 12:22 pm
Mar 20, 17, 12:40 pm
Suspended
Join Date: Aug 2006
Location: Argentina
Programs: 00.05% towards Lifetime Gold.
Posts: 35,967
Mar 20, 17, 1:05 pm
Join Date: May 2003
Location: ATH
Programs: OZ Gold, BA Gold, SPG Gold
Posts: 3,615
Since the BA lounge closed in ATH, the lounge situation has been rather grim. I feel each time I fly CE to/from ATH, the in-flight experience has been getting worse. My biggest complaint has been with Flight 632 - the 767 flight to Athens. Every single time I've taken this flight lately, status and CE passengers get held up at the gate, while they board passengers who agree to check their luggage, due to fears they'll run out of overhead bin space. Seems like something that could be taken care of at the check in counter rather than at the gate.
Mar 20, 17, 1:08 pm
Join Date: Jan 2016
Posts: 2,000
Mar 20, 17, 1:26 pm
Join Date: Jan 2012
Location: London
Programs: BA Bronze
Posts: 1,030
Posting Rules
You may not post new threads
You may not post replies
You may not post attachments
You may not edit your posts
---
HTML code is Off
---