How to: Booking a Bus Between Santiago, Chile <-> Mendoza, Argentina
Jan 21, 16, 1:03 pm
Join Date: Jun 2011
Location: CHS
Programs: DL Diamond, WN A-List, Marriott Platinum Elite, Hyatt Globalist
Posts: 643
How to: Booking a Bus Between Santiago, Chile <-> Mendoza, Argentina
---
I'm not sure of the best place to drop this, but I figured since I spent the time to do the research and type it up, I might as well share in case others can benefit from it.
I hope that some find it useful!

How to: Booking a Bus Between Santiago, Chile <-> Mendoza, Argentina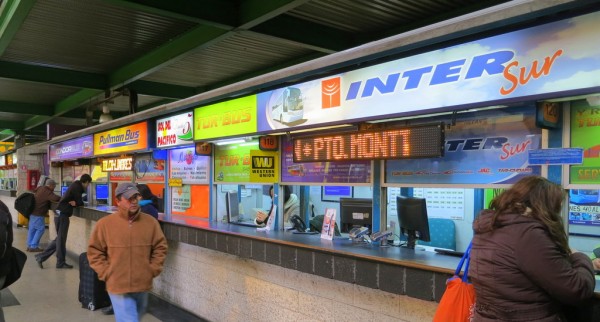 When we were planning our trip to South America, we had settled on going to Santiago, Mendoza and Buenos Aires but had to sort out how to get from A –> B –> C. After reading a few trip reports and seeing
a few photo galleries
from the bus ride over the Andes, our mind was made up.
Bus vs. Plane
If the breathtaking pictures aren't enough....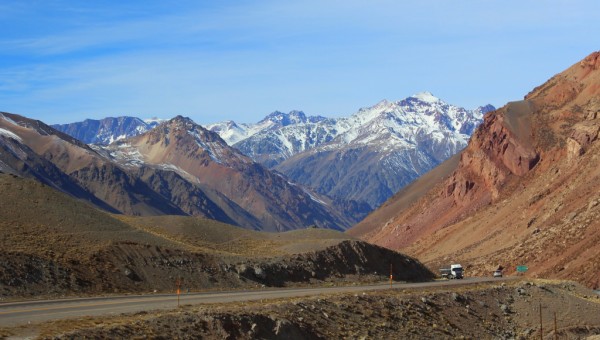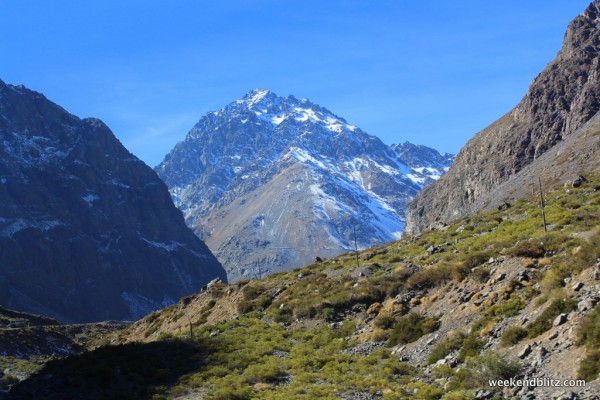 ....Also consider that a bus ticket will only set you back $40-50 vs a few hundred if you decide to fly: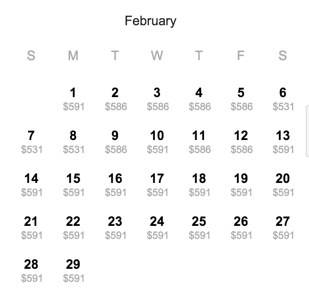 Cost of a 1-way plane ticket from SCL to MDZ. Yes, that is $ US!
Book Online vs In Person
My recommendation is to do your research online before arriving in Santiago or Mendoza and then go to the bus station to buy your ticket. A few reasons for this:
Just about all of the online booking websites are in Spanish; this could pose problems depending upon your knowledge of the language.
How can you know the online booking agency is reputable?
How can you know that the bus company you purchase your ticket from is reputable or safe?
Will the bus company actually be making the trip on the travel date you purchased? We had heard from my sister that the roads across the Andes had been closed for a few days. Some of her friends were in Santiago trying to go to Mendoza and had to stay in Santiago for a few days waiting for the roads to be cleared of snow. Some bus companies might make the trip where others won't.
The best site for researching dates, times, prices and companies:
Central de Pasajes
. I would also cross reference everything at Andesmar's website:
Andesmar.com
A quick sample search will reveal the 4 companies that are bookable on this site for the route (note that CATA doesn't appear on Andesmar.com, just Central de Pasajes):
CATA – 4x daily
El Rapido Internacional – 2x daily
Coitram – 2x daily
Andesmar – 3x daily
This site will also show you the classes of service and seat map so you can check how full a particular bus is. Here's a sample booking on the Andesmar website.

And the seat selection map– you'll want to take note of this because just about all of the buses have 2 levels and you'll probably want to book a class of service that allows for the better view on the upper floor: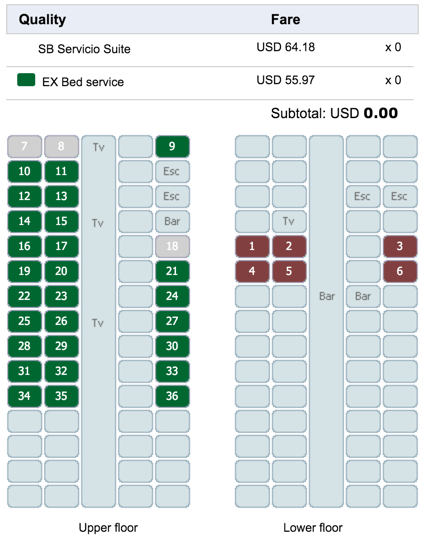 On an Andesmar bus, the nicer cabin with "suites" is on the lower level- not the best for sightseeing
Classes of Service for Argentina Buses
Andesmar
CATA
El Rapido Internacional
Coitram
Here's a fantastic description of the classes of bus service in Argentina/Chile from
Omnilineas
:
Comfort classes

Bus services in Argentina are available in a variety of comfort classes, each with its distinct characteristics. The classification is prescribed by law (Decreto 2407/2002 Annexo II) in an attempt to improve the comparability of the services. Every service is assigned by the bus company to one of five comfort classes and has to comply with the minimum requirements of this class. Below we present a summary of the available classes to give you an impression of the respective levels of comfort.

For quick and easy reference we have introduced a numbering of the categories and assigned the number one to the best comfort level ("first class"), while the most basic service is number five.

Class 5: Común

This is the lowest category with no additional requirements other than the basic technical standards for bus transportation.

Class 4: Común con aire

As the main difference to the lowest class, services in the "comun con aire" category offer air conditioning, i.e. the buses are equipped with a heating and cooling system. Also the number of passengers is limited to the number of seats (no transport of standing passengers). Normally there are individual seats with soft cushioning, although this is not required by law for this category.

Class 3: Semicama

Services of this class offer better seating comfort. The buses are equipped with rows of individual seats (4 seats per row), with soft cushioning, arm and foot rests, and reclining back rests. There are also rests to support your legs when the seat is in a reclined position. The service either includes catering of food and drinks or a minibar with self-service where you can get juices, coffee and tea. An air conditioning system with individually adjustable air flow for every seat is mandatory. The following dimensions are minimal requirements for a semicama service:


distance between armrests: 45 cm
distance between seats: 75 cm
maximum reclining angle: 40 degrees
depth of the seats: 45 cm
width of armrests: 4 cm


All semicama buses are also equipped with a toilet compartment with certain minimum dimensions.
After all, the comfort level of the semicama class is thus slightly better or about equal to typical bus services in Europe and North America, and similar to the economy class on a flight.

Class 2: Cama-Ejecutivo

This class offers even better seating comfort, and because of the larger seats there are only three seats per row. Consequently every row has a single seat on one side and two adjacent seats on the other side of the aisle. A cama service has to comply with the following minimum requirements for the seats:


distance between armrests: 50 cm
distance between seats: 86 cm
maximum reclining angle: 55 degrees
depth of the seats: 46 cm
width of armrests: 6 cm


Needless to say that the larger seats and wider reclining angle are favorable for sleeping on a night bus. The cama-ejecutivo class has the same requirements as the semicama class with respect to air conditioning, toilet department, and minibar or catering. In addition there is normally also an audio and video system installed for your entertainment.

Class 1: Cama Suite

The only additional requirement for this class as compared to the cama-ejecutivo class is that the maximum reclining angle must be at least 85 degrees. In practice this means that the seat can be reclined until it is completely flat and you will really have a bed (spanish: "cama") to sleep in. Normally there is some sort of separation between your seat and the one in front and behind in order to preserve your privacy.
Where to buy a bus ticket in Santiago, Chile
Like I mentioned, we had heard from my sister that the roads across the Andes had been closed for a few days just prior to our trip. As a result, we opted to not purchase our tickets online in advance and instead went to the bus station to A) find it ahead of time to make our lives easier when we'd show up later with lots of luggage and in more of a time crunch and B) to get first hand info from the bus companies about a road condition update.
Finding the bus station, it turned out, was exceedingly difficult– and for no apparent reason. We were working with just a map of the downtown area and in no place could we find a symbol or even hint of a bus or bus station. Contrary to my travel style, we broke down and asked someone where to find the "bus station for buses to Mendoza;" they seemed highly confident in their answer and drew precise directions on our map. This bus station, however was a very small one and for only one company. They did, in fact, have a few daily departures to Mendoza but the buses at the station looked small and not as nice. It also didn't help that, in all of my online research prior to our trip, I had not once come across the name of this company. The internet was so slow, but, when I finally was able to useÂ.Google, IÂ.learned that there are 4 bus stations in Santiago, the largest being Terminal de Santiago with the majority of international departures. We asked for directions to Terminal de Santiago and were told to take the red line subway to Universidad de Santiago.
We followed the signs out of the subway to the buses and found a huge plaza of buses for "Pullman." After scouring the area, I couldn't find any of the bus companies I hoped to find like "Andesmar," "Cata International," or "Coitram."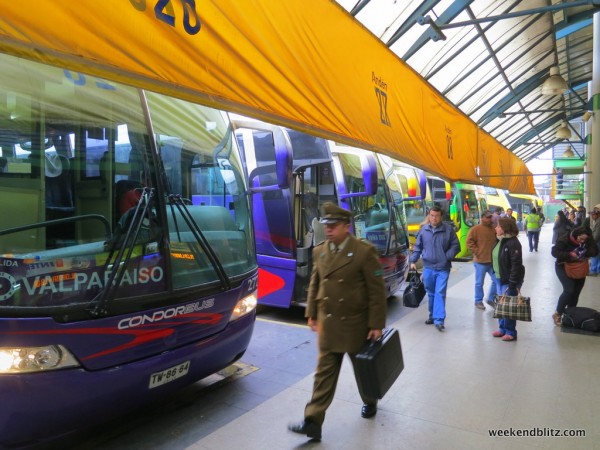 Ahhh, buses everywhere in this part of town!
We began to feel as if we were on Candid Camera and the victim of a prank. Since I had a really slow connection on my phone, we found an Internet cafe. There is SO little info on the web about these buses it's crazy. I did, however, find the Terminal de Santiago website who confirmed that Andesmar has a ticketing office in stall #42. Ok, great, back downstairs we went for stall #42 and found nothing, just more Pullman ticketing lines. After some hunting around the area, we realized that we were, again, in the wrong bus station. It turns out there is a bus station RIGHT next to Terminal de Santiago called Alameda (and that's where we were), with very few signs to make that known to the uninitiated.
Here's a map– hopefully someone can learn from our mistakes. If you're headed to Argentina, you'll want the station with the yellow star, Terminal de Santiago: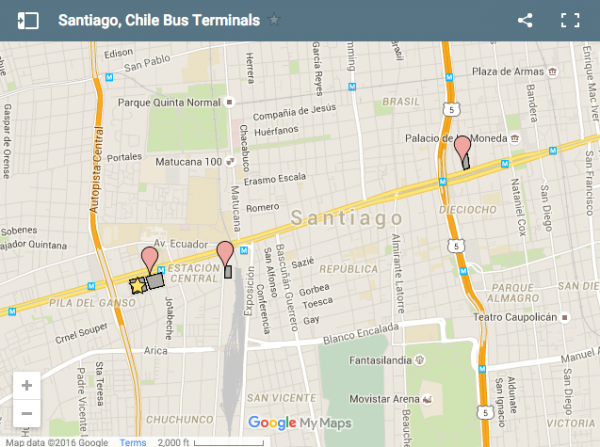 Ok, NOW we're finally in Terminal de Santiago, and we went straight to stall #42 and it's STILL not Andesmar, not even close. Hmmm, time to take a spin around the station. Couldn't find Andesmar, Coitram etc… anywhere. UGH. Is this a joke, Chile?!?!?!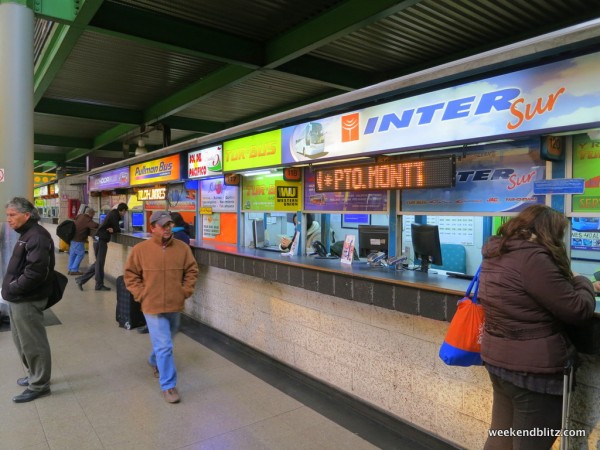 Then, FINALLY, after getting very close to leaving and then reevaluating, we found that we were in the domestic area of Terminal de Santiago. We doubled back around to the international area and, there it was: the Andesmar ticketing office. There were many companies all lined up selling tickets to Mendoza. We checked with a few of the companies for prices and road conditions. They all said the same: the roads were currently open to traffic and buses operating normally but, you never know, things could change at anytime. Oh well, good enough for me.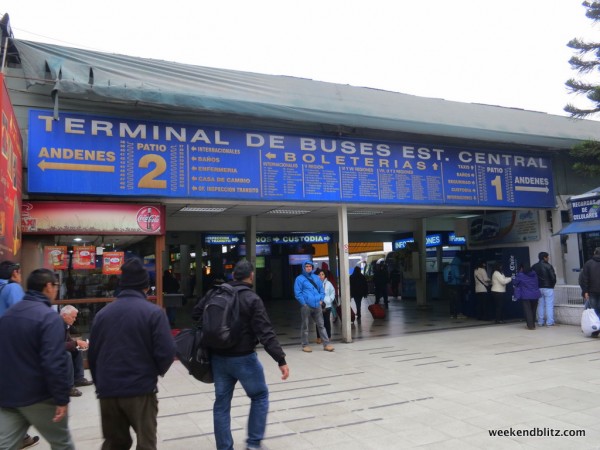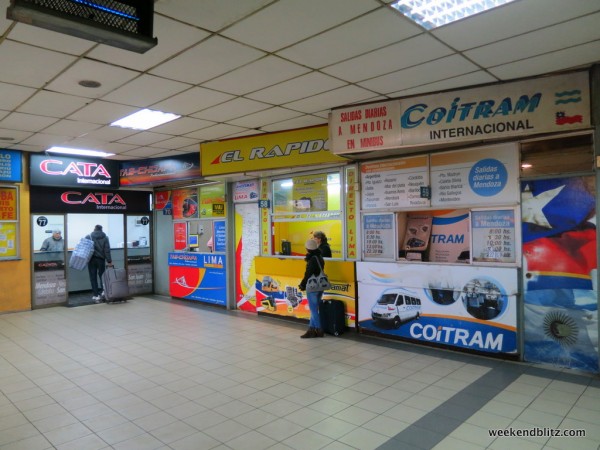 Ok, seeing names I recongize must mean we're close!
We went to the Andesmar counter and requested 2x tickets. We were quoted a price of 19,000 CLP each (~$34 US). This sounded fine, and, in fact, was a better price than purchasing online because they were charging in Argentine Pesos which came out to appx ~$40 US. The agent requested our passports, which we didn't have with us, but, fortunately, we had a picture of McCown's. This seemed sufficient for the time being. He told us to be back by 9:30am, 30 mins before our scheduled departure with my passport on Sunday.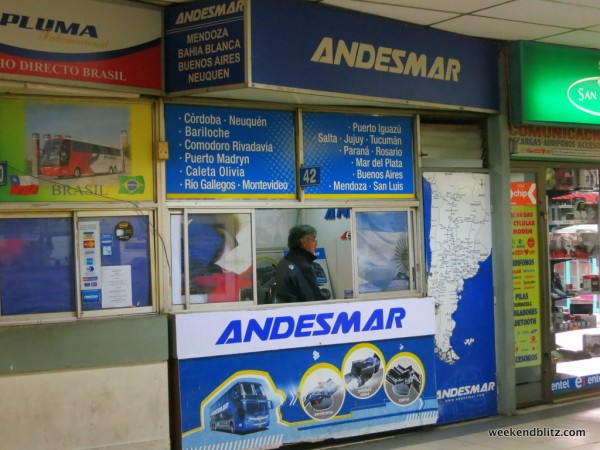 Finally found them!
He asked us at least 3x if we had paid our reciprocity fee for Argentina, to which I said, yes, already taken care of.
It was our intention to take the subway from Las Condes to Universidad de Santiago– it's a straight shot on the red line but would take close to 50 mins and required a few minutes' walk on each side, with our bags… Not to mention the stairs of the subway. The subway fare is just 620 CLP each (appx $2.25 total) but, since we were running a bit late and it was starting to rain, we had to grab a taxi. The cab got us there in 20 mins door-to-door and cost 8,000 CLP with tip (~$14.50 US).
BOTTOM LINE
: We ended up booking a "Semi-cama" seat in person with Andesmar for less than we were quoted online. This allowed us to speak with the agent to make sure the buses were running before purchasing. It also forced us to go find the bus station in advance, which proved to be
invaluable
because it took a lot longer than expected and we surely would have missed our bus otherwise. I think this is the best way to go for most travelers.
--------------------
For those interested, the full post with proper formatting etc... can be found here:
How to: Booking a Bus Between Santiago, Chile <-> Mendoza, Argentina
Jan 21, 16, 1:31 pm
FlyerTalk Evangelist
Join Date: Aug 2006
Location: Argentina
Programs: BAEC/IB
Posts: 37,683
Excellent contribution which I'm certain many will find useful.
To be fair to LAN in the airline v bus fare debate. Return SCL-MDZ tickets can be had for around US$135 so the one way fare is a bit false. I would choose the bus myself, well worth it for the scenery alone.
Jan 27, 16, 6:28 am
Join Date: Jun 2011
Location: CHS
Programs: DL Diamond, WN A-List, Marriott Platinum Elite, Hyatt Globalist
Posts: 643
Jan 27, 16, 8:19 am
Join Date: Feb 2000
Location: NJ
Programs: UA LTG, AA LTG, HH Gold, IHG Plat, Marriott Bonvoy LTP, Le Club Accor hotels Gold
Posts: 2,002
Please be advised that the border crossing is VERY slow and tedious (it can take hours if you are very unlucky). Since I have already done the bus a few times and seen the scenery... the thought of that miserable border crossing (I can think of none worse anywhere in the world) would most likely make me chose a flight the next time.

(Great informational post on the buses though)
---
Last edited by schriste; Feb 1, 16 at

1:05 pm
Jan 28, 16, 2:01 pm
FlyerTalk Evangelist
Join Date: Apr 2002
Location: SYD
Programs: QF WP/LTG | UA P
Posts: 12,765
I have learnt that "semicama" really means "seat on the bus". Its not necessarily something that reclines more than a few inches.
Advance searching for the bus station is critical. Likewise, its not wise to expect to get a ticket for long distance travel an hour or so before the anticipated travel time / date. Several days in advance is necessary - it gives more time to figure out "Plan B" when you're told "not available, sold out".
The front row seats on the upper deck are brilliant - but if you like to anticipate everything the driver (on the deck below you) does, you'll be in for a hard time on windy roads!
As per previous posting, border crossings can be tedious.
Some people will be keen to close the window curtains
Jan 28, 16, 3:23 pm
FlyerTalk Evangelist
Join Date: Aug 2006
Location: Argentina
Programs: BAEC/IB
Posts: 37,683
Oct 19, 16, 8:01 am
Join Date: Jan 2003
Location: houston
Programs: UA Lifetime Platinum, 2MM since 1981, MAR Lifetime Plat, IHG Plat Amb. Global Entry
Posts: 561
Great Ride
---
We did the ride from Santiago to Mendoza last week, partially because the airport in Mendoza is closed for three months.

We took the 9am Cata bus which we booked in advance on their website and printed out boarding passes. We sat in the second row upstairs because we missed booking the front row which fills up first.

If you print out your boarding pass you only have to worry about finding the departure location which is all the way at the east end of the international terminal, across the street from the separate TurBus station. Allow a few extra minutes and don't be late. The bus backed out of the gate at EXACTLY 9am and we were having coffee (sweet) within a few minutes with a little biscuit.

The scenery was awesome and surprisingly different on each side of the mountains.

We did spend about 1 1/2 hours at the customs checkpoint which is indeed tedious but not the fault of the bus line, they handle it very efficiently. There are bathrooms and some food stalls at the border crossing and both outgoing Chilean customs/immigration and Argentina are in the same booth. They Xray all of the bags and call you over if they need to look inside. Both my wife and I had that privilege. Then they search all of your carryons which also takes a little while. Fortunately there were no issues and away we went.

With all of that we arrived in Mendoza about an hour and a half early (330) and taxis (with meters) were waiting just outside and we were at our hotel in 5 minutes.

Very strongly recommend this ride, especially while the airport is closed, doesn't take that much longer when all is said and done and the the views are spectacular.
Oct 19, 16, 2:24 pm
Ambassador: LAN LANPASS
Join Date: Aug 2010
Location: Bogotá
Programs: BAEC Gold, Avianca Lifemiles Diamond
Posts: 4,611
Thanks OP for the breakdown. I am doing this trip on Saturday (I have always wanted to do it) and I had completely forgotten to book my ticket. Had it not have been for Platcomike bumping the thread I would have been researching this in the LAN lounge in BOG

I see the terminal is right next door to Alameda so i can just get the Turbus transfer and then walk next door.

Got me a front row seat on the top deck so I am excited about this.
Oct 23, 16, 10:19 am
Ambassador: LAN LANPASS
Join Date: Aug 2010
Location: Bogotá
Programs: BAEC Gold, Avianca Lifemiles Diamond
Posts: 4,611
Mine went trip went fairly well yesterday. A couple of comments for others reading this thread

1) My inbound flight was rescheduled 90 minutes later than when I booked it and I eventually got in 1 hour later than originally planned at 8.45am. Turns out migration is mayhem at this time and I coincided with inbound flights of all the US legacy carriers and an Alitalia widebody. I thought at times I was not going to make it. Took an hour to clear immigration. If like me you are flying in with the intention of going straight to the bus terminal, bear in mind it could be cutting it a bit fine. My bus was at midday

2) I bought my ticket via one of the websites references on the first page. My ticket said that I was going on El Rapido. I went to the El Rapido kiosk and they told me that my trip was operated by Andesmar. So factor in some time to work out which operator is taking you. Seems there are the bus equivalent of code shares

3) Border immigration was quick, about 45 minutes for everyone to file through, a nice chance to stretch your legs

4) Have some 100 CLP coins with you because you get asked for tips thrice. Once after they board your suitcases, once when you take them off at the end, and in the middle the driver came around with a paper cup for tips for the guys taking the luggage off at customs

5) As a data point, my trip also too 6 hours 30 minutes

Does anyone know what that train track is for on the Argentina side? Seems to run from the tunnel near the border to when the Andes peter out. Looks quite elaborate with its bridges, tunnels and corrugated cover in parts. Also looks to be out of service as the tracks are covered in rocks and plants
Oct 24, 16, 5:37 pm
Join Date: Aug 2009
Posts: 200
We took the trip from Santiago to Mendoza this March.
CATA bus, cama ejecutivo.
No snow issues, as March in Argentina is our summer (June in the northern hemisphere) but... the bus was kinda oldish and broke down resulting in our waiting at a derelict bus station on the Chilean side for a new bus to come from Argentina.
5 hours delay in arriving to Mendoza.
Apologies? Yes, some, verbal.
Food vouchers or some compensation? Free coffee, tea? Forget. None.
Next morning we had a plane from Mendoza to Buenos Aires, so instead of sightseeing Mendoza we just headed to our beds.
So much for a "pleasant" bus ride across the Andes between Chile and Argentina.
PS. Border crossing up there in the Andes - well... they speak the same language but the border is as "friendly" as the border that once existed between West and East Germany. Meh.
---
Last edited by abeyro; Oct 24, 16 at

5:47 pm
Oct 26, 16, 9:21 am
Join Date: Jun 2011
Location: CHS
Programs: DL Diamond, WN A-List, Marriott Platinum Elite, Hyatt Globalist
Posts: 643