Dreamliner 787-9 / 789: Business (B/E Super Diamond) Seat, Service (master thd)
Dec 9, 20, 4:26 am - Wikipost
| | | |
| --- | --- | --- |
| Please read: This is a community-maintained wiki post containing the most important information from this thread. You may edit the Wiki once you have been on FT for 90 days and have made 90 posts. | | |
Apr 9, 16, 6:19 pm
Moderator: American AAdvantage, TAP, Mexico, Technical Support and Feedback, and The Suggestion Box
Join Date: May 2000
Location: NorCal - SMF area
Programs: AA LT Plat; HH LT Diamond, Maître-plongeur des Muccis
Posts: 62,781
Dreamliner 787-9 / 789: Business (B/E Super Diamond) Seat, Service (master thd)
---
This thread is dedicated to discussion of the Boeing 787-9 stretched Dreamliner Business class seating
.
The 787-9 stretched version of the Dreamliner went into service October 6, 2016 DFW-LAX-DFW, after an ETOPS-proving DFW-LHR-DFR AA 50 - 51 immediately prior.
The new aircraft uses 30 B/E Aerospace Super Diamond Solo seats in Business class, instead of the Zodiac "Concept D Business Suite" used in the 787-8 / 788.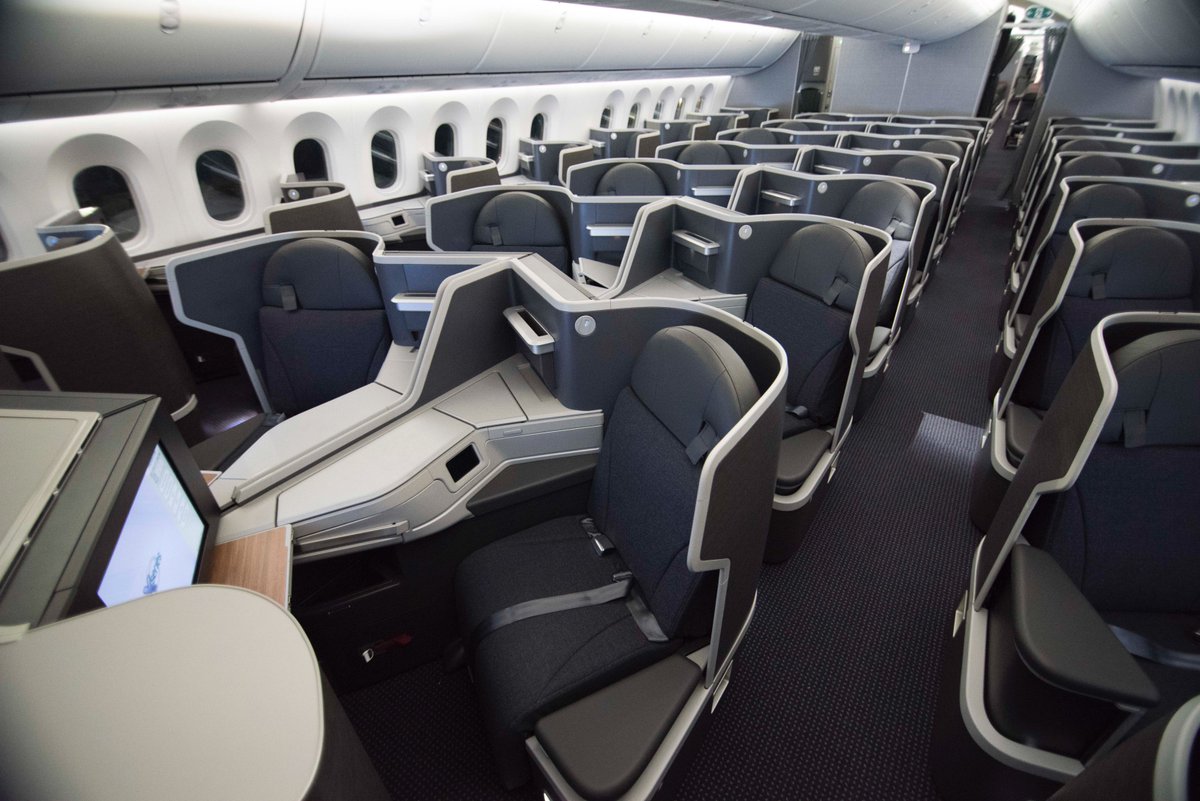 c/o American Airlines
This seating is outward oriented seating at windows, inward facing in the center seat pair. The center seat pair is ideal for couples, as they are seated side by side facing inward; it is less than ideal for solo flyers, because AA has chosen to not install movable privacy dividers between middle seats. Row 5 has one window instead of two.
Related threads
:
Boeing 787-9 (789): Discussion of 787-9 coming to AA 6 Oct 2016
Boeing 787-9 / 789: Best Premium Economy & Coach & MCE Seats? (master thd) ...
Chart c/o [SeatGuru[/URL][/U].
---
Last edited by JDiver; Jan 8, 20 at

9:16 am
Jul 10, 16, 8:55 am
Seats
---
So, now that 787-900 seats/schedules are loaded in AA, what seats are you picking? Appear to be all forward facing, currently selected 2D & 2H for DFW-MAD in November. Either way will be better than 9H & 9J on the 777.
Haven't even flown the 788 yet
so curious what AA 788 FT experts thought about the layout when they saw this seat map.
Jul 10, 16, 9:04 am
Join Date: Nov 2013
Location: PHL
Programs: AA - Platinum, HHonors - Diamond, IHG - Plat, Marriott - Gold, National - Executive, NEXUS
Posts: 1,062
What makes you think they are all forward facing? Not that I know either way, but I assumed a similar layout as the 788 (alternating forward/aft facing).
Jul 10, 16, 9:07 am
Suspended
Join Date: Mar 2001
Location: FIND ME ON TWITTER FOR THE LATEST
Posts: 27,734
Jul 10, 16, 9:25 am
Suspended
Join Date: Mar 2001
Location: FIND ME ON TWITTER FOR THE LATEST
Posts: 27,734
Aug 15, 16, 1:34 am
Suspended
Join Date: Mar 2001
Location: FIND ME ON TWITTER FOR THE LATEST
Posts: 27,734
Aug 15, 16, 8:55 am
FlyerTalk Evangelist
Join Date: May 2012
Location: MCO
Programs: AA, B6, DL, EK, EY, QR, SQ, UA, Amex Plat, Marriott Tit, HHonors Gold
Posts: 10,729
Sep 14, 16, 3:29 pm
Join Date: Dec 2014
Location: Alexandria, Longboat Key
Programs: Amtrak Select, AA AAdvantage, UA MileagePlus, DL SkyMiles, B6 TrueBlue
Posts: 1,932