2016 Combined AA Domestic Meal / Meals - menu / photos / etc. (master thread)
Dec 22, 16, 6:35 pm - Wikipost
| | | |
| --- | --- | --- |
| Please read: This is a community-maintained wiki post containing the most important information from this thread. You may edit the Wiki once you have been on FT for 90 days and have made 90 posts. | | |
Jan 1, 16, 8:54 pm
Join Date: Apr 2007
Location: Washington DC, DCA
Programs: AAdvantage, DL Skymiles, United MP
Posts: 3,931
2016 Combined AA Domestic Meal / Meals - menu / photos / etc. (master thread)
---
Introduction
Welcome to the 2016 version of the combined AA meals thread, focusing on domestic. Please post your meal/service experiences, including menus, photos, reports, questions, and service anecdotes.
To help give us a clear picture of your experience, remember to include the route, time, and meal designation (breakfast/lunch/dinner/snack/refreshments/none). Photos are welcome and very helpful. Those are rudimentary guidelines, but of course, the format/style is up to you.
Format Sample
This is a format you can use when introducing your meal report. This is just a sample format; deviations are expected.
AA1: JFK-LAX: 3pm
Dinner
A321
First Class, 2A
(from here, share the menu and/or experiences and/or photos)
Historical Meal Reports
Throwback mode? Go crazy!
2015 - link
2014 (post-9/1 combined) - link
2014 (pre-9/1) - link
2013 - link
2012 - link
2011 - link
2010 - link
2009 (combined Domestic and International) - link
For the 2016 International Meals thread, click
here
.
Enjoy!
---
Last edited by MrAndy1369; Jan 4, 16 at

1:59 pm
Jan 1, 16, 9:33 pm
Join Date: Sep 2010
Posts: 1,900
Let me be the first to play!
Flew "flagship" First today. The service was great, but the food was NOT good at all.
Started with Crab Appetizer:
This was actually quite tasty. Though I don't know why they add the Ginger to the top of the crab. Ginger is to "clean" your palate, not to add flavor to fish.
Then the salad, which was BLAND and tasteless!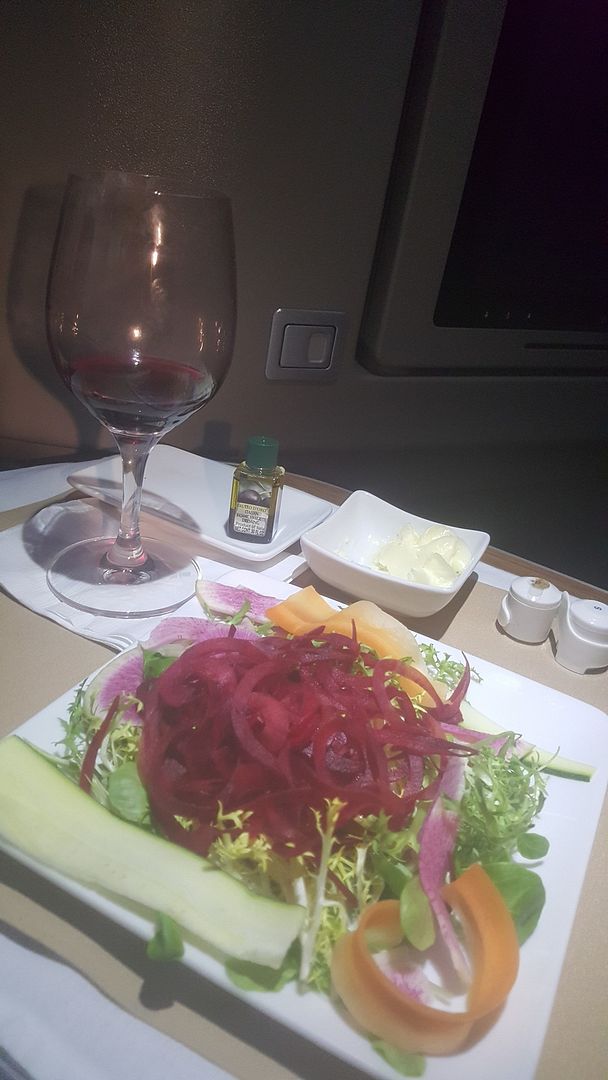 I ordered the lobster Risotto. This is how it was presented-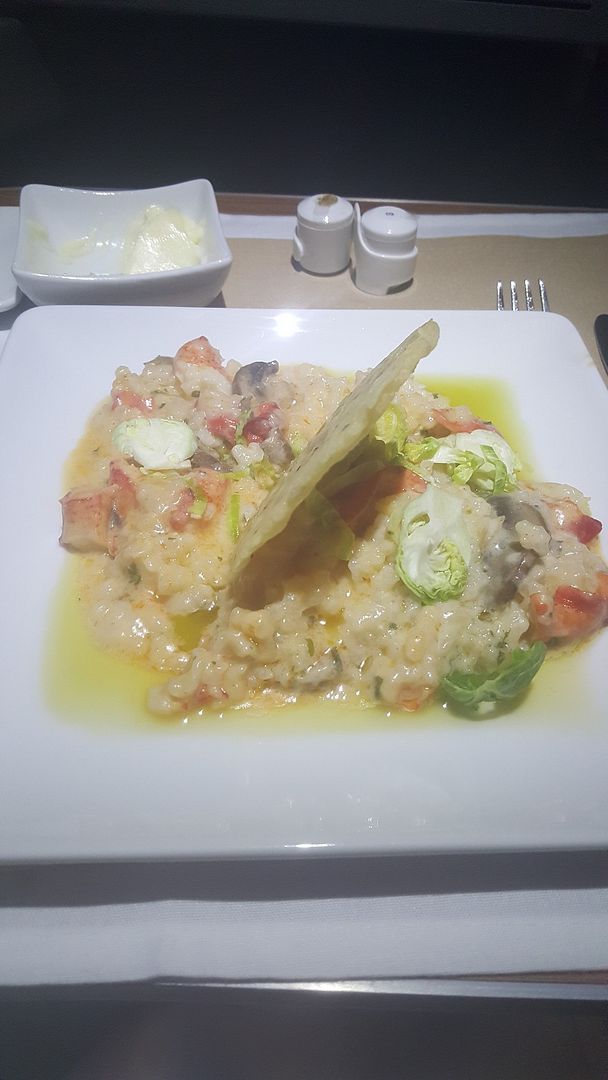 This entree was AWFUL. The parmesan "crisp" was STALE and SOGGY. There was so much grease, i couldnt stand to eat it all. There was supposed to be some lemon sauce, but it was drowned out by all that grease.
Meh. Trying the waygy meatloaf tomorrow.
Jan 2, 16, 9:32 am
FlyerTalk Evangelist
Join Date: Nov 2007
Location: LAX-SNA
Programs: BA Gold, AF/KL Gold, UA 1K, AA 2mm LT PLT
Posts: 19,275
LAX-DEN
AA 5929
E75
3:00p-6:24p
January 1, 2016
Dinner
Granted that after 26 hours in SQ Suites, anything AA is going to pale in comparison. But like wearing an old shoe, it feels morbidly comfortable back in the mediocre AA saddle. Oh, joy... not one but two "emotional support" dogs today, and a clueless FA who woke people up while still at the gate to ask their meal selection, "salad with chicken" or "pastrami sandwich". No PDB until the captain announced a mechanical delay and then only after someone asked. In the air, she passed out ramekins of nuts but no drinks. Drinks came 10 minutes later on the meal tray. Chicken turned out to be the pecan crusted chicken which catering forgot to season today. Chocolate mousse cake was tasty.
Naturally, once done, trays sat on tables for at least 10 minutes as FA disappeared into Y to help out there.
On the other hand, she made two passes with mints, although I'm thinking that she forgot that she had already made a first pass.
---
Last edited by SFO777; Jan 2, 16 at

9:57 am
Jan 2, 16, 9:46 am
Join Date: Sep 2010
Posts: 1,900
Hey I was on that flight!!
And it was me that asked. She balked at first LOL.
Jan 2, 16, 9:56 am
FlyerTalk Evangelist
Join Date: Nov 2007
Location: LAX-SNA
Programs: BA Gold, AF/KL Gold, UA 1K, AA 2mm LT PLT
Posts: 19,275
Jan 2, 16, 11:00 am
Jan 2, 16, 9:05 pm
Join Date: Mar 2015
Location: DFW
Programs: UA, AA, DL, WN, HHonors, Marriott
Posts: 72
I'm slightly late to the party and 2015 thread is closed.
late December
DFW-SLC
Lunch
MD-80, Seat 3F
Pre-selected Four Cheese Ravioli, Other choice was Pecan Chicken Salad
PDB of Water, OJ, or Apple Juice
Hot towels, nuts, meal, cookie, dessert.
Ravioli was good, I enjoyed it.
Jan 3, 16, 12:26 am
Join Date: Jan 2015
Location: BDL, BOS, MHT
Programs: AAdvantage Gold
Posts: 13
AA1: JFK-LAX: 9 AM
1/1/2016
Breakfast
A321T
Business Class, 6A
I got lucky to get the business class upgrade after the gate agent rolled the cabins to accommodate the long list of standby coach passengers.
PDB consisted of sparkling wine, water, or OJ. I chose the sparkling wine.
Hand towels and linens were distributed before meal service. The first meal item served was the starter of biscotti sticks:
I have nothing special to mention about these biscotti sticks.
The main course was Smoked Salmon and Bagel with bibb leaf lettuce, fresh sliced tomatoes, cucumbers, caper berry, and whipped cream cheese. The salmon was delicious. However, the lettuce was a little soggy along with the rest of the vegetables.
The "dessert" was the selection of sweet treats.
The items were okay. The cream cheese cake tasted the best.
The flight attendant then offered the typical carbohydrate loaded snack basket along with a basket of healthy fresh fruit.
Warmed on board chocolate chip cookies and sparking water were served prior to landing.
Overall, the meal quality is better than what AA serves on their domestic F flights. The flight crew is also very good and provided excellent service throughout the entire flight.
Jan 3, 16, 12:28 am
FlyerTalk Evangelist
Join Date: Apr 2001
Location: NYC
Posts: 23,716
Jan 3, 16, 12:34 am
FlyerTalk Evangelist
Join Date: Nov 2007
Location: LAX-SNA
Programs: BA Gold, AF/KL Gold, UA 1K, AA 2mm LT PLT
Posts: 19,275
Jan 3, 16, 12:53 am
Join Date: May 2013
Location: NYC
Programs: DL GM, AAdvantage EXECPLAT, Hyatt Plat, HHonors Diamond, Avis First
Posts: 6,321
Jan 3, 16, 3:49 am
Join Date: Jul 2003
Location: SJC
Programs: AAdvantage 2MM+ Lifetime PLT; BA, CO, UA, US; SPG; HHonors Gold
Posts: 607
ORD-SFO Jan 1
---
AA? BA4397 (was a code share connection to LHR-ORD; can't remember AA #)
Jan 1
17:00 - 19:15
PDB: Water with ice (and without)
Linens: Yes
Pre Meal Beverage: Yes
Nuts: Yes
Was offered refills on both drink and nuts

Meal consisted of 1 salad, 1 mystery item which I liked but couldn't quite identify (it had a bread/flatbread disk with a yogurt/cream sauce). Entree was a cajun-style shrimp (slightly dry but reasonable given it was on a plane) Portion size was good (about 4 or 5 decent sized shrimp; also helped that my wife didn't want any of hers). Accompanied by a huge glob of bland polenta (letf untouched after I got the extra shrimp).

Desert was ice cream - 2 large scoops. My tastebuds must have been dead because I couldn't figure out what the ice cream was (some kind of vanilla with a few crunchy blobs). Decent but not like the old sundae service.

No warm baked chocolate chip cookies (unless that happened while I was sleeping). Pre-arrival walk through with a basket of mints.

Overall service was decent and quality of food compared favorably with previous BA C LHR-ORD flight. And breakfast at the LHR Galleries Business lounge was abysmal - tasteless croissants and the only hot offering was porridge.
---
Last edited by rj123456; Jan 3, 16 at

3:55 am
Jan 4, 16, 12:55 pm
Join Date: May 2012
Location: MCO
Programs: AA, B6, DL, EK, EY, QR, SQ, UA, Amex Plat, RC/MR/SPG Plat, HHonors Gold
Posts: 6,642
Jan 4, 16, 1:16 pm
Join Date: Mar 2015
Posts: 1,180
Flying CLT to SJU later this month and noticed that the return meal is the Filet and Mac'N'Cheese or some Pasta which is fine, but a change from recent memory where the catering ex-SJU and other Caribbean destinations was a little different than the usual.

Usually the catering ex-SJU was a little better and certainly different, I think last time I had a grilled chicken breast in a Caribbean Style Curry Sauce (in a ramekin) with some grilled veggies and if memory serves there was a Citrus Shrimp App.

Is AA now down-line catering meals or have they standardized the meal choices (at least from SJU) in the Caribbean to match the domestic offerings?

I realize this is trivial and maybe hard to answer just found the change to be interesting.


Jan 4, 16, 1:32 pm
Join Date: May 2015
Location: Empire State
Programs: AAdvantage Executive Platinum; Ritz-Carlton Gold; SPG Gold
Posts: 428