Pope Francis Flying AA9420 Chartered 772 WAS-JFK-PHL-CIA
The Pope flies in a normal commercial airliner chartered for his flights. Normally the outbound airline is Alitalia, the return an airline selected as much as possible to be the national or "flag" carrier of the country returning from.
On this trip, an Alitalia Airbus A330-202 (EI-EJG, c/n 1123, "Raffaello Sanzio" (painter of late Renaissance Popes) was used FCO-HAV-HOG-SCU-ADW, an American Airlines Boeing 777-223ER will supply the onward/return aircraft (probably selected because it has the first class Flagship Suite for the overnight flight) for ADW-JFK-PHL-FCO, with a USMC helicopter providing JFK-JRB-JFK service.
The AA aircraft used, at least WAS/ADW-JFK-PHL, is Boeing 777-223ER N776AN (c/n 29582) a pre-CIP 77A. The flight number AA9420 is being used throughout. See tracking
here
.
Francis is to be accompanied by approximately thirty staff in his
seguito
, typically consisting of "the Cardinal Secretary of State, Pietro Parolin; one or two other cardinals and bishops; ~10 priests, most of them officials of the Secretariat of State; and ~20 laity, most employees of the Vatican Press Office as well as plainclothes agents of the Vatican security service and the Swiss Guard."
The passengers and crew will number about 110 during this trip. The Pope and his
seguito
take up F and C. The accompanying ~70 journalists pay the cost of the charter by paying for their fares, and sit in Economy class. The seventy reporters must fly the entire trip, FCO-HAV-HOG-SCU-ADW-JFK-PHL-FCO are said to be paying $5,500 each, $385,000 total. (From cruxnow.com); only the Pope and select company will do the portion of the JFK-JRB-JFK portion of the trip which is being conducted by USMC helicopters.
Though he rode a Fiat into the city of Washington, according to Business Journal International Limousine Service will be providing transportation for His Holiness and his entourage in all U.S. three cities.
Though "goody bags" are no longer handed out, it is said the members of the VAMP, Vatican press corps, do get to keep the Papal seat headers covers used for the charter flights.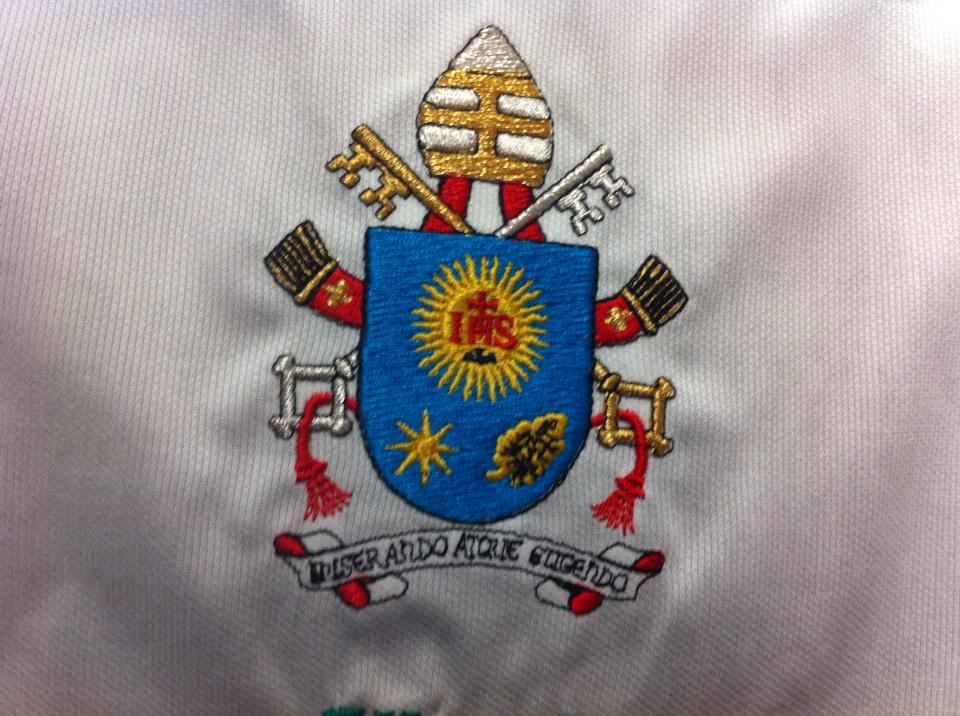 Papal emblem seat head rest cover
Pope Francis' flight schedule
Saturday, September 19, 2015
10:35 a.m. Pope Francis departs FCO AZ A330-202 EI-EJB to HAV
3:51 pm.m. Papal aircraft lands at HAV / José Martí international airport
Monday, September 21, 2015
8 a.m. Departure by air for Holguin, Cuba.
9.20 a.m. Arrival at HOG / Holguin Frank País International Airport
4.40p.m. Departure by air for Santiago de Cuba.
5.30 p.m. Arrival at SCU / Santiago de Cuba's Antonio Maceo International Airport
Tuesday, September 22, 2015
12:30 p.m. Leaves SCU / Santiago de Cuba aboard Alitalia charter A330-202
4 p.m. Pope Francis arrives in D.C. at Joint Base Andrews at 4 p.m.
Thursday, September 24, 2015 AA9420
4 p.m Departure for New York from Joint Base Andrews (D.C.)
5 p.m. Arrival at JFK / John F. Kennedy International Airport (New York)
Saturday, September 26, 2015 AA9420
8:40 a.m Departure for PHL / Philadelphia from JFK / John F. Kennedy International Airport
9:30 a.m Arrival in Atlantic Aviation hangar at PHL / Philadelphia International Airport Philadelphia
8 p.m Departure for return to Rome CIA
Sunday, September 27, 2015 AA9420
09:57 a.m. Arrival CIA / Ciampino international airport
All times local time; subject to change
www.popefrancisvisit.com