Recap of AS Loyalty Event for Invited MMs and 100Ks (5/17/2023)
May 18, 23, 12:54 am
Join Date: Dec 2013
Location: SEA, PAE
Programs: Alaska MVPG-100K; HH-Diamond
Posts: 80
Recap of AS Loyalty Event for Invited MMs and 100Ks (5/17/2023)
---
Here is summary of my impressions of the Loyalty event (5/17)…I hope others who were present will jump in. I have included some pix of some slides for context.
Overall, I felt like the meeting was a heartfelt effort by the AS leadership team to introduce new changes coming down the pike as well as answer a variety of audience questions. This was the second loyalty event and much smaller than the first one.
The meeting was held in the relatively new Alaska Care Retreat space located near the stadiums in the SODO area. Cars were valet parked and the indoor area was inviting. Couches and chairs were in a U-shaped arrangement with about 15 members of the leadership team present. Approximately 150 guests attended and there were four main speakers. They did not stream the event.
Ben Minicucci, CEO & President spoke first:
· Emphasis on CARE was underscored throughout--1) Self-care for the workforce; 2) team care; and 3) guest care
· A series of employee retreats just wrapped up
· Guiding principles: Be kind-hearted and do the right thing; innovation is key
· Feedback is very important and change actually occurs based on AS Listens and other comments on social media
· AS strives to be a true Global Travel Partner and is making changes to streamline the customer experience through its app and through the new lobby set-up (Goal: <5 minutes to check bags and get to the security line)
· Very soon customers should be able to purchase tix on seven partner airlines through the AS app
· Committed to Boeing fleet…250 Max planes on order…pilots and FAs love them plus they are 20% more fuel efficient
Todd Traynor-Corey, Managing Director, Guest Products (Food, drinks, lounges, etc.):
· Has received lots of feedback…monitors FT, Reddit, etc…doesn't post replies
· New west-coast influenced menus will come out quarterly with a mix of comfort food and innovative dishes
· New D Lounge will open in June with additional seating for 60…better food and drink experience
· New lounge in SF will be in the Terminal 1 area…opens next year
· Older plane interiors are being refurbished
· Satellite wi-fi on all planes including on fights to Hawaii…streaming will be possible
· Glassware returning to first on E175s
Natalie B(?), IT and App Services:
· Showed screen shots of their 'concept' for the app…still a work in progress
· In addition to what Ben mentioned, the app will include way-finding and eventually baggage claim info
· Easier interface to search for and book flights
Brett Catlin, VP, Loyalty, Alliances and Sales
· MMs have a leg up for upgrades all things being equal for status, etc
· MMs will receive 20K EQMs, which will count towards status (2MMs will receive 40K EQMs)
· MMs be able to status share with someone in their household
· Not much more goodness mentioned for 100Ks
· AS now has 28 global partners
· He did not really address GGUs in his presentation although Q&As skirted around some of the issues
Q&As (my notes are less reliable…perhaps others can chime in). Some takeaways..
· AS is the 5th largest domestic airline with 6% of the market share…the top four (AA, DL, UA and SW) account for 85% of US travel
· Partnership with AA is solid as is OW Alliance
· After observing passenger patterns at PAE, AS now considers it an airport focused on leisure travel more than business travel…ANC, LAX, and the Bay were given as examples...Possible ORD -PAE route being considered since it's a hub for AA
· Regional airlines (e.g. Horizon) are experiencing a 30% shortage of pilots thus its's hard to make firm commitments; AS mainline has largely recovered from their pilot shortage
· Some discussion re: dogs in the cabin (difficulty of seamlessly adding service dog to PNR; some passengers find dogs offensive for religious reasons and there is no way to easily determine where they are seated). AS listened but didn't really have a response…will consider…
· Discussion re: how to acquire EQMs rather than via BIS (e.g. pay money; volunteer to pay for tix for folks who have a compelling reason and receive EQMs in exchange) Mixed reactions from the audience..
· AS really takes feedback seriously…it is summarized and presented to the leadership team bi-weekly; compliments to individual employees are part of an overall program of staff appreciation
· Devaluation of mileage tix was brought up… business decision (increased airfare>>increased miles for tix especially during peak times BUT there are good deals if one is flexible)
· Questions re: problems with GGUs were acknowledged but I had the impression that there are still a LOT of moving parts…(I spoke with an loyalty team manager afterwards about this…see below).
· Not everyone with questions were able to ask them…IMHO, this part should have been longer
Aftermath:
· The leadership team were available for 1:1 questions following the Q&A for about an hour
· They treated us to a nice little happy hour. Things were mostly wrapped up by 6:15 or so..
· Goody bags with a bottle of wine, a can of their new Margarita drink and snacks were distributed as we departed
Of note: I sent in the questions from this forum prior to the meeting and their receipt was acknowledged by members of the loyalty team who I spoke with in the 1:1 sessions…I also handed her a hard copy. She said she will answer me back in writing…so fingers crossed.
I really enjoyed the session…it flowed well, it felt like they were truly valuing feedback from this group, they freely handed out business cards for follow-up, and they want to continue these events.
Slides are mostly chronological order...I didn't include everything
Notice that FT is on this slide!!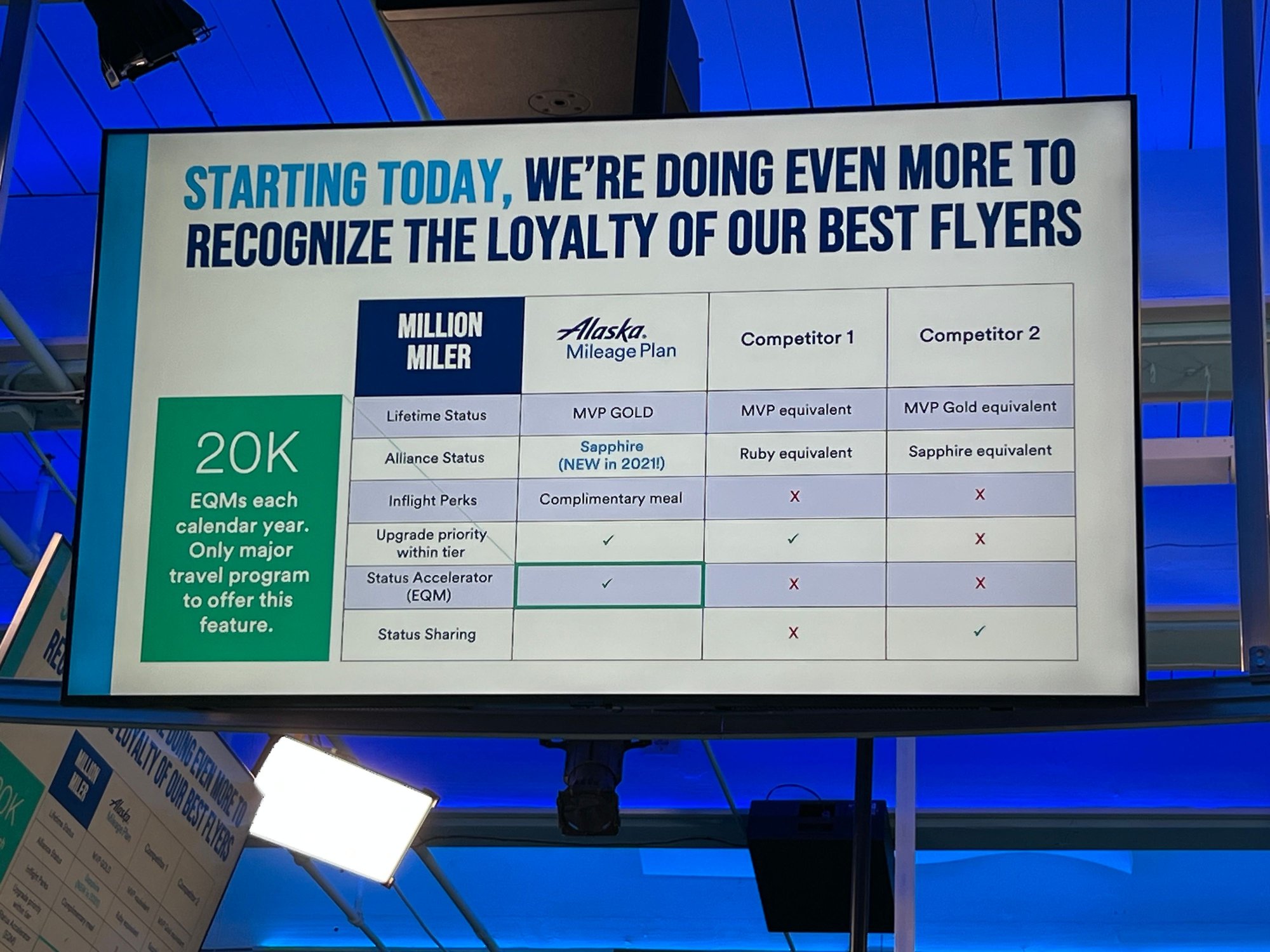 May 18, 23, 6:29 am
Join Date: Sep 2011
Programs: AS 100K and AS 1MM
Posts: 65
I didn't think to ask at the FF last evening - as both 100K and 1MM, I wonder how this new MM status sharing benefit will work with the similar 75K/100K benefit perks?

One could potentially gift a friend MVP status (and up them to MVPG once passing 100K and choosing that perk) and then a household member could track along with you (as MM benefit)?

I also wonder how Alaska will define/verify what constitutes a 'household member'? Not always straightforward with domestic partners with different surnames, etc.
May 18, 23, 8:54 am
Join Date: Aug 2000
Location: Seattle, WA
Programs: Alaska 75K - MM, defender of shoes on the carpeted bulkhead 4ever, AA LT PLT, Hyatt Glob, HH Dia
Posts: 7,384
As a 75k/100k MM, I am glad they decided to implement these changes immediately instead of telling us they were coming soon.

I was on track to regain my 100k, but now it's attainable without booking any additional flights this year.
May 18, 23, 10:02 am
FlyerTalk Evangelist
Join Date: Jul 1999
Location: Over the Bay Bridge, CA
Programs: Jumbo mas
Posts: 37,788
https://www.flyertalk.com/forum/alaska-airlines-mileage-plan/2122226-recap-loyalty-ev
---
Interesting how they (apparently) forgot to mention the major enhancement of chopping 70% of earnings from Saver fares, which was being implemented concurrently with this exclusive event.
May 18, 23, 10:16 am
Join Date: Jun 2004
Location: Anchorage, AK
Programs: Lifetime AS 1MM & MVPG, AS MVPG100K, AA, DL, HH-G
Posts: 8,119
I (mostly) agree. the new 20K EQM benefit is awesome! Other than that, nothing else has really changed.
I was on track to maintain my 75K, but now 100K is attainable without booking any additional flights this year.
May 18, 23, 10:31 am
Join Date: Aug 2000
Location: Seattle, WA
Programs: Alaska 75K - MM, defender of shoes on the carpeted bulkhead 4ever, AA LT PLT, Hyatt Glob, HH Dia
Posts: 7,384
I wonder this ability to pass your status on to your spouse/partner/main squeeze will helpful for those looking for a relationship or solidifying one?
May 18, 23, 10:35 am
Join Date: Mar 2017
Location: British Columbia
Programs: AS MVPG100K, Marriott Marriott Titanium Elite, Hilton Gold
Posts: 7,254
May 18, 23, 10:51 am
Join Date: Mar 2016
Location: LAX
Programs: AS MVPG, IHG Diamond Elite
Posts: 1,432
FWIW, it looks like that's been rolled back (AS operated X fares back to 100% and AA back to 50%), at least until they decide to officially roll it out.
May 18, 23, 10:58 am
Join Date: Nov 2016
Location: On a plane or a beach
Programs: Yes
Posts: 2,966
EQMs don't grow on trees. AS had to find space in the budget for the new 1/2 MM perk, so reducing enhancing the Saver fare earnings was decided. /s

🤙🏻🍹
---
Last edited by anteater; May 18, 23 at

12:41 pm
May 18, 23, 12:25 pm
Join Date: Jan 2009
Location: Seattle
Programs: AS MVP Gold 75K, SPG Plat.
Posts: 467
All of this is fine and not much is changing. AS needs to address it's woefully bad IT issues. Having to call in and wait on hold for hours in bad weather iroops needs to be addressed now on its apps and web.
May 18, 23, 2:57 pm
Join Date: Apr 2010
Location: SEA
Programs: AS 100K, Hilton Diamond
Posts: 813
Seems like it was more of the leadership team pat it self on the back nonsense. Look how amazing we are doing...while ignoring everything that is bad. At the last one Todd was the only exec that seemed truly interested in feedback, especially with food and menus. Looks like that is playing out. I've a friend going through FA training right now and they said there is just about no training regarding customer service or service on the aircraft, which seems to track with the lackluster service that's been happening. The amount of things that should be doable on the app, and that are not is sad. We are the tech capital of the country. Pay the money and hire more IT.
May 18, 23, 3:03 pm
Join Date: Mar 2021
Location: I didn't SEA it
Posts: 191
Thanks for the recap!

Credit to AS for making changes on some of the main issues brought to the leadership in the open floor questions at the first event (MM status benefits vs other carriers' lifers, MM's status value in the context of AS adding a 100k tier, and a catering focus).

The new app changes look good and I feel the app in general has come a long way in the last year.