not able to see my upcoming trips
Apr 26, 17, 9:34 am
Join Date: Dec 2015
Location: Paris
Programs: FB Platinum
Posts: 223
not able to see my upcoming trips
---
Hi everyone,

anyone having the same issue as me and not able to see the list of upcoming trips?

i can see "8" marked but when i wanna check the list it does not appear, i try adding it and it says already added. i can see the list on my phone but what i need is to cancel one of the flights. i am going to call ultimately but wanted to check if anyone enountered something similar.

Thanks
Apr 27, 17, 5:26 am
Join Date: Oct 2009
Location: AMS / ATH
Programs: AFKL Gold, A3 Gold
Posts: 5,418
I have the same problem on the AF website when I use the personal side menu and choose "My reservations". However when I just hit "Your reservations" at the top menu - it does display everything.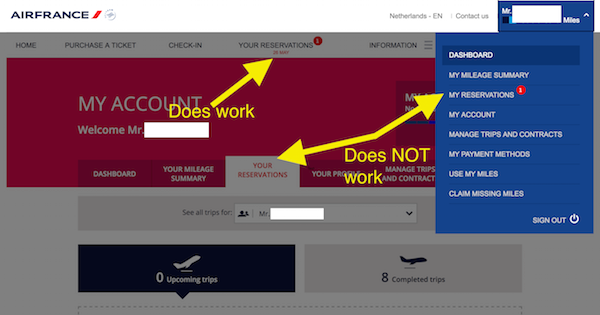 Apr 27, 17, 8:13 am
Join Date: Dec 2015
Location: Paris
Programs: FB Platinum
Posts: 223
doing that only shows me the next one. when i click show all, it does not work.
i contacted AF through twitter and they said there is problem in the website.
Apr 27, 17, 1:00 pm
Join Date: Oct 2009
Location: AMS / ATH
Programs: AFKL Gold, A3 Gold
Posts: 5,418
May 7, 17, 4:41 am
Join Date: Oct 2006
Location: Paris, France
Programs: Flying Blue (LTPE) All (Gold)
Posts: 1,468
My next flight is available now (after a saturday phone call to the Plat line) but not on my mobile app when I tried to add it. (an error occurred during the process...)
It has been available on website until thursday but be cancelled due to an AF system issue, said the Plat agent (not Ultimate, sorry
)
May 7, 17, 6:16 am
FlyerTalk Evangelist
Join Date: Aug 2009
Location: Paris, France
Programs: AF/KL Flying Blue Platinum for life/Club2000 Ultimate, Accor ALL Diamond
Posts: 16,315
Originally Posted by
delanotre
My next flight is available now (after a saturday phone call to the Plat line) but not on my mobile app when I tried to add it. (an error occurred during the process...)
It has been available on website until thursday but be cancelled due to an AF system issue, said the Plat agent (not Ultimate, sorry
)
yes, the systems look quite buggy for a few days. I have to say that AF IT has improved dramatically for about 2 years. There is no more constant bugs as we had before and if you realize, nobody complain anymore on this forum