Lagos layover anyone with recent experience?
Feb 26, 14, 11:05 am
Join Date: Mar 2009
Location: IAH
Programs: UA 1K, 1MM, I miss GS
Posts: 113
Will definitely post an update; SA60 lands at 8:00pm and U143 departs at 10:15 so not sure how that is different than the others.

Have just basic clothes in my checked bag and filling up my backpack a bit more. Have some hotels in Ikeja written down as a plan B.

Lost my GS this year, but hoping by some miracle United will come get me (1K) and pass me through, though not counting on it. Also, in business, so not sure if that will even make a difference.

If I cant get the UA boarding pass at check in, I will call 1K desk and see if they can do/email me a pass.

If I wouldnt have been a flyertalk junky, I wouldnt even be worried!
Feb 26, 14, 11:11 am
Join Date: Jan 2003
Location: houston
Programs: UA Lifetime Platinum, 2MM since 1981, MAR Lifetime Plat, IHG Plat Amb. Global Entry
Posts: 561
Daylight Savings starts in USA on March 9th and not in Nigeria. Hence the hour change because the flight keeps US times and leaves Lagos at 915, rather than 1015.

Good luck to both of you and let us know what happens.
Feb 28, 14, 11:45 am
Join Date: Mar 2009
Location: IAH
Programs: UA 1K, 1MM, I miss GS
Posts: 113
Made it back, in general, no problems and everything went well.

Long write up below, but in summary:
* make sure you have BP all of the way through
* make sure bags are checked all of the way through
* do not go down stairs; may even help to know departure gate number so you can be educated with LOS security and just tell them what you are doing instead of asking what to do, politely of course.
* my checked bags automatically transferred without problem
* 2hr 15 min connection; I sat in lounge for over an hour

I prepared to lose my bag for good so I crammed everything important into my backpack and an extra shopping bag. I also researched hotels close to the airport (not in the city) and had cash to pay for hotel and taxi if needed; my Plan B. Also kept a close eye on the JNB-LOS flight; I wouldnt board if there were delays that would risk staying in LOS.

I checked in at CPT; the counter agent gave me all boarding passes and no need to specially request the UA boarding pass. Bag was checked all of the way to IAH as well with no special request; I asked the agent if I needed to pickup and transfer in Lagos and he said since the bag was checked all of the way through, no need to pick up in Lagos.

In JNB, I went to the Lagos gate a bit early for passport pre-board check. The security people at the gate kept saying that I needed a visa to transfer, but after talking with several people, they figured it out, looked at my LOS-IAH BP and said everything was okay. There were probably 8 of us that were on the JNB-LOS-IAH connection.

On final arrival into LOS, I asked the SAA FA about picking up bags for transfer, she said as long as they were checked all of the way through to IAH on the receipt, they would automatically transfer. We landed about 25 mins early, but it took the tug about 20 mins and 10 attempts to position us.

I had my UA boarding pass in hand when deplaning, I showed the security people checking passports at the end of the gate and told them transfer and they pointed towards the transfer desk, which was just before the stairs leading to immigration. Gave the transfer desk person my passport and UA BP; he told me to go downstairs to immigration. I politely told him I was only transferring and did not need to go to immigration. He kept looking at my passport, BP, and me, almost sizing me up. At this time, the rest of our "transfer group" was there and he looked at all of our passports and BP's and I kept saying no need to go to immigration, only transfer and pointed to the departures area which was just steps away (just an open hall glass door separating them). He finally agreed and pointed to the departures area and told us the UA departure gate and we all walked quickly into the departures area. It was less than 10 minutes from when I stepped off the plane to the time I was entering the so-called lounge. It may have helped if I knew the departures gate so I could have more or less pointed the direction I needed to go (there are several directions for the gates).

A businessman in our transfer group told me on his inward connection earlier that the same thing had happened and he had gone downstairs to immigration as first instructed and ran through the whole gauntlet as is typically associated with LOS immigration. He was very glad I knew not to go down stairs. Thanks HedgeFundFlyer!!!

LOS is a miserable hot airport under construction and leaves a lot to desire, but does serve all of the major airlines so there is some order. I wanted to be the first person on the plane! My bags also made it to Houston with no problems. UA flight crew was even telling me how poor the ground support was at LOS and how much they routinely miss; the ground crew had failed to restock the coffee on this flight and even removed all of the leftover coffee from the inbound and purser had to demand a coffee restock! It was obviously a huge hassle for her!

All in all, I would do this again if the flights/price fit my needs. Being educated and dont go downstairs are a must, but be aware there is some risk with transferring at LOS. People transfer all of the time here and I can easily see how you can be taken advantage of. Not sure if the LOS people are incompetent, corrupt, or just like giving people a hard time, but I suspect its a combination of all.

Sorry for the long post, but hopefully this helps others!
Feb 28, 14, 10:24 pm
Join Date: Oct 2010
Location: EWR, SLC, SGN
Posts: 1,113
Nice report, thanks for trying it then coming back to fill us in. Glad it went well for you.

Did you find the other connecting passengers while at the JNB gate then and trying to figure out the visa issue with the gate check? It would be nice to have strength in numbers when connecting maybe.

Seems like the BP all the way through and not going down the stairs are the two big keys.
Feb 28, 14, 10:36 pm
FlyerTalk Evangelist
Join Date: Dec 2002
Location: Danville, CA, USA;
Programs: UA Plat & 1MM, WN CP, Marriott LT Plat, Hyatt Exp, Hilton Gold
Posts: 15,385
Mar 1, 14, 10:03 am
Join Date: Jan 2003
Location: houston
Programs: UA Lifetime Platinum, 2MM since 1981, MAR Lifetime Plat, IHG Plat Amb. Global Entry
Posts: 561
It also avoids any possible visa issues and other opportunities to be shaken down.
Good for you, thanks for the information.
Mar 2, 14, 6:10 pm
Join Date: Mar 2009
Location: IAH
Programs: UA 1K, 1MM, I miss GS
Posts: 113
A couple of us transfers happened to be at the gate together in JNB during the pre-board passport check which probably helped with the no visa situation. It also helped to recognize everyone at LOS to help group up.

Also, it didn't seem like there was a difference between business and coach for transfer in LOS.
Mar 9, 14, 5:08 pm
Join Date: Oct 2010
Location: EWR, SLC, SGN
Posts: 1,113
I made my connection successfully last night as well. I had the shorter 1:15 connection now that daylight savings has started, but still visited the lounge and spent 10-15 min in line at the gate for UA 143.

Although matthopp did most of the hard work here, I thought I could add a little by leaving my gopro on and pulling some pics off of it to add to the discussion. I am laying over in IAH a few days before going home, but I will see if there are any decent photos and write a little more then.
Mar 28, 14, 4:03 am
Join Date: Oct 2010
Location: EWR, SLC, SGN
Posts: 1,113
Further data-point on the LOS connections, with a photo from my gopro. (Sorry for the quality)
I did not have to request the UA boarding pass, it was given automatically by the agent in JNB. I did not check bags.
Taxiing to the gate in LOS, it appeared the UA 787 was at the first gate to one side of the terminal, and the SA flight docked at the first gate to the other side of center, so I had a general idea which way to head. Also, I did not have anyone checking my documents when I exited the jetway, although there were two staffers in that area.
Off the jetbridge, we proceeded to the left down the hallway. The hallway is typical int'l arrivals type, with glass separating us on the side closer to the gates, and a visible larger area running parallel. The stairs were upon me quite quicker than I was expecting, maybe only 25 meters from the gate or so. As most people make a shift to the right to the stairs, I saw the infamous door ahead of me, only another 5 meters away probably. No one seemed to be around, so I just high-tailed it for the door. I didn't get great pics, but you can see the people headed down the stairs on the right, and the door straight ahead.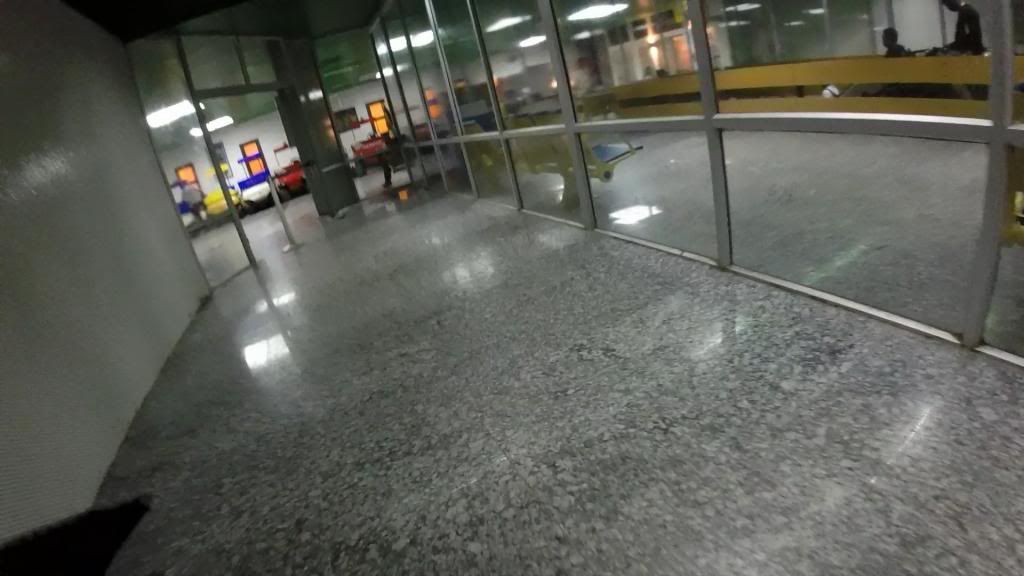 I was almost to it when a security guard called me back. He tried to get me to go down the stairs, and a colleague arrived and also wanted me to go downstairs. They repeated a few times, to paraphrase, that everyone goes downstairs, and arrivals go downstairs. I kept replying I was transit passenger only, had a BP, and was going through the door to the United flight. After we both said the same thing over and over about 8 times, one guy left. The second guard went through where did I come from, what flight was I arriving on, where am I going. When I finally said again the United flight was where I was going, he simply said "ok, you go that way" and pointed at the door. I did not wait for anything else, simply turned and took off without looking back before he changed his mind.
All in all it took about 2 minutes from deplaning to getting through the door.
After a short walk it opens up into the larger center of the terminal. The United lounge is ahead and on the right side, up some stairs or the elevator. With only a 1:15 minute connection time, I went to the lounge just to see what it was like and then continued to the United flight. Turned out I didn't realize how quickly I had gotten to the lounge and could have spent more time, but it was no big deal. Boarding for UA starts pretty early with additional bag check at the gate. You should keep going the same direction that led you to the lounge, and then you make a left.
I would probably do this connection again if it was available and it looked good for my other flights.
---
Last edited by maverick17; Mar 23, 16 at

2:24 am
Aug 2, 14, 7:24 pm
Join Date: Mar 2011
Location: Colorado
Programs: Lifetime UA 1K, Lifetime Hilton Diamond, Lifetime Marriott Bonvoy Titanium
Posts: 1,261
The only good way to get to JNB is Delta through Atlanta. I've tried many other Star Alliance options and they all are crappy. The LH connections in Europe are too long and it is nice to avoid connecting through Lagos or Dakar.

This doesn't help anyone trying to find award tickets but on business, I just fly Delta.
Mar 22, 16, 12:03 pm
Join Date: Mar 2009
Programs: IC.Spire Amb. Turkish Elite
Posts: 222
I had 2.15 waiting to board, not a transit.
My observation was that the 'officials' were aware of the current government's disposition on asking for "gifts" and tend to be more careful and professional.Not too many 'officers' loafing around.
It seems that personnel are positioned to assist with transit passengers before you reach the dreaded arrivals elevator.
The yet to be opened state of the art terminal being built by the Chinese is expected to solve issues of this 38 year-old unrenovated replica of AMS Schiphol