Reporting live from onboard Aer Lingus A330 new wifi service
Apr 16, 13, 1:07 am
Join Date: Jun 2006
Posts: 4,716
Reporting live from onboard Aer Lingus A330 new wifi service
---
Morning everyone. Im currently onboard Aer Lingus's EI-DAA and today they are trialing wifi. Onboard are RTE News who are recording it and Ms Delaney from EI PR Dept.
We have all been given free access passes to try it out and people are being interviewed. Have to say its very fast.
Some pics I have just taken below. On normal flights it will be a flat fee of €19.95 for all you can eat data. Quite good value especially on longer flights.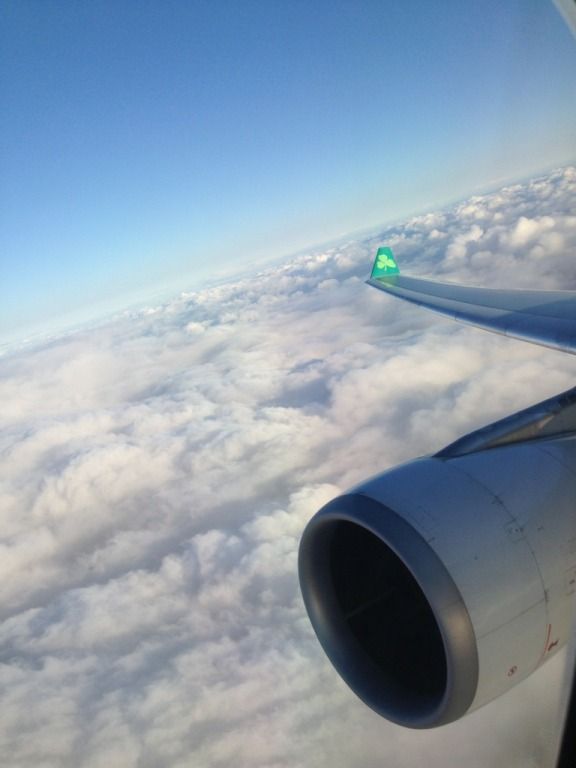 .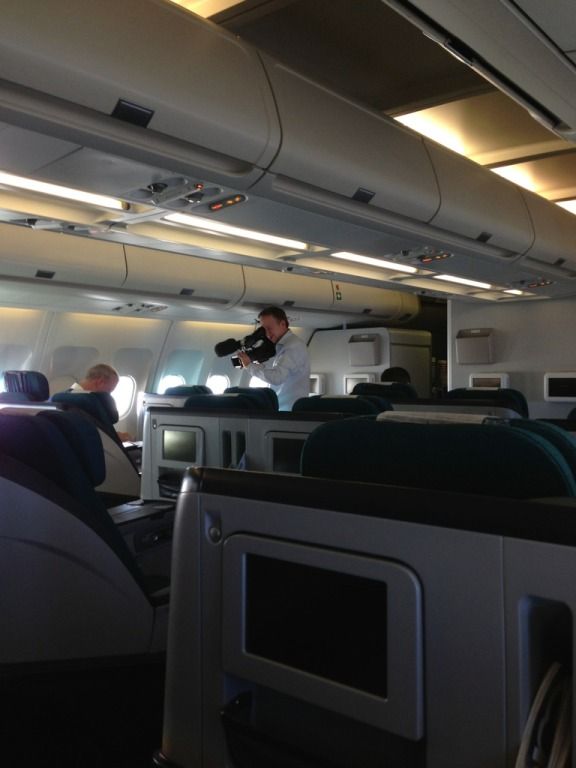 .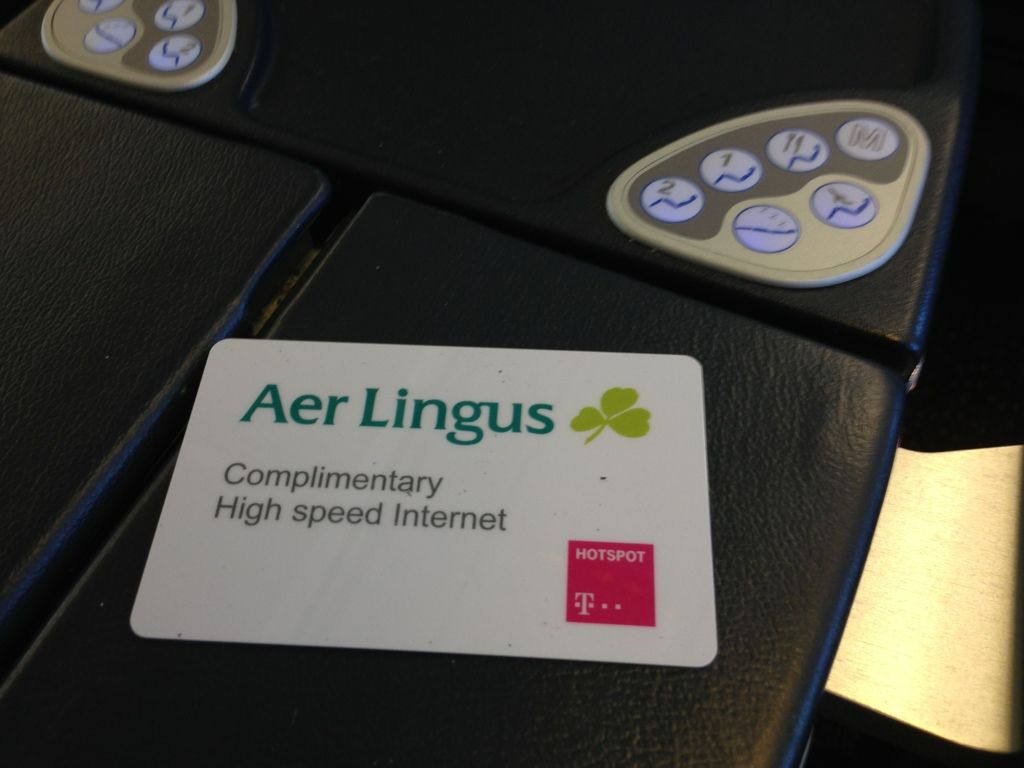 .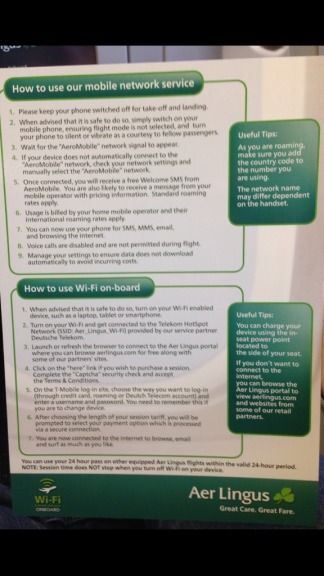 .
Apr 16, 13, 2:09 am
FlyerTalk Evangelist
Join Date: Mar 2008
Location: Netherlands
Programs: Gold: A3, KL Silver: AZ, BA
Posts: 23,819
Very, very interesting!
Were you interviewed? Will we be seeing you on the RTÉ News today?
Enjoy your trip!
http://www.flyertalk.com/forum/aer-l...et-2014-a.html
Apr 16, 13, 3:44 am
Join Date: Jun 2006
Posts: 4,716
The lady from PR asked me and knew I was GC Elite but I politely declined. Another guy agreed and did it. Crew were being trained on it also.
Was a great flight and fab crew. RTE bought us all drinks
Will be on Mondays 6/1 apparently.
I also had a long chat about GC and gave some constructive feedback.
Apr 16, 13, 4:11 am
FlyerTalk Evangelist
Join Date: Mar 2008
Location: Netherlands
Programs: Gold: A3, KL Silver: AZ, BA
Posts: 23,819
Apr 16, 13, 9:29 am
Join Date: Mar 2002
Location: DUB - Ireland
Programs: EI-GCE, BD-G, BA-G, A3*G, TK*G, FB-G, HH-G, Hyatt-Dia
Posts: 8,525
That's no fun - you're supposed to be in The Netherlands!
DELLAS - how fast was it? My experience of onboard wifi on other airlines has been, well, disappointing... and was it enabled just in J, or were you sharing the contention with the slummers down the back?
Apr 16, 13, 12:22 pm
Join Date: Jun 2006
Posts: 4,716
Well I rarely watch RTE but still pay €160 for you lot that like it
So a free drink is about right in my book
Wifi was fast I was able to take and upload 2MB pics from my iPhone 5 in seconds. Now AFAIK it was just J. I didnt venture across the border
They did say the contention ratio will have an effect and could slow it down but it would still be decent for emails etc... I was able to watch RTE player with no buffering which is why I tested it to see how it would perform.
I think the proof in the pudding will be a full TATL J And Y with 90% in J using it as its free and say around 45-50% paying for use in Y. That would really test it.
Apr 16, 13, 4:56 pm
formerly rxfleming
Join Date: Jan 2009
Location: AUH, DXB (and GLA)
Programs: BA Gold, HHonors Diamond, Marriott Plat Elite
Posts: 2,448
Reporting live from onboard Aer Lingus A330 new wifi service
---
It's free in J?! I only ask because I have a flights in August in J and that will come in very handy.
Apr 16, 13, 5:42 pm
Join Date: Oct 2005
Location: BHD/DUB
Programs: EK Gold, EI Elite, BA Silver
Posts: 2,026
Seems like DAA has been doing the daily runs to AGP and BOS lately. Wonder will wifi be on during AGP flights or if its just across the atlantic. Interesting to see what speeds it actually achieves. If anyone happens to get on that aircraft with wifi operating please check out speedtest.net and see what its running at

Edit: Just realised from the photos posted that this service is provided by T-mobile which is the same as Lufthansa. That service is very good in my experience. Perfectly acceptable speeds for low-res browsing and emails etc.
---
Last edited by modularmayhem; Apr 16, 13 at

5:47 pm
Apr 17, 13, 7:52 am
Join Date: Jun 2006
Posts: 4,716
Yes Free to all J Class/Premier passengers and also will be available on the Summer season DUB-AGP run. Not sure if it will be free in the J section ( Y ) service on the AGP run though. Likely not.

Speed reached was 7MB. Certainly acceptable.

Its €10.95 One hour . €19.95 for a 24 hour pass. The 24 hours is from the moment you log in and the clock does not stop when you log out.

One or two aircraft still having technical issues according to a FA on todays flight back. She said they hope to have these sorted by next week. On todays flight EI-ELA it was not fully switched on. I was only able to surf the Aer Lingus website which seems to be free. I guess thats pretty standard.
Apr 18, 13, 3:12 am
FlyerTalk Evangelist
Join Date: Mar 2008
Location: Netherlands
Programs: Gold: A3, KL Silver: AZ, BA
Posts: 23,819