Angsana and Banyan Tree Bintan
Dec 31, 18, 10:25 pm
Join Date: Jul 2018
Location: Italy
Programs: Accor Plat, Marriott Plat, IHG Plat, Amex Plat, Alitalia CFA, Emirates/Oman air Silver
Posts: 981
Angsana and Banyan Tree Bintan
---
I would like to share some informations about these 2 properties in Bintan
We have spent 2 nights at Angsana and moved then at Banyan Tree for other 2 nights.
at arrival at Bintan Jetty we have been picked up by Angsana Team. 10 minutes road with small bus togheter with other 12 guests. (if you arrive as Banyan Tree guest, there is private car driving you at the hotel) complimentary service for all guests on both hotels.
Check in at Angsana has taken 15 minutes.
Tried to show my Platinum Accor card ... "apologies Sir, your reservation has been made by Booking.com, we can't apply for any benefit"
no problem, it's correct. Especially because the rate by Booking.com was 40% less than by Accor ....
I booked "island suite" at higher floor. All the rooms are at the main building (4 floors), except some in a small one at other side of the pools. More or less 30 rooms each floor, so not really big, it's good resort for families and couples, you can enjoy and relax at the same time. All the guests polite and quiet, especially ones with children (no Italians except us ...probably this was the reason &#128513
General impression on Angsana Bintan is that they need some maintenance, especially on common areas and external of buildings (rooms doors also) but inside, the Island Suite was good, everything quite new. Very comfortable room, mattress also, even if not so large ...but too small bathroom ...no separate shower, it looks like a 3 star hotel in Italy in 80's ... Completely inadequate bathroom for a nice Suite
View from the balcony is very nice
Even at the evening if you want to drink some good wine ...
(I know you can't see any view except the bottle, but it was nice... &#128512
Air conditioned in the room very easy to manage and efficient to find nice temperature, just using dehumidifier in the living room, no need to switch on the one in the bedroom (I don't like air conditioned, if you are most like USA standard, you can push at 18 degrees...)
6-8 complimentary bottled waters per day is really good. And at the pool bar there are water dispensers for free also.
Unfortunately there is only 1 elevator near the lobby and if you have the room at the end of the building...you need to walk a lot, every time to go at the elevator (the Beach is at the end of the building) and then to "come back" ...
Breakfast, on one side is very good as choice of food. Everything at buffet and good quality. On the other side ...really crowded from 8-9 AM ...dozens of waiters but most of them seem always to do "something else" ...can happen to wait 10 minutes for a coffee and then need to ask again.
Wi-Fi connection is not the best, even if there is full coverage everywhere in the property (Beach also) but the connection sometimes is very low and sometimes disappears.
Beach is really amazing. Clean and soft sand ...very nice to walk until the rocks ..and there is a golf course just on the beach
. over the rocks there is another beach and a small fishermen's village with PADI center also. Beach is not clean
No sunbeds at the beach but some umbrellas and puff, quite comfortable
The sea is amazing, transparent and perfect temperature (some other months not so clean) you would spend all your day in the water. It remember me the sea at Redang or Perenthian.
Pool area is nice, a lot of sunbeds with umbrellas. Water temperature is also perfect.
you can have relaxing holiday at Angsana. Surely nothing exclusive or particularly elegant ...but perfect to enjoy the beautiful sea and beach.
There are 2 restaurants, one inside (same you use for breakfast in the morning) for lunch only and one on the beach, for lunch, all day meals and dinner (sometimes a la carte, sometimes barbecue buffet)
Prices are much more similar to Singaporean ones than Indonesian ones.... 20€ for 1 hamburger and Coke.
Near Angsana there is Cassia residence, for families with children mainly. There is every day music at the pool area
There are 3 buildings, one really in front of the beach, one really far from it ...I don't know how to manage the choose during booking.
We have had small late check out at 1.00 PM (normally is at 12.00 AM, and we have "waited" at the pool until 2.30 PM to go by their car at Banyan Tree (check in time is at 3.00 PM, no early check in availability...)
When you arrive at Banyan Tree, everything is different 😀 ...
Considering it was our first time at a Banyan Tree resort, just stayed at Banyan Tree hotel in Bangkok (but it's a different story than Banyan Tree resorts at the sea) ...so ....double WOW .. 😃
from outside you can't feel how much is big inside. It takes all the promontory...really amazing
Quick check in operation, with welcome drink, I have shown again my Plat Accor card, explaining that i would have made reservation by Accor, but it was 50% cheaper by Amex travel ... just 2 minutes and I have been told we were "upgraded" at best view villa ( same level). In fact our Villa was in first line on the sea.
Just entered in my room and I have clearly understood now Banyan Tree is fully integrated in Accor group ...and I really felt like at home 😀 (2 different quality apples 🍎🍏 makes the difference)
Villa (basic one, for poor people &#128512
is still fantastic. 85 sqm.
I post also the map. Our room is 511. There are several options with bigger villas (1 or 2 bedrooms) and ones just over the sea.
Sometimes a monkey comes to your terrace to say hello, even if not requested...but it's not possibile to avoid it ... just remember to don't leave anything outside the room.
There are 2 pools
One on the beach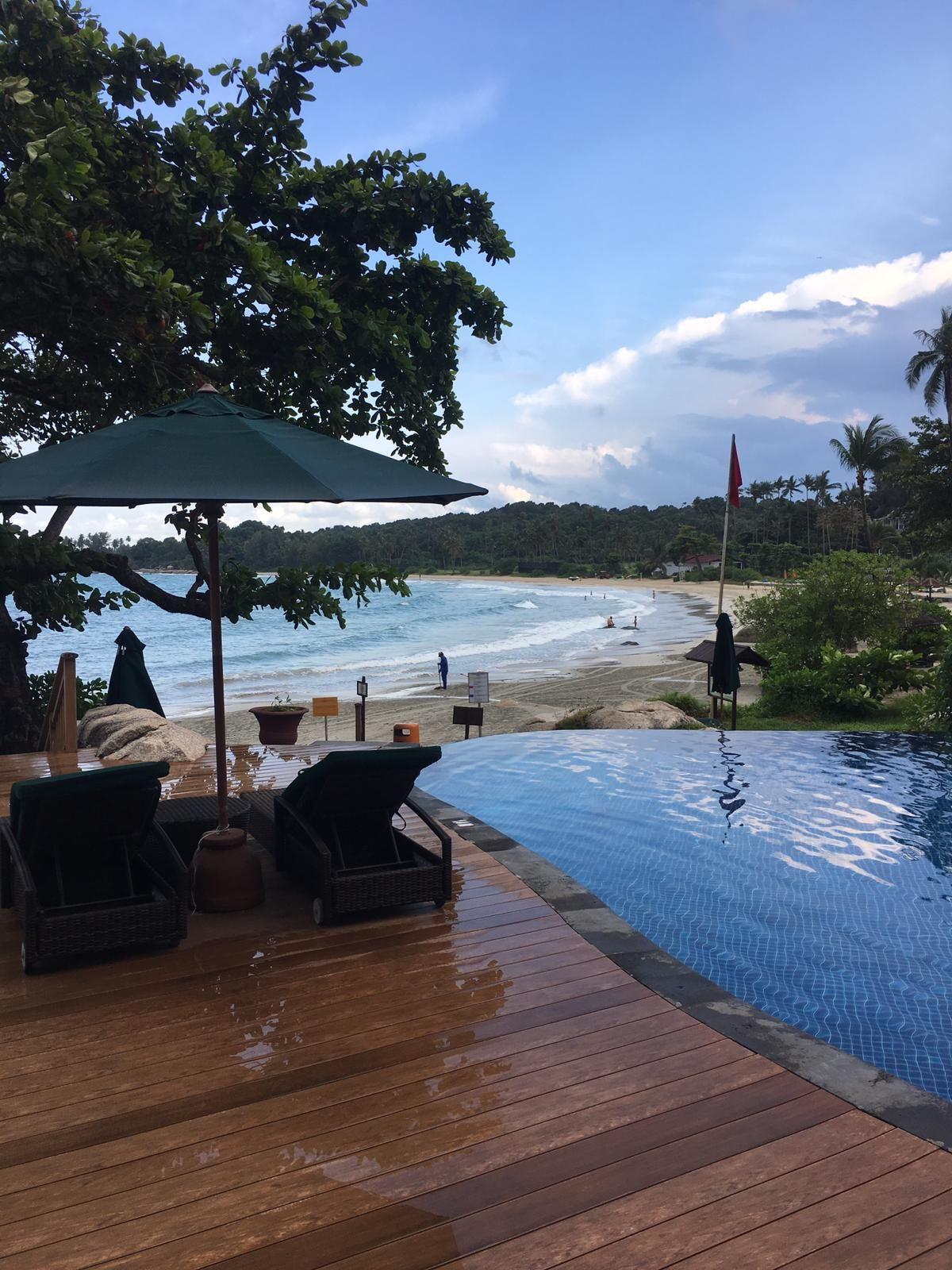 Another one at higher level, with amazing view ...
Each time you take sunbeds the pool boy arrives with towels and 2 complimentary bottled waters.
Both always very quiet, not so many guests, considering the hotel was near to fully occupancy.
3 restaurants, not so higher prices compared with Angsana restaurants, considering the completely different ambient and atmosphere
One Thai (Saffron), one Indonesian (Treetops) and one international (The Cove)
We have had dinner at Saffron restaurant: Thai tasting menu (my belly was exploding and I have snored all night like a pig 🐽😃 ... is 100 € / person including wines, a Singapore sling before dinner and taxes ). Everything was good, even if they use a lot of coriander.
Really nice waiter, Mr. Astrofi, he has made the difference during our dinner 👍 good manners, professional and nice to joke.
We were last guests remaining at the restaurant until 11.00 PM, lot of people have dinner at 6/6.30 PM so when we started at 8.30 after some times we had quite all restaurant for us.
On the other side, having sandwiches or hamburgers at the bar or the pools, is quite expensive even considering Singaporean prices (30€ for 1 club sandwich).
Breakfast was good. Buffet + a la carte (everything included) for eggs, noodles etc.
Lot of people drinking Italian Prosecco (CA BOLANI, not bad quality)
Private pool sundbeds are perfect to see the sunset, even if little bit cloudy...
There is also a very nice sofa in the room, perfect for every occasion, including to drink some good wine before the end of the year ..
...while thinking If is better to change wife or keep the same for one year more 😃 (I decided to keep the same, due to high cost of divorce in Italy)
To finish, I really suggest this place (Angsana and Banyan Tree both) for a relaxing "small" (even if some days more would be really appreciated...) holiday at the sea near Singapore.
And, apologies for my English, I'm here mainly to improve my language ... 😃
---
Last edited by Dav77; Dec 31, 18 at

10:45 pm
Jan 1, 19, 2:45 am
Join Date: Dec 2016
Location: Southeast Asia
Posts: 224
Magnificent photos and really informative, in depth descriptions of both properties. Very easy to see the different quality of both brands looking at the photos. It must have taken a lot of time to upload these photos and provide so much detail. Thank you very much for your hard work. I have checked in to a a city Accor property today and will post a Welcome Amenity comment and photo but unfortunately absolutely nothing like your experience. Banyan Tree Bintan in particular looks magnificent.
Jan 1, 19, 6:43 am
Join Date: Oct 2016
Location: ADL
Programs: LeClub AccorHotels / Accor Plus (Platinum), Qantas Frequent Flyer, Virgin Velocity
Posts: 413
Fantastic reviews and photos, thanks for sharing! I look forward to sharing my experience at Angsana next week with everyone here, although it is, unfortunately, only a one-night stay.
Jan 1, 19, 10:42 am
FlyerTalk Evangelist
Join Date: Aug 2009
Location: Paris, France
Programs: AF/KL Flying Blue Platinum for life/Club2000 Ultimate, UA Mileage plus, Le Club Accorhotels platinum
Posts: 14,139
Fantastic reviews Dav77
I like the Banyan Tree, but the 1st one looks so basic.
And the Ruinart Blanc de Blanc...hmmmm it seems we like the same things
Italians and French will always agree on food and wine
Jan 1, 19, 8:33 pm
Join Date: Jul 2018
Location: Italy
Programs: Accor Plat, Marriott Plat, IHG Plat, Amex Plat, Alitalia CFA, Emirates/Oman air Silver
Posts: 981
French wines win easily ... 😊👍
we always take few bottles of Ruinart with us on travel...just to avoid any problem 😃